ProView – Cotopaxi Fuego Down Parka
Before the Fuego Parka, I never quite understood the point of longer down jackets or parkas. I always just saw it as more of a fashion statement than a practical purpose.
But boy, oh boy, was I wrong. The Fuego Parka is a sleeping bag in disguise that you get to wear all winter long. Simply sitting down on my jacket and having my butt stay warm added a significant amount of comfort to my cold-weather camping lifestyle.
Cotopaxi Fuego Down Parka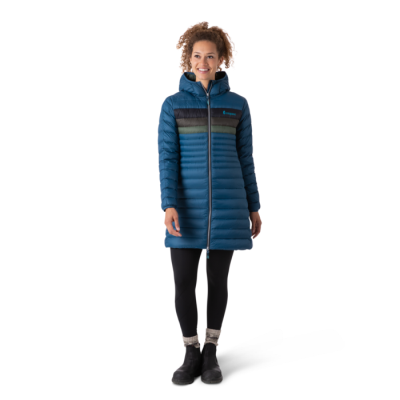 Product Name: Cotopaxi Fuego Down Parka
Product Description: With the retro styling of our classic Fuego, plus extra length for frigid days, this stylish coat is our cold-weather cocoon of choice. When things get too toasty, unzip from the bottom for venting and added range of motion. When the weather is cold as can be, let this parka's responsibly sourced 800-fill down and mid-thigh length do the heavy lifting.
Offer price: MSRP: $290.00
Quality

Features

Fit

Durability

Eco-Frindly
Summary
The Cotopaxi Fuego Down Parka feels like wearing a sleeping bag 24/7. It's probably not a jacket that you would pack 20 miles into the backcountry, but for around town or around camp, it's become the go-to puffy with the perfect blend of style and comfort. 
Pros
Length keeps you extra warm
Great pockets
The bottom zipper adds versatility
Great color options
Cons
Leaking feathers after only a few uses
Slightly boxy fit
Zippers are sometimes hard to get started
This jacket arrived at the perfect time, as I traveled down the west coast for a month, climbing and working out of my green Astro Van named Sage. Temps were just starting to drop as the leaves turned yellow and red, and the first dusting of snow began to get me hyped for ski season.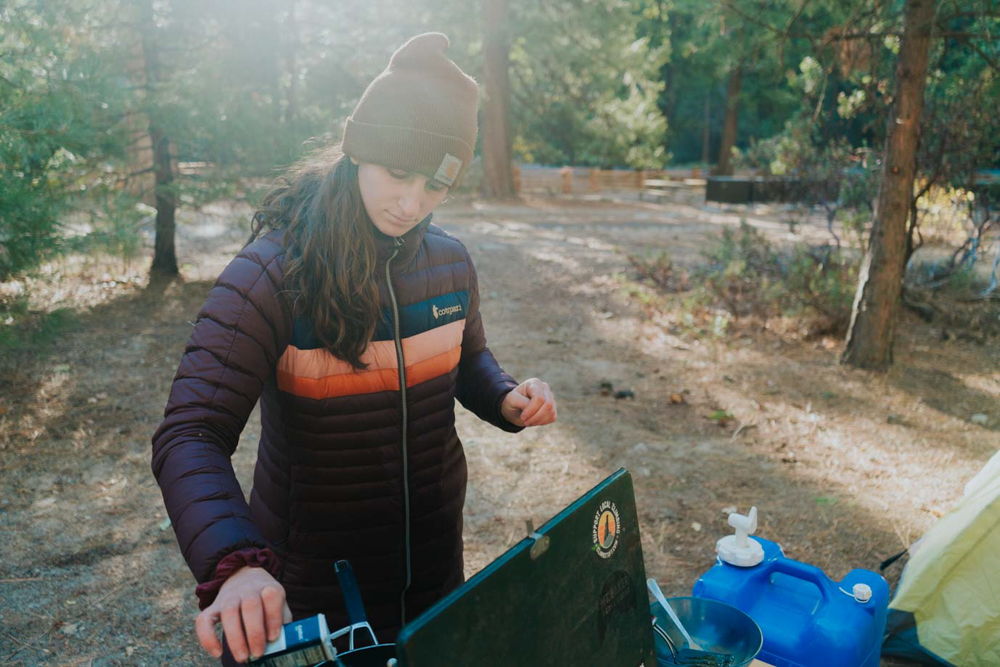 But as we headed to Yosemite National Park, with night time temperatures below freezing, I knew this would be the perfect test for the Fuego Parka. Now, I weekend camp all winter long, and my cold weather camping kit is pretty dialed (fleece pants and all the puffies are essential), so I was interested to see how the Fuego compared to my current go-to jackets.
Long story short, I pretty much never took this jacket off. I tend to run cold, but this jacket kept me cozy at temperatures down to 25 degrees with a sweatshirt underneath.
Fit
When I want to be warm, I usually don't care that much about how I look. I don't look into mirrors very often when I am camping anyways. But I do think that this jacket fits me quite well.
It does run slightly large, in my opinion, which makes it great for layering. But this also gives it a small amount of a potato-sack-y vibe. It tapers in at the waist for that "feminine" touch, which helps it feel a little bit more fitted.
The length of the jacket hits me about mid-thigh and is the perfect length to fully cover my butt when I sit down, which is an underrated perk of a long coat.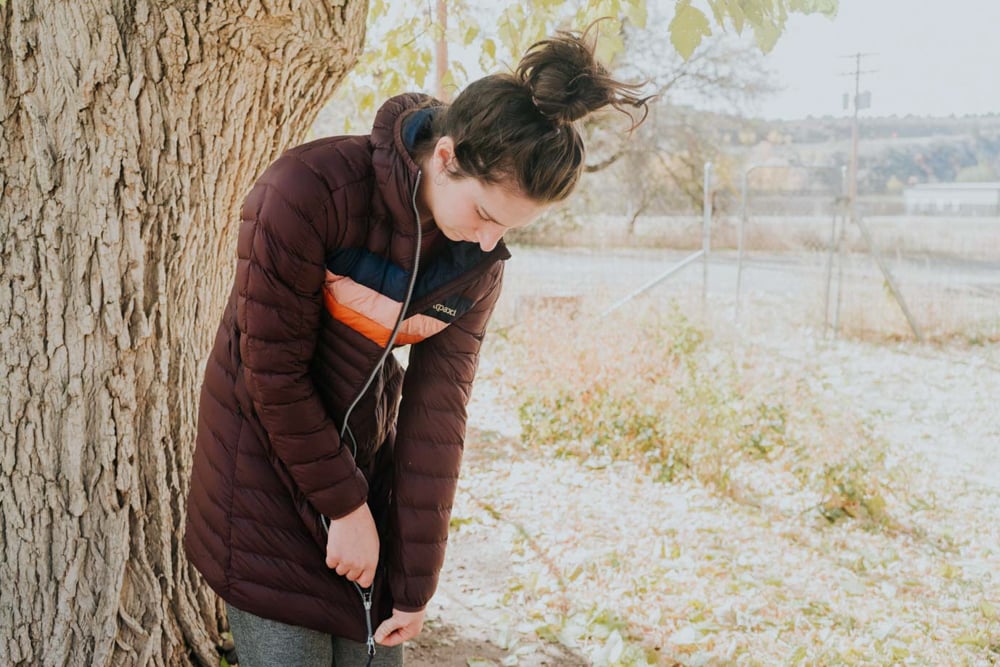 Style
The Fuego Down Parka is probably my most stylish puffy, and the one I will be consistently wearing around town all winter. I prefer my outerwear to include fun colors, so I chose the Black Iris Stripes colorway for this jacket. The deep purple color is the perfect colorful neutral since it is dark enough not to show stains (I am a sloppy eater) while still distinguishing itself from the sea of black puffies. The blue, pink, and orange stripes provide just a pop of extra color.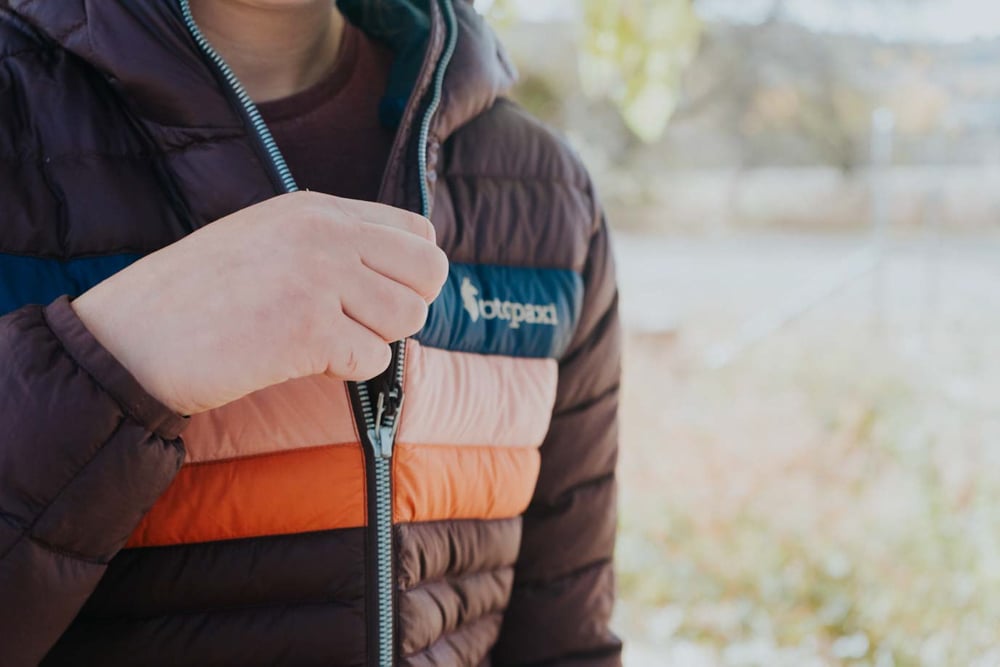 Features
Besides its length, my favorite feature of the Fuego Down Parka is its hood. The hood might run a little small, but it fits my (admittedly small-ish) head perfectly. You risk slightly resembling a SCUBA diver when you put it on, and it does make it harder to hear, but there's nothing like a cozy hood to take the warmth level up another notch.
The pockets on this jacket are another feature worth mentioning. The two zippered pockets on the outside are all I found myself using, but they are deep and secure. The jacket also includes a zippered pocket plus a drop-in pocket on the inside, which I tried to use once to stuff my hat in, but it just made me feel very bulky and awkward.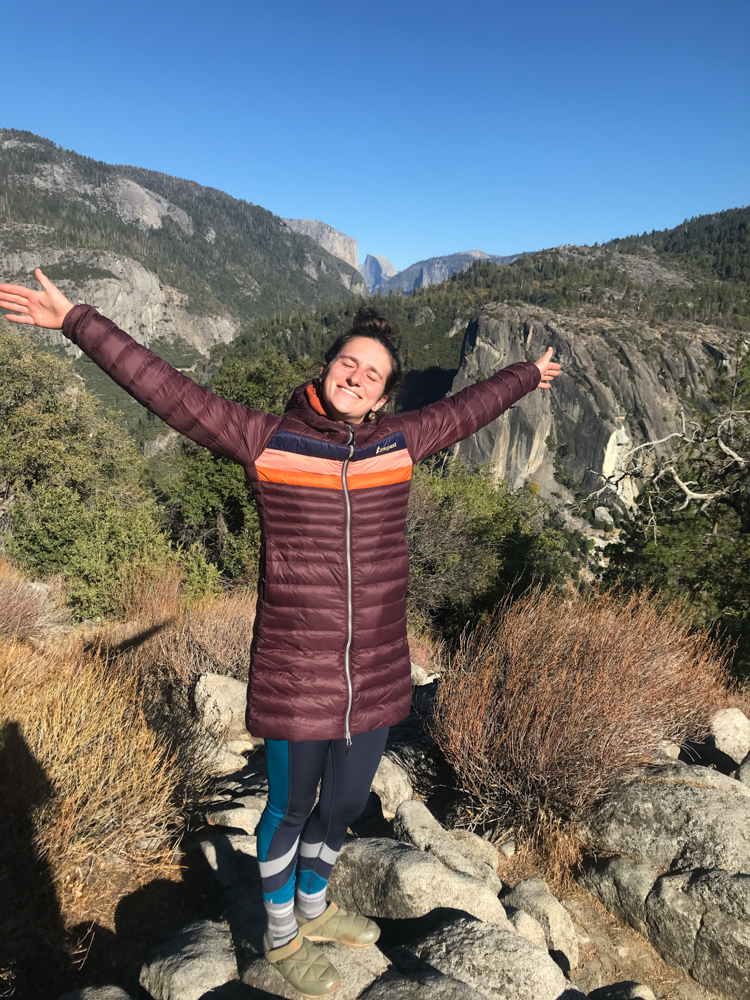 This jacket also includes a two-way zipper, which Cotopaxi advertises to increase range of motion or vent heat. I only found myself using it once when I tried to wear this jacket climbing. It turns out, having a jacket that covers your harness is not great for accessing any sort of gear. However, the bottom zipper did make belaying possible without having to unzip the whole jacket.
The one issue I had with the zippers is that you have to make sure they line up perfectly before they start to zip. It can be hard to get it perfectly lined up when the jacket bunches up. And it's physically hard to zip the jacket from the bottom without bunching it or leaning over to straighten out the coat to get the zipper started.
Packability
I wouldn't necessarily call this a packable jacket, but it does surprisingly well considering its added length. This parka is not your lightweight, backcountry jacket, and I would probably choose another layer if I was planning on carrying it. However containing 800-fill down, it does pack down reasonably small for its size, and I did stuff it in a backpack a few times as the days got warmer. It packs down to about the size of a loaf of bread.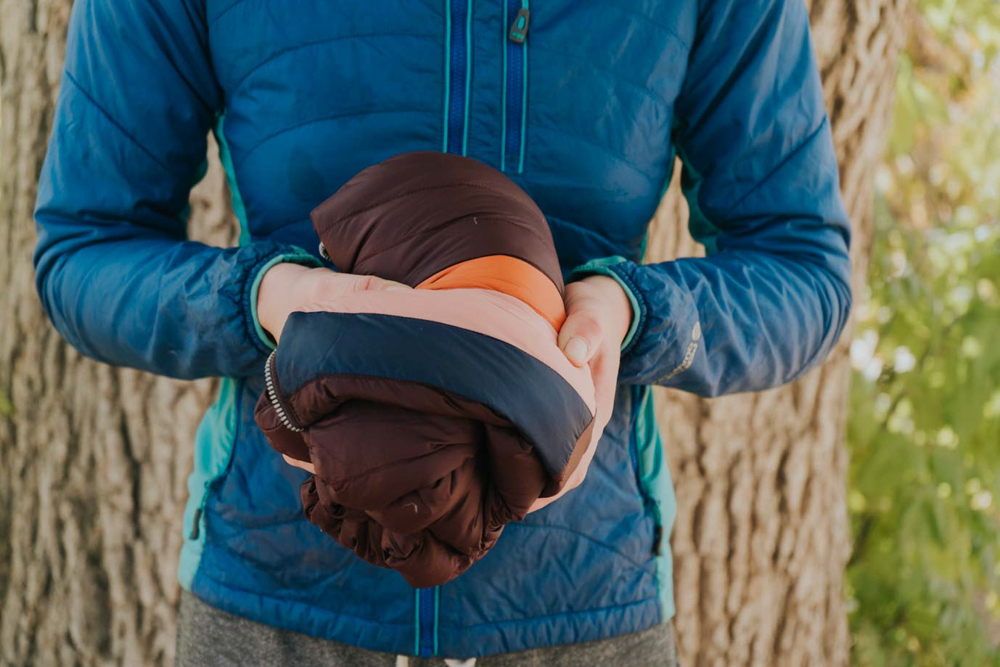 Performance
Around town or camp, this is the ideal puffy. It is not designed for any high-performance activities, however. The length, while extra cozy, does not lend itself well to much movement. Even when it unzips from the bottom, the extra fabric just gets in the way if you want to wear this while hiking, climbing, or skiing. But if you are just trying to stay warm while hanging out around a campfire or going for a walk around the neighborhood, this jacket performs admirably.
Durability/Quality
The biggest issue I had with this jacket was that almost immediately, I saw escaping feathers. Something with the design of the baffles on this jacket causes lots of down leakage, which makes me wonder how it will be in a year or five. The face fabric includes a DWR coating which did seem to cause water to bead, but only in minimal quantities. Other than the down escaping, the face fabric seems durable, and the down feels high quality.
Friendliness to the Earth
I admire Cotopaxi's sustainability initiatives, and it made me curious to test out some of their products. As a certified B-Corp, many Cotopaxi's products contain non-virgin materials, which could be leftovers from other products or recycled materials. They also provide easy access to information about the factories where they produce their products.
This specific jacket includes responsibly sourced down. There is not much information about the rest of the materials for the Fuego Down Parka. Still, I feel comfortable supporting Cotopaxi as a company as they have big goals for social and environmental sustainability for the future.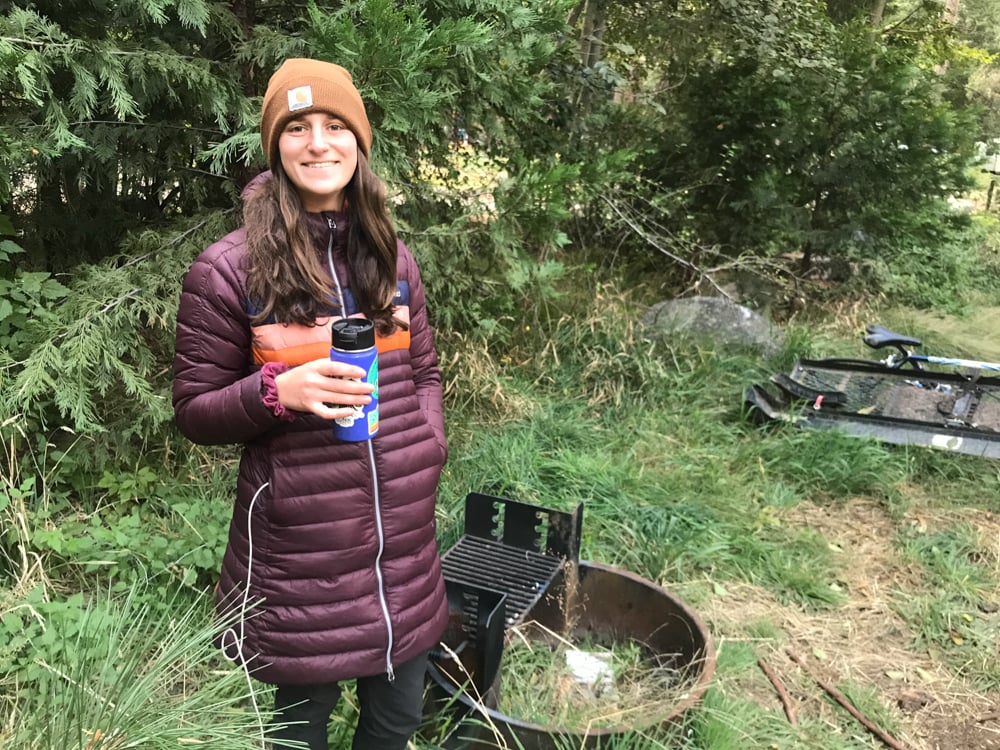 The Final Word
The Cotopaxi Fuego Down Parka is a jacket that I will reach for consistently all winter long. It is now my go-to layer for around town or camp but is not ideal for many active pursuits. Because of its longer length, it feels like wearing a down blanket, and I never want to take it off.
The only issues I have had so far have been a bit of down shedding through the seams and trouble getting the zipper started. The Fuego Parka is a high-quality down jacket that hopefully will keep me cozy for years to come.
Find Cotopaxi Fuego Down Parka on Outdoor Prolink. Not a member? Apply today!
---
All photos taken by Matthew Tangeman. Find more of his work at mtangeman.com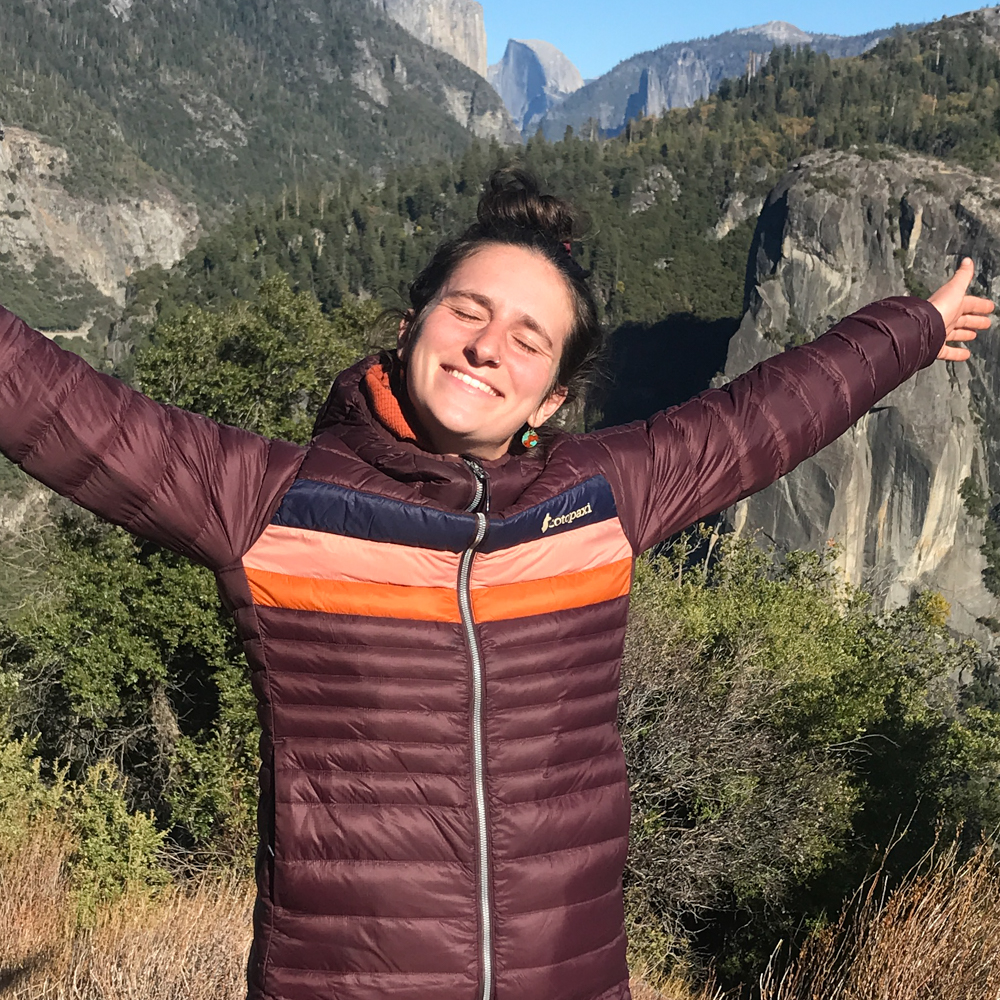 Ilana Newman is a freelance writer and photographer based out of Southwest Colorado, but you can often find her wandering the west in her van or baking at home. She has the most fun outside with friends, climbing, skiing, and experiencing the mountains and desert as fully as possible. Find her ramblings and images on Instagram at @ilana.fay and on her website ilananewman.com.