ProView – Evolv Kronos
Many climbers, like myself, are creatures of habit. We often find a pair of shoes we really like and climb in them until our big toe wears a hole through the tip of the shoe. Then, we either get the shoes resoled or inevitably buy the exact same model. Experimenting with different shoes, brands, fits, and styles can help you get the most out of your equipment – something I've learned while climbing in the Evolv Kronos.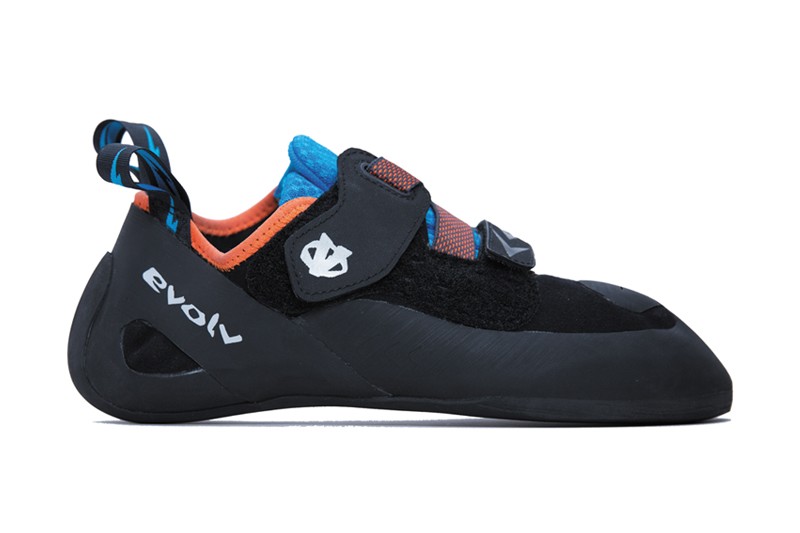 Typically, I wear a much more aggressive shoe. So when I first put on the Kronos, I was concerned because they actually were too comfortable! These shoes replaced the discontinued yellow Evolv Pontas, and they're listed as a technical, all-around shoe.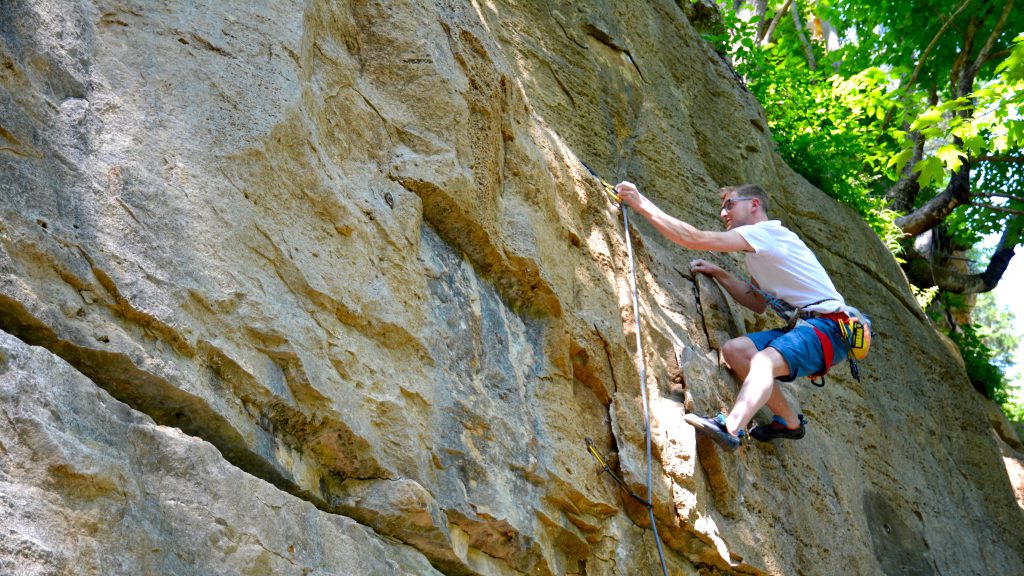 To give the Kronos a proper test, I climbed in them at Devil's Lake, Muscatatuck, King's Bluff, and of course, in the climbing gym. This allowed me to test them out on different rock types (quartzite, limestone, & lovely plastic) and across varying grades (V0-V8 & 5.7-5.12).
Bouldering
Bouldering at Devil's Lake can be tall, slabby, and pretty thin, so the Kronos were well-suited for this style of climbing. The toe on this shoe is fairly flat, which works well on small edges and in thin cracks. At Muscatatuck, the boulder problems were steep and overhanging, which was difficult for the Kronos. Since the sole of the shoe is flat, they don't give quite enough leverage to prevent your feet from cutting on roof problems. As for toe hooking, the rubber spot on top of the shoe is large enough for solid friction, and the velcro straps shouldn't get in your way.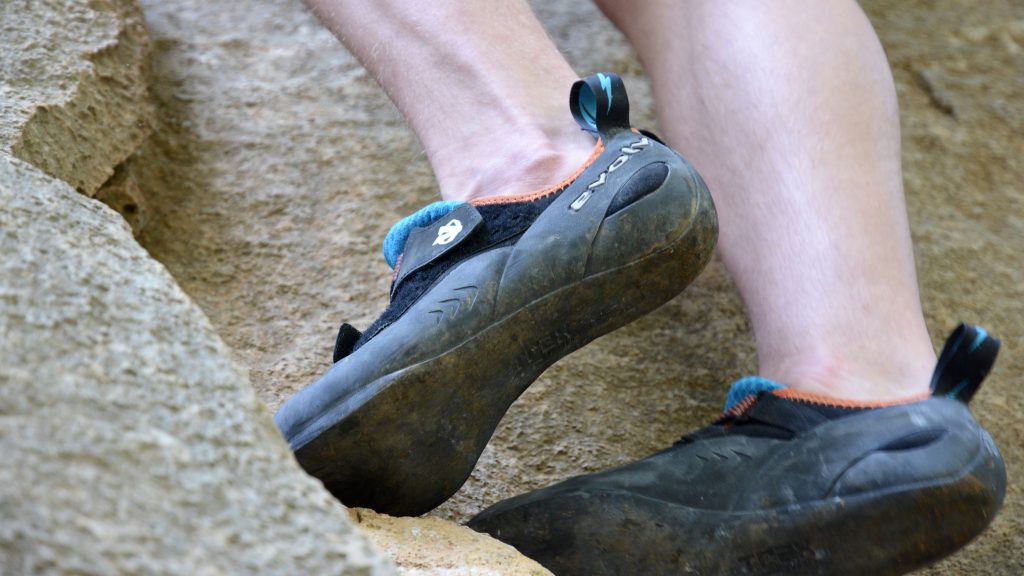 Sport Climbing:
The Kronos felt great on tall, vertical routes that required edging and smearing. The low angle climbs at King's Bluff are better suited for the Kronos. When I wear a more aggressive style of shoes, I take them off immediately after I reach the top to let my feet rest. In the Kronos, painful toes are the last thing I'm thinking about! They're excellent for long training days at the crag or in the gym because they are so comfortable.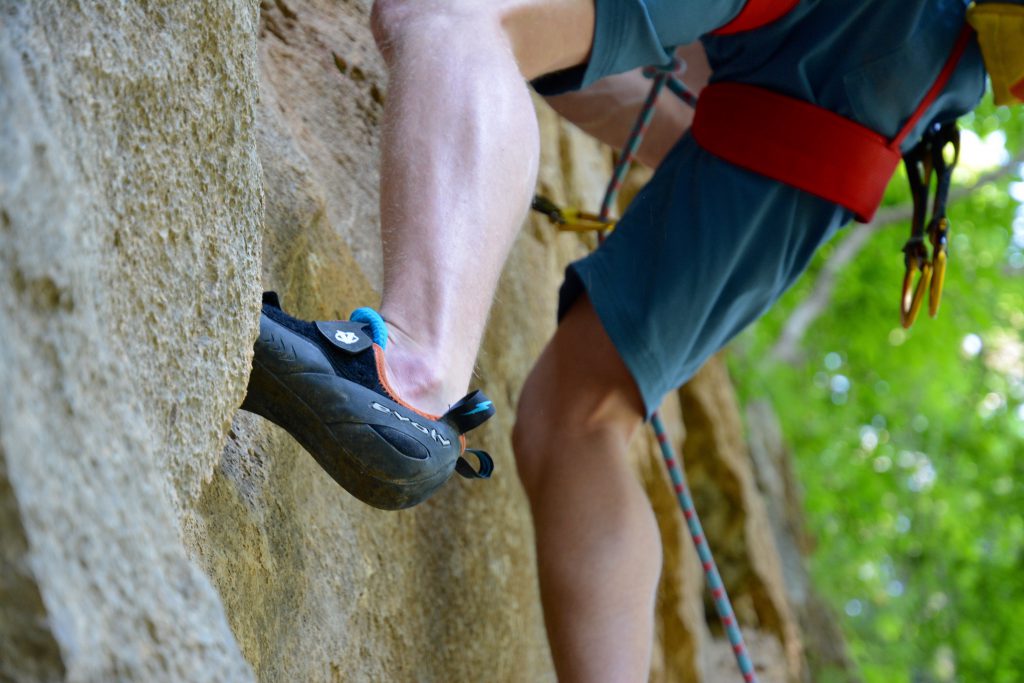 Sizing:
If you're used to a more snug fit, I would recommend going down half a size from your street shoes. Since these shoes are synthetic instead of leather, there isn't as much breaking-in required. After 4-5 hours of gym climbing, they were ready for the crag.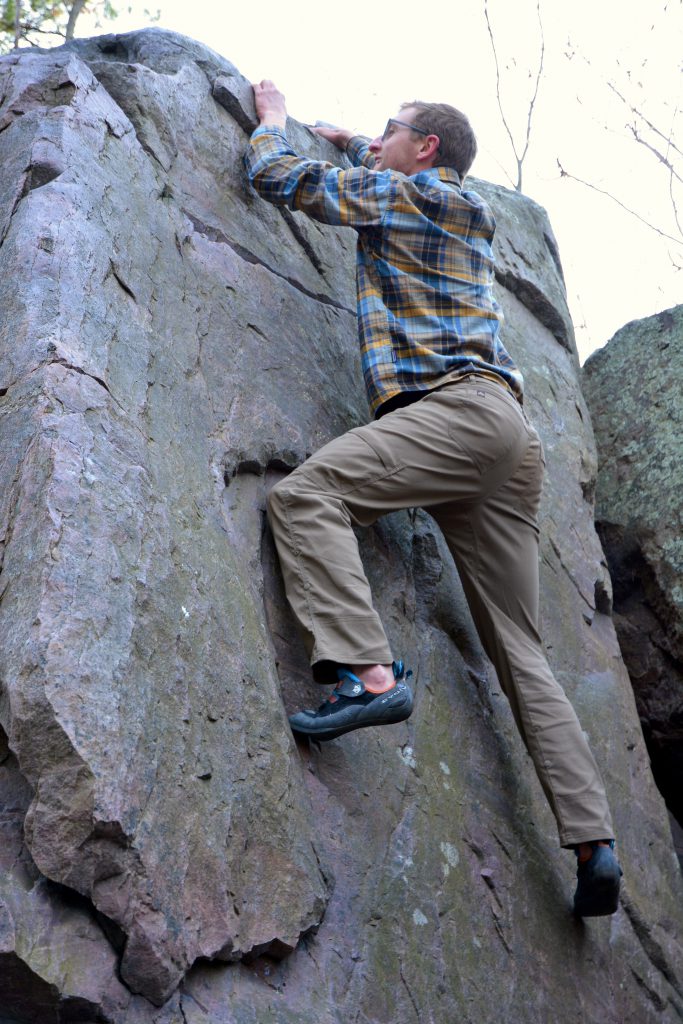 Pros
Lightweight & flexible
Thick tongue & smooth material on the inside offer great comfort
Good closure system & tightening the shoe makes the toebox even more comfortable
Good smearing and edging on vert, slab, and cracks
Durable rubber, same as the Shaman. I've climbed in them for two months with little signs of wear and tear
Cons
Not well-suited for steep, overhanging boulders or sport climbing

Heel hooking can be tough with the thinner, less robust heel

Edging is not as strong as with the Shaman's or other more aggressive-fitting shoes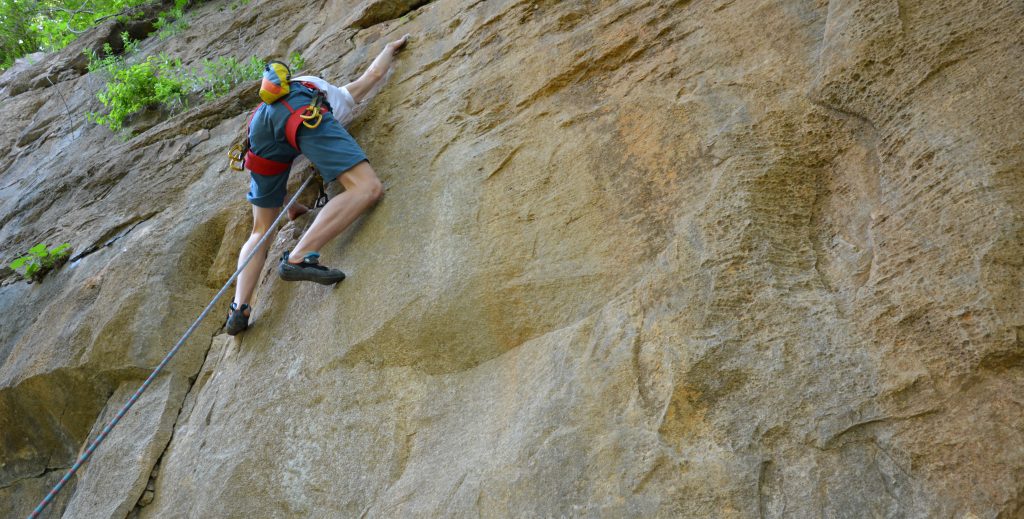 The Final Word
Overall, the Evolv Kronos are an excellent intermediate shoe. They are more technical than the Evolv Defy's, but more comfortable than the Shaman's. I would recommend this shoe to climbers who are looking for an all-around, technical shoe that doesn't sacrifice comfort. It has been pretty refreshing to climb in these as they are a nice compliment to my more aggressive shoes. If you are looking for a more aggressive, high-performing shoe, check out Mike Kimmel's review of the 2016 Evolv Shaman.
Shop Evolv on Outdoor Prolink. Not a member? Apply today!
 Nicholas Love writes for the Try Hard Club, an online journal that focuses on community, inspiration, & intention. Instagram: @try.hard.club. He's a Tennessee-native now living in Indiana, and even though Indianapolis isn't a climbing hub, the Red River Gorge is only a few hours away.