ProView – SCARPA Vapor V
As a mere mortal, I am subject to the law of climbing that states that shoes have more impact on performance or ability than any other piece of equipment. Quickdraws clips, ropes catch falls, helmets protect your head, backpacks hold gear. With these pieces of equipment, the bells and whistles are nice to have but largely unnecessary — the right pair of shoes, on the other hand, can make the difference between crushing your five-year project and slipping off at the crux move. 
SCARPA Vapor V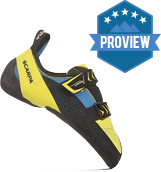 Product Description: A percise, versatile and best-selling shoe that marries a comfortable fit with steep climbing performance, the redesigned Vapor V features fresh colors, a microfiber upper and our Bi-Tension™ active rand for a premium combo of durability and sensitivity.
Offer price: $175 MSRP
Fit

Performace

Comfort

Durability
Summary
If you're looking for a quiver-of-one shoe designed for both performance and comfort on all styles of climbing, the Scarpa Vapor V is it. With a breathable synthetic upper, Vibram XS-Edge sole, and power-focused construction, this shoe checks all the boxes for the perfect all-rounder
Pros
Comfortable
Fantastic for edging
Super-versatile
Easy on and off
Cons
Undercut rubber under the toe
Tiny toe patch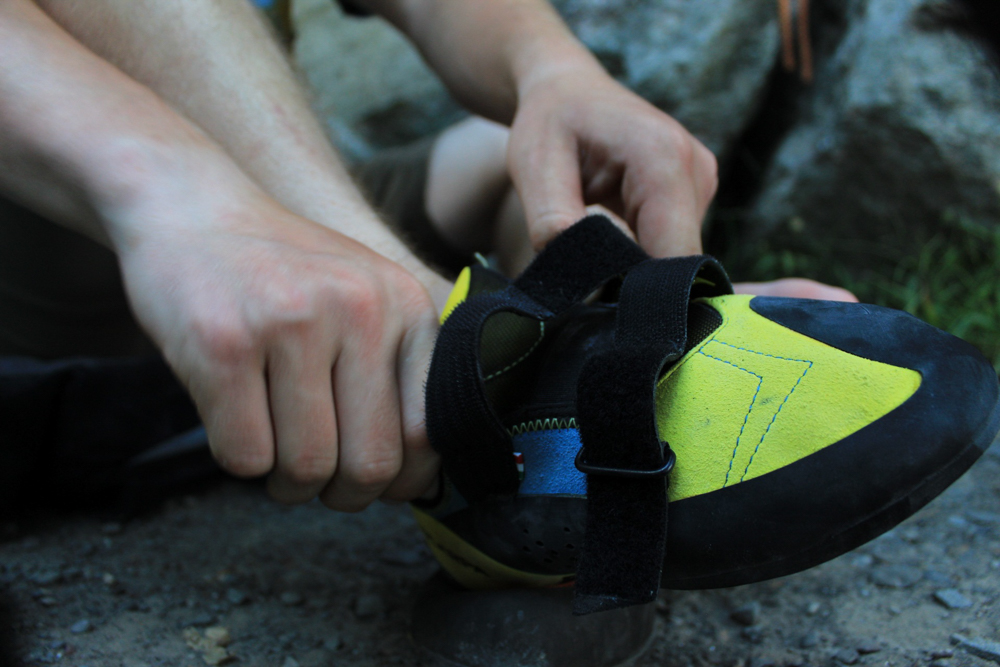 I got my first pair of Scarpa Vapor V's four years ago. Through rainy days and resoles, they stuck with me for the falls and failures, the sends and celebrations. But shoes don't last forever, and it was time for a replacement. Introducing… the Scarpa Vapor V's. I'd been itching to get my hands on a pair of the newer, sleeker versions since they were announced last fall, so it was only natural that I took them on long days in Washington, sent finger cracks in Squamish, ticked trad days in the Whites of New Hampshire, hung out on the uber-classics of the Gunks, and spent some sessions in the gym. How were they? In a word: fantastic.
Fit
I wear a size 9 (42 euro) street shoe and downsized to a 41 in my Vapors for a performance fit. They fit my feet perfectly, with no gapping or air anywhere in the shoe, but aren't constrictive either. While I wouldn't want to wear them between pitches, I also don't feel the need to immediately rip them off my feet when I reach an anchor.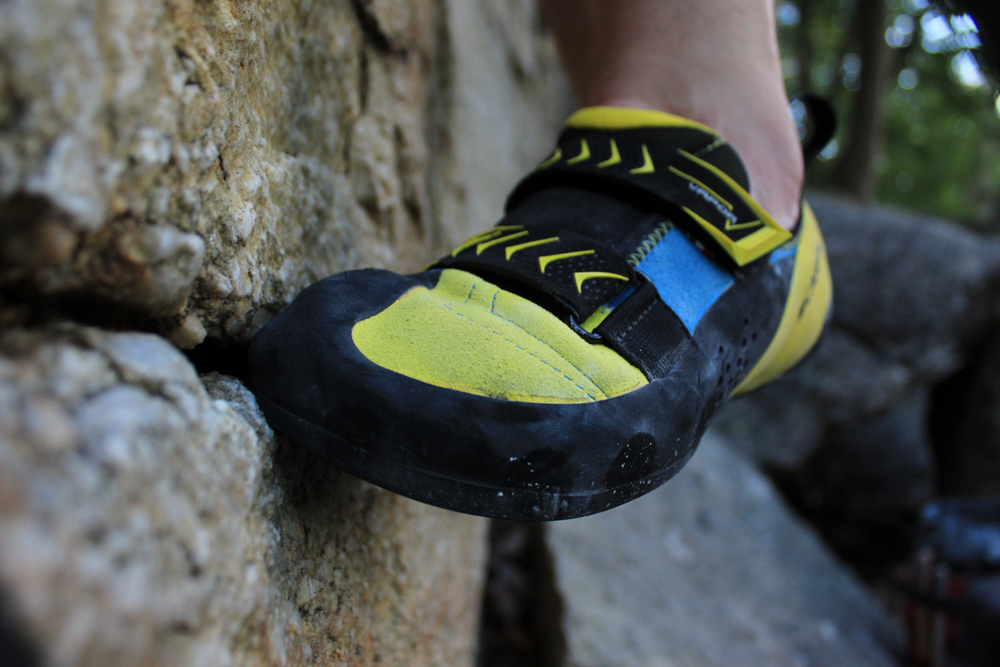 Construction and Durability
The biggest complaint I heard (and had) about the last model is that they took too long to break in due to the stiffness of the leather upper. Not the case with these. They felt soft and supple on day one, and months later still are in that sweet spot between broken in and broken.
The 2019 Vapor V replaces a leather/synthetic construction with a full-synthetic microfiber upper, which is softer and more breathable without stretching or deforming like natural fibers. A stiff midsole plus a tight tension rand pulls power through the toes, on a Vibram XS-Edge sole, which I found optimal for edging on small features without sacrificing smearing ability. The new dual-layer heel allows me to use smaller features, and the shape of the heel cup is perfect for my feet. The moderately downturned profile with a slightly more rounded toe box naturally lends itself to a wide range of climbing styles and media, which I'll get to in more detail later. Lastly, the new Vapors have the same double strap closure, but with a new elastic band in between for extra tension over the top of the foot. I'm a big fan.
Performance
Climbing shoes are usually pretty good at what they're designed for, and not fantastic when applied to other disciplines. The Vapor V's are designed to do everything. And they do that really well.
As mentioned earlier, the Vapors have a slightly down-cambered profile, which combined with their stiff midsole and tension rand, pull all the power of your legs into the toes. This made them an ideal shoe for both delicate, precise movement and steep, overhanging sport routes. In Squamish over the summer, I felt just as comfortable on the thin Flying Circus as I did on the powerful and pumpy Wavy Gravy. When I want to introduce a friend to exposure on CCK in the Gunks, these are the shoes I bring. When I have to throw a heel hook to top out my boulder project, I put on these shoes. When I need the best edging shoes I own, I know that I'm going to grab my Vapors.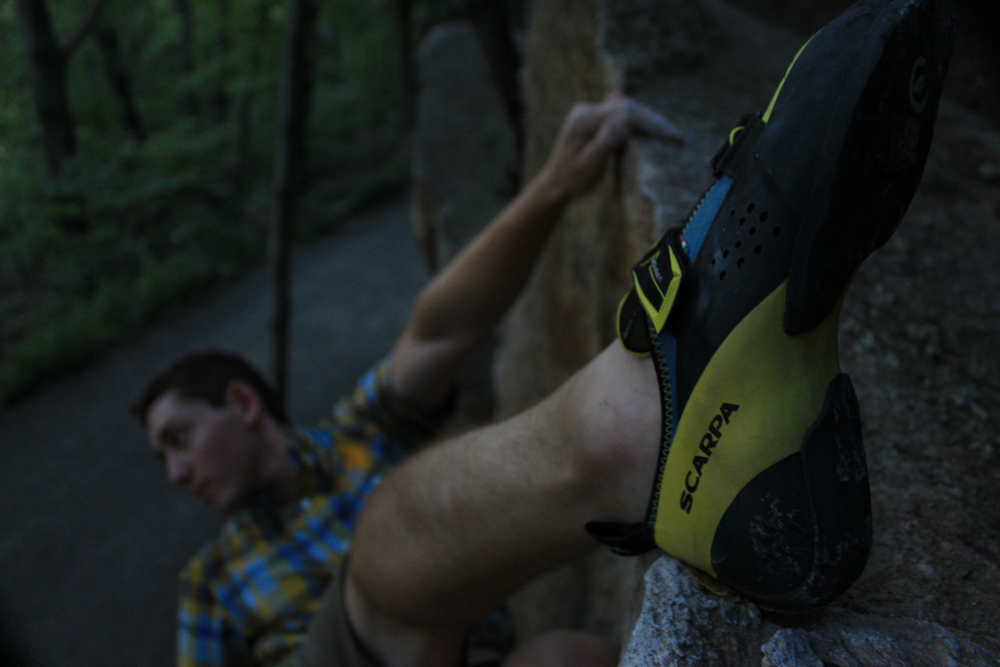 The Vibram XS-Edge sole sticks to every type of rock they touch, from granite to schist to sandstone to traprock. It smears just as well as it edges, so slabs are as secure as jugs.
These shoes are up for the task for almost any style of climbing. Almost. But because of the concave midsole and downturn, the Vapors are not suited for crack climbing. While they work great in finger cracks to push off the edges, foot jamming in a hand crack with these shoes can be excruciating. If your goal is to have an all around shoe that does almost everything, this is the shoe to get. If you need a crack specific shoe, look for something else.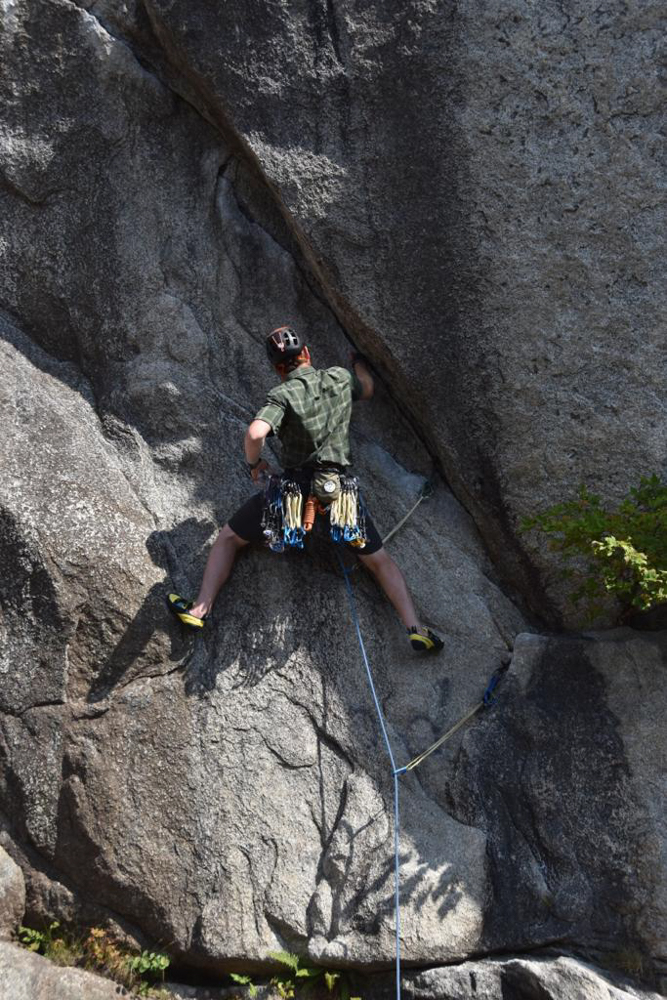 Room for Improvement
The 2019 Vapor V's are fantastic shoes, so I only had a couple of complaints. Firstly, the rubber under the toe box is undercut from the front by about 1.5 millimeters. While this sounds minor, I found it to be a large enough distance that even with precise technique, my toes got scuffed when stepping on small features and micro edges. This leads me to worry that in the long run, the rand may begin to wear down, reducing the lifespan of these shoes. By not grinding the sole rubber back as far, this problem could be avoided.
My second complaint is regarding the top of the foot. I'm really bad at toe hooking. Really bad. I need all the help I can get if I hope to stick, so I'd like to see a larger toe patch on these shoes. While I recognize that these shoes are designed as an all-around model and aren't meant to be top-performers, I think this is a minor change that would actually improve their versatility.
The Final Word
I love my Scarpa Vapor V's. They perform almost as well as any style-specific shoe (with the exception of crack climbing), and are easily the most versatile pair I own. They're comfortable, breathable, sticky, and durable. If I have to pick any one pair of shoes for a day at the crag, these are usually my first choice.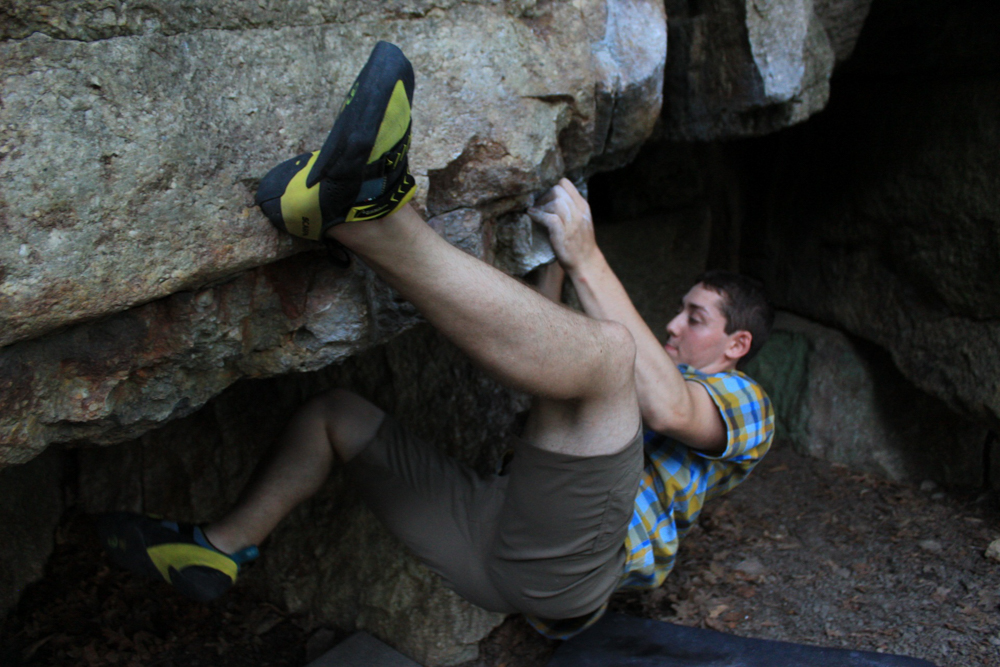 Shop the SCARPA Vapor V on Outdoor Prolink. Not a member? Apply today!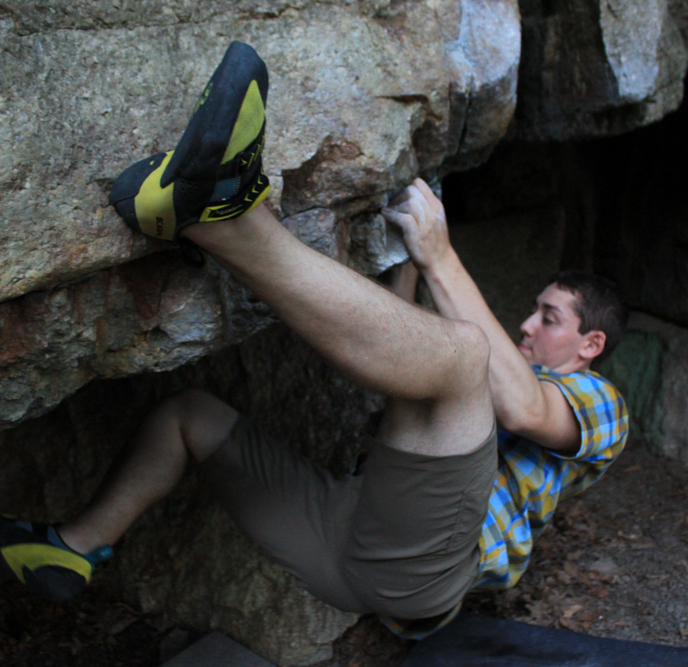 EJ Rimerman is an AMGA Single Pitch Instructor and Guide at Mountain Skills Climbing Guides, located in the Gunks. When not leading clients up the best classics of the Northeast, you can find him instructing at Rock Climb Fairfield in CT or out kayaking with friends. Follow EJ on Instagram @edge_outside.