ProView – Sierra Designs Convert 2 Tent
With a perfect balance between weight and durability, the Convert 2 lives up to its name and treads the line between heavy expedition level 4-season tents and less durable 3-season tents.  This is the first 4-season tent I have come across that I could ACTUALLY use in all 4 seasons where others are either too heavy or overbuilt for use in anything but winter. 
Sierra Designs Convert 2 Tent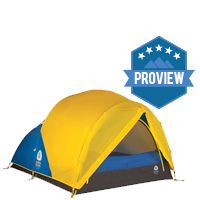 Product Description: The Convert tents have been redesigned to offer a fully removable fly and larger vestibule making them even more versatile than their predecessors, while still remaining one of the lightest weight most livable four-season tents in the market.
Offer price: MSRP: $499.95
Quality

Features

Durability

Eco-Friendly
Summary
With a perfect balance between weight and durability, the Convert 2 lives up to its name and treads the line between heavy expedition level 4-season tents and less durable 3-season tents.  This is the first 4-season tent I have come across that I could ACTUALLY use in all 4 seasons where others are either too heavy or overbuilt for use in anything but winter.
Pros
Very Lightweight for a 4-season tent
Surprisingly compact
Highly versatile
Easy setup for a 4-season tent
Cons
Less features
Slightly awkward until fully guyed out
The Sierra Designs Convert 2 proved to be a perfect 4-season tent for me here in Colorado where expedition level 4-season tents are not always necessary. Although I didn't get to use it in the dead of winter, I was able to put the Convert 2 to the test in the high alpine on ski mountaineering missions to casual camping while rock climbing in the heat of southern Colorado.  The ability to remove the vestibule from the front of the tent dependent on your trip is what sets the Convert 2 apart from any other tent on the market that I have experienced.
Having never owned a 4-season tent myself I have had the luxury of spending time in a vast array of different 4-season tents provided by my friends and climbing partners over the years. Everything from bomber expeditionary tents in the high alpine to fast and light single wall tents meant for aggressive climbing objectives. I couldn't have picked a better first 4-season tent than the Sierra Designs Convert 2. It has struck a perfect balance for everything I have looked for in a 4-season tent so that I can tackle a range of uses without having to own niche tents for each trip. Throughout testing thunder clapped, snow fell, and hail hammered the Convert 2 which it took each in stride. Each time I took refuge from the harsh world outside the Convert 2 kept me warm, dry, and comfortable.
Performance
On its last outing prior to writing this review, I took the Convert 2 on an overnight trip to scramble a couple of the Colorado 14ers. I had left the vestibule on so that upon arriving at camp I could get some shots of everything set up. The amazing part about the Convert 2 is that even with all the bells and whistles I barely notice the tent in my pack. If you don't slim down the tent whatsoever the Convert 2 comes in at only weighs 5 lbs 12 oz at its absolute heaviest. Once you remove the vestibule and its stakes you are talking a 4 lbs 2 oz tent. An almost sub-4 lbs 4-season tent is absolutely insane! Most tents on the market currently come in around 5-10 lbs. To put that into perspective the Sierra Designs Convert 2 in its heaviest form is on the light end of competitive tents even when they are slimmed down themselves.
As soon as we had set camp we could see the impending storm looming overhead which we then also found out was far stronger than forecasted.  As the rain turned to grapple which then turned to hail I could see my buddy's hammock and rainfly violently blowing in the wind. All I could think was how stark of a contrast I was experiencing inside the Convert 2. I had guyed the tent fully out upon seeing the storm brewing, however, unlike my friend's desperate situation the hail and prevailing winds did little to challenge the Convert 2.  I experienced high winds, freezing overnight temperatures, snow, hail, and rain inside the Convert 2. Not once did I lose sleep from winds pushing the tent fabric over my face, or worry that I would wake up to icicles above my head in the morning, and surely not that precipitation would force its way in.  The "worst" I ever had it was while camped around 11,300 ft. with snow and freezing temps I had closed up the vents to retain heat, but also to test the breathability of the tent.  I figured with the condensation all night of two people I would wake up to the inside of the tent caked in frost, but I was pleasantly surprised to only find the tent slightly damp.  This was leagues better than similar tents I have stayed in during similar conditions. On a very opposite occasion, I took the tent camping in southern Colorado while rock climbing for a weekend. I was able to easily keep the vents wide open all night without getting chilled inside during the dead of night, yet I was cool enough to not overheat as we went to bed on the waning hours of day.  Overall, the Sierra Designs Convert 2 served me well in all regards.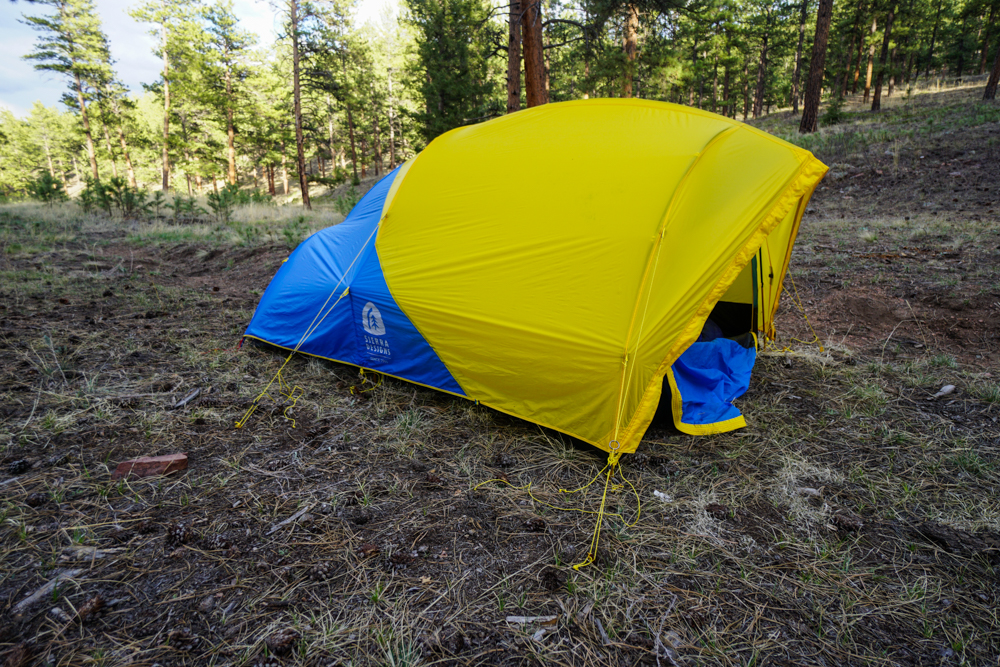 Fit and Comfort
With 30.3 ft2 of floor area, the Convert 2 is definitely on the roomier side for a two-person 4-season tent.  It is so roomy that in a pinch you could easily fit a third person with relative comfort, enough so that I would actually debate the idea depending on the trip I was going on. The Convert 2 is about 2.5 sleeping pads wide if you can't picture 55 inches and a full 7 ft long. My friends and I found the Convert 2 to be one of the most comfortable 4-season tents we had used. 
Look and Style
I am very biased to flashy colors so much so that some of my climbing partners call me the "alpine peacock" for my vibrant gear. So it goes to say that I love the striking royal blue and bright yellow contrasting colors on the tent. I especially appreciate the bright colors for 4-season tents so that when severe weather rolls in I am able to safely identify and head towards my tent from further away than I could see my forrest green backpacking tent. The only downside to the bright yellow coloration was my climbing partner said it was very bright on the inside when the sun hit the fabric directly making it challenging to take a mid-day nap.
Features
The only category that the Convert 2 lacks is in features relative to its counterparts on the market.  However, this is all for good reason. Sierra Designs achieved such a light-weight 4-season tent by trimming down excessive zippers, pockets, and other features that burden similar tents in its class. The Convert 2 features a 20 denier body fabric that is breathable yet waterproof so you are not forced to carry the rain fly at all times.  The body of the tent has a single door that comes adorned with a secondary zipper to change from fully waterproof to a full mesh door allowing for optimal airflow.  Down by the feet, the tent has a single half-moon shaped mesh vent about the size of a half watermelon. Inside the Convert 2, there are only two small mesh pockets, one by each "head" that can really only fit about a snack and a headlamp or an extra pair of socks.  Running the roof of the tent are small fabric loops that allow you to hang gear, however, this requires carabiners or something similar to clip to the loops.  I rigged the tent myself with some 2mm accessory cord from end to end so that I could more easily hang up gear to dry or get it out of the way.  I highly recommend this addition! The only thing I really wish they hadn't cut out of the tent is a secondary zipper on the vent by the feet. I have always enjoyed being able to reach into the tent or set something outside without having to go out the main door. The main feature of the Convert 2 that really gives it its name is the fully removable vestibule.  The vestibule is very large and can store two packs, boots, and really whatever gear you have with plenty of room to spare which is nice for ski touring. Once the weather turns warm though, you can convert the tent to a lightweight backpacking and general summertime tent.  The front door of the tent is fully waterproof so you don't have to sweat leaving the vestibule at home. I do wish Sierra Designs had a clearer description of the tent online. I found some features that were not described in the instructions or on their product videos which I had to experiment with to determine their full functions.
Weight and Packability
As I stated previously, the Convert 2 comes in as one of the lightest 4-season tents on the market and that's when it's fully loaded. This lightweight is then coupled with Sierra Designs much loved Burrito Bag for storing the tent. The Burrito Bag that comes with the Convert 2 does a great job compressing the tent into a useful package. Once packed it is small enough and compact enough to fit not only on the outside of your pack, but I found I was also able to pack it internally. Which up until the Convert 2 I don't think I had ever managed to do.
Durability and Construction
Thus far the Convert 2 has held up great to all means of weather and abrasion from ice tools, skis, and debris around camp.  The finish on the tent is great with very high-quality stitching and seams running the length of the tent. I have no doubt that Sierra Designs built a formidable tent for anything you need. Just go take a look at some of the other reviews online and you'll see people using their Convert 2 in a wide range of uses, but all coming to a similar conclusion on its durability.  The construction of the tent makes it a little finicky to set up the first few times, but once you have it figured out it is easy and quick to setup. 
Friendliness to the Earth
Sierra Designs is committed to socially responsibility as a company as a whole as well as supporting earth friendly organizations such as Leave No Trace. Although, they do not necessarily use recycled materials or have a thorough environmental plan that I could find, they are committed to the human aspect of the outdoors. If you go take a look at their site, you will see the many goals and standards they have for being socially responsible as well as how they are going about actually holding themselves accountable.
The Final Word
The Convert 2 was never really intended to be a 6,000+ meter expedition tent.  Instead, the Convert 2 excels as a lightweight yet very livable alternative for ski mountaineers, ski tourers, mountaineers, and alpine climbers not doing expedition level mountaineering.  In other words, the Convert 2 is basically perfection for people like myself ski touring, mountaineering, and ice climbing in winter and alpine rock climbing and backpacking in summer all on peaks below 15,000 feet here in Colorado and the rest of the western US.  The perfect balance of weight, packability, versatility, and durability has skyrocketed the Convert 2 to the forefront of my quiver of shelters. Sierra Designs has delivered a game-changing tent for mountaineers and climbers like myself.  I look forward to using the Convert 2 year-round from now on no matter the adventure or weather forecast.
Find Sierra Designs Convert 2 Tent on Outdoor Prolink. Not a member? Apply today!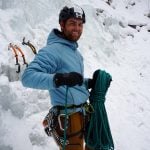 Zach is an aspiring alpinist, ski mountaineer, climber, and photographer. He is a Wilderness First Responder and frequently volunteers with the Colorado Mountain Club to help train future mountaineers. Zach works part-time as a marine biologist in Alaska and a wildlife biologist here in Colorado. You can catch him climbing around Golden where he lives today.