5 Desert Towers You Should Climb This Fall
Good day! Have you heard? It's desert tower season!
The air is getting crisp, the days are getting shorter, and everyone is flocking to the red sandstone cliffs of Moab, Utah. It's prime tower season! 
We're rounded up some of our favorite desert towers for you to climb this fall. Ranging from 5.7 to 5.11, these towers have it all. So if they're not on your list yet, make sure to take some time this fall to check out these five classic desert towers.
Owl Rock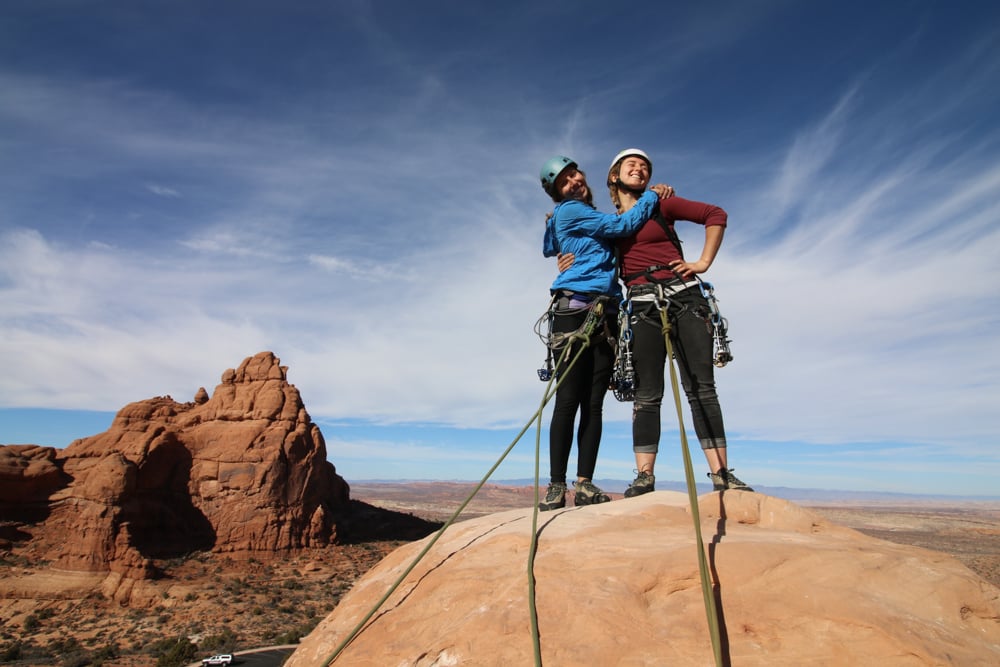 Probably one of the best beginner towers of all time is Owl Rock! Technically called "West Crack" this rock climb is a mere two minute walk from the road and goes at a moderate 5.8. This trad climb has one real pitch of rock climbing and one "pitch" of scrambling. The climb has fun jamming, lots of big holds, and to top it all off you get a unique view of Arches National Park once you're done. If you don't mind having a bunch of tourists take photos of you, then this route is for you! 
The Golf Ball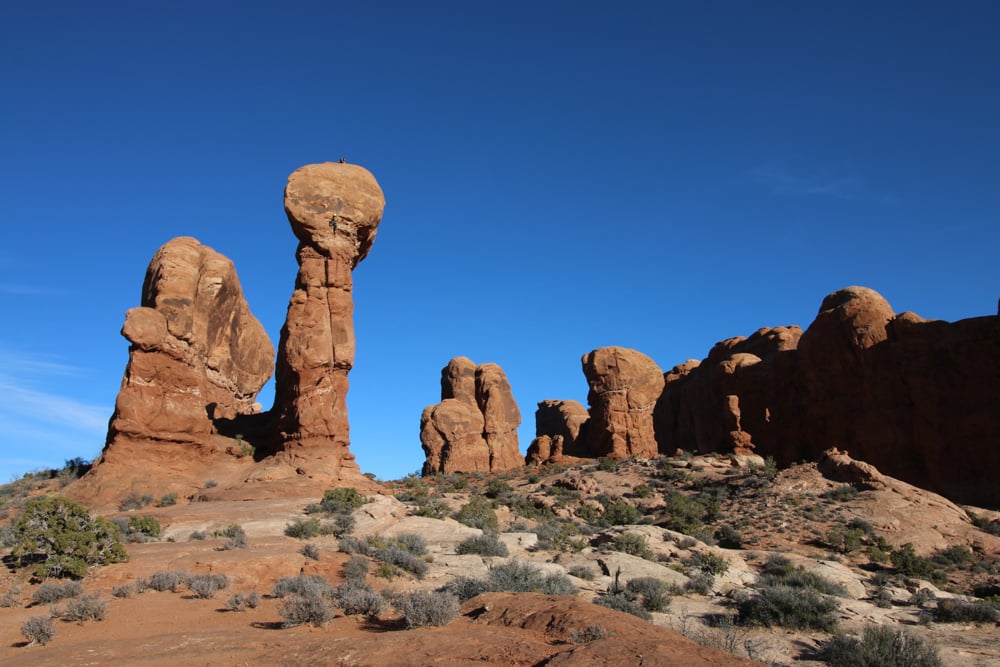 Just a hop, skip, and a jump away from Owl Rock is The Devil's Golf Ball. Known on Mountain Project by its much less flattering name: "Regular Route" this dandy little tower is anything but regular. 
Fun 5.10 climbing up a cool crack corner takes you to an interesting face climb that you can either free or aid. Either way it goes at about 5.10 the whole way up.
Doing the Devil's Golf Ball and Owl Rock in a day is a great way to tick two towers pretty quickly.
Castleton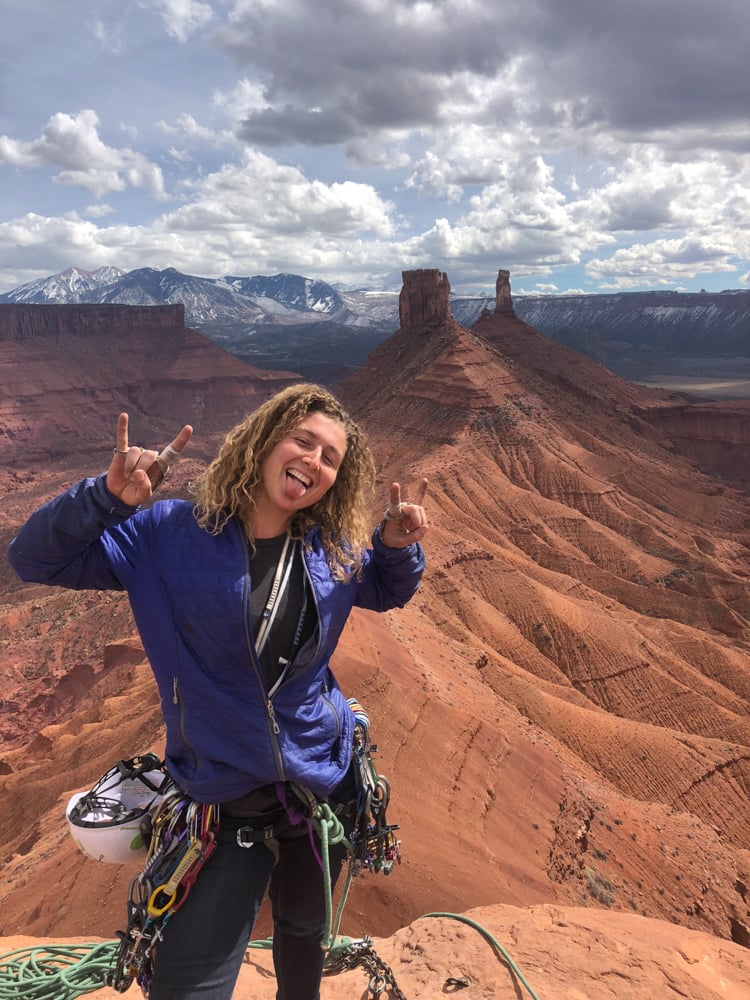 Ah yes, the crown jewel of tower climbing: Castleton. Castleton is THE classic desert tower, and for good reason. The climbing is stellar, the view is unbeatable, and the experience will last you a lifetime. There are several good routes up this tower, ranging from 5.9 to 5.13b. It truly is a choose your own adventure! The most classic route up Castleton is the North Chimney which goes at 5.9 or 5.10 depending on which guidebook you're referencing. Whichever route you decide on, remember that the climbing on desert towers is always a bit more stout than regular desert climbing. So keep your eyes peeled for loose rock! 
The North/South Six Shooter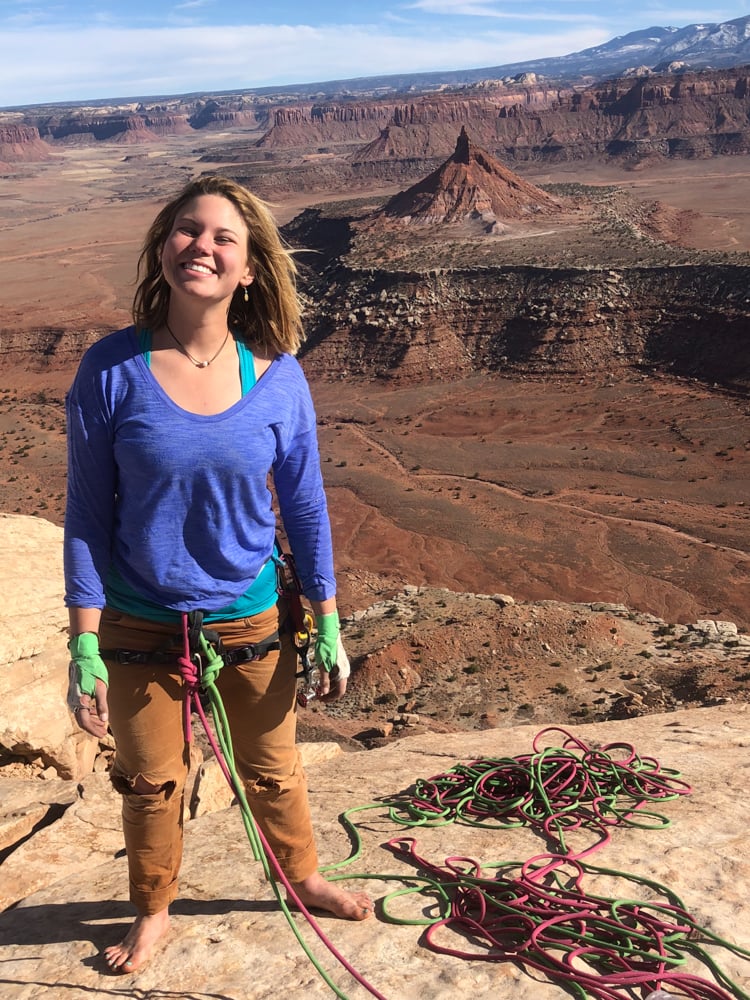 I love both of these towers so much I couldn't pick just one for this article. Both the North Six and the South Six Shooter are some of the most fun towers I have ever had the privilege to climb. The South Six Shooter is the easier tower. The trade route going at an enjoyable 5.7, with huge ledges to rest on and easy fun climbing the whole way. There are several other enjoyable routes that can get you to the top as well, including the classic "South Face Angling Crack?" which goes at 5.10 and is quite good. 
The North Six Shooter is the more challenging sister to the South Six Shooter peak. Each route is as hard or significantly harder than the South Six routes, but just as good. The most classic line being Lightning Bolt Cracks which goes at 5.11-. The views from the top of the North Six Shooter peak are absolutely stunning, giving you a full 360 view of the Indian Creek valley. 
Both towers, and any route you decide to do on them are well worth the trip and the adventure.
Ancient Art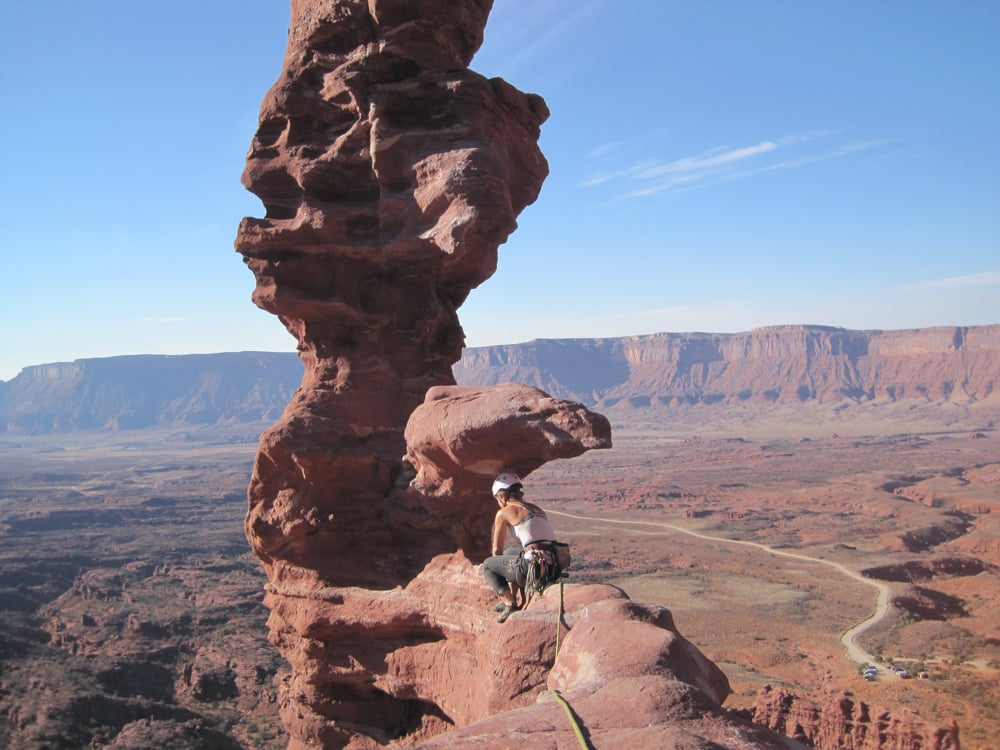 What list of towers would be complete without Ancient Art? This tower is unlike any other in the world. It is four pitches of classic desert climbing, with the final pitch being an airy traverse over a sidewalk onto this wild corkscrew formation. The climb is well worth the photo alone. However, because of its aesthetic nature this route sees quite a lot of traffic. On any given day you can find folks from all over the world heading out to climb Ancient Art. 
My advice is to start early and climb fast!
Desert Tower Climbing
With all these towers it is important to remember that desert towers are harder and more committing than regular desert climbing. The grades feel a bit steeper, the gear might not be as good, and there is always the risk of loose rock to contend with. Before you set out on your desert tower tour make sure you've really done your research and you know exactly what you're getting yourself into.
Have fun and be safe out there this fall!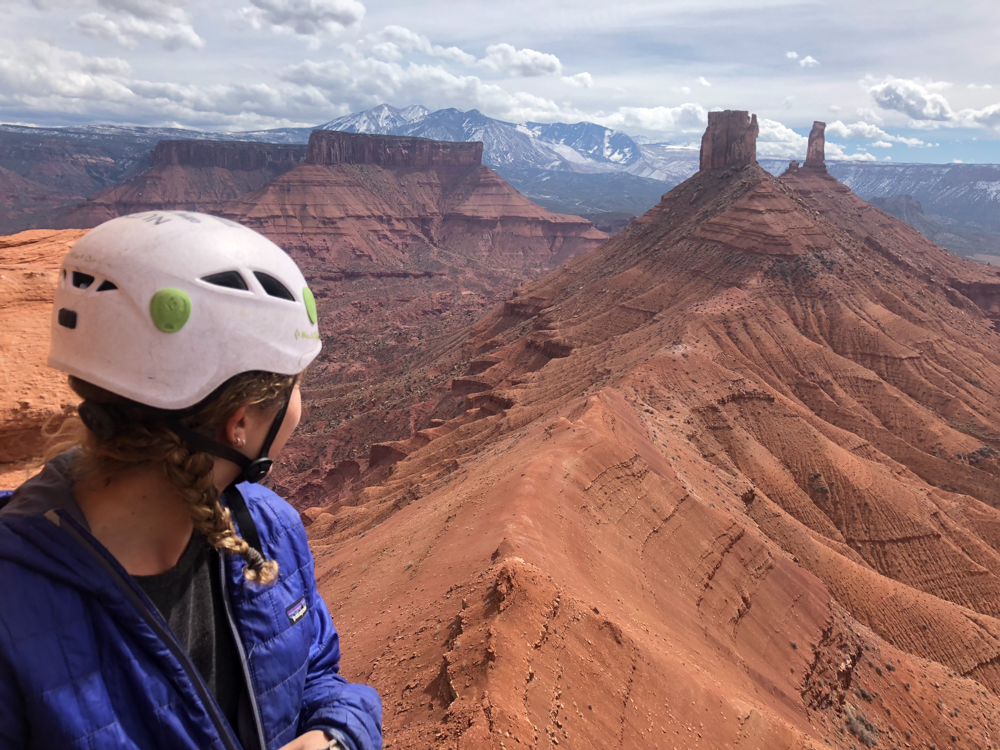 ---
Cover Photo Credit: Kaya Lindsay
Kaya Lindsay is a writer, photographer, and filmmaker with a passion for rock climbing and the outdoors.
In 2016 she converted a Sprinter Van into a tiny home and has been traveling around the US & Canada to pursue her passion for rock climbing. Since hitting the road she has begun a career in filmmaking and is currently working on her One Chick Travels series, highlighting solo female travelers who live and work to pursue an adventurous lifestyle. Her films have been highlighted by major brands such as Backcountry and Outside TV. To fulfill her passion for writing, she chronicles her many adventures in her blog. Professionally, she writes for the adventure sports company Outdoor Prolink and The Climbing Zine. Kaya hopes to spend many more years in her tiny home on wheels, Lyra, and is currently living in Moab Utah.