A Beginner's Guide to Sleeping Bag Care
A sleeping bag is one of the most important pieces of gear that an adventurer can have; It insulates your body when the temperatures dip low, keeping you comfortable and content even under the open stars. It can also help you in emergency situations, conserving warmth when your body temperature begins to drop. But improper sleeping bag care can result in a shorter product lifespan, or a less-effective product, which is why maintenance is so important.
The Best Sleeping Bag Care Strategy
The best sleeping bag care strategy is to keep your bag clean from the start. A clean sleeping bag maintains its properties for longer than a dirty one. Ways to keep your bag clean from the start:
Use a sleeping bag liner.
Carry a set of "sleep only" clothes in order to minimize the grime that your bag is exposed to each night.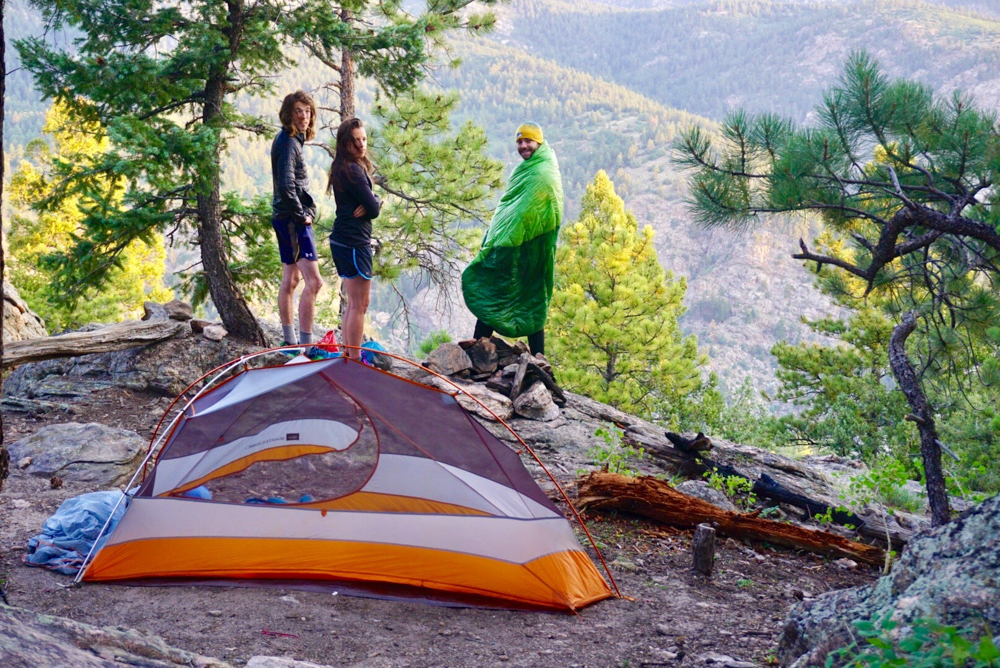 Spot Cleaning
Oil stains don't usually have a huge impact on a sleeping bag's functionality. But they can be an eyesore. Occasional spot cleaning also helps you to reduce the likelihood of needing a full-blown wash. And one thing that you can do to minimize the number of oil stains on your bag is to take a paper towel and a small splash of alcohol, and scrub the scene of the crime. This can help to lift the stains from the fabric, restoring it to a clean state.
Some people will also use a small amount of sleeping bag detergent for spot cleaning. This strategy can be just as effective as alcohol. Just make sure to entirely rinse the detergent from your bag after you've cleansed the area in question.
Machine Washing Your Sleeping Bag
Every sleeping bag works up a funk even if you're diligent about keeping it away from grime. Washing your sleeping bag or quilt can help it to regain loft, which contributes to a warmer night's sleep. By using the right detergent, and properly caring for your sleeping bag or quilt, you can support long-lasting sleeping bag use no matter where you are.
Most sleeping bags and quilts can be washed in a traditional washing machine. Just be sure to use a front loader, or a washing machine without an agitator because sleeping bags can easily be caught or snagged by agitators, causing costly tears.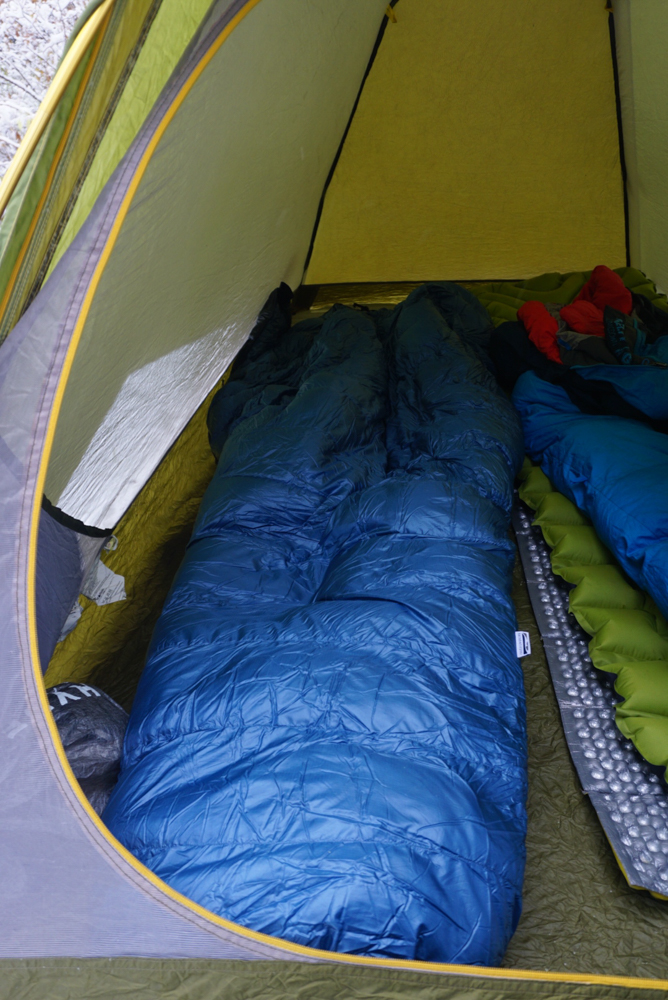 Steps for Machine Washing your Sleeping Bag:
1: Read the manufacturer's guidelines
2. Use a sleeping bag-safe detergent
3. Load your sleeping bag in an agitator-free washer
3. Set the cycle on delicate, with a cold temperature
4. Press start
I've been washing sleeping bags for over a decade, and my go-to product is the Nikwax Down Wash Direct. But there are a few other down-safe products on the market that are designed to minimize damage to your sleeping bag during a standard wash cycle like the Grangers Down Wash.
Drying Your Sleeping Bag
Sleeping bag materials are often delicate, meltable, and easy to tear. Keeping your dryer on a low-heat setting will allow you to dry your bag without damaging delicate nylon components. It's usually better to run a long drying cycle on low heat for this reason.
Pro Tip 1: Towards the end of the drying cycle, toss 2-3 tennis balls into the drying machine to boost the loft of your sleeping bag.
Pro Tip 2: Toss a dry towel or two into the dryer with your sleeping bag during the cycle. This will quicken the drying time.
Pro Tip 3: You may also line-dry your bag to minimize heat exposure.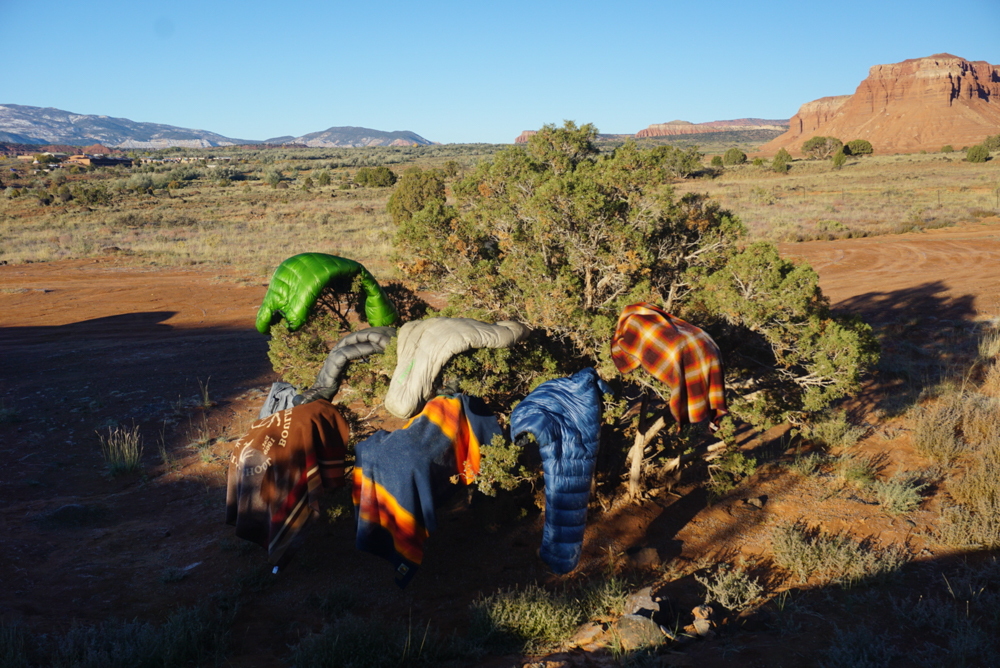 Hand Washing
To hand wash your sleeping bag, follow the same detergent and temperature guidelines as previously described. Use your bathtub or a large plastic container to complete the washing cycle. Be sure to rinse your sleeping bag several times because you don't want to leave a film of soap on your sleeping bag.
Use a Professional Laundering Service
As camping and backpacking become more popular, it's becoming easier to find ways to outsource gear maintenance. Businesses like REI, Rab, and Rainy Pass offer professional cleaning services, which may include a sleeping bag wash. If you're nervous about washing your bag on your own, take it to a professional in order to optimize its performance.
Proper Sleeping Bag Storage
An important component to sleeping bag care is storage. If you keep your sleeping bag or quilt compressed in a tiny little stuff sack when you're not using it, it may lose its loft quickly. If you choose to store your sleeping bag while it's still wet from your last backpacking trip, it might develop mold or mildew. By following these simple steps, you can set yourself up for long-lasting sleeping bag use.
Dry your sleeping bag before storing it.
Place your sleeping bag in a loose cotton or mesh bag.
Keep your bag in a dry, cool area when you're not using it.
A dry sleeping bag is a healthy sleeping bag. Keeping it in a loose bag will allow the down feathers to expand, retaining their loft and softness for longer. And keeping your sleep system in a dry and cool area will allow you to get the most out of your products.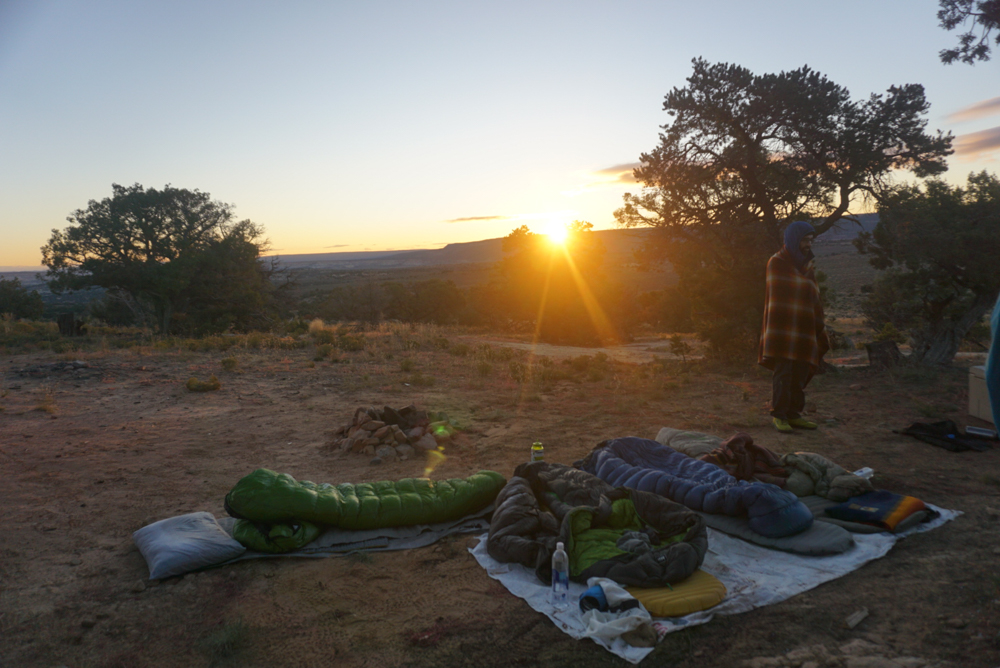 Additional Tips and Tricks
Repair holes and rips prior to washing your sleeping bag or quilt
Never use a Dry Cleaning service. The detergents that these businesses use typically damage sleeping bag materials
Air dry your sleeping bag while you're on trail. Since most hikers pack their gear immediately after they wake up, you might end up trapping moisture in your sleeping bag while you hike. Letting it air dry in an area where it won't get punctured while you're on the go can help you preserve the health of your bag. Hang it from a tree with some paracord, or lay it in the dry grass for a while.
Put your sleeping bag in the sun on occasion. UV light is naturally antibacterial.
Use a product like Nikwax Down Proof to restore hydrophobic properties
Don't overdo it with the detergent
Stray away from fabric softener and bleach. These chemicals can negatively impact a sleeping bag's hydrophobic qualities. It's better not to use them.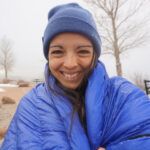 Mary Beth Skylis is a student of movement. She began her exploration of the outdoors in 2015 with a thruhike of the Appalachian Trail. Since then, she has hiked through the Himalayas, the jungles of South America, and the slot canyons of western USA. When she isn't backpacking, she can commonly be found rock climbing or practicing yoga. Skylis works as a freelance writer. She is currently a columnist for Backpacker Magazine, Parkinsons News Today, and ParkinsonsDisease.net. And she makes frequent contributions to publications like Outside Magazine, Blue Ridge Outdoors, and Cascade Designs. Follow her on Instagram @h1kertrash.