Finger Tape Resources for Trad Climbers
Tape talk! There are a few different schools of thought when it comes to climbing tape. I would say about half the climbers I meet swear by tape, and half the climbers I meet never use it. I personally think it comes down to skin types and thicknesses. Some people have super thin papery skin (like me) and some people have tough calloused skin that never needs to be taped.
That being said, finger tape is a really useful tool for climbing hard finger cracks. Hard finger cracks vs. easy finger cracks vary depending on your particular finger size, but generally hard finger cracks will be on steeper terrain with very few feet options! Tape makes these cracks hurt less, helps stabilize your tiny little joints, and prevents ripping or tearing your skin. So here's a quick guide to finger tape for trad climbers. Individual results may vary!
Tape Options
Eurotape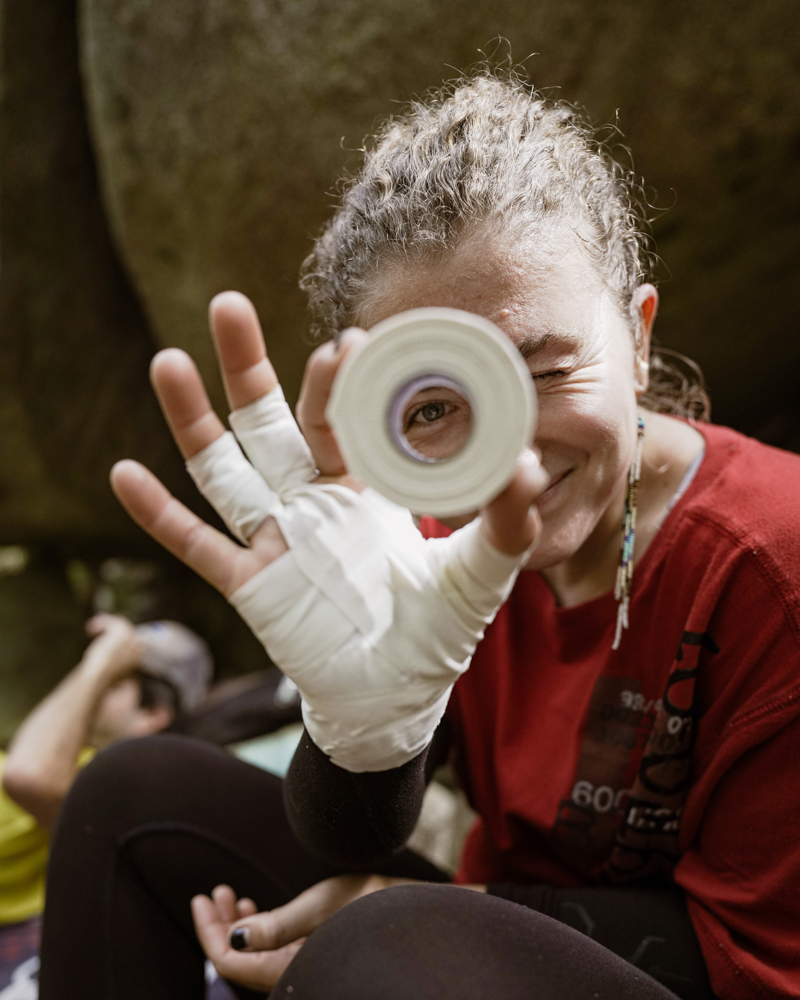 When it comes to types of tape, again, people will say all sorts of things. However, as a general rule, Eurotape is the way to go. It's sticky enough to form a close bond with your skin, and it sticks to itself really well. I find that other brands of tape either don't stick very well, or they rip and tear more easily. It is a bit more expensive than other types of tape, but I think it is well worth the money. If you want to set yourself up for success, go with Eurotape.
Super Glue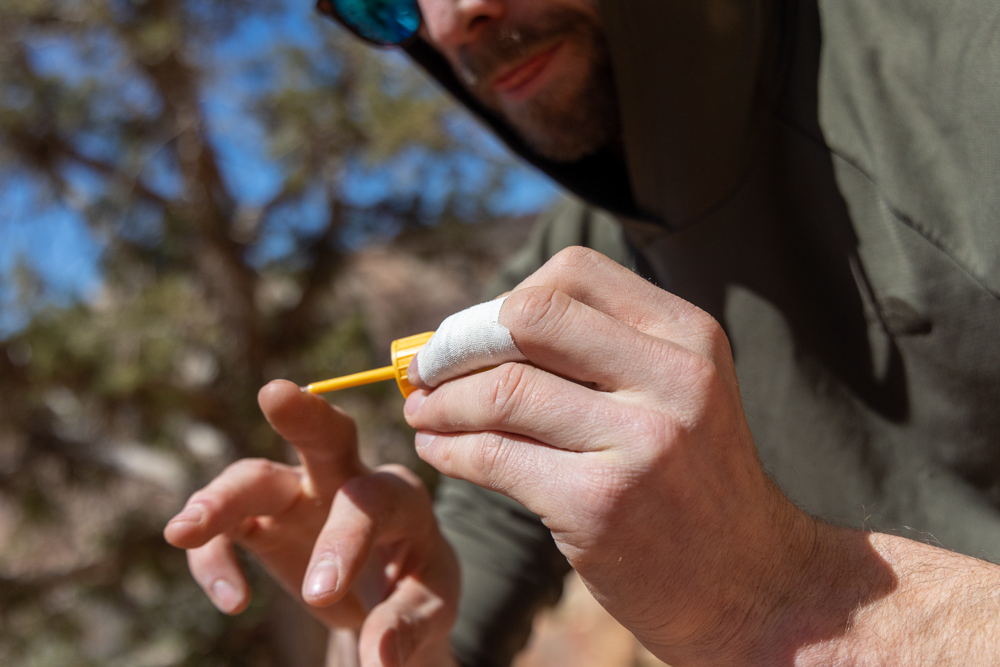 The first time I saw someone roll up to the crag and start supergluing their fingers, I thought they were pranking me. But after a long journey with finger tape and crack climbing, I have come to realize this was no joke. Super glue (I like the gorilla brand) is an extremely useful tool for getting your finger tape to stay in place. Apply a thin layer of superglue on the fingers you want to protect just before wrapping them in tape. Let your glued tape dry for a few minutes and then get after it!
(Unfortunately it does make taking the finger tape off hurt a bit more.)
Tape Spray
Like super glue, tape spray is a great resource for climbers trying to keep their meticulously applied finger tape from rolling off. While you should use super glue liberally, you want to apply the tape spray with a bit more delicacy. Spray a small amount over the fingers or knuckles you're planning on taping, wait a few seconds, and then wrap as desired. The tape spray is also not quite as effective as superglue, but if you find the superglue is too difficult to remove then tape spray is the adhesive for you.
Types of Wrapping
Super Thin Wraps of Tape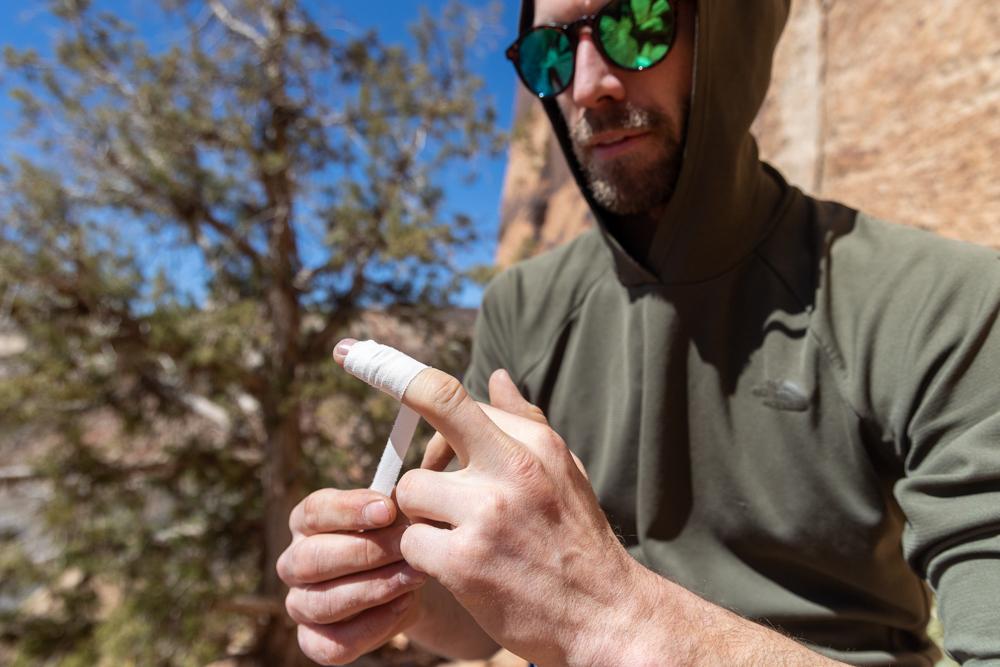 There are a million different ways to tape your fingers. Below I'll quickly list a few of the more common ones. It is important to remember that every hand is different, so when taping your fingers you will have to be patient with the geometry of your unique hand, and adapt accordingly.
A good friend of mine who loves finger cracks swears by this method. A super thin strip of tape running from the bottom of your finger, all the way to the top knuckle (shown above). They add super glue, and swear that the tape never slips!
Super Thick Wraps of Tape
Another method of finger taping is super chunky strips of tape. Just tear off a few strips of tape, about as long as your pointer finger, layer down some superglue, and then wrap from the base of your hand to the first knuckle. It's simple, and effective.
Tape to Size
Depending on the size of the finger crack, you will want to change the size and location of your finger tape. This is not an exact science, just a general guide. If you have much bigger or smaller fingers than the average person, you should adjust accordingly.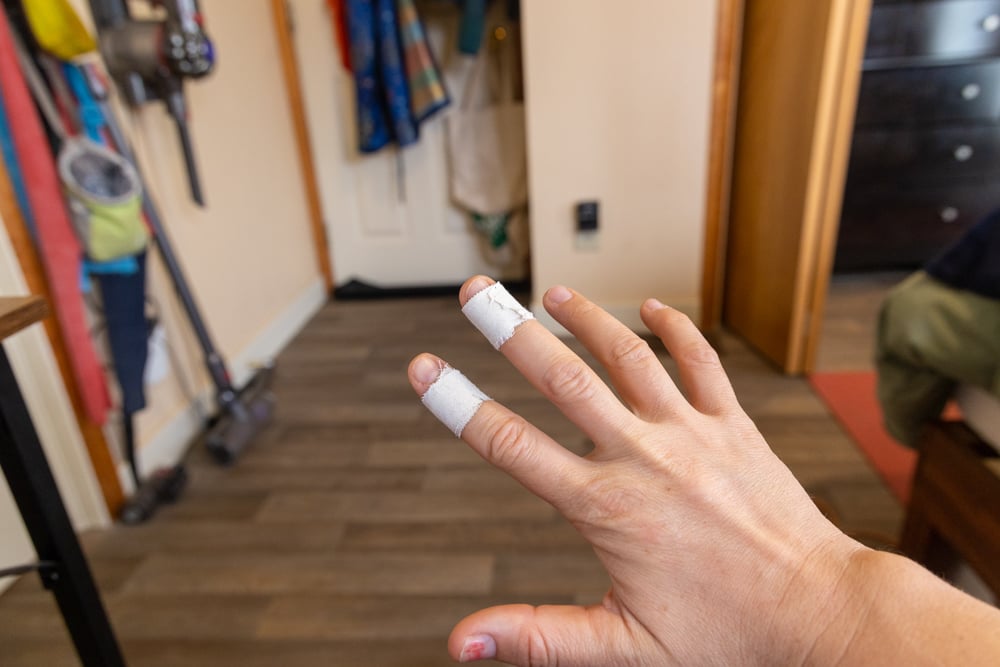 .3 cracks, for most people, will require little to no tape at all. But if you do tape, you'll want to cover your very top middle and ring finger knuckles.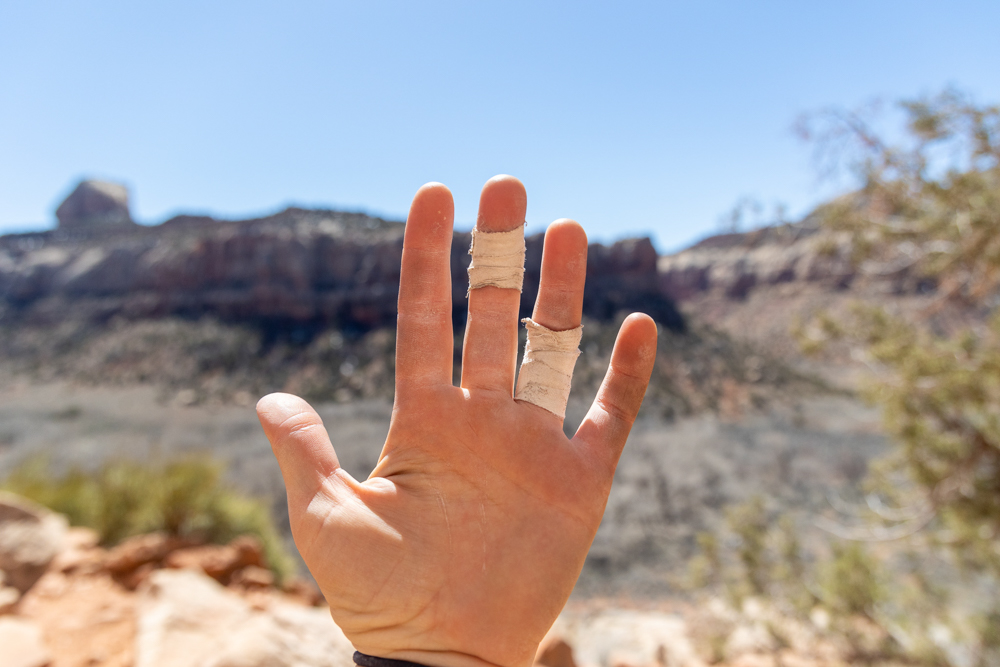 .4 cracks fit most folks a bit better, you'll likely put tape over your ring fingers second knuckle, and middle fingers top knuckle.
.5 cracks typically require finger stacking, which means taping the lower half of your pointer and middle fingers. I have also occasionally seen people tape the upper portion of their ring finger in .5s.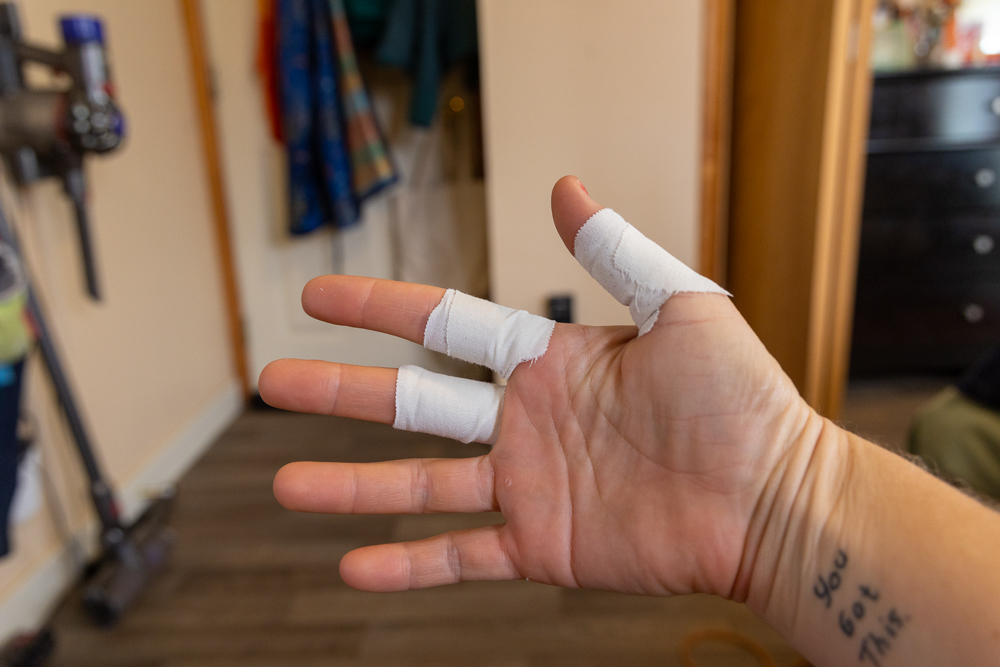 .75 cracks are when you start getting out of finger crack territory and more into ring locks or tight hands for very small handed folks. However, it does require tape on your fingers so I will include them. I like to tape around my thumb knuckle, my entire pointer finger, and the upper portion of my middle finger.
These are not exact! Just general guidelines. Please take it with a grain of salt, and modify it to your specific needs.
The Final Word
In the end, it really is a personal preference. Taping will not make or break a climber, but it can help make climbing more enjoyable. So get after it, figure out what works for you, and send it!
Kaya Lindsay is a writer, photographer, and filmmaker with a passion for rock climbing and the outdoors.
In 2016 she converted a Sprinter Van into a tiny home and has been traveling around the US & Canada to pursue her passion for rock climbing. Since hitting the road she has begun a career in filmmaking and is currently working on her One Chick Travels series, highlighting solo female travelers who live and work to pursue an adventurous lifestyle. Her films have been highlighted by major brands such as Backcountry and Outside TV. To fulfill her passion for writing, she chronicles her many adventures in her blog. Professionally, she writes for the adventure sports company Outdoor Prolink and The Climbing Zine. Kaya hopes to spend many more years in her tiny home on wheels, Lyra, and is currently living in Moab Utah.