Our Favorite Camp Cookware for the Season
Camping season is upon us and I don't know about you, but we get really excited about food here at Outdoor Prolink. And nothing excites us more than good grub by the campfire. From the classic s'more to that whacky one-pot-kitchen-sink chili recipe we've got you covered with this amazing lineup of camp cookware we just can't keep our hands off of.
Every backpacker needs an MSR Pocket Rocket in their pack (or pocket). As a long-time classic, the MSR is still the go-to stove for avid backpackers who want to lighten their load. At 2.6 ounces it's one of the lightest – and most-loved – backpacking stoves on the market.
What makes it great is that it easily folds into itself and can be quickly stored in virtually any pot. We love the basic, yet durable design that doesn't take up too much room in your bag. It's light and fast – boiling water in just 3 minutes and 30 seconds. It's a handy stove that can handle any off-the-beaten-track place you take it.
The downside? The legs can sometimes snag on loose clothing or scratch enamel cookware, so a storage case is necessary.
Aspiring and avid camping chefs alike need to check out the Primus Campfire Prep Set. A true "mis en place" every tool has a place and folds up quickly for grab-and-go packing. You'll get a cheese grater (yes please), bamboo cooking utensils (spoon, salad fork, and spatula), as well as a chef's knife. All sharp edges have durable covers. You can even store extra items in the small storage pouch.
These accessories are built specifically for camping, meaning you won't have to worry about bulk or breaking on the road. I've had mine in my camper for years and it's elevated my camp cooking game.
The downside? We wish there was a slide-in space for Primus's cutlery too.
This is the mother of all camping cook sets. Two different sized pots (with lids), a pan, and a round cutting board all nest together in a handy carrying pouch to make cooking your camp meals a breeze.
The non-stick coating on the hardware keeps food from sticking and makes cleanup a breeze. We were stoked to discover that this set lasts forever too – 4 years and counting and still not much wear and tear. The lids include a built-in strainer – extra handy for pasta night!
The downside? There is only one removable handle that can make multi-pot meals a little tricky, but not enough to be too bothersome.
Finally the accessory you've been waiting for to create the perfect fireside avocado toast. Yum! The Primus Campfire Griddle Plate doesn't just toast, but you can use it for sausage, bacon, and any other thing that goes sizzle sizzle on the grill.
Featuring a foldable handle, cover, and non-stick surface, we love this griddle for our breakfast favorites.
The downside? We actually don't have anything, but we do recommend using the carry case for storage to keep the griddle in tip-top shape.
At just 5.2 oz this uber-lightweight kettle with lid does a dang good job at getting your water piping hot. Whether it's for that cup of Joe or tea for two, the MSR 1L Pika Kettle is one of our favorite camping cookware essentials.
The lid stays on and the water stays warm, making quick work of getting your warm cup of energy first thing on a groggy morning.
The downside? The handle can get REALLY hot, especially if it's folded down and touching the kettle while it heats.
The GSI Outdoors Java Press still delivers the best cup of camp coffee we've ever had. The double-wall insulated, durable French Press style of this camp coffee maker gives you a brilliant cup of coffee to enjoy with the early morning light at camp. There are two sizing options available for any type of camper. We especially love the silicone lining around the plunger since it keeps those pesky grinds at bay.
The downside? Don't let it fall over! It isn't spill-proof.
---
Hungry yet? We can't wait to get outside and camp with our favorite cookware of the season. So pack your bags and sleep under the stars this year without sacrificing on flavor.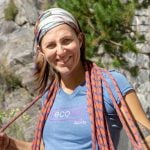 Meg Atteberry is a full-time freelance writer and outdoor enthusiast. Her mission is to empower others to get outside and have an adventure. She loves a sunny crag and delicious trail snacks. When she's not wordsmithing you can find her hiking, climbing, and mountaineering all over the world with her fiancé and adventure pup, Nina. To learn more about Meg, check out her blog Fox in the Forest. She'd rather be dirty than done up.