Meet the Pros: Two Photographers, a SAR team member, and an Outdoor Educator
In the Pro Spotlight series, we highlight our Outdoor Prolink pros, the amazing individuals working in the outdoor industry every day. Pros guide, educate, train, mentor, and lead a wider audience in outdoor recreation. Their experience provides credible assessment of gear quality – they are, after all, the elite audience for whom it is designed.
Meet Kayla, owner of an adventure elopement & honeymoon company called Adventure Pact.
What is the most unforgettable trip or adventure you've been on?
Oh goodness there are so many. Probably a more off the beaten path adventure I had in 2019. I was in Panama with my best Panamanian friend and we found ourselves in the central cordillera looking at a topography map. We figured that theoretically if we got to this one hillside we found we should be able to see two oceans from it. This involved bushwhacking with a machete and trailblazing in our attempt to get there. 10/10 adventure. Due to time constraints on my end we never got to the point. On the way back down we ran out of time for daylight and had to hammock camp on the side of the ridge. It was insanely windy and we kept warm by putting out hammocks together and sipping whisky.
What is your favorite piece of gear?
Toss up between my Ortovox Fleece Grid Hoody and my Evolv Shamans I always have both with me.
What is the greatest lesson that nature has taught you?
Be flexible and always have a plan A, B, and C. We are at mercy of Mother Nature and need to respect that.
Meet Tim, a search and rescue team member with Atalaya SAR in New Mexico.
What got you started in the Outdoor Industry?
What got me started in the outdoor industry was a compelling feeling to be of service. I have seen firsthand the difference that can be made in a community by volunteers being of service to their fellows for no reason other than a desire to be helpful. I put a lot of thought into the best way I could be of help to my fellow man and decided to join one of the two MRA accredited technical rescue teams in my state. After passing state tests and satisfying team qualifications, I became an active member of Atalaya Search and Rescue based in Santa Fe, New Mexico. 
What is your favorite piece of gear?
Out of all of my outdoor pursuits, I consider myself a climber most of all, so I would have to say my favorite piece of gear is the Black Diamond C4 camalot. 
What is the most unforgettable trip or adventure you've been on?
Every adventure is pretty unforgettable, but one of my favorites was last fall. Me and my fiancé spent a week car camping, mountain biking, and climbing all around Northern New Mexico. We camped 10 feet from the edge of the Royal Gorge. We rappelled down into the Gorge for some amazing climbing on basalt, biked the west rim, went to a fun hippy party in the tiny community of Carson, New Mexico, and finished the trip off by eating at one of the most upscale restaurants in Santa Fe. This was quite a treat after a week of living in our car and only taking a couple of bird baths in the Rio Grande.
What is the greatest lesson that nature has taught you?
I have learned many lessons from nature that I carry with me in everyday life and always will. It was hard to pick just one but this one has really helped shape my outlook of the difficulties we all face in life. While up about 200 feet on a multi-pitch route in the Sandia Mountains of Albuquerque. I was looking for a cam placement and was paying attention to every tiny crystal and all the different details of the rock and thinking about just how much pressure and heat it took to form and push all of that up from the core of the earth to form these sheer granite faces. They were beautiful and impressive, yet at the same time a little scary and intimidating. Somehow, I couldn't help but feel calm and safe in the quiet that is those mountains. We are just like those mountains. Life, at times, is hard. We face struggles and failures at different times. There are times when we want to give up, when we think we just can't succeed, but that is the exact moment when the universe will conspire in our favor if we don't give up! The process doesn't have to be pretty, in fact it is usually a messy, unflattering thing to go through, but when the heat cools off and the pressure subsides we get to look back and say we survived the struggle and came out on the other side stronger, more wise, and have a feeling of confidence in our ability to survive! We are one step closer to living life without fear!
What is one thing you want future outdoor enthusiasts to know?
I would like people to know that the outdoors is an amazing place that is open for everyone to experience and enjoy. Go at your own pace and be honest with yourself about your current abilities. Although beautiful it can be deadly out there. Do some research and make sure you are prepared for whatever adventure you are planning. Tell someone where you are going, when to expect you to come back, and if you do find yourself in a bad situation, don't be too proud to ask for help! Get outside and have your own experience in nature!
Meet Kyle, an educator at Green Adventure Project where all of his classes are taught entirely in an outdoor setting.
What is the most unforgettable trip or adventure you've been on?
That's tough. My most unforgettable trip was probably one of the simpler trips someone could go on. My friends and I wanted to meet up in Leadville and hike a 14er. We eyed up the Mount of the Holy Cross. So, we spent a weekend in Leadville eating pizza and hiking the mountain. The "Halo Ridge" is what appealed to us the most. It was a simple trip, but a memorable one. I was able to meet up with my friends who I hadn't seen in a while and just have a wonderful weekend with them.
What is the greatest lesson that nature has taught you?
The greatest lesson I have been taught from being outside is that there is way more to life than items that I can buy in a store. Yes, having the proper gear while on the trail is crucial, but most items that people use in everyday life just don't matter as much as we think they do. Thanks to the outdoors, I developed the mindset of buying something that means I want to use it, and use it for a long time.
What's the one thing you want future outdoor enthusiasts to know?
Education is everything. You will always have something new to learn. Helping the younger generation learn will help them learn how important preserving the environment is. This will lead to more protected lands, cleaner air, and a happier planet for generations to come.
Meet Allyson, a freelance photographer working for Steamboat Ski Resort.
What got you started in the outdoor industry?
My involvement with the outdoor industry began at my first job at age 16, where I worked as a sales associate for a ski shop in Texas. Growing up in Houston, my family traveled 1-2 times each year to ski in Colorado or Montana, which is where my love for all things winter and skiing began. Since I couldn't be out on the slopes every weekend, I found the next closest thing I could: helping to outfit families with all the gear they need for a great ski vacation! 
What is your favorite piece of gear?
My favorite piece of gear has to be all things Smartwool. Between their hiking and ski socks to base layers and jackets, I'm probably wearing something Smartwool at any given point in time. I love the Active Ultralite Hoodie for summer hiking, the Classic Thermal as a base layer for skiing, and the Drape Neck Hoodie for snowshoeing.
What is the most unforgettable trip or adventure you have been on?
My most unforgettable adventure was a solo trip with my dog to Ouray, Colorado. We climbed mountains, hiked to crystal blue alpine lakes, and enjoyed peace and solitude each evening at camp.
What is the greatest lesson nature has taught you?
That sometimes a change of pace is good, and a constant reminder to enjoy the journey rather than always focusing on the destination. Nature helps remind me to slow down and appreciate the small moments along the way, rather than always being so focused on the end result or goal.
---
We hope you enjoyed getting to know these pros as much as we did! If you're a pro and want to be featured on our blog, shoot an email to [email protected]!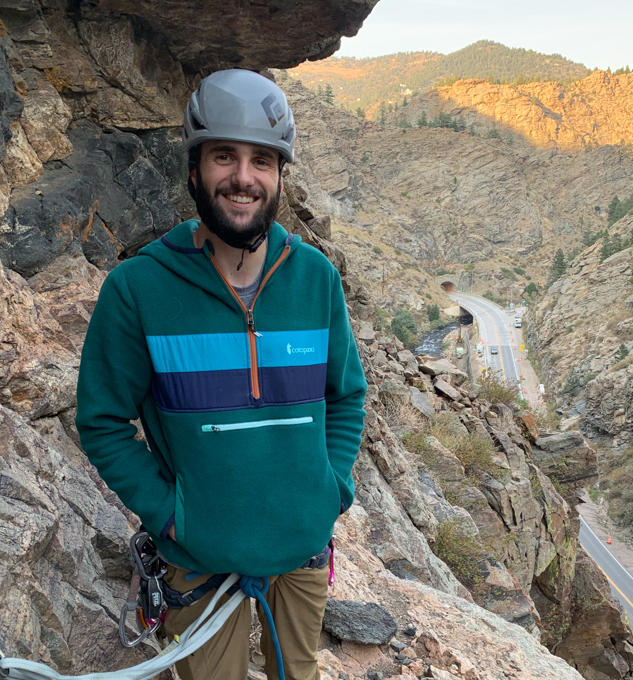 Andrew Brookens is a native Michigander who now lives and works in Denver, Colorado for Outdoor Prolink on the marketing team. When he's not at work, he's obsessively exploring the west for climbing of all styles. He's equally psyched to get after some skiing, backpacking, and trail running as well! He believes that strong coffee and long days out in the mountains with friends are the key to a happy life. Follow him on instagram @brookensandrew.