ProView – Darn Tough Men's Lifestyle Socks
I love socks and I hate socks. During the summer, if my feet aren't stuffed into mountaineering boots or running shoes, I don't see a lot of need or desire to stifle my little piggies with a pair of socks. During the winter, however, my feet are almost always dawning a fresh pair of socks to keep warm and stylish. Socks marketed as "Lifestyle" have always been a mystery to me. Who's lifestyle are they catering to? My "lifestyle" may be vastly different from another person's "lifestyle". When a sock has been deemed a "lifestyle" sock I've come to rename it as an "every day 'in town' sock" and generally tend to avoid them. I wondered how a well known outdoor sock brand like Darn Tough would tackle the "lifestyle" sock. I spent many days in a plethora of footwear types in varying conditions testing these socks according to my current "lifestyle". 
Darn Tough Lifestyle Socks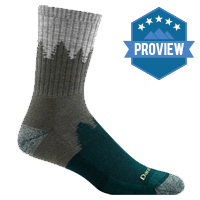 Product Description: Darn Tough Vermont Socks are purpose built premium merino wool socks made in Vermont, USA. Our socks are guaranteed for life to be the best fitting, and most comfrotable.
Offer price: $21.00-$23.00 MSRP
Quality

Features

Fit

Durability
Summary
These lifestyle socks are another great product from Darn Tough that are perfect for every day use! They are light, comfortable, dry quickly, and can keep up with me on my busiest days! 
Pros
Light and breathable
Quick-drying
Durable
Multi-Functional
Cons
Lightweight, may not be great for super cold weather
Darn Tough is a well known, USA made brand that has developed a cult following for their high-quality lifetime warranty socks. I have owned a couple of pairs, but they have not necessarily stood out amongst the vast competition of the outdoor sock world. The most appealing piece to Darn Tough socks is their lifetime warranty. On their website, they state, "Our unconditional lifetime guarantee is simple. If our socks are not the most comfortable, durable, and best fitting socks you have ever owned, return them for another pair. No strings. No conditions. Socks guaranteed for life." I wanted to test this.
Initial Impressions
When I first received the Darn Tough Lifestyle Crew Socks, I was pretty stoked on the cool colors and patterns. Although, I was a bit disappointed at how thin they actually were; there was no cushioning whatsoever. I was skeptical as to how these would hold up due to how thin the material was. I was determined to break these socks down by using them for as many activities as I could in my everyday "lifestyle."
Fit/Comfort
From the first time I put on these socks to the last time I dawned these socks (full disclosure: I'm currently wearing them) the fit has remained perfect. The socks do not slip and they do not stretch out even after multiple uses and wash cycles. The blend of 49-63% merino wool combined with 35-43% of nylon with a smidge (2-3%) of lycra/spandex makes these socks fit, shall I say, "like a glove!" Most socks I've owned tend to slide down throughout the day, however, these Darn Tough Lifestyle Crew socks stay up like a champ! Additionally, Darn Tough's True Seamless technology allows for a seamless sock that does not create hotspots.

Look/Style
With many patterns and colors to choose from, the features that keep your feet happy, and the long term durability that these socks offer, unless you're in flip flops or swimming, these socks should be on your feet for basically any and all occasions from the city to the mountains.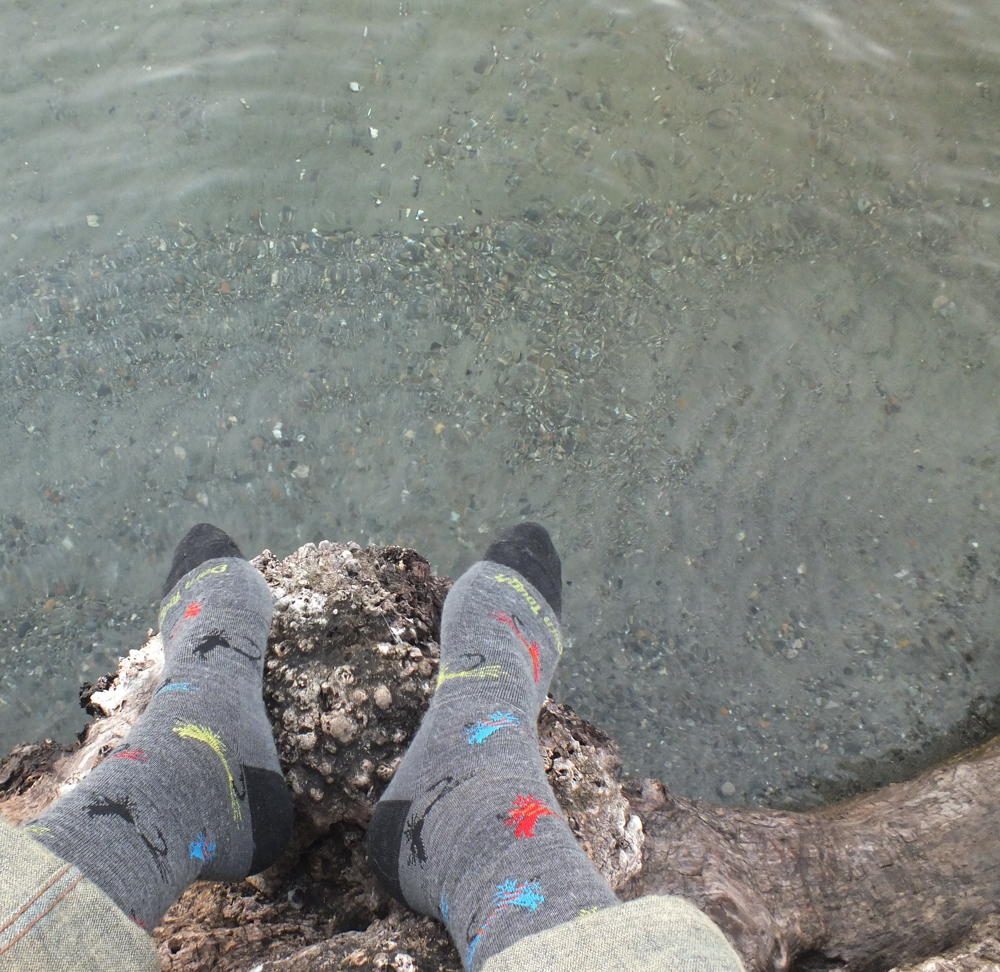 Features/Performance
The feature set sounded a bit lackluster when I first read about these socks. However, after using these socks in a myriad of adventures over these last weeks, my thoughts of the "normal" features, that I've come to expect in all my socks, seemed to stand out in these "everyday lifestyle" socks. While bike commuting across town and hiking up steep cascade trails, these socks definitely had fast action wicking that kept my feet dry and blister-free. When wearing them with running shoes through pouring rain and puddles for hours one afternoon, I was blown away at how fast they dried once I stopped and took off my shoes! I used these socks tromping through a foot of fresh, heavy, wet snow during a fall backpacking trip and despite the thinness of the ultra-fine merino wool, my feet were warm the entire time. That's true all-weather performance!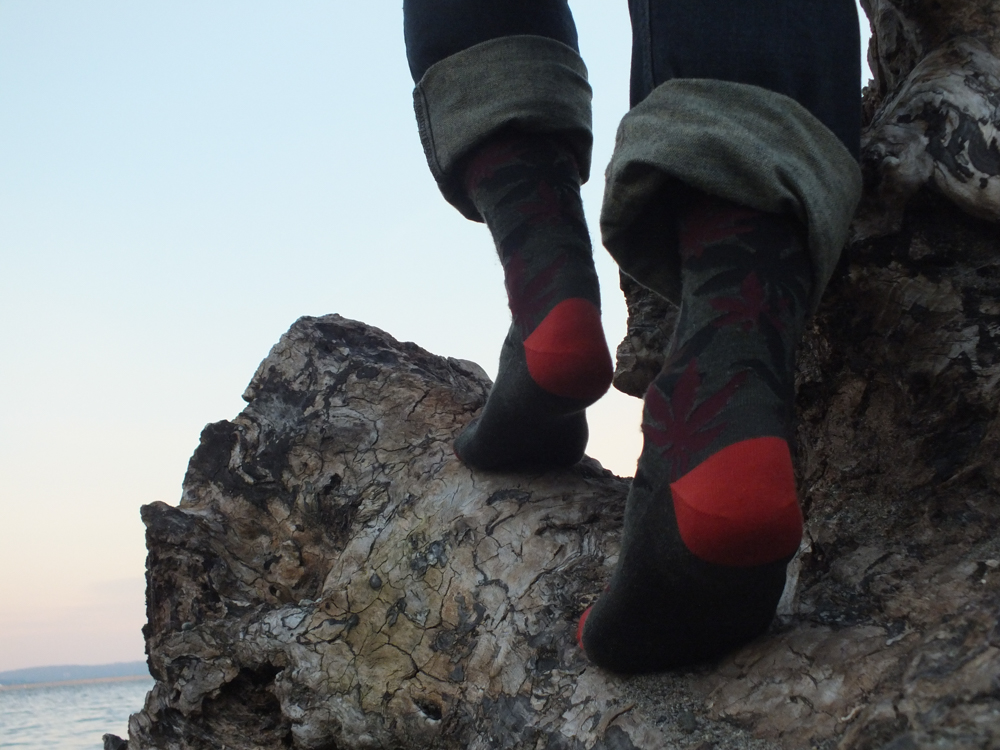 Durability/Construction
I have not had good luck with thinner socks being very durable. Over time, even thicker, more durable socks tend to wear out in certain spots for me. I have been thoroughly impressed at how well these Darn Tough socks have held up. So far, I've stretched their use to include so many different activities, climates, and situations, but I have yet to see them hardly break a sweat. They are performing as though they are still brand new! The true test will come when I've given these more than a month on my feet. And rest assured, if these socks ever do break down, I'll be testing the famous lifetime guarantee: "No strings. No conditions. For life."
Final Word
With every new activity I tested these socks with, from clowning around on the beach to wearing them around the house in my slippers to backpacking through a foot of wet snow, I have been amazed and impressed at the performance and comfort of these socks! Definitely not what I expected, but definitely very pleased with having my expectations surpassed! These are an unlikely workhorse of a sock that is, as they say….should I say it?…..Darn Tough. 
Shop Darn Tough on Outdoor Prolink. Not a member? Apply today!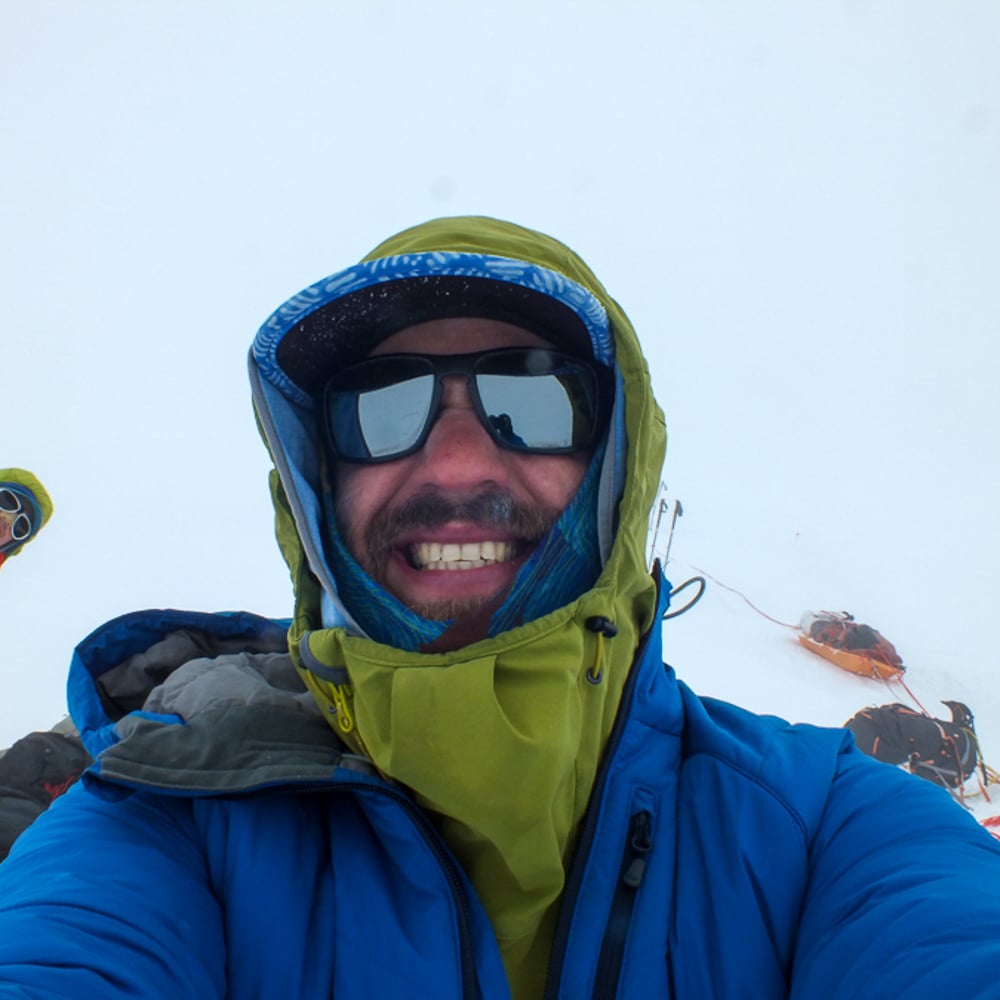 Seth White is a former Instructor and Guide with the American Alpine Institute and has volunteered with Seattle Mountain Rescue. Seth has explored, climbed and guided in mountains all across the globe from Chilean Patagonia to the roof of North America to Spain's limestone meccas. Growing up in the Pacific Northwest he now calls Seattle, WA home and works as a full time Firefighter/EMT in South King County. Seth spends his days off adventuring in the mountains with his partner Carissa and their dog Arrow, drinking copious amounts of coffee, and searching for that next perfect piece of gear.