ProView – Duonamic Eleviia
Training while traveling is hard. Hotel gyms are often lacking. Those of us who spend a lot of time in vans or trucks traveling to play outside or work or both often resort to drastic measures. Have you ever tried to do sets of pullups off a tree branch?
I tested the Duonamic Eleviia during a long period of time on the road to see if it would give me a consistent option for working out without expensive gym memberships, a bag of gear in my truck, or risking my tailbone.
Duonamic Eleviia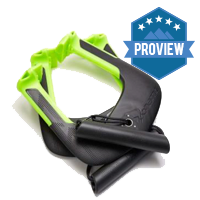 Product Name: Duonamic Eleviia
Product Description: Eleviia is the first true, portable, doorway exercise equipment that is built with versatility in mind. The options are anything but limited with different attachments for different exercises, including climbing and gymnastics. This system is carry-on friendly and very easy to both install and use. It is meticulously engineered through FEA and prototypes and is manufactured to the highest standards. Eleviia is a favorite training tool, loved by American Ninja warriors, climbers and fitness enthusiasts.
Offer price: MSRP: $119.00
Value

Size/Weight

Durability

Design

Safety
Summary
Bottom line: The Eleviia worked well on most door frames and let me get in a workout almost everywhere. 
Pros
Easy to use
Very compact
Durable
Fits almost any doorframe
Cons
Weight limit doesn't allow for loaded pull-ups
Features
Eleviia is made of aerospace composite material with high strength and high stiffness while keeping the weight down.
Eleviias contains the CLAMP SAFE feature which utilizes a spiral spring to keep Eleviia safely secured onto the door trim.
Eleviia comes completely assembled out of the box
Eleviia's carefully optimized design fits in a bag that's just 25cm × 23cm × 11cm, and weighs 1.6kg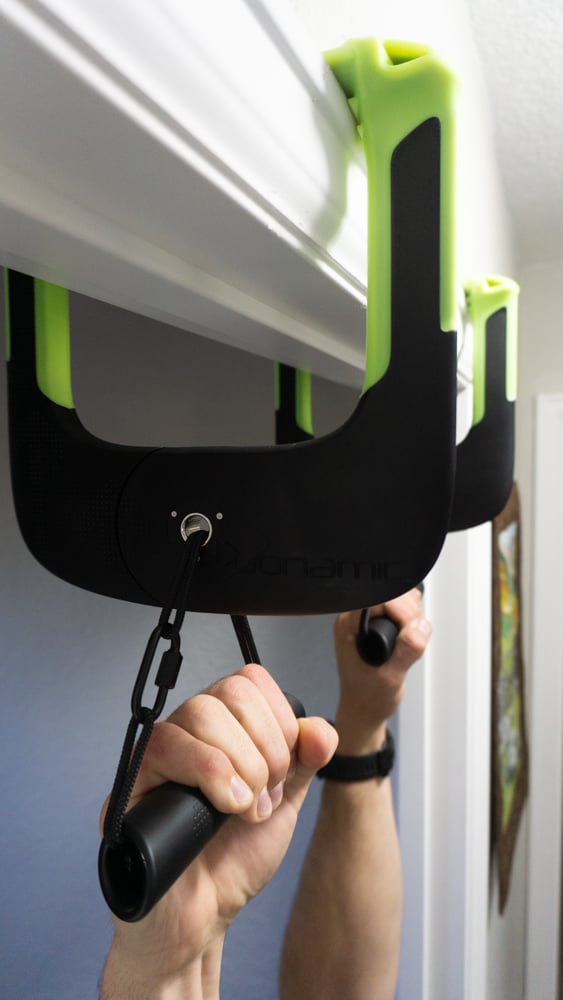 Value
The $119 price tag might be a little much for some to stomach. If you're primarily doing your workouts outside then these aren't for you and you'd likely be better suited by the classic Metolius rock rings. Those of us who spend a lot of time in hotel rooms or at work though will appreciate being able to get a workout in anywhere.
Size and Weight
I appreciated these being small enough that I could bring them anywhere with me. They're light and easily fit in the small backpack I bring to work, on planes, and they practically lived in the backseat of my car for a month. I even put them in my carry on a few times and snuck in a quick workout during a long layover.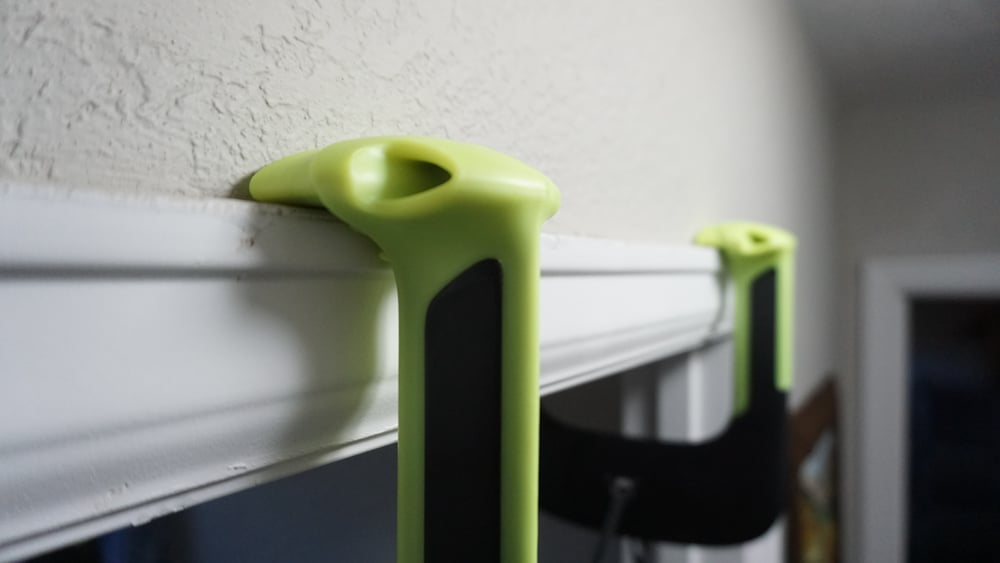 Design
The design fit a wide range of doors including the occasional forest service bathroom. I didn't notice any marking or scuffing of the doorframes after I was done. It's worth reading the manual on the website carefully as some people have noted that these seem to be designed to fit North American door standards rather than European. The design itself is ingenious and the clamps are ready to go out of the box without any assembly. Within the first few minutes of them arriving I had them on a doorframe. I would have liked to see an easy option for adding different styles of grips.
Durability
Despite being tossed around in the back of my truck, my luggage, backpacks, etc the Eleviia is no worse for the wear. I doubt you could repair them if they broke but I also doubt you'll have to. They seem sturdy and unlike lots of portable climbing holds you don't have to worry about breaking them.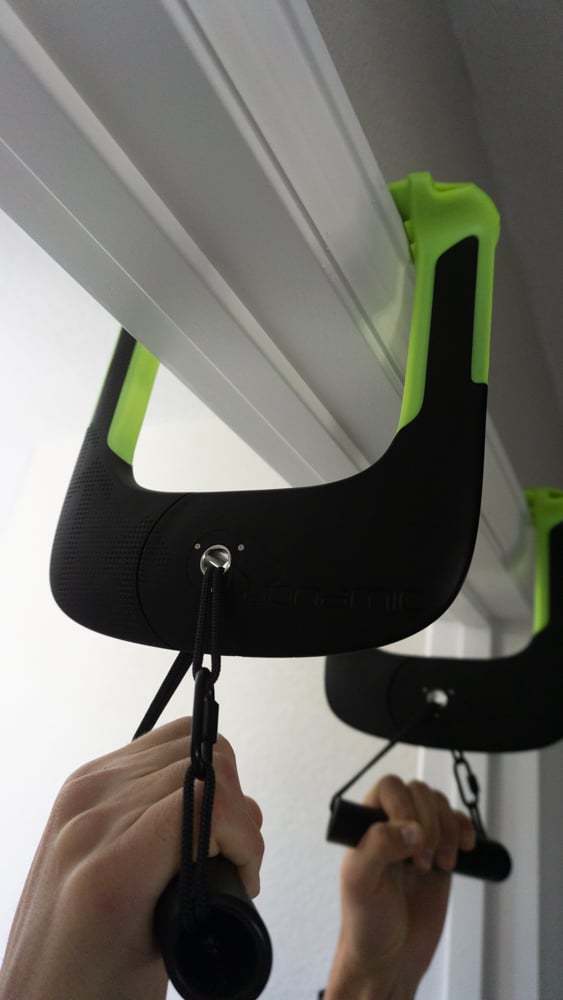 Safety
When first trying the Eleviia I was a little concerned that the clamps wouldn't hold my weight or would shift around on the door frame during workouts. These concerns were unfounded. They held my 190lbs frame and my climbing partner's 230lbs without trouble. Even the sloppiest pullup wouldn't cause them to move. Duonamic lists a 250lbs weight limit and I have no doubt they'll hold up to this. The extra wiggle room will be nice to do loaded pullups with extra weight.
The Duonamic Eleviia will live in my travel bag from now on. The combination of lightweight, small size, and solid attachment was perfect for my needs while on the road. I'm looking forward to adding some powerholds to them in the future before rock season rolls back around.
Shop the Duonamic Eleviia on Outdoor Prolink. Not a member? Apply today!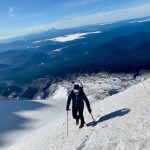 Justin is an emergency medicine physician and a climbing guide. He has a Fellowship in the Academy of Wilderness Medicine (FAWM) and has earned the prestigious Diploma in Mountain Medicine (DiMM) from the UIAA. He teaches wilderness medicine and high angle rescue techniques for the US Military and Wilderness Medical Society and guides rock climbing, skiing, and ice climbing in Colorado, Oregon, and Washington. Previously he was a climbing ranger with the National Park Service and the Chief Medical Officer and Squad leader with the Salt Lake County Search and Rescue team. He can be found sipping on coffee between pitches of hero ice and on Instagram at @slabsandskittles