ProView – Kemper Apex 1990/91 Splitboard
Neon flash, permed hair, and onesies! That's what I miss most about the 80's & '90s! Kemper Snowboards brings back all this nostalgia in reviving the snowboard brand and breathing life back into its lungs! Like Austin Powers being flung into the future, Kemper brings its own style and designs back for a revisit of its undeniable historical prowess in the snowboarding world!
Kemper Apex 1990/91 Splitboard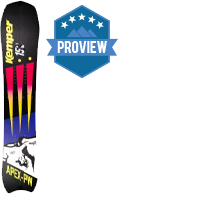 Product Description: Designed by Kurt Heine, one of the original Kemper riders, this surf-inspired, powder snowboard was created to deep carve and float through endless snow. Kurt has ridden and tested hundreds of boards throughout the years, and until now, has been drafting designs to create one of the best powder snowboards. With a unique shape, technical sidecut radii, and Kemper's Shark-Bite™ edge-traction technology, the Apex is a staple for every rider's quiver.
Offer price: MSRP: $790.00
Quality

Ride

Touring

Features

Fit

Durability
Summary
This is a super fun board for low/moderate powder days and lower angled slopes. The design allows for playful and quick response to the rider. The short/wide shape will be super fun most of the winter. I wish this board came in bigger sizes as a 156cm*, volume shifted or not, leaves you slipping in the skin track on steeper approaches and isn't quite big enough on big storm cycles. Bring the Apex out on lower angled days where moderate new snow totals are on the menu. Leave it in the car on deep days when a boat under your feet is the only thing that will keep you on top or when you're touring for a long distance and the line of your season is on the radar.
*After speaking with Kemper, there will be a 160cm option available for the 21/22 season.
Pros
Locks in turns like it's on a train track
Super playful
Early rise nose helps the board float in moderate amounts of new snow
Cons
Short flat bottom makes for slippage while touring
Short flat design makes sidehilling on firm snow difficult
Not enough size options for different rider sizes or riding styles (only comes in 152, 156cm, larger style available 2021/22 season)*
It is Spring here in Colorado and that means cold starts and firm snow ascents! For me, this equates to pre-dawn wake-ups in the back of my van. My mountain pup licking my face to the sound of my iPhone alarm because to her this is also her breakfast bell! "Rise and shine," says the look on her face. "I want to eat first, and shred next!" is what I gather from her tail wags and nose stuck firmly to the crack of my sliding door almost trying to push the door open with her 40 pounds. The refrozen skin track under my splitboard and skins that struggle to grip on the sheet of chunky ice cubes underneath. Taking my best-educated guess on timing the sun, temperatures, and wind. Hopefully, spring corn is in our future!
Look/Style
The color scheme is undeniably nostalgic. The Neon pazazz and sharp geometric patterns really flings the rider back to the wild west of snowboard culture. I love it!
Features
The Phantom Hercules clips on the inside edges had to be banged together in order for them to fit snuggly.
Touring
I was able to test the Apex out on both light powder days and true spring conditions. The board toured great and without issue when there was new snow on the ground. But during the early spring mornings hunting for corn snow, the flat profile mixed with an early rise nose and overall shorter length did not allow for a full contact of the skin creating little traction on steeper ascents and side-hilling.
Ride
The board was a blast when the conditions were consistent! In both new snow and smooth sun-affected corn the board responded well and kept its edge like a tractor beam through softer snow. The board shape and sidecut lend it to really sink its teeth into a turn and hold it tight! But it does require a little more work to make a transition between your turns on firmer snow. She really wants you to go where you point her and grunts come from both you and the board when trying to convince it to let go of its edge and roll over to a different direction.
Shape
The "Volume Shifted" design is a playful shape. The flat camber was great in new snow but left little room for working the edges in and out of turns in firmer snow. *The shorter effective edge made it playful and fast, but it felt a bit out of its league when attempting to ride fast on variable snow and hardpack. The shape also leaves this board sitting on the bench for bigger objectives like couloirs and big spring lines where a longer effective edge and cambered bottom are more necessary. *After speaking with Kemper, there will be a 160cm option available 21/22 season
The Final Word
The Apex is a super fun and playful board when you are blessed with a consistent snow surface or powder! But in the backcountry, you get fewer of these days than we pray to Ullr for. The same goes for the up-track. When there is new snow on the ground, the board does fine and grips well in both breaking trails, and in the skin track. Were it is out of its comfort zone is in variable surface snow conditions and an icy skin track (which puts most boards through the wringer and requires solid touring skills and a regular camber board really shines)
Shop Kemper Apex 1990/91 Splitboard on Outdoor Prolink. Not a member? Apply today!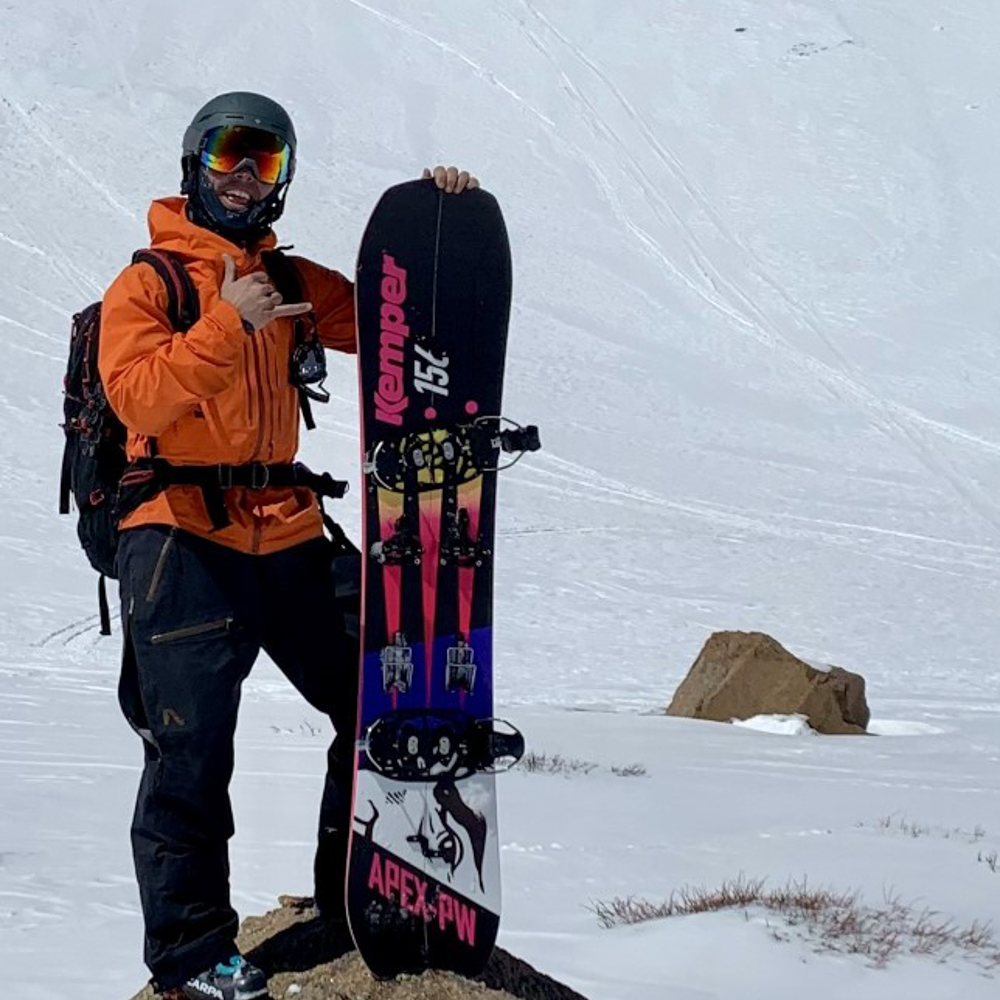 My name is Dan "Shamu" McGrew. I am a career Firefighter in Denver, Colorado, and am also a backcountry Ski Guide in Jones Pass, Colorado. I spend my winters either touring recreationally, ski-tour guiding or on our snowcat, where the best words to a guide's ears are "This is the best day ever!". You can tour with me or snag a seat on our snowcat at https://www.jonespassguides.com/