7 Sustainable Camping Tips To Use This Summer
Environmentally friendly products and practices are a new trend on the rise. In a 2020 study of 2,000 Americans, 64% of respondents reportedly realized since the Covid-19 pandemic started that they needed to be more eco-friendly. As an avid outdoors person, I am in full support of the growing number of people who want to help reduce our negative impact on the earth…and I hope you are too!
As someone who is conscious of my impact on the environment, I try to be less wasteful in my everyday life. I put a huge emphasis on less, as I know that being more eco-friendly is about doing your best to reduce where you can – and completely eliminating food waste can be a lot more difficult than you think. I'm definitely not at a place where I have zero waste, but I have to admit, I do have a hard time throwing away salsa jars and hummus containers because I know they will eventually have some sort of use in my life – however, my boyfriend thinks I'm a hoarder and does not feel the same.
Since camping has become a big part of my life, I've started to become more conscious of the amount of waste I create, especially while enjoying the pristine wilderness. Nothing is worse than being in the middle of the mountains and coming across a piece of trash. In an effort to do better, I've started with trying to reduce my impact where I can. I didn't implement all of these steps all at once, but have slowly incorporated them into my camping routine. Whatever you can do (no matter how small!) to reduce your impact is helpful to our earth.
And without further ado, I've gathered seven tips for reducing your environmental impact during your upcoming camping season:
Ditch paper towels
Ditching paper towels is the most recent change I've made and it's easier than you think! As a paper towel substitute, we use old towels, rags and t-shirts, cut up into smaller squares. We throw our dirty rags into a reusable grocery bag to wash when we return home. Both of these live near the table we prep and cook food on, so they're close by for when a mess or spill happens. According to Research and Market's 2020 report, paper towel sales have increased over 200% since the pandemic. With an increase in paper towels sales and use, comes more waste for our planet, so it's important to reduce where you can!
Pro tip: put a rock or something heavy into the reusable grocery bag so it doesn't blow away.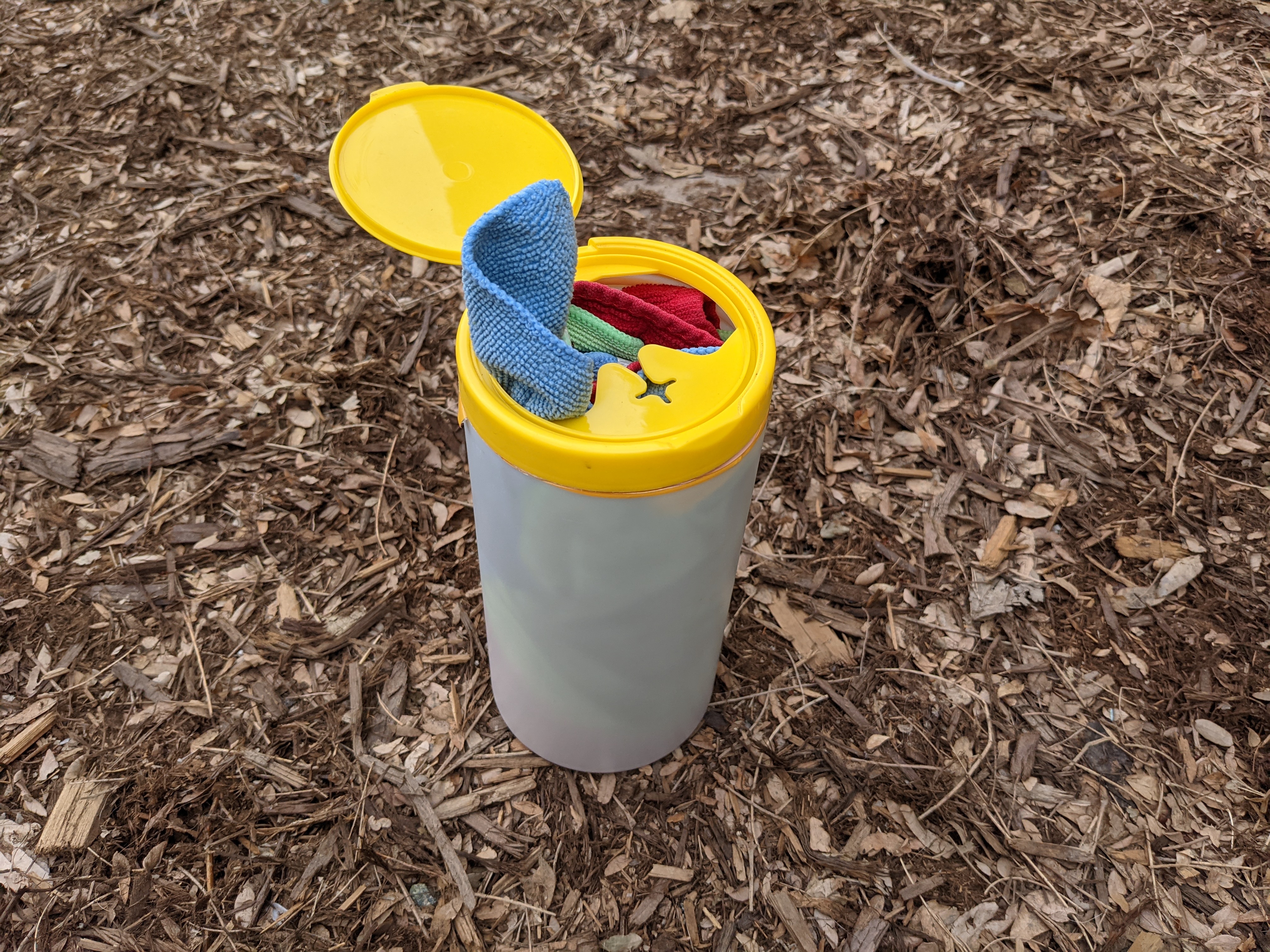 Say goodbye to battery-powered gear
Batteries are bad for the environment and can contribute to water and air pollution if they're improperly disposed of. Luckily many companies have swapped out products that use single-use batteries for a rechargeable option. A handful of rechargeable headlamp products have been introduced in recent years (we love BioLite and Black Diamond!), which are super easy to use and last a long time. I've also swapped to a rechargeable lantern for illuminating the dinner table or tent and I am very fond of the Goal Zero Lighthouse 60. Lastly, if you have a pup, I highly recommend the NiteIze XL Rechargeable Collar Light – it's easy to recharge and great for keeping an eye on your pup at night around the campfire!
Swap out disposable camping fuel canisters
Using single-use camping fuel canisters can be harmful to our environment. There are ways to recycle these canisters (MSR has a canister recycling program), but if you don't dispose of them properly they could end up in a landfill or be hazardous if they're not fully emptied beforehand. As an alternative, I have switched over to using a refillable 5lb propane tank for car camping. In order to make your camping stove compatible, you'll need to buy a hose that works with your stove. Using this method, you're not only being more environmentally friendly, you're also saving a ton of money.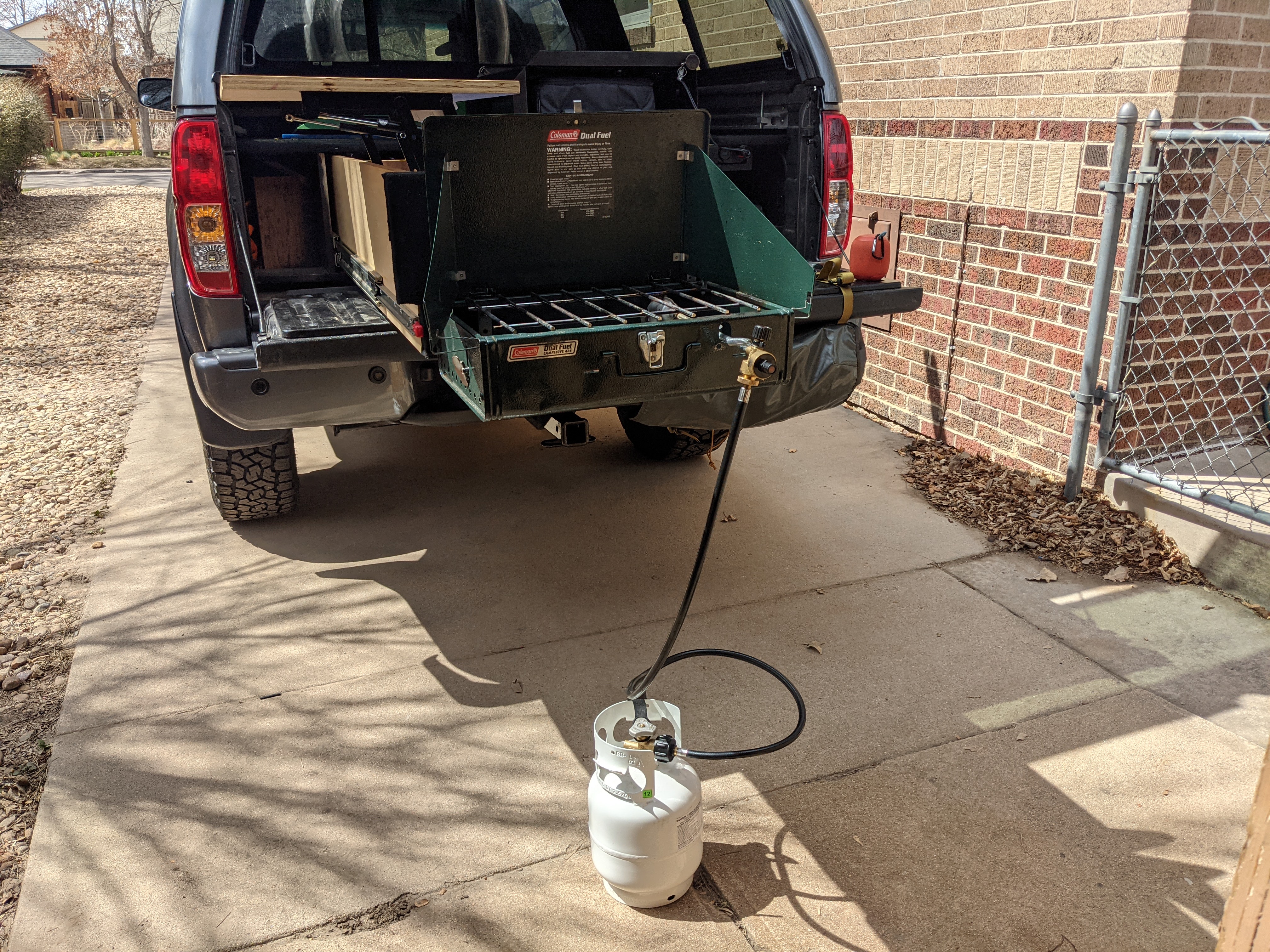 Bring less single-use paper and plastic products
Please (for my sake!) do not bring plastic cups, paper plates or disposable utensils camping. Too often do I find these in fire pits, half-burned. Burning plastics can release harmful chemicals into the air that can cause respiratory ailments and stress human immune systems. Globally, burning plastic packaging alone adds 16 million metric tons of greenhouse gases into the air each year.
I suggest finding your favorite camping mug, some durable cutlery and a plate. GSI has some great eco-friendly and sustainably sourced options. If you're on a budget, head to your thrift store to grab plastic plates and a set of cutlery on the cheap! I also highly recommend bringing tupperware or reusable silicone bags to keep leftover food in so you don't need to turn to single-use ziplock bags or foil.
Lastly, if you're an avid camper, you might consider investing in a reusable trash bag, like this one from Kelty, which hangs off the back of your car and is made from an ultra durable material you can hose out after every trip.
Start a fire with things you typically throw away
One of my favorite ways to reduce waste is by giving my trash a second life. As we head into camping season, I always collect toilet paper rolls and stuff them with lint from the dryer. These are great little fire starters and an awesome way to make your trash useful!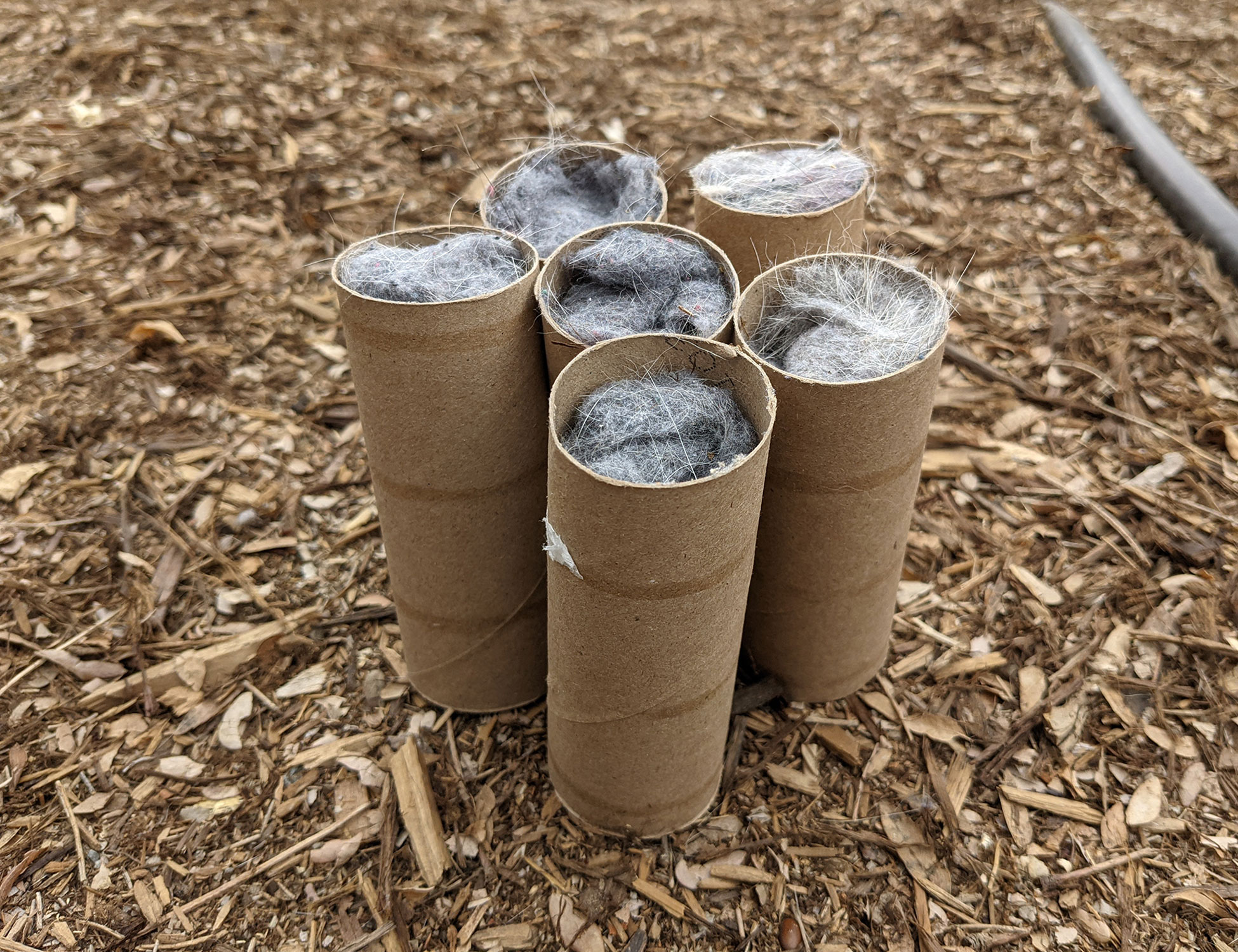 Use biodegradable products where you can
If you use soap or toothpaste while you're camping, it's important to choose a biodegradable variety as conventional products can have negative impacts on the environment. For teeth brushing, you can even just swallow the toothpaste instead of spitting it out to completely remove your mark on the campsite or surrounding area. We love Dr. Bronner's biodegradeable soap and toothpaste options for camping!
And don't forget! Just because you're using a biodegradable soap does not mean that you can use it in a stream or lake. Always dig a hole at least 200 feet away from water sources and dispose of your soapy water in those – this allows the bacteria in the soil to safely biodegrade the soap.
ALWAYS do a trash cleanup before you drive away!
After all the tents, chairs and dogs are packed away in their respective cars, have everyone walk around the campsite and pick up any leftover pieces of trash on the ground. We do this every single time we camp and no matter if it was left there last weekend or five years ago, we pick up any and all garbage. Just because you didn't leave the trash at the campsite doesn't mean you can't help clean it up!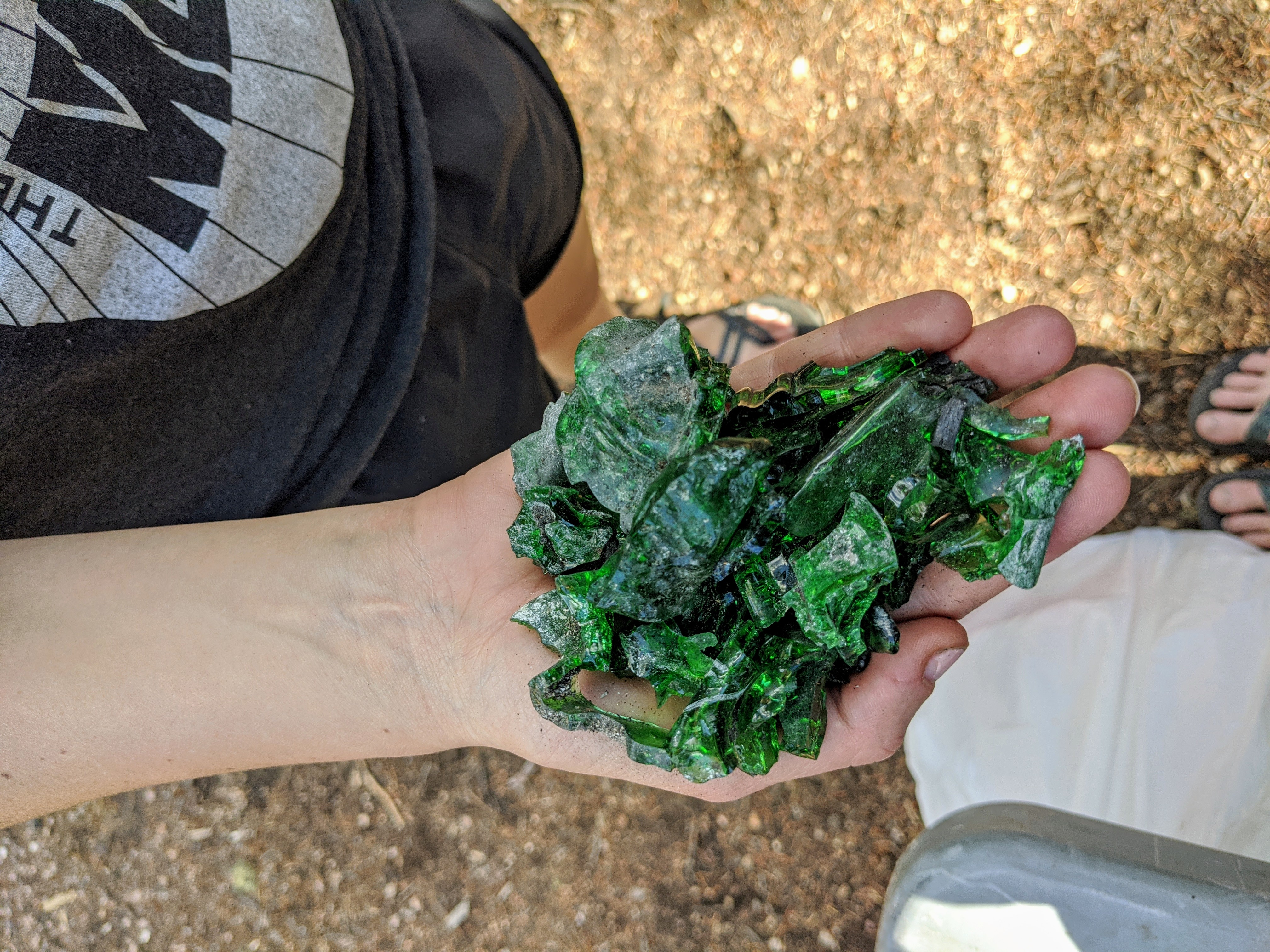 In addition to these camping tips, also consider making eco-friendly choices when you're buying new gear. The apparel and fashion industry is the second largest polluting industry, and making conscious decisions about which brands and materials you purchase can really make a difference!
All in all, if you love camping and being surrounded by nature, you should be treating our environment with respect. These are my favorite ways to reduce my impact, but obviously there are many more ways to be eco conscious while you're sleeping under the stars. Do you have any great ideas I missed? Share them in the comments below!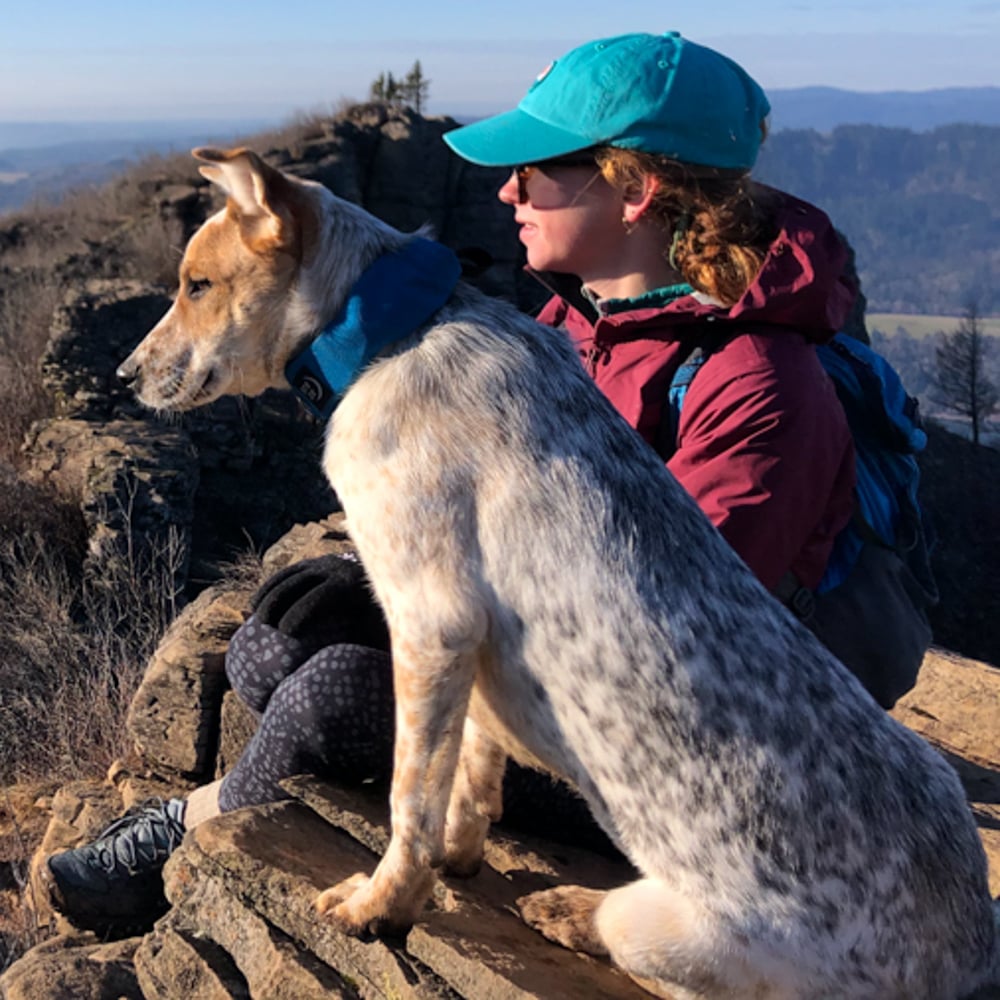 Kelly Knauf leads the marketing team at Outdoor Prolink. She is a mountain lover, outdoor enthusiast, and professional snack packer. By day she answers emails and writes content, by night she's plotting her next camping trip or snowboarding adventure.