ProView – Kokopelli Packraft Nirvana Self-Bailing
I've been testing out the Kokopelli Nirvana packraft over the past few months on the Chattahoochee River for both whitewater and flatwater paddling and it has proven to be an effective vehicle for on-water enjoyment.
Kokopelli Packraft Nirvana Self-Bailing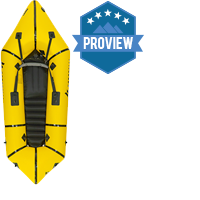 Product Description: Do you love whitewater, have zero extra space, and need a minimalist option that performs? Then the Nirvana Self-Bailing is the boat for you. Designed with a narrow trim, aggressive rocker on the bow, and a large-volume stern, the Nirvana offers excellent stability perfectly suited for crushing Class I – Class III rivers. With our industry leading self-bailing design, the Nirvana is engineered to keep you above the water by automatically draining water from the boat. It performs best in Class I-III rivers, so feel inspired to crush that rapid. Weighing 9.7 lbs (4.3kgs) and packing down to the size of a sleeping bag, the Nirvana is perfect for whitewater, backcountry trips, hiking, bikepacking, and multi-day adventures.
Offer price: MSRP: $1249.00 - $1,399.00
Quality

Features

Durability

Manuverability
Summary
I'm a huge fan of the Nirvana, and it is hard to find something more stoke inducing than pulling a Class III ready whitewater kayak out of a backpack and hitting the water. My only recommendation is that for whitewater use, the optional thigh straps accessory is a necessity for anything over Class II.
Pros
Easy to travel with
Under 9.5 pounds
Comfortable
Cons
Sometimes hard to maneuver on flat water
Features
The Kokopelli Nirvana packraft is a fun and capable whitewater kayak that maintains a high level of portability without sacrificing on-water performance. The entire package fully loaded, including seat, spray skirt, and cargo fly zipper, weighs in at just over eleven pounds. Folded, the packraft is able to be attached to the bottom of a backpack or strapped to the handlebars of a bicycle for transport to and from the water. Setting the boat up is simple; Kokopelli includes a dry bag that can be used to partially inflate the raft without using lung power and a tube to make lung power more efficient. After forgetting both of these items a number of times, I can attest that the Nirvana is easy to inflate even unassisted and takes me under ten minutes.
Weight
The Nirvana is modular with accessories based on the intensity of the river, and my entire whitewater kit (packraft, paddle, helmet, PFD, spray skirt) weighs under 20 pounds — making it easy to self-shuttle between the put-in and take-out. Depending on the complexity of the on-water trip, it can be stripped down to be much lighter, with the packraft itself weighing under 9.5 pounds.
Performance
The first test for the Nirvana was floating flatwater with beer and friends. The Nirvana is a comfortable flatwater craft, with the inflatable gunwales similar to giant pillows that make slow floating feel like riding a recliner down the river. Ample space below-deck allows for beverage storage.
The downside of the Nirvana on flatwater is the lack of tracking. Each paddle stroke pushes the Nirvana in the opposite direction, causing it to "wiggle" and perform inefficiently for flatwater touring. This is not a unique problem to the Nirvana but a trade-off in packraft design. Typically boat construction that allows for a more rigid shape also has the trade-off of being both heavier and less compact when folded making it harder to transport via backpack. The Nirvana also rides higher out of the water than conventional kayaks, creating more windage that makes upwind travel unpleasant. This is also a downside of packrafts in general compared to hard-shell kayaks.
My initial attempts at running whitewater were met with failure, partially due to lack of paddler skill and partially due to a lack of understanding of how to set up a Nirvana for whitewater. Kokopelli advertises that the Nirvana is capable of Class III whitewater, which is comfortably true when correctly set up. I prefer keeping the seat all the way back during flatwater touring to allow me to stretch my legs and relax during long hours in the seat. For any sort of aggressive whitewater, positioning the seat forward to the middle of the kayak helps balance immensely. The inflatable seat inflates high enough to give paddlers a lot of reach, but can be partially deflated to keep a lower center of gravity depending on paddler preference.
Kokopelli also sells thigh straps to safely hold legs against the gunwales of the kayak to improve the stiffness of the hull and allow for more lower body input. Thigh straps are a game-changer and some form of them are almost a requirement for use in whitewater. Kokopelli also sells an Alpine Spray Skirt, which has become my go-to spray skirt due to how lightweight and compact it is. It is very effective at keeping out spray, but does have a tendency to collect pools of water when a high volume of water comes over the raft.
The packraft's large inflatable tubes provide reassuring stability and easily ride over Class II wave trains with little paddler input. The light weight of the packraft makes up for the lack of edge in heavier Class III by allowing the packraft to do quick turns, behaving more like a playboat then a traditional kayak.
Durability
One of the primary concerns with such a lightweight inflatable is durability. The Nirvana is very well built and has survived a number of rock collisions, less than ideal put-in slides, and my cat discovering how comfortable of a sleeping pad it makes. In the case of an on-water puncture, the Nirvana has two independent inflation cells to help give you some flotation while you get to the shore. It also comes with a patch kit, and patching it is a simple process.
The Final Word
I'm a huge fan of the Nirvana, and it is hard to find something more stoke inducing than pulling a Class III ready whitewater kayak out of a backpack and hitting the water. My only recommendation is that for whitewater use, the optional thigh straps accessory is a necessity for anything over Class II.
---
About the gear tester:
Dave is an active duty armed services member and aspiring writer. He is an avid climber and water sports enthusiast and when not at work can usually be found in a hanging belay or swimming after his flipped kayak.
Shop Kokopelli Packraft Nirvana Self-Bailing on Outdoor Prolink. Not a member? Apply today!