ProView – Cotopaxi Allpa 35L Travel Pack
Buh-bye suitcases and uncomfortable backpacks — this is my new go-to travel pack! Perfect for weekend adventures or longer trips when you need a variety of clothing, gear, and accessories. Just when I thought I couldn't possibly fit any more stuff in there, this pack had more room. And since I'm the messiest and most unorganized person on the planet, having all my stuff packed in well-designed compartments helped me stay organized for the first time.
Cotopaxi Allpa 35L Travel Pack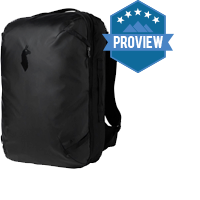 Product Description: The Allpa Del Día Travel Pack is a rugged, 35-liter backpack system built for adventure travel. This pack is perfectly sized for carry-on convenience, loaded with well-designed features, and tough enough to handle years of use. Identical to our best-selling Allpa 35L Travel Pack in features and function, the Allpa 35L Del Día Travel Pack is different in its use of repurposed fabrics. We use high-quality, leftover synthetic fabrics from other companies' large production runs to create each Allpa Del Día, making each pack one of a kind and uniquely sustainable.
Offer price: MSRP: $200.00
Quality

Features

Fit

Durability

Eco-Friendly
Summary
This pack is the ultimate travel buddy, and it's now my go-to pack for weekend adventures and traveling no matter where I'm going. The features are well thought out, useful, and make organizing your gear and accessories a breeze. It not only looks good, but it feels good to support a company that is doing good in the world. 
Pros
Opens in the center for a full view of all packable items

Super comfortable straps and hip belt

Convenient top pocket for quick access

Well designed compartments for all your items

Zippers are super high-quality

So much room!

Durable and waterproof outer shell

Comes with rainfly

Multiple handles for carrying any way you'd like

Perfect size for carryon luggage
Cons
The only thing I can think of is it is a bit inconvenient to open the large compartment when you are trying to grab something quickly, but I ended up putting things I needed like phone chargers, kindle, etc in the top pocket for quick access. There is a zippered opening that allows quick access, but I found myself trying to dig around for what I was looking for.
You know those weekend adventures when you and your friends plan a variety of activities, but aren't sure just which ones you're actually going to do? Weather dependent and depending on the mood of the group, I find myself choosing between hiking, SUPing, fly fishing, or mountain biking. Suffice to say, I need to bring it all!
Circumstances due to COVID 19 have stopped me from traveling via plane, so instead, I've been spending most of the weekends in the car on road trips to the mountains, cabins in Crested Butte, and visits to family. I always find myself needing to bring ALL the gear for activities as well as my laptop to work remotely. That usually means I'll have quite a bit of clothing, a laptop, kindle, speaker, chargers, multiple pairs of shoes, toiletries, sunscreen, and anything else I might need. But daypacks are too small, and luggage is super bulky and doesn't fit into the truck drawers of my weekend-adventure vehicle.
This pack carries it all, and I can easily store and organize all of my belongings in the convenient internal mesh compartments (where you can see all your things!) I was able to fit lots of different outfits on my recent weekend trip to Crested Butte, Colorado, Fraser, Colorado, Cleveland, to hike, fly fish, mountain bike, and hang with friends and family.
Fit/Comfort
This pack is SO comfortable and would do well for international travel when you have to wear your pack a lot. The hip belt is cushioned and while strapped, provides lots of extra support. It fits me very well (5' 8"), but is fully adjustable to fit any size. It can also be removed if that's your preference. The chest strap also helps take the pressure off the shoulders and armpit area and completes the adjustable fit. It's a hassle-free travel pack that you can wear for long periods of time.
Look/Style
I absolutely love the look of this pack, and I get compliments all the time about the vibrant colors. While this was a standard color, they do have a Del Dia collection that combines repurposed nylon scraps from other products. Because it's repurposed material, it can come in one-of-a-kind colors — the more colorful and sustainable option! Check out their other Re(purpose) collections, that turn scrap fabric and materials into new Cotopaxi products and keep them out of the landfill. Try the "surprise me' option!
Features
This pack has so many hidden features. The loops on the top corners are for anti-theft protection and allow you to tuck in your zipper pulls so no one can quickly grab and open them.
The back of this pack is breathable air mesh which is super comfortable, and side loops are great for attaching water bottles.
The strap on the side also gives you carrying options, and is easy to throw into a rooftop rack, or drawers of the truck, no matter how heavy.
The suitcase's opening style is clutch. And while you do need a place to lay it out and unzip it, it's my absolute favorite feature. Opening it nice and wide gives you visibility to all your stuff in an organized manner, so you're not digging down into a backpack, that honestly, can be a bit of black hole in my case. Some of the pockets are accessible without opening the pack, as the deep front pocket for all of your accessories, a side opening if you do need quick access to the organized compartments, and the padded laptop and iPad sleeve on the back. Usually, I find that a laptop sleeve on your back is uncomfortable, but in this case, I couldn't feel it at all! Easy access is also key.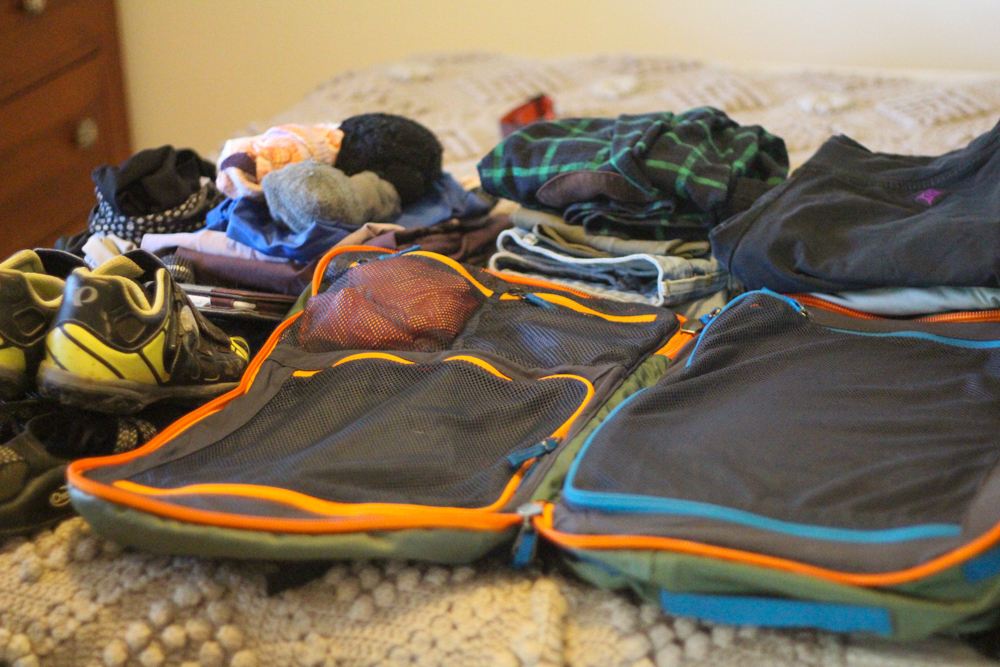 My favorite part of this pack is the compartments inside, which allows you to pack your stuff any way you'd like. I've tried it a couple of different ways, and it's super helpful when you're trying to locate that puffy jacket really quickly. The two top compartments are perfect for underwear, bras, and socks, which is helpful since I can never find them when I need them.
While I wasn't able to travel on an airplane, Cotopaxi says this pack does pass airline carryon standards so you can forgo the suitcase entirely. Win! The top pocket is also subdivided for carrying important stuff like passports, plane tickets, headphones, etc. I also love that the straps can tuck into the back of the pack, for easy storage and shoving it into a tight overhead compartment of a plane or a bus.
Function/Performance
The exterior of the pack is durable enough for any terrain, and most importantly, protects your clothes and items. I even took this pack paddleboarding, packed with chairs, towels, a couple of beers, and a change of clothes. When strapped to my paddleboard, it eased my worries knowing that a couple of splashes of water on the top layer would be totally fine. It also comes with a rain fly if you ever needed it.
Durability is not an issue, and I have not had a single problem with the high-quality zippers. The TPU coated polyester front is really tough, and even when bush-waking to find the perfect river spot, I never worried about it ripping or not holding up, no matter the conditions.
Specs
Allpa only: 3lb 8oz (1605g)
20 x 12 x 8in (51 x 30 x 20cm)
35L (2136cu in)
Friendliness to the Earth
I love this brand, not only because they make high-quality products that not only look good and function well, but the company's commitment to sustainability and 'doing good'. They truly see their business as a vehicle to make an impact on the environment and the world.
They guarantee fair, sustainable working conditions for their supply chain workers, and often use scrap materials to make unique products. They seek to minimize waste, which is really unique for a gear company.
As a certified B Corporation, they also put 1% of our revenue toward addressing poverty and supporting community development. Through their grant program, they promote organizations that are successfully improving the human condition. To date, they've awarded 42 grants in six focus countries. You can learn more about how they are doing good in the world here.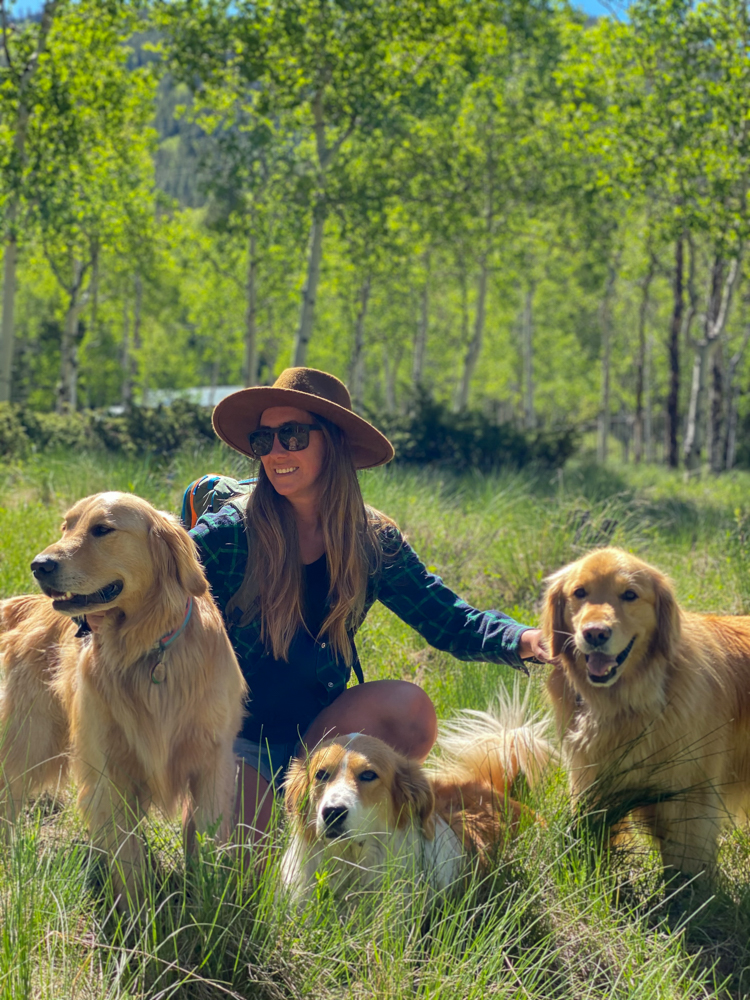 The Final Word
This pack is the ultimate travel buddy, and it's now my go-to pack for weekend adventures and traveling no matter where I'm going. The features are well thought out, useful, and make organizing your gear and accessories a breeze. It not only looks good, but it feels good to support a company that is doing good in the world.
Shop the Cotopaxi Allpa 35L Travel Pack on Outdoor Prolink. Not a member? Apply today!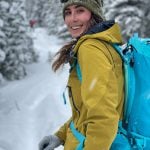 Jess Villaire is the Marketing Manager at Outdoor Prolink. You'll typically find her out with her doggos skiing, mountain biking, hiking, SUPing, drinking beer, or rearranging furniture. Follow her on Instagram @jessisupsidedown.