ProView – Kokopelli Twain-Lite Review
As a kayaker-turned-cyclist, I was excited to see Kokopelli's announcement of the new Twain-Lite, a minimalist packraft designed to accommodate more gear and bike storage in the bow of the boat. Over the past six years, I have ridden my bike thousands of miles on bikepacking trips throughout North America, but in that timeframe, I have only embarked on one bikerafting (the combination of bikepacking and packrafting) trip.
Kokopelli Packraft Twain-Lite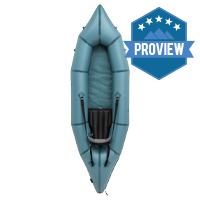 Product Name: Kokopelli Packraft Twain-Lite
Product Description: The Twain-Lite is the new go-to flatwater packraft for multi-day adventures when you need just a bit more room for your bike, gear, or a 4-legged friend. The Twain-Lite excels on lakes, calm oceans and inlets, and flat, slow-moving water (Class 1). The new bow and stern profiles provide more efficient tracking and maintain speed on flat water. It features a 840d nylon reinforced TPU floor, Leafield D7 valve, and a 4.5in (11.4cm) removable tracking fin. Optional TiZip zipper is available to store gear inside your packraft for multi-day trips.
Offer price: MSRP: $1,099-$1,249.00
Packability & Weight

Features

Ease of Use

Durability

Quality
Summary
A sleeker, faster get-up-and-go packraft with a roomy bow for all of your gear-toting and bike-hauling needs.
Pros
Ample leg room
User-friendly
More efficient on flatwater than other packrafts
Cons
No sprayskirt compatibility
Poorly designed backband attachments
Tracking worse when unloaded
That's largely due to the fact that bikerafting requires a lot of gear and if you're a shorter bikepacker like me, fitting a lot of gear on a small frame is really challenging. Then there's the issue of fitting all of your bike gear onto the packraft. No matter how tight and light I've managed to keep my bikepacking gear, the bike eats up a lot of room once it's strapped on a packraft, making the cockpit feel cramped. On this front, the Twain-Lite vastly improves the load carrying capacity of a lightweight packraft without compromising steering, tracking, or durability.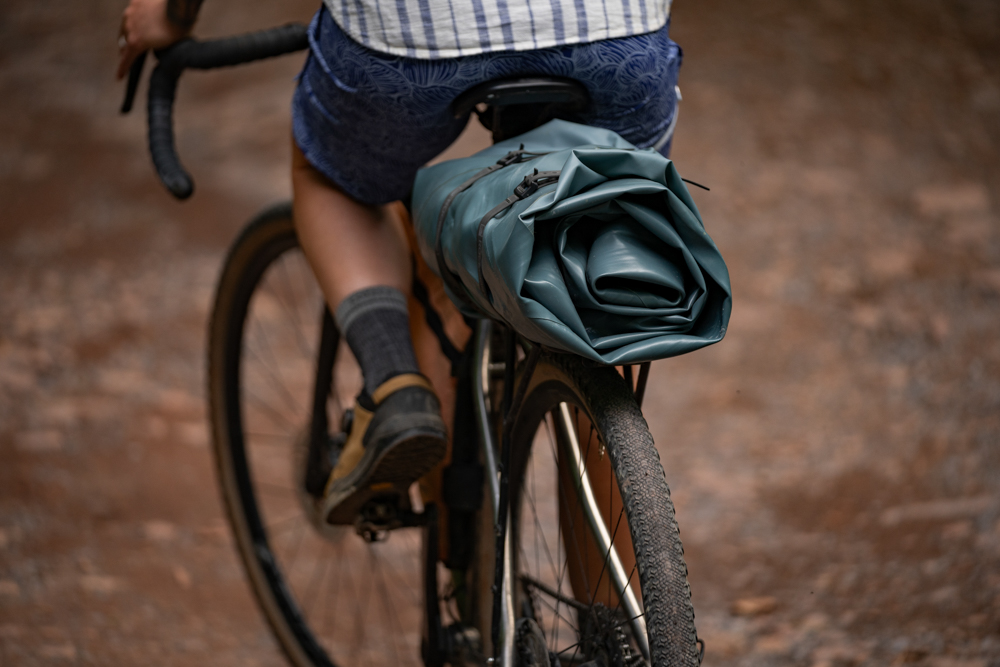 For this review, I paddled the Twain-Lite both loaded with gear and unloaded on everything from flatwater reservoirs to class I rivers. I personally enjoyed this packraft the most for bike shuttling my own river floats. Riding bikes and floating rivers without having to lug around a bunch of camping gear is the epitome of freedom. The Twain-Lite lets me strap a bike to the bow and set off from the put-in without ever having to think about setting a shuttle.
Features
The most unique feature of the Twain-Lite is the extended room on the deck of the boat. There are a handful of nylon tie downs that make it quick and easy to secure a bike frame or gear, and once it's loaded up, there is still plenty of room in the bow for your legs (at least, if you're 5'4" like me and light on gear). The longer your legs and the more gear you carry, the quicker this packraft is going to feel claustrophobic. There is a version of the Twain-Lite that comes with a TiZip Zipper for added storage capacity, but the version I tested did not come with that feature.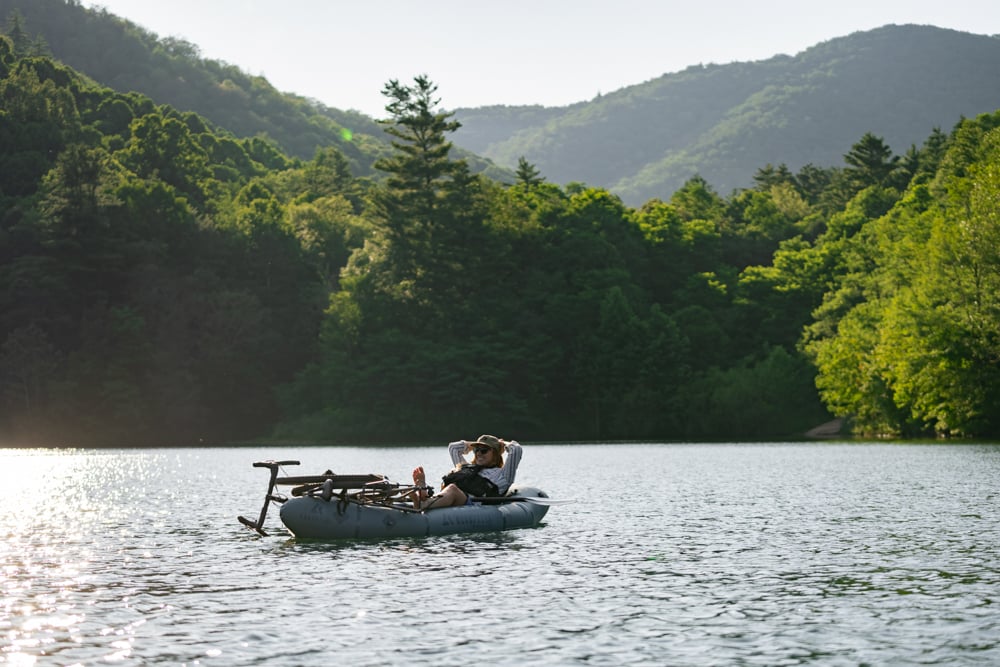 Also unique to the Twain-Lite is the removable tracking fin. I appreciated being able to remove the fin when I was paddling shallow rivers and didn't want to lose it should the fin scrape against rocks. The fin does marginally improve the packraft's ability to paddle straight, but it's a relatively small fin so it doesn't necessarily improve tracking as much as a skeg on a traditional sea kayak does, for example. The Twain-Lite has a narrow, sleek design with a flatwater-optimized bow and stern profile, making it much easier to maintain speed on calm water.
Packability/Weight
Weighing in at 9.9lbs, the Twain-Lite is not necessarily the lightest packraft Kokopelli makes, but it's not the heaviest either. For bike shuttles, that mid-range weight is fine, but for a bikepacking trip, I would want a lighter packraft. Strapping the Twain-Lite to a rear bike rack or on the handlebars is as simple as deflating the packraft, folding the sides in towards the center, and then rolling it up tight. It's an awkward little package, but it fits nicely on my Tumbleweed Bicycle Co. T Rack.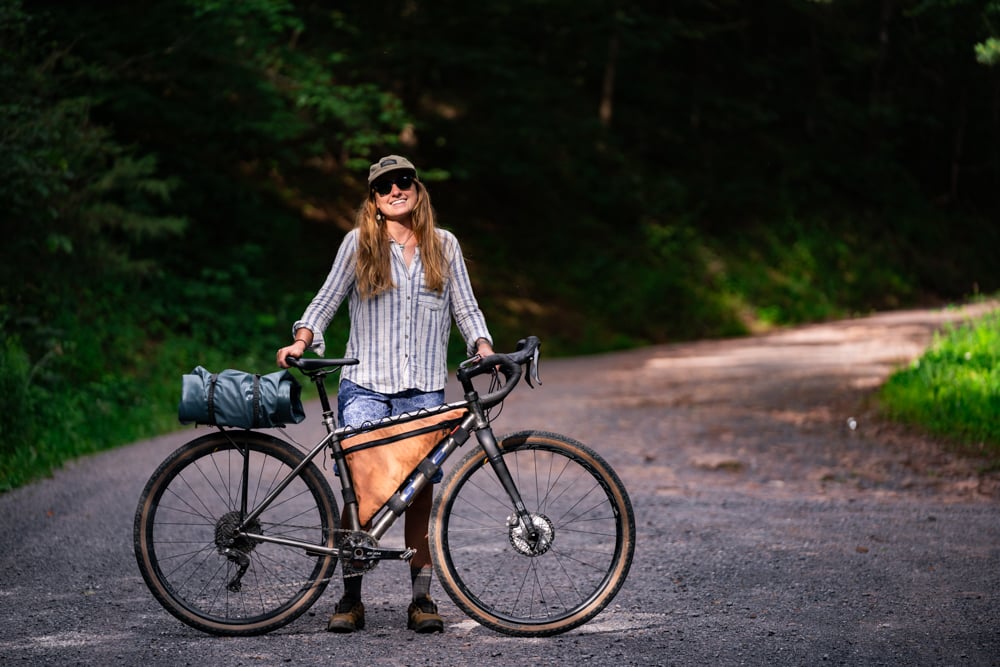 Durability
Due to a spring drought here in Virginia, river levels were often lower than normal so there were many times when I scraped the bottom of the raft on the river bottom. The raft floor is constructed with 840d Thermoplastic Polyurethane (TPU) and nylon which, after only a month of use, seems like a durable combination, although I can't speak to the long term durability of the raft. TPU is certainly not the most environmentally friendly material, and I do not know of any sustainability efforts Kokopelli currently has to reduce their dependence on these fossil-derived materials. When I wasn't paddling the Twain-Lite loaded down, I often put my 50-pound pup in the bow of the boat and the raft seemed no worse for the paw wear.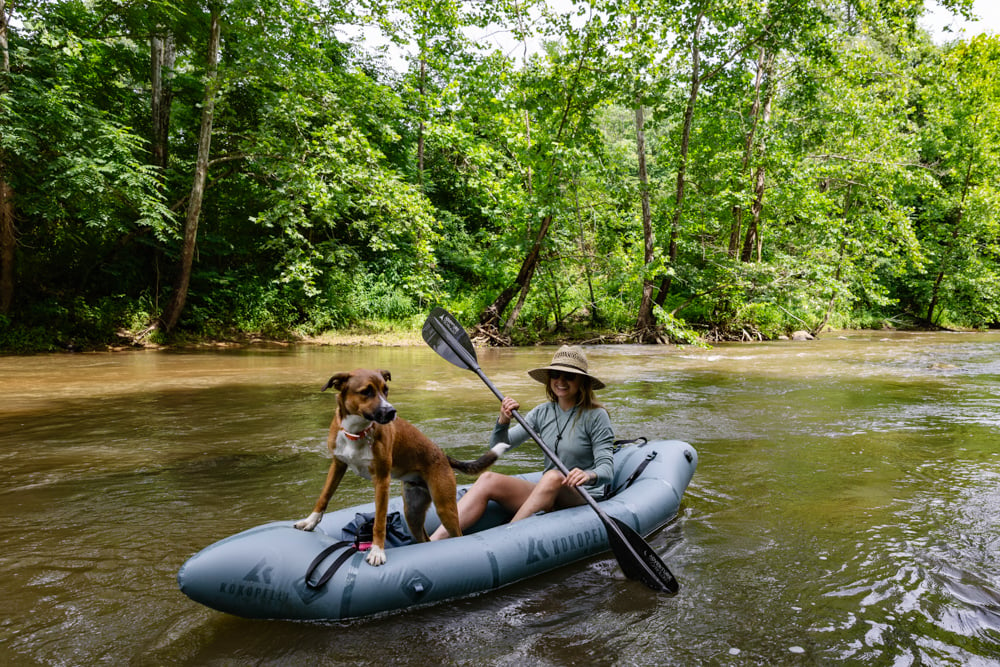 Ease of Use
If you are new to packrafting, be forewarned: the inflation bag method takes time to perfect. Inflation bags are power-free raft inflation alternatives that require the capturing of air into a glorified stuff sack, rolling the sack down, and pushing the air into the packraft chambers. There is a learning curve to using the inflation bag, but because the packraft is small, it doesn't take too terribly long to inflate. I did find it hard to top off (or blow into) the packraft with the inflation tube. The amount of embouchure strength it took to get the packraft moderately firm made me feel like my head was going to explode. I can't imagine trying to inflate this packraft at elevation. The bag and tube inflation combo really did not get this packraft as firm as it should be.
Room for Improvement
My biggest criticisms of this raft boil down to a few design flaws. The first is the lack of handles for portaging or carrying. This version of the raft only has the gear attachment points, and I don't trust using those nylon bits when they are already being taxed with the stresses of a strapped down bike or gear load.
The second design flaw is the backband. There are four attachment points for the backband, which do allow you to get it nice and snug for an upright paddling position, but the location of the back two straps create pressure on the stern of the raft and creates a wrinkle near your seat. When the backband is snug, that wrinkle almost feels like the Twain-Lite is sandwiching and folding up around you, even if you've managed to get the raft inflated to the proper PSI.
The final design flaw is the lack of spray skirt compatibility. This is not a self-bailing raft, like Kokopelli's Nirvana, and that's likely due to the fact that the Twain-Lite is designed for flatwater, not whitewater. However, it is all-too-easy to accumulate water in the packraft, whether it's from water dripping down the paddle with every stroke or wind-blown waves that crest the low raft walls. Even on slow-moving river currents, I had quite a bit of water sitting in the floor of the raft at day's end. While it wasn't a big concern on a hot day, it could be uncomfortable on a cooler day. On a multi-day bikerafting trip, I could envision getting annoyed at having to constantly bail or dump out water from a fully loaded packraft. Having the option to attach and remove a spray skirt would greatly improve the expedition use of this raft design and make it all the more versatile.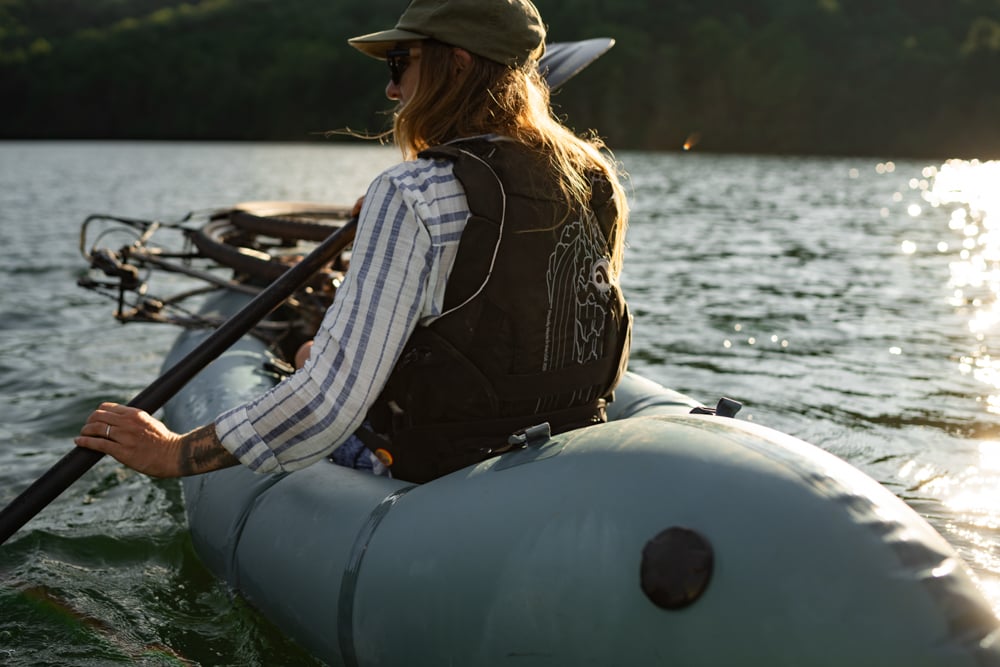 The Final Word
For folks who want a lightweight, easy-to-stow packraft that is good for day floats and overnighters alike, I think the Twain-Lite is an excellent vessel. It paddles well and is exceedingly spacious for a raft that packs down to the size of a shoe box. If you're primarily planning to paddle lakes, reservoirs, or mellow class I rivers and don't plan to be out longer than a couple of nights, you really can't go wrong with the Twain-Lite. Just keep in mind that this raft is designed to carry a load, so if you plan to use this mostly for day floats, you'll need to carry a cooler, a medium-sized dog, your friend's gear, or something with a little weight in order for the Twain-Lite to paddle well. If you are looking for an expedition bikeraft, this raft is not exceedingly technical, though it does have more features than a basic lifestyle one-person raft might. In my opinion, bike shuttling is the Twain-Lite's super power as a packraft.
---
Shop the Kokopelli on Outdoor Prolink. Not a member? Apply today!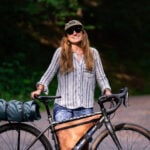 Jess Daddio is a Virginia-based freelance writer and filmmaker with a soft spot for rural America. Her most recent stories have been published by Patagonia, REI's Uncommon Path, IMBA, and the Bikepacking Journal. When she's not deep in the throes of a project, she enjoys bikepacking. Pushing the limits of gas station food as sustenance is her super power. Off the bike, she maintains an irregular yoga practice and occasionally weeds her garden. Follow her infrequent updates on Instagram at @jessdaddio.