So You Want to Climb Mount Rainier?
Mount Rainier is a 14,000ft tall stratovolcano that has great climbs for anyone! No matter what route you choose or whether or not you go with a guide, you will be challenged and treated to a unique and beautiful climb. Located just 70 miles from the Puget Sound, southeast of Seattle, Mt Rainier is the most heavily glaciated peak in the Lower 48. Vast ice covers much of the mountain and the climbing resembles routes you would find in the greater ranges of the world. Mt Rainier was originally referred to as Tahoma by some of the people who are indigenous to this region and roughly translates to "the one who touches the sky." Tahoma was first climbed (that we know of) in 1870 and has been a test piece for mountaineers ever since. Whether you are looking to the mountain as a challenge or simply an adventure with friends in beautiful terrain – here are a few tips from my years of guiding to help your trip go more smoothly!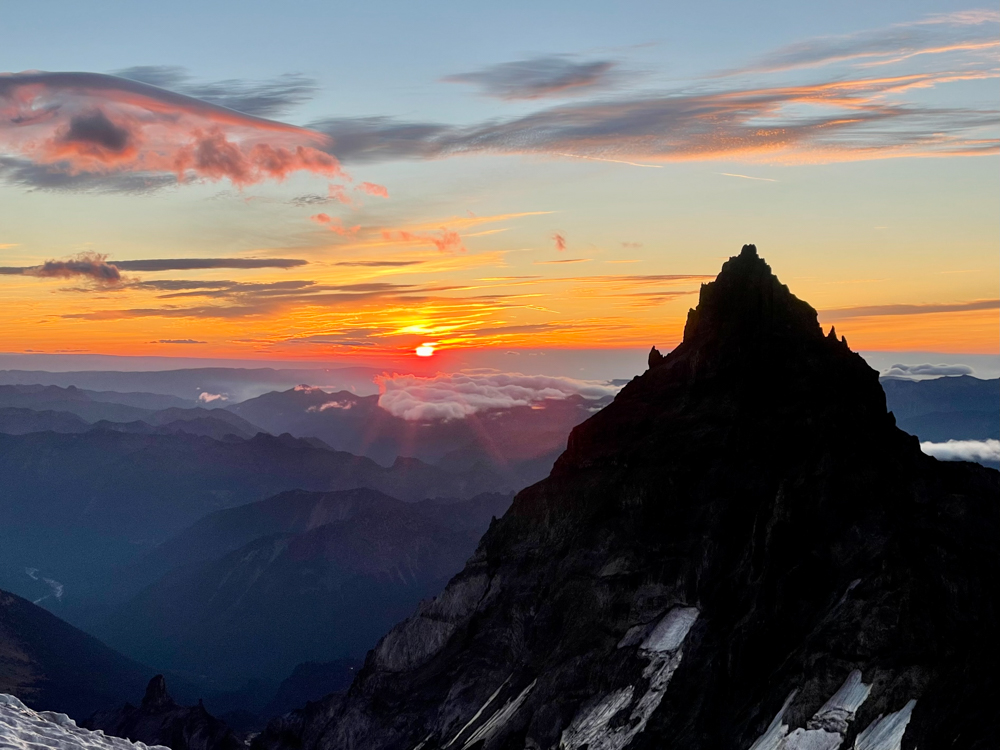 Route Options
DC
The Disappointment Cleaver (DC) route is, by far, the most commonly climbed route on Mt Rainier — and for good reason. This route travels through the historic Camp Muir (10,100ft), across multiple glaciers and rock ridges until you reach the summit. The DC is the quickest and most direct way to climb the mountain. Every day from May to September there are several guided groups heading to the summit via this route. It is not too technically challenging but certainly requires strong mountaineering skills as well as good fitness. There is usually a maintained climbing route from the beginning of May until late September. However, the best conditions on the DC are typically found from mid June through the end of July.
Emmons
The Emmons Glacier is the largest glacier in the Lower 48. Beginning in dense forests, this route ascends through alpine meadows to Camp Schurman (9,500ft). From here, climbers will ascend 5,000ft on the heavily crevassed Emmons Glacier to the summit. Similar to the DC, the Emmons does not have any steep or technical climbing and thus is suitable for most fit climbers with the necessary glacier climbing skills. The best conditions on the Emmons are typically found from late May until early July. Any later and there tends to be too many crevasses.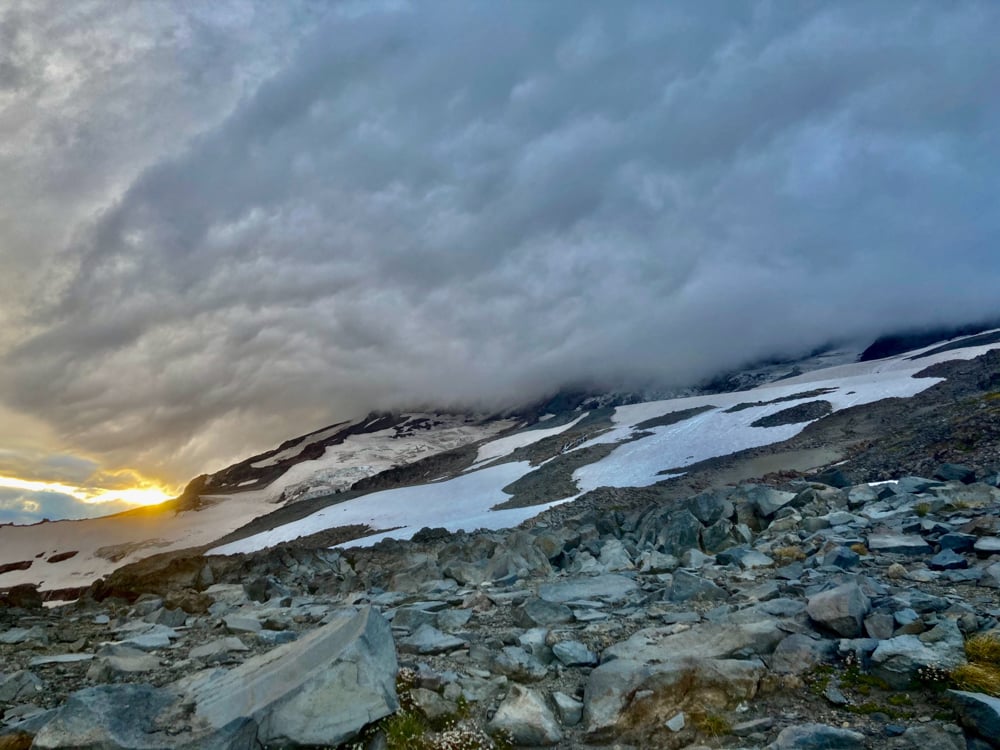 Kautz
The Kautz Glacier is my favorite standard route on Mt Rainier! This route starts from Paradise before crossing the lower Nisqually Glacier and ascending to the Kautz Glacier. After gaining the Kautz Glacier, several pitches of ice climbing lead to the upper Kautz Glacier and eventually, the summit. Nothing beats climbing steep ice at 12,000ft! The Kautz is typically best in mid June through mid July. The later you go, the more ice will be exposed and thus the climbing will be more challenging (which is great if you want to climb more ice!)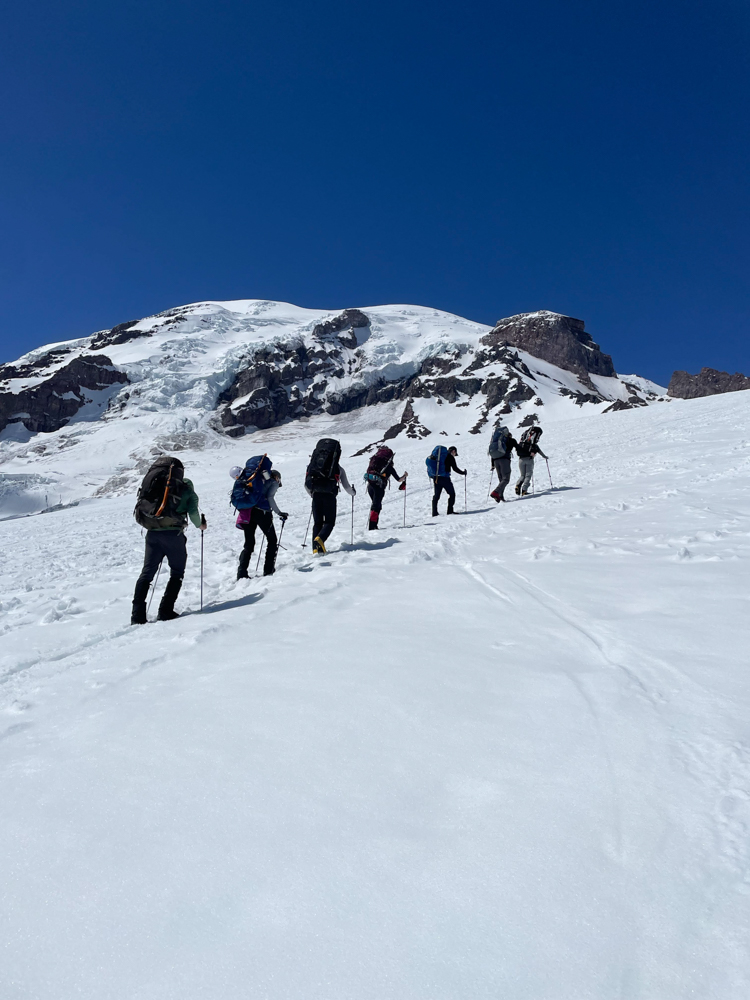 How to Select a Route (Between the Three Mentioned Above)
The three routes mentioned above are far from the only routes on Mt Rainier, but they do represent a good starting point for those looking at their first climb of Mt Rainier. Consider these questions: Are you looking for the most commonly traveled route that will have a well traveled path to the top? The DC is the route for you! If you're looking for something that is less crowded, and more scenic, then the Emmons could be a great option! Can you already climb ice and you're looking to pair mountaineering with ice climbing? The Kautz is a great first step into technical mountaineering!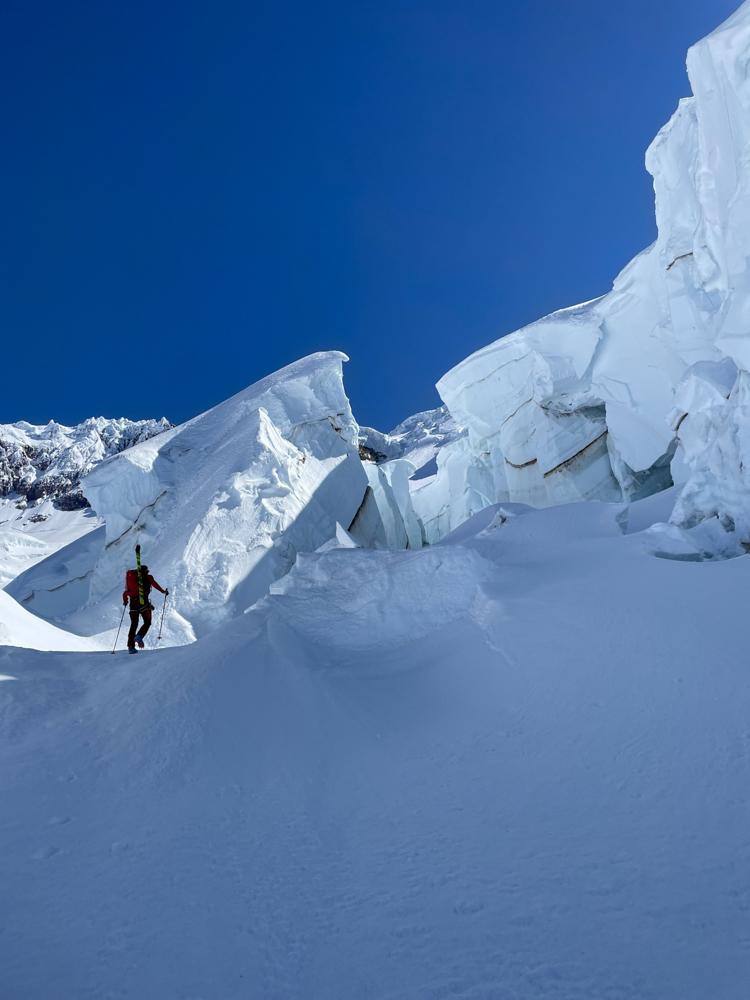 Should I climb Guided or Unguided (Pros and Cons)
All of the three routes above are offered as a guided trip from each of the three guide services that are concessioned to guide in Mt Rainier National Park. As a guide myself, I do think that guided trips are a fantastic way for many people to experience mountaineering. However, not everyone needs to hire a guide to climb Mt Rainier. Many people already possess the skills required to climb without a guide. If you want to climb Mt Rainier but do not have mountaineering experience or training, then hiring a guide service is a must.
If you do choose to hire a guide, registration opens in late September typically and the July DC trips tend to fill within minutes of opening. The park limits the number of trips that can be offered so the popular dates sell out quickly, much like concert tickets!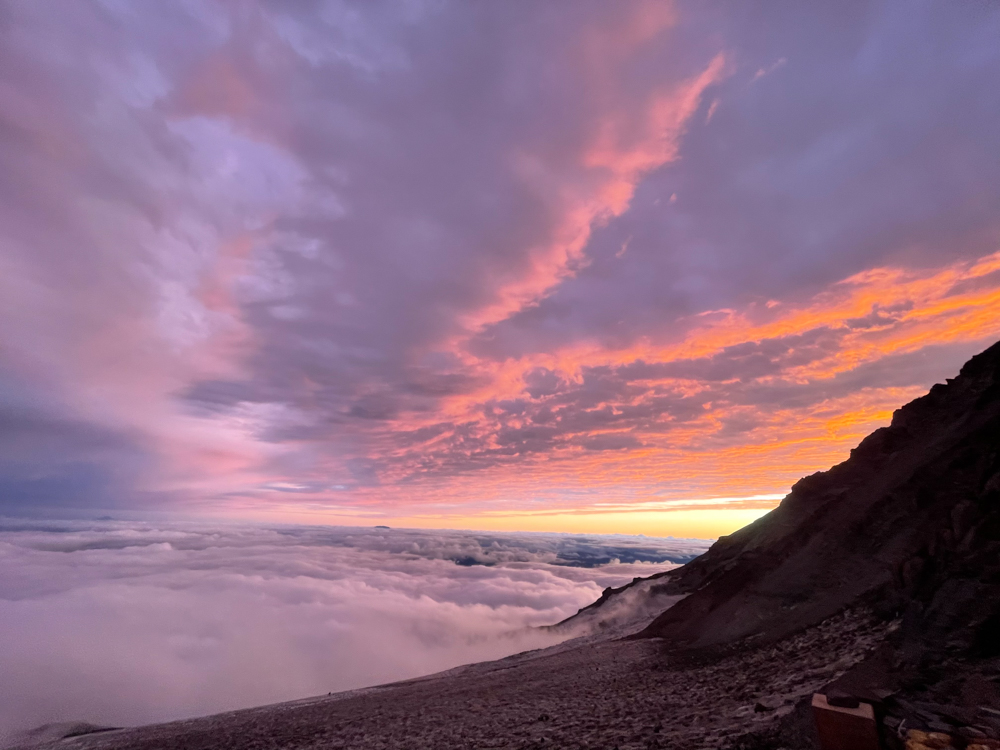 Mountain Weather (Specific to Rainier)
Before climbing Mt Rainier, it's important to get a good weather forecast so that you know what to expect, how to pack, and if the weather will be good to climb in. I have found that the Mt Rainier Recreational Forecast that is released by the University of Washington is the most accurate weather source. This source may not have pretty pictures like some other websites but it is by far the most consistently accurate forecast. As a general rule of thumb, if the forecast calls for summit winds stronger than 40mph, then it will be too windy to stay on your feet. Additionally, if the summit day freezing level is below 10,000ft, then double boots (which are much warmer and easier to dry) are a good idea unless you are planning to move very fast.
Equipment
The equipment required for someone to climb Mt Rainier will vary depending on season, route, and skill among other things. In general, fully rigid single boots are appropriate as long as the freezing level is above 10,000ft. Additionally, with very few exceptions, people should climb with standard glacier climbing gear and plenty of warm layers, including a big parka. Listed below are a few of my personal favorite pieces of gear!
Parka: RAB Positron Pro
Sun Protection: OuterU Faceglove Flex
Midweight Gloves: OR Extravert
Ice Axe: Salewa Alpine Tec Hammer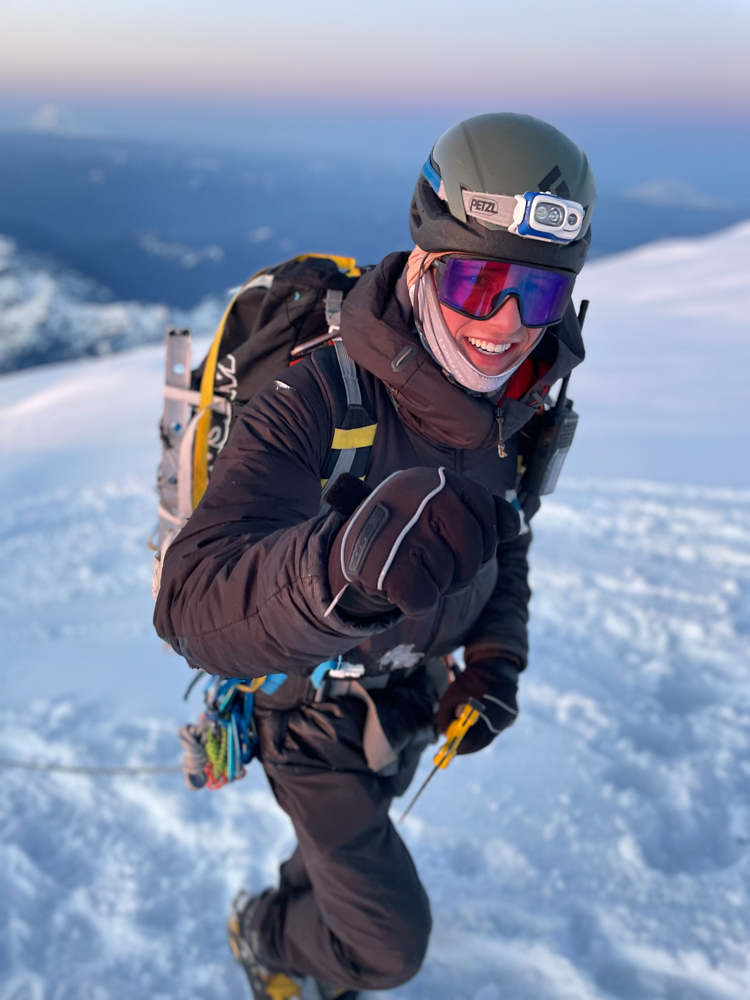 Permits
Permitting on Mt Rainier is certainly an underrated crux! Many people have been forced to bail on their summit simply due to permitting issues.The location you obtain your permit at varies depending on your intended route. One must obtain their camping reservation in person – these are limited. You must also obtain a summit permit, though these are not limited. During some dates, the permits can be reserved but they still must be picked up in person. You can read more about this (admittedly confusing) system on the NPS website. Most weekends from mid-June to mid-August will be fully reserved so it may be best to look at week days to climb or come ready to pivot to another route if the permits you want are unavailable.
Hot Tips to Make Rainier Fun!
Rainier doesn't have to be all serious business! We do this for fun, right? Here're a few tidbits to make your trip more enjoyable.
Bring your thinnest sun hoody and thin soft shell pants. Your biggest enemy on Rainier will actually be the sun and heat, not the cold!
Download a movie and have a slumber party in your tent with your climbing partners before your climb.
Bring a flask of whisky or a can of wine or beer to celebrate after your summit climb!
Throw in some headphones to jam out on your way to camp. Music out loud is not cool but headphones are great!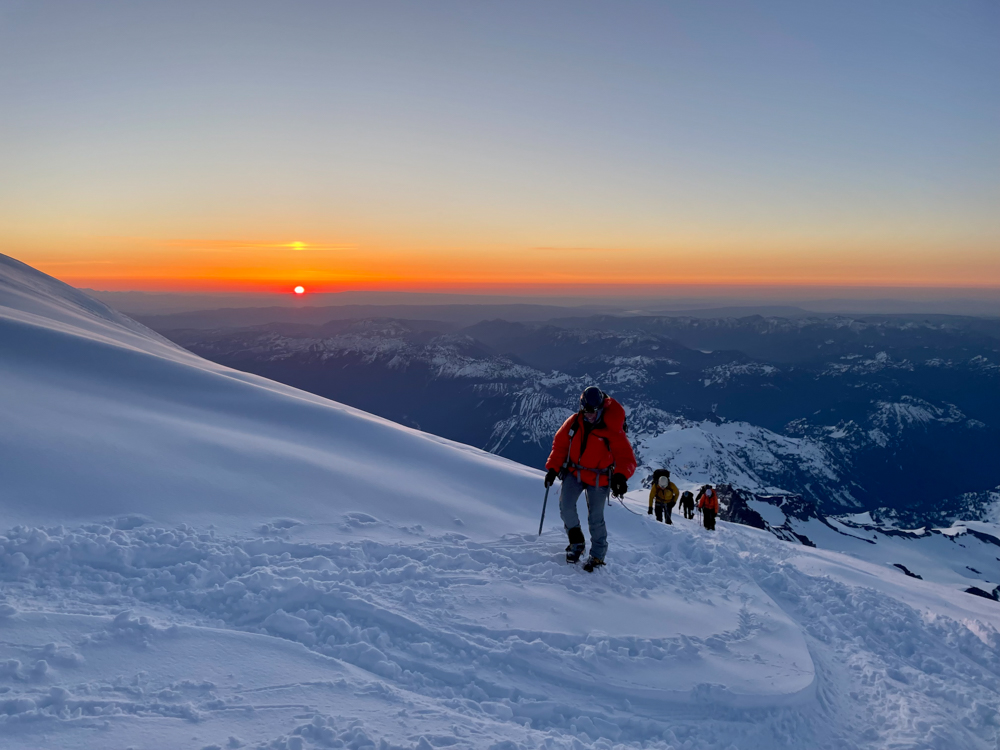 The Final Word
Mt Rainier's unique position makes for a wild and rugged mountain that has seen aspiring mountaineers test themselves for over a century. Hopefully, this article provided a few tips to help make your trip to Tahoma a bit less harrowing than the first ascensionists who climbed it over 150 years ago.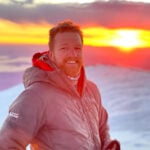 Porter McMichael is a full time mountain guide. He leads trips in the cascade mountains of Washington as well as trips to the Himalaya, Denali, and Latin America. When he is not working he enjoys ice climbing, ski mountaineering, trail running, and knife making.