ProView – Zeal Cloudfall Auto Review
I had the opportunity to test out the Zeal Cloudfall goggles with the Skyridge Auto+ RB lenses while skiing a number of days this winter and enjoyed my time behind these photochromatic lenses. I was lucky enough to get to break out these goggles in a variety of conditions ranging from sunny days high in the alpine to stormy midwinter powder skiing.
Zeal Cloudfall Auto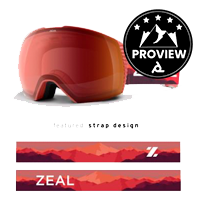 Product Name: Zeal Cloudfall Auto
Product Description: These are high end goggles with top notch features and lenses. The photochromatic lenses are ideal for a wide range of conditions and the frames are comfortable and work quite well, though they do suit those with a larger face.
Offer price: MSRP: $199.00 - $319.00
Currency: USD
Quality

Features

Fit

Eco-Friendly

Durability
Summary
These are high end goggles with top notch features and lenses. The photochromatic lenses are ideal for a wide range of conditions and the frames are comfortable and work quite well, though they do suit those with a larger face.
Pros
Photochramtic Lenses
Rail Lock Lens System
Looks good and great colors
Cons
Thick profile front to back
Not the best field of view
In early march, my backcountry skiing partner and I set out to ski some lines on Mt Shuksan that we had been eyeing for a while. The day was sunny, breezy, and cold with great snow. We skinned up the White Salmon Glacier and across the upper Hanging Glacier to the top of our first line of the day, the Northwest Couloir. When we transitioned, I put on the Zeal Cloudfall goggles with their photochromatic lenses. We started skiing down to the entrance in the brilliant midwinter sun. Once we entered the couloir, the character of the route changed dramatically. Suddenly the sun was gone and we were on a steep north face in the shade, surrounded by rock and cliffs. The photochromatic lenses allowed in a bit more light in the shade to ensure I could see what I was skiing, despite just being in the bright sun. The goggles worked great while skiing down the steep Northwest Couloir in the shade before we poked back out into the sun at the base, where the lenses got darker again. The photochromatic lenes are key for situations such as this as well as skiing at dusk or dawn where the light will also change dramatically in short amounts of time.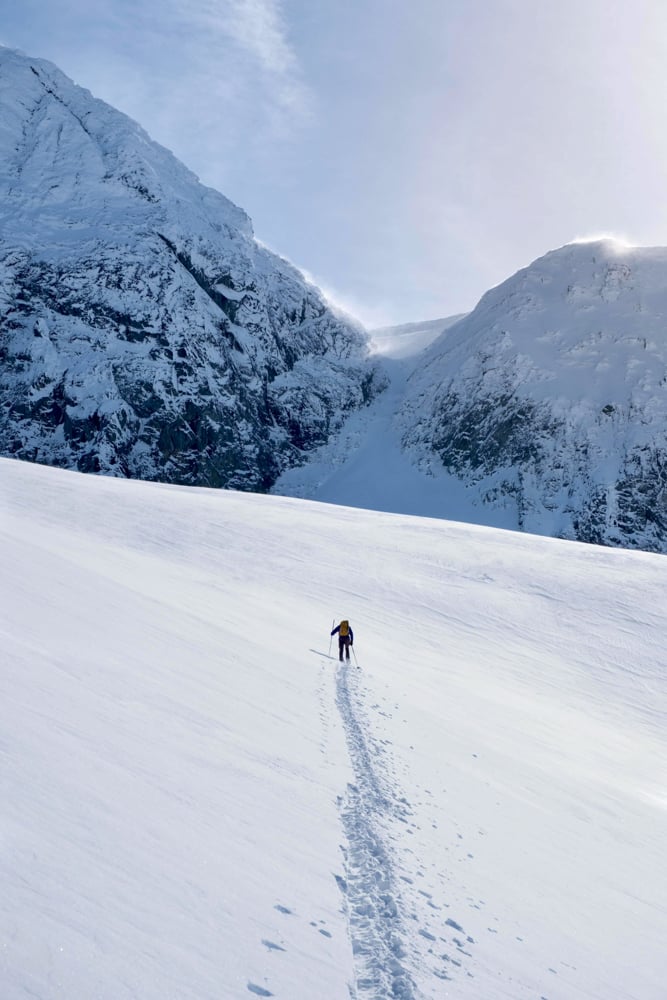 Performance
The standout feature of these goggles is the photochromatic Auto+ RB lens. The RB stands for rose base which gives a reddish tint to everything viewed through the goggles. The lenses of these goggles provided great clarity and fogging resistance which is very important in the Washington winters! It is worth noting they are designed to fit over glasses which means that they are pretty thick front to back. Due to this, they stick out a bit when worn with low profile climbing helmets and also don't have the absolute widest field of view. These shortcomings are minor at most and don't detract from the goggles overall!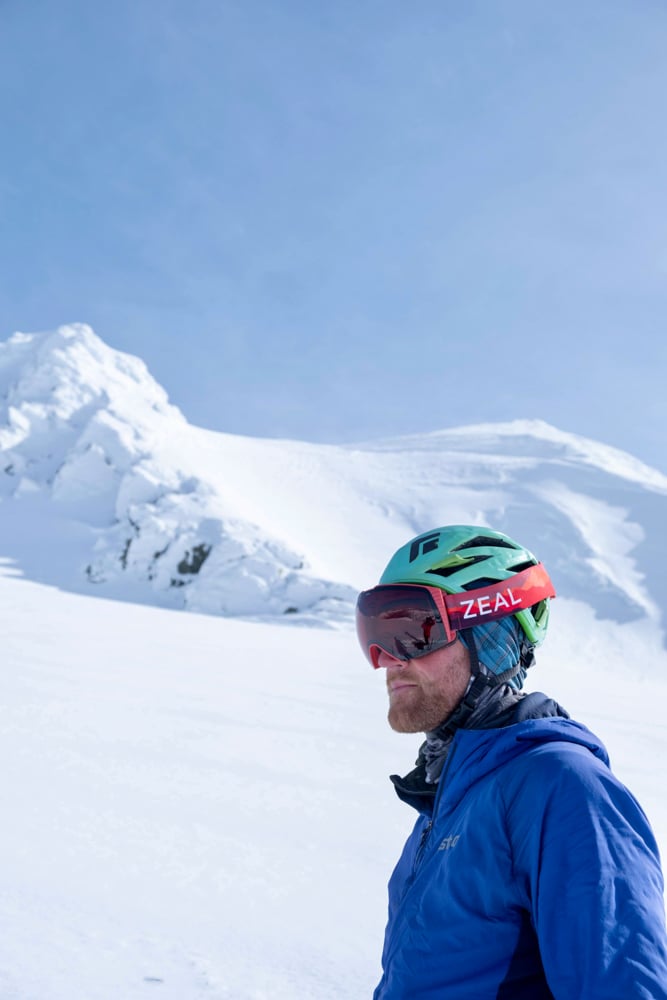 What sets it apart?
The Rail Lock System combined with the photochromatic lenes makes this pair of goggles stand out from the rest. While I only had one lens with my goggles, I still found myself using the Rail Lock System to crack the lenses away from my face in order to mitigate fogging. It would be even better if the rail lock system had a detent to keep the lens a centimeter or so away from the body of the goggle to keep the goggles ventilated while skinning. I was worried that perhaps the Rail Lock System would make the lenses too easy to remove but one tomahawk later and I'm happy to report the lenses did not come off.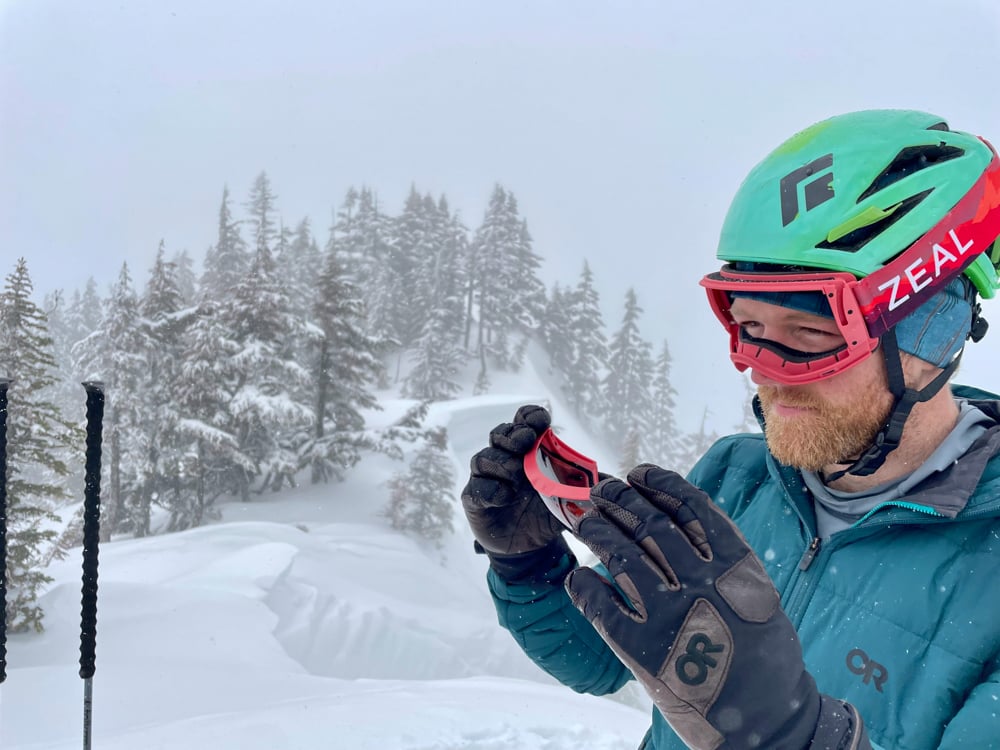 Who is it for?
I think that these are well suited to resort skiing, ski touring, and mountaineering alike. Perhaps they are on the bulkier side for mountaineering applications but the photochromatic lenes are a must for this application. They may also be a bit too big for folks with smaller faces.
Friendliness to the Earth
Zeal seems to be an environmentally conscious organization as thy use some plant based materials in their products and they also donate 1% of all sales to environmental causes. A cursory click through the Zeal website reveals that the company has taken a more environmentally friendly approach to basically every part and piece of their goggles and glasses, ranging from using soy based ink to using solar power and recycling water.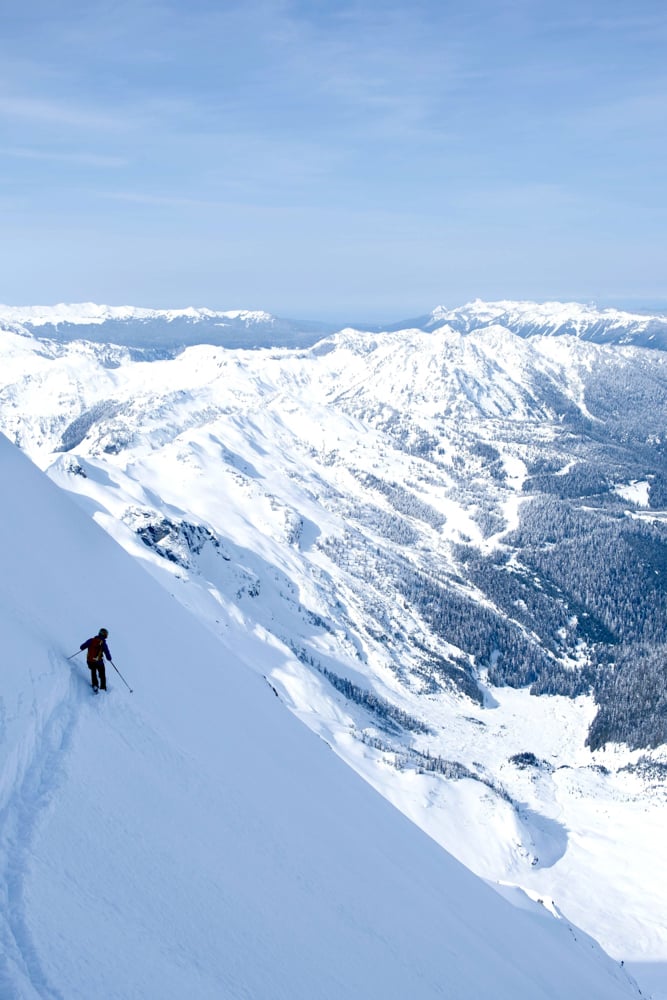 The Final Word
Overall, I was fortune enough to get to use these goggles in a wide range of conditions and was impressed with how they performed and held up. In the sun the lenses are dark while in low light they are fairly clear and easy to see through. The strap sticks well to a helmet and the goggles stay in place well. They look pretty good and have a great lens changing system in case you do opt to have several lenses on hand (through the photochromatic lens effectively eliminates the need for this for all but night skiing).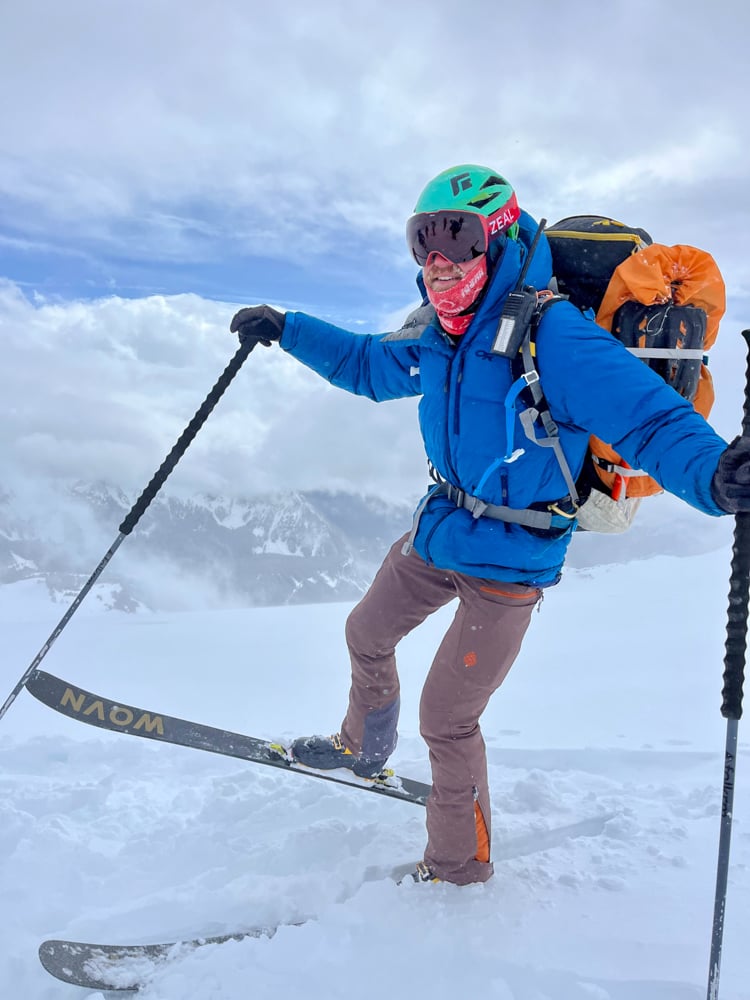 Shop Zeal Cloudfall Auto on Outdoor Prolink. Not a member? Apply today!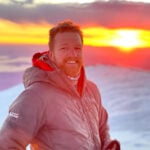 Porter McMichael is a full time mountain guide. He leads trips in the cascade mountains of Washington as well as trips to the Himalaya, Denali, and Latin America. When he is not working he enjoys ice climbing, ski mountaineering, trail running, and knife making.