ProView – Julbo Density Sunglasses Review
The Julbo Density Glasses have been resting on my nose through a wide variety of activities over the past month or two. During this time I have found them to fit well and they look quite stylish to boot. But to quote Derrick Zoolander, there's more to life than just being really really ridiculously good looking. Fortunately, the Julbo density glasses also function great in a wide variety of situations ranging from cycling, to trail running, to ski mountaineering.
Julbo Density Sunglasses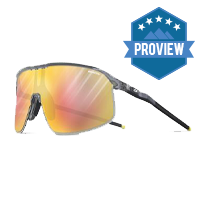 Product Name: Julbo Density Sunglasses
Product Description: The Julbo DENSITY reinvents the rules of sports-performance eyewear through its audacious style and reliable functionality. DENSITY is your new over-achieving partner in good times! Those shades have a lightweight and minimalist design, a no-slip nose bridge and a super comfortable fit thanks to soft zones on the frame that ensure hold without tearing your hair out. Featuring a maxed-out field of vision for guaranteed panoramic views at all times.
Offer price: MSRP: $170.00 - $250.00
Quality

Features

Fit

Durability
Summary
These are high end glasses with nice lenses and features. The photochromatic lenses are ideal for a wide range of conditions and the frames are comfortable and work quite well, though they do suit those with a larger face.
Pros
Light Weight
Very photochromic lenses
Stylish
Good airflow
Cons
Non reflective lens on this model
No replacement lenses available
Just a few weeks ago, I woke up at 3am in the back of my car. I got out of bed and into my ski boots and clothes. It was a bit windy so I opted to wear my Julbo glasses right from the car. As my partner and I skinned in the dark via headlight. We moved fast, working hard, sweating as we climbed higher on Mt Rainier. The sun rose and the lenses of the glasses darkened. We climbed up Gibralter Ledges which involved some steep climbing and blowing snow. Eventually we reached the top of the chute that we were aiming to ski. We transitioned under a rocky out crop that protected us from some of the wind and then dropped in from the shade to the bright sun. We skied quickly to get out from under the seracs hanging over us. After a few thousand feet of steep, focused skiing, we were back on the muir snowfield, skiing fast and loose to the cars.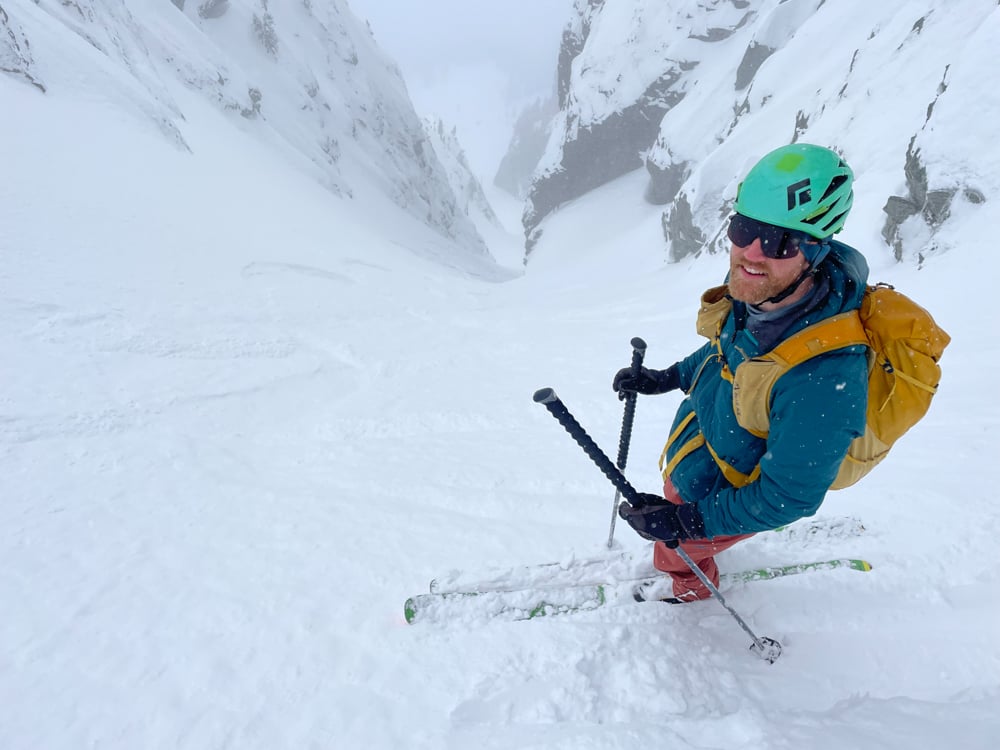 Performance
Through the whole day skiing, the Julbo Density glasses never left my face. They are very light and airy so I don't even notice them on my face during a day of skiing or running. The photochromatic lenses will transition all the way from fully clear to dark enough for a sunny and snowy day. The glasses were clearly designed with high output activities in mind. They sit off your face and have tons of space on the side for air to pass through to prevent fogging when you are working hard on a climb. That being said, the wide one piece lens does still provide ample coverage for running, cycling, or even skiing. In order to get such a wide range of light transmission, the Cat 0 to Cat 3 lenses on my pair do not feature any reflective coating on the lens. There are other versions of the Density which have Cat 1 to 3 lens and do feature the reflective coating in a variety of colors. I think that the glasses look better with one of these selective colored coatings, but Julbo is unable to add the coating to achieve the completely clear lens.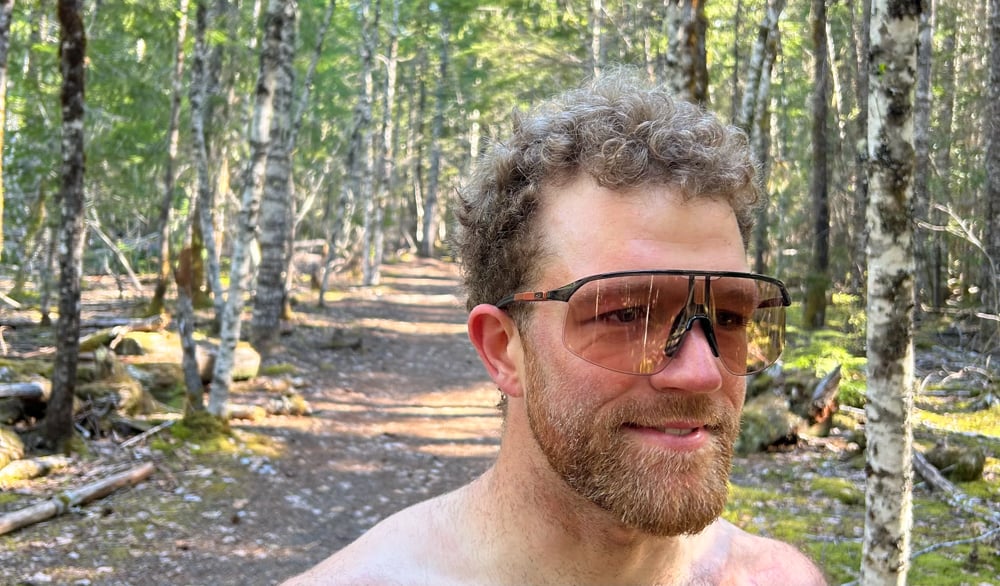 What sets it apart
The stand out features of this pair of glasses is just how light they are compared to other glasses with big lenses. The fact that the frame does not encircle the entire lens paired with the thin plastic ear pieces makes for a total weight of just 20 grams. This light weight combined with the moldable ear pieces makes for glasses that fit well that  you can forget you're wearing. Additionally, the REACTIV 0 – 3 high contrast lens on the pair I have can go from 87% to 12% visible light transmission (VLT). The 87% VLT is a truly clear lens, similar to safety glasses and does not inhibit vision if they're worn at night. Meanwhile, when the sun rises and the lenses darken to 12% VLT, they are plenty dark for spring skiing and other intensely bright activities. It's worth noting that 12%VLT is not dark enough for mountaineering or other applications where a sub 8% (Cat 4) lens is required, but these glasses are not designed for that.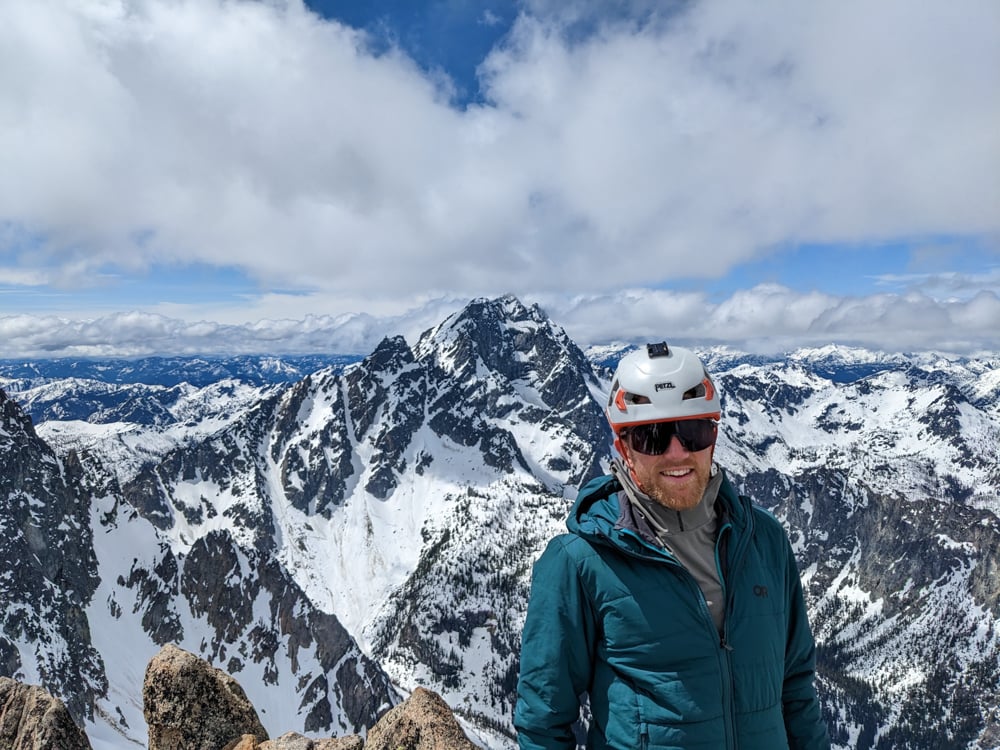 Who is it for?
These glasses are designed for runners, cyclists, ski mountaineers, or any one who is participating in high output activities and want a light and comfortable pair of glasses to wear along the way. Those who buy these glasses should recognize that the extreme light weight comes at the expense of replaceable lenses, so if your lens gets very scratched or you want a different darkness lens, you are stuck with what you have.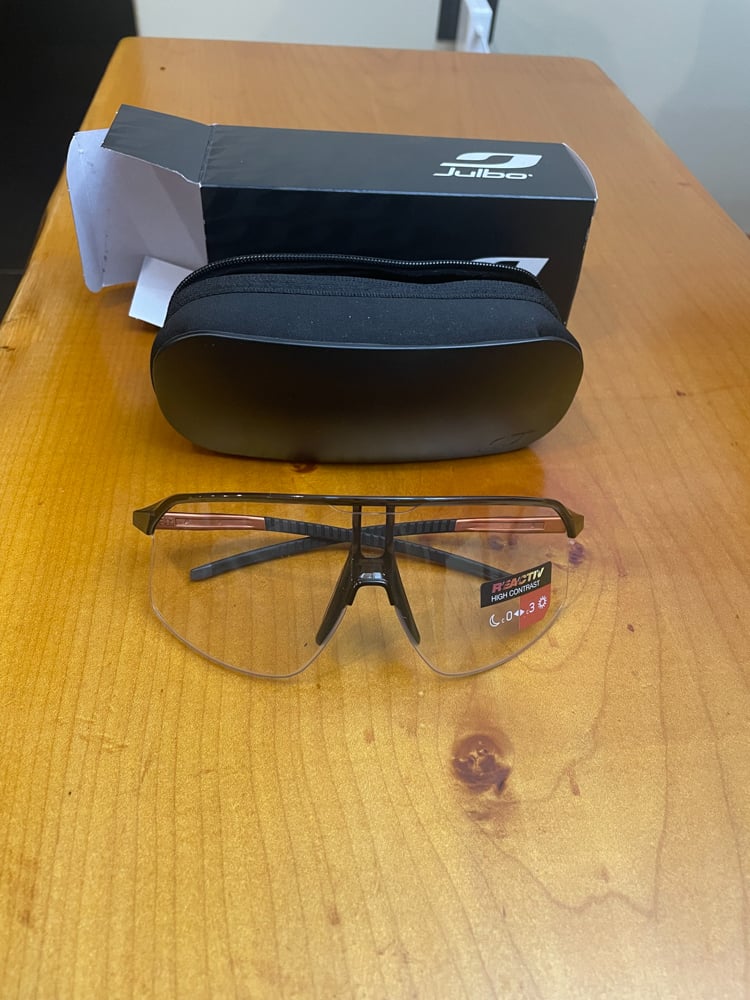 The Final Word
Overall, the Julbo Density is a purpose built pair of glasses for athletes who want a super light and versatile pair of sunglasses. They fit this bill perfectly but make some sacrifices in order to achieve such a light weight and comfortable fit. These glasses feel a little flimsy in hand because the frame and lenses are a bit flexible in order to accommodate a wide variety of face shapes. The Reactiv lenses provide a great range of light transmittance to accommodate a wide range of conditions. If you are after some light, fast, and versatile glasses, then the Julbo Density is a great option!
Shop the Julbo Density Sunglasses on Outdoor Prolink. Not a member? Apply today!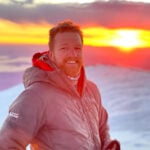 Porter McMichael is a full time mountain guide. He leads trips in the cascade mountains of Washington as well as trips to the Himalaya, Denali, and Latin America. When he is not working he enjoys ice climbing, ski mountaineering, trail running, and knife making.