ProView – Men's Scarpa Spin Ultra
Scarpa recently released their Spin Ultra trail running shoes to meet the needs of ultra-distance alpine runs, and they hit the proverbial nail right on the head. I had a blast scrambling up backcountry trails and mobbing down descents around Boulder and Leadville putting these shoes through their paces. The shoes truly rock when the trail gets technical and your legs are sore from miles and miles of running.
Scarpa Spin Ultra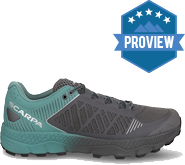 Product Description: The perfect choice for moderate to ultra distance runs, the Spin Ultra offers more cushioning than the Spin RD, in a stable package featuring ample upper protection to keep your feet feeling good in all types of terrain.
Offer price: $149 MSRP
Quality

Features

Fit

Durability
Summary
The Scarpa Spin Ultras are a great lightweight trail running shoe that is durable and comfortable for long-distance running. I recommend these shoes for technical trail runs with steep uphills and downhills.
Pros
Comfortable

Durable

Supportive

Smart design (laces, toecap, outsole)

Great for technical terrain
Cons
Mesh could be more breathable
Boulder's Flatirons are right outside my backyard and present the perfect training ground and testing facilities for myself and these shoes. Anyone who has run around the Flatirons knows just how steep and technical the trails can be, requiring stable shoes that you can trust. Lacing up the shoes, it is immediately apparent that Scarpa did their research with their "Ergonomic Fit" system. I felt like I was putting on a pair of socks, and the shoes were just an extension of my foot. My first run in the shoes was up Green Mountain and Bear Peak and I was instantly blown away at how comfortable they were, while also providing the support I needed to blast down the rocky trails. Once I broke the shoes in, I went out for the Boulder Skyline Traverse, which summits all five major summits in Boulder resulting in a 25-mile loop with about 7,000 feet of elevation gain. This is where I felt the shoes really excelled. Typically, my feet are sore and tired after a long day in the mountains, but this time my feet still felt fresh while my legs were tired and sore. I attribute this to the large amount of cushioning that softens the impact forces on steep downhills. I also felt that the lugs provided the traction necessary to trust my foot placements when rock hopping on the more technical parts of the trail. In total, I have put about 200 miles on the shoes and they are still holding up great.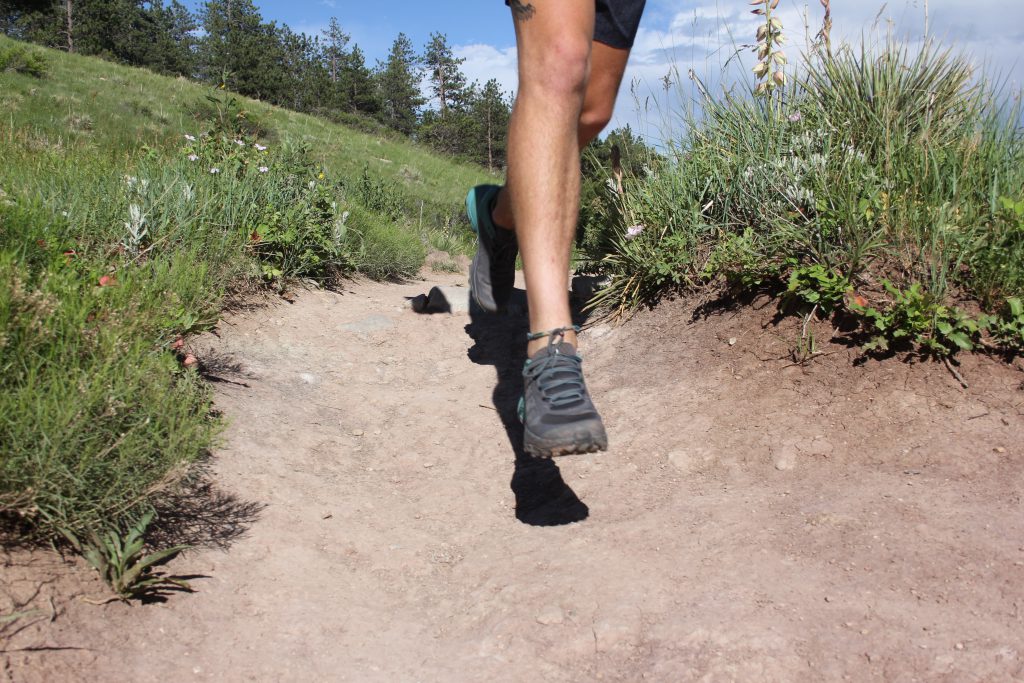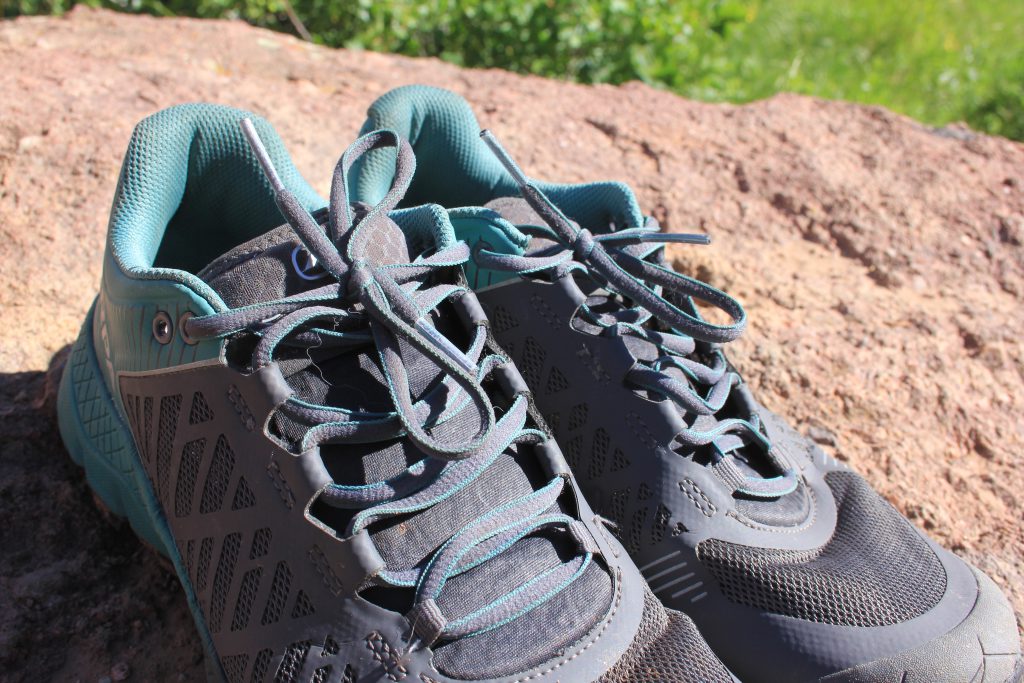 Performance
The first thing that you will notice with these shoes is simply how light they are, it is almost silly when you pick them up. This is from the Vibram Litebase that is 40% thinner than their typical Megagrip outsoles, which adds up to a 25% weight reduction. This results in a 9.3-ounce shoe that you will barely notice after stacking up the miles. That is not to say the shoes are any less durable. The lugs are thick and still holding up better than other Vibram soled shoes that I typically wear and retire after about 300 miles. I see these shoes lasting at least 500 miles before I retire them, which saves me a pretty penny as well!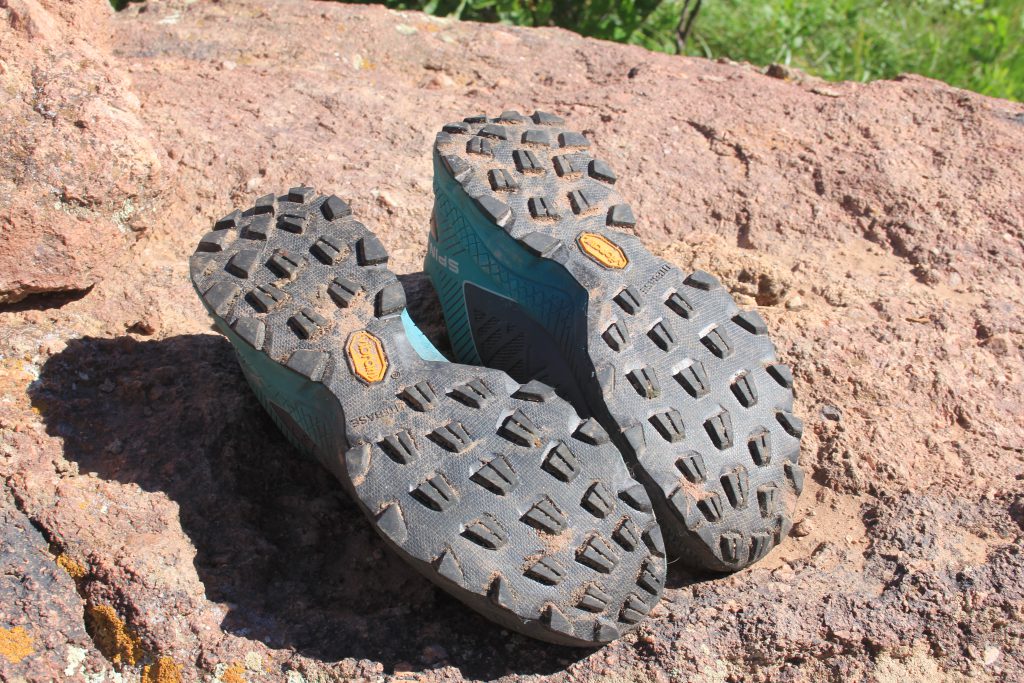 Fit
The second thing that you will notice when putting them on is how comfortable the shoe actually is. The heel cup hugs the natural curve of your foot, and the mesh uppers mold to the shape of your foot. It is just like putting on a sock with laces. Speaking of which, I love these laces. They never came untied, they are the perfect length, and the criss-cross pattern is well designed; something I cannot say for all shoes.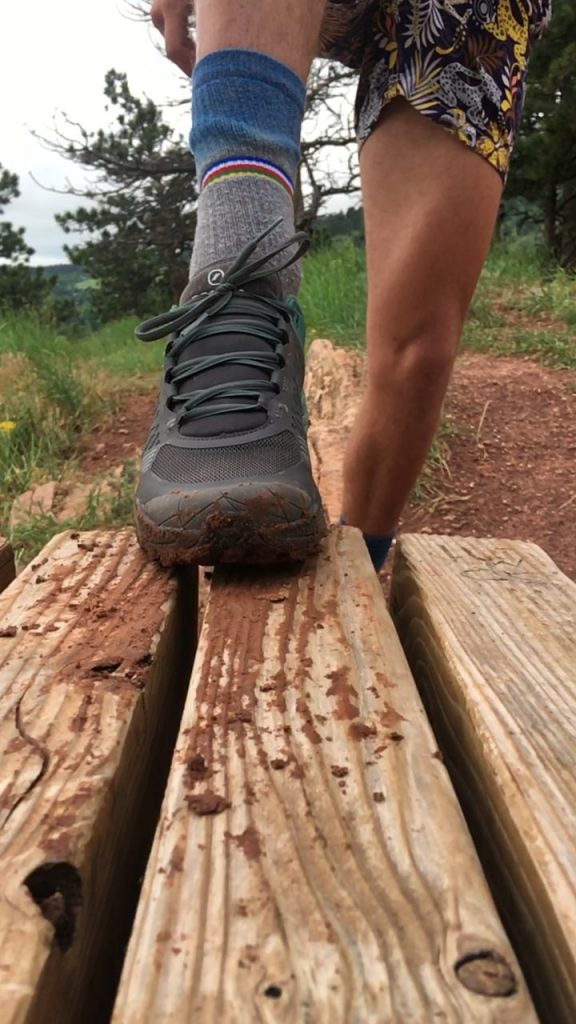 Looks/Design
Looks are at the bottom of my priority list, but these shoes really pop! The teal/grey combo looks incredible out on the trail and helps draw attention away from my sweaty and exhausted face as I pass people out on the trail. Scarpa did a great job in designing these shoes to look good without sacrificing construction. The toecap is made of a hard thermoplastic polyurethane that protects your precious toes from cacti, rocks, and anything else that may get in your way. No losing toenails in these shoes from stubbing your foot on that stupid root that you didn't see.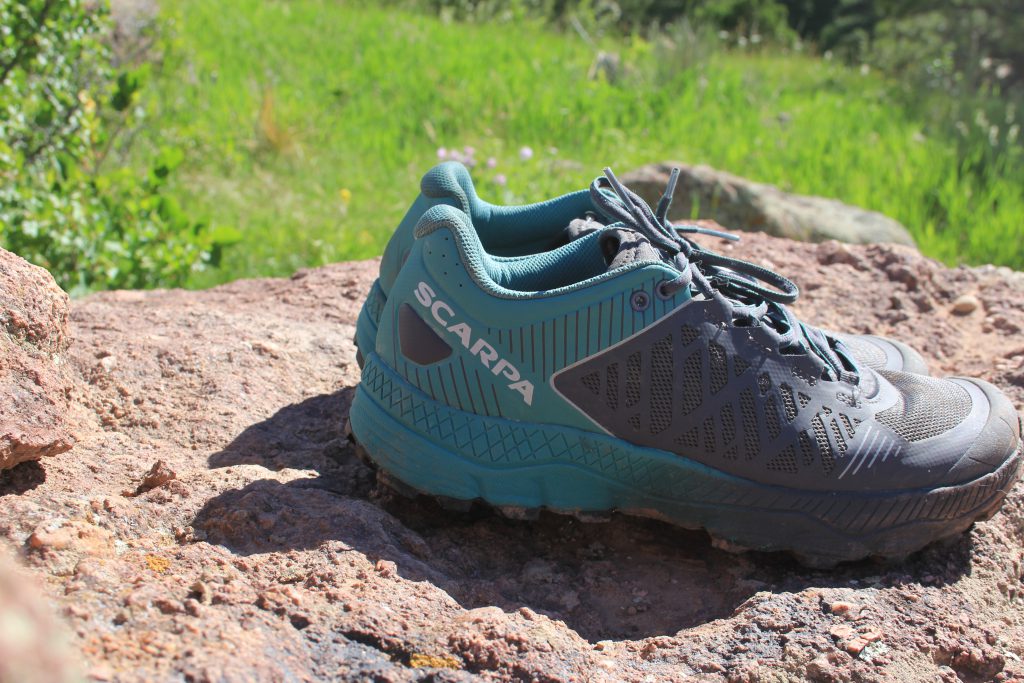 Room for Improvement
My one complaint about the shoes is their breathability. I did feel like they ran a bit warmer than shoes that I am used to. I do recommend using thin socks to help with this issue and to help the shoe fit better overall.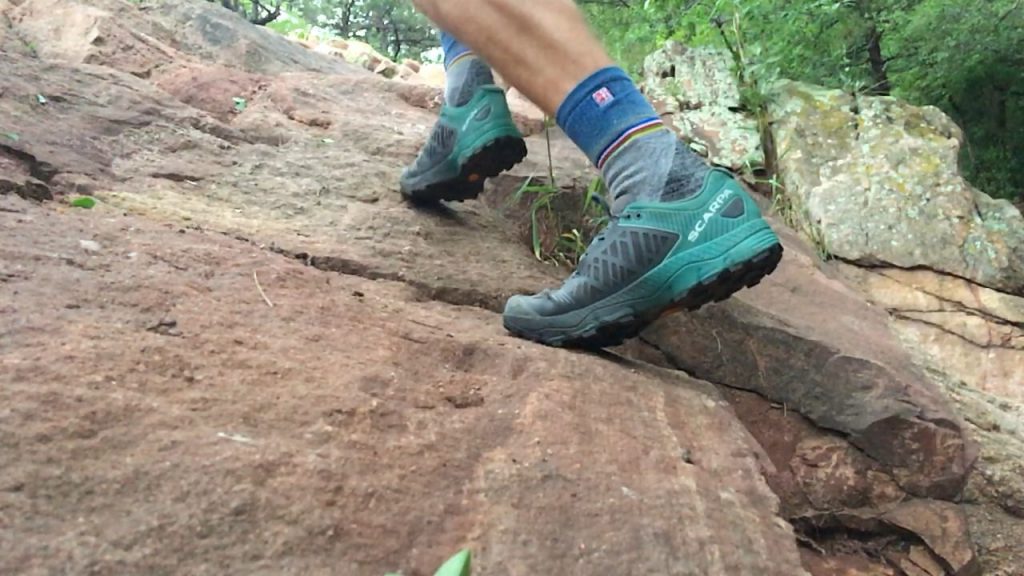 Final Word
I recommend these shoes to anyone looking for a lightweight shoe that will hold up to the abuse of rocky technical trails. The comfort provided led me to reach for them on short recovery runs, or when I needed to put out long all-day efforts in the mountains. These shoes will be accompanying me on many more trails this summer as the snow starts to melt away from Colorado's 14ers.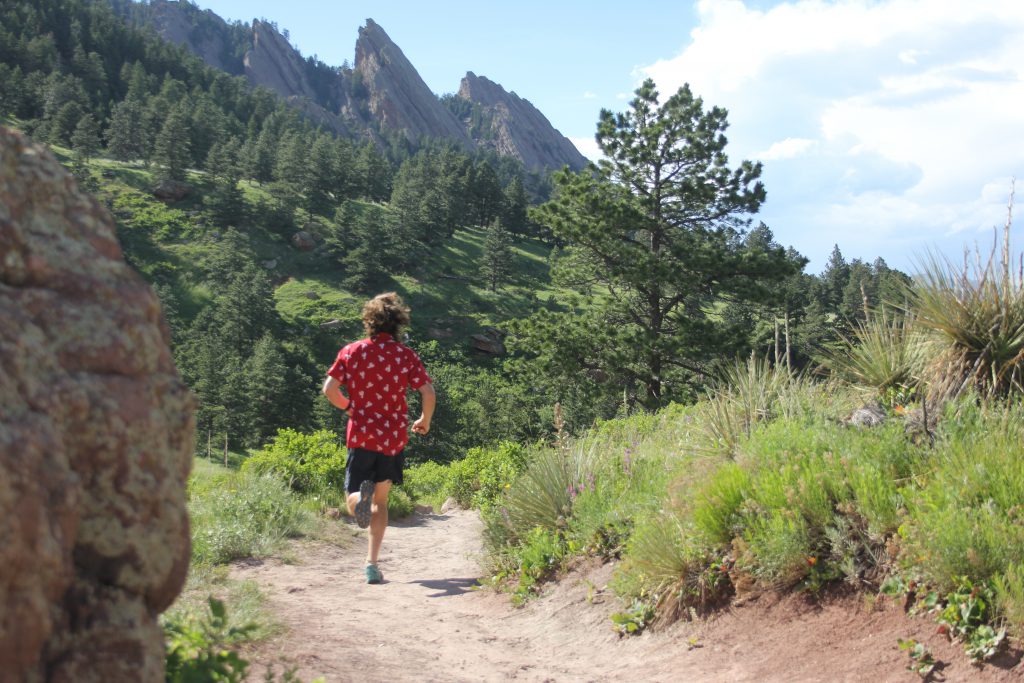 Shop the Scarpa Spin Ultra on Outdoor Prolink. Not a member? Apply today!
Rilyn is an ultra-endurance athlete based out of Boulder, Colorado who enjoys exploring the mountains through running, biking, and climbing. He strives to bring a hint of humor to any of his endeavors, climbing the Flatirons in scuba gear or running marathons with a Hobby Horse and a cowboy hat. You can connect with him on Instagram at @rilyn.vandemerwe or through his website runbikeclimb.com