ProView – Mountain Hardwear Nimbus UL 1 Tent
The Mountain Hardwear Nimbus UL 1 tent is the lightweight and versatile shelter for your long-distance or weekend backpacker.
This spring, I had the opportunity to test a backpacking kit from Mountain Hardwear that included the Nimbus UL 1 tent. The kit arrived in time for the shoulder backpacking season in Colorado and I took it to hit some of our recently melted trails. I am preparing for some backcountry guiding and longer personal trips this summer, so this was a golden opportunity to take the Mountain Hardwear Nimbus UL 1 on a short backpacking trip to test its effectiveness as a lightweight shelter in potentially adverse conditions. On this particular backpacking trip, the nightly temperatures dropped to below freezing and was paired with 30mph gusts throughout the night. Conditions representative of your average Colorado night under the stars.
Mountain Hardwear Nimbus UL 1 Tent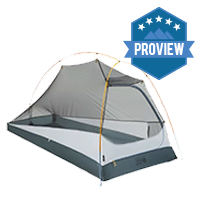 Product Name: Mountain Hardwear Nimbus UL 1 Tent
Product Description: Carrying a heavy pack sucks, but so does getting drenched by unexpected showers or ravaged by blood-thirsty mossies—our Nimbus™ UL Single Door 1P Tent solves the dilemma. With streamlined features and a sil-nylon rainfly that offers full protection without dyes, PU-coatings, or flame-retardant chemicals, the Nimbus is an integral part of your ultralight trail kit.
Offer price: $330 MSRP
Quality

Features

Fit

Eco-Friendly
Summary
The Mountain Hardwear Nimbus UL 1 is a fully featured and lightweight tent that will perform equally as well on a long through-hike or on your average weekend backpacking trip. 
Pros
Lightweight
Quality materials
Great rainfly construction
Cons
Doesn't do well in windy conditions.
This is a tent that has caught my eye for a number of reasons. The UL (Ultralight) tag is something that is welcome when you are attuned to putting 30-40 miles of trail behind you on any given backpacking trail day. Often the consumer perception with "ultralight" gear is that you are making a tradeoff between weight and comfort and/or durability. While this reputation was earned early in the development of UL gear, this has now become more of a misconception in the backpacking community. With great leaps in design, materials, and adoption of UL from larger gear manufacturers, there are instances where gear can be both incredibly light and durable. I will try to speak to both in this review but I cannot fully speak to the idea of durability until I am able to use this tent over the course of a full backpacking season to see how it holds up to long term factors like solar radiation and trail abrasion.
As a backcountry guide, a one person tent fulfills an interesting niche as it is nice to have your own tent that is separate from clients. Usually, my personal shelter comes in the form of a very minimalist and very light tarp shelter. When you are carrying a great deal of group gear and a hefty first aid kit, your shelter is something that tends to fall to the wayside while guiding. I have found this tent to be a good option for the lonely backpacker and the 2-person version as a great option for a pair setting out into the wilderness.
Fit/Comfort
The biggest reason I would bring a tent over a more minimalist shelter like a tarp is for the gains in comfort especially in terrain that offers additional challenges like rain or buggy-ness. The first thing I noticed in this tent is that there is great headroom and interior space as a result of the pre-bend pole design that Mountain Hardwear utilizes. This is not only welcome in terms of livability but also to avoid a face of wet fabric in the morning that I have found common for tents or shelters that pitch closer to the ground. Ultimately, the biggest marker that I use in regards to comfort is the weight of the tent. Because I will be carrying this tent on my back, the lightweight nature of this tent is slightly more important to me. Luckily, this tent performs well in both regards. Overall, I found this to be a very comfortable tent for one 5'11 person to sleep in and their gear. Perhaps a medium sized dog could sneak in there with you as well.
Look/Style
Something I appreciate about this tent is the general minimalist and sleek design that it offers. This is not only aesthetic, but I found while sitting in the tent during some high winds that, functionally, this design can resist moderate to high winds without issue. The only glaring issue I noticed is that if the tent is pitched perpendicularly to the wind, the one pole design can create a sail against the broad wall of the tent. Staking this tent out correctly is very important to avoid this issue. I would even consider adding a couple of extra guy lines in windy conditions.
Features
I would say that the features of the Nimbus UL 1 are very industry standard. The one pole/three branch design is something that has been seen in the industry for quite some time and has proven to be effective and lightweight.
An area where I was greatly impressed, is in the materials that were used for this tent. One thing that piqued my interest is that the fabrics of this tent are free of flame-retardant chemicals. For context, this is a recent industry move that Mountain Hardwear was early in adopting. A study found that flame retardant chemicals were leaching from products, like tents and sleeping bags, onto people from average use.
This pivot away from chemically coating tent fabric had an additional benefit of creating stronger and more durable tents.The reason for this, is that it allowed manufacturers to apply silicone on both sides of the tent, which gives the tent fabric a higher tensile tear strength and increased water repellency.
This silicone impregnated design was very noticeable in the rainfly of this tent. It is silky soft and very light. A material that I have only seen in shelters from smaller cottage companies that have less regard for industry standards and make truly innovative gear. I applaud Mountain Hardwear for improving the quality of materials in their tent design.
To read more about this industry move please reference these two articles:
https://www.outsideonline.com/2406767/flame-resistant-tents-carcinogens-cancer
https://www.ncbi.nlm.nih.gov/pmc/articles/PMC3958138/
Weight/Packability
The advertised weight of the tent comes in at 1 lb 14.6 oz. As we know, this is often different from a "trail weight". Getting rid of the stuff sacks, a few ounces are saved for a weight of about 1 lb 10 oz. A tent of this weight certainly starts creeping into ultralight territory. This tent was very easy to pack into my ultralight 30 liter backpack along with the gear necessary for a three night backpacking trip
Function/Performance
I have spoken already about the great performance of the rainfly and the limitations found by the one pole tent design in high winds. One thing I would like to add to this conversation is the performance of the tent body. You will find that three-quarters of the body is made of a mesh canopy material both for breathability, bug protection, and star gazing. The last quarter of the tent body is a solid lower canopy that offers protection from dust or wind. This is a vulnerable part of the tent so that extra protection is welcome for a fully-featured tent. Overall, this tent will perform as you would expect a fully-featured 3-season tent to perform.
Durability/Construction
I do not feel as if I had the opportunity to put this tent through the wringer to comfortably speak on the durability of the tent. With tents, there are long-term factors like solar radiation and trail abrasion that play greatly into the ultimate durability of a tent shelter.
However, at first glance this tent does appear to use durable materials as well as neat and durable construction. The seams are sealed, the corners are reinforced, and the stitching appears to be immaculate. A small detail, but one that I have come to appreciate over the years, is that this tent also comes with quality J-style stakes that I have found to be ideal for long term use. I have bent my fair share of tent stakes and have found the J-Style stake to be more resistant to bending while being lightweight and easy to stow away.
Friendliness to the Earth
While Mountain Hardwear has started to implement practices in their gear manufacturing that are in-line with sustainability, They state on their website that they have implemented alternatives that are "better" for the environment but that still does not mean "best". Their efforts such as using more sustainable dyes and recycling some Primaloft materials are admirable but not industry-leading. The most sustainable option will always be to repair your old gear over buying new.
Shop Mountain Hardwear on Outdoor Prolink. Not a member? Apply today!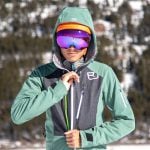 Aidan Goldie is a ski mountaineer based out of Colorado. When he is not climbing and descending peaks in the American West, he is an outdoor educator, working with schools and nonprofits guiding groups through the Colorado wilderness. Connect with him on instagram @agoldie94.