ProView – Mountain Hardwear Men's High Exposure Gore-Tex C Knit Bib
A light and fast ski bib and pant hybrid beautifully complemented by the rest of Mountain Hardwear's High Exposure kit.
In this gear review, I was able to test the High Exposure Bibs along with the rest of the five-piece Mountain Hardware High Exposure ski kit. I will focus this review on the High Exposure Hardshell bibs, but will also be referencing it as a complementary piece of the kit as a whole. To test this kit I wore it along with a critical eye in my home Colorado mountains. Ski touring on the traditional Indigenous lands of the Núu-agha-tʉvʉ-pʉ̱ (Ute) tribe that exists today. It was one of those early season October storms that will either mess up our snowpack for the season to come or one that kicks off the ski season with a bang. Despite a few feet of fresh snow to play with, I was still contending with a shallow snowpack.
Mountain Hardwear Men's High Exposure Gore-Tex C Knit Bib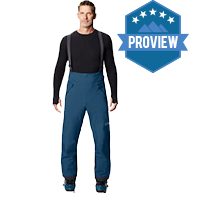 Product Description: Our lightest 3L ski bibs designed with GORE-TEX C-Knit™ shell fabric for premium waterproof protection and unparalleled breathability on human-powered backcountry missions, the High Exposure™ GORE-TEX Bib handles wet snow conditions and technical mountain terrain.
Offer price: $450 MSRP
Quality

Features

Fit

Durability

Eco-Friendly
Summary
These bibs are the true-to-size and versatile option for your ski touring kit that will survive the rigor of a full winter season.
Pros
Incredibly lightweight
Functional
Thoughtful construction
Waterproof and breathable shell layer
Serve well in a variety of ski touring conditions.
Cons
Not full-featured bibs may be a con to some people
Features
There are a few intriguing things to note about the High Exposure kit as a whole. First of all, this is a hard-shell kit that comes with a range of possible applications. The use of Gore-Tex is welcome in many situations but can be restrictive as well. Based on my experience with Gore-Tex, I have the tendency to be skeptical as there tends to be a discrepancy between what is measured in the lab, and what I have observed in my own day-to-day use. I simply feel that we tend to put too much trust in the Gore-Tex label when informing our gear consumption. For that reason, I look at the overall design of the piece as well as its actual performance in the field.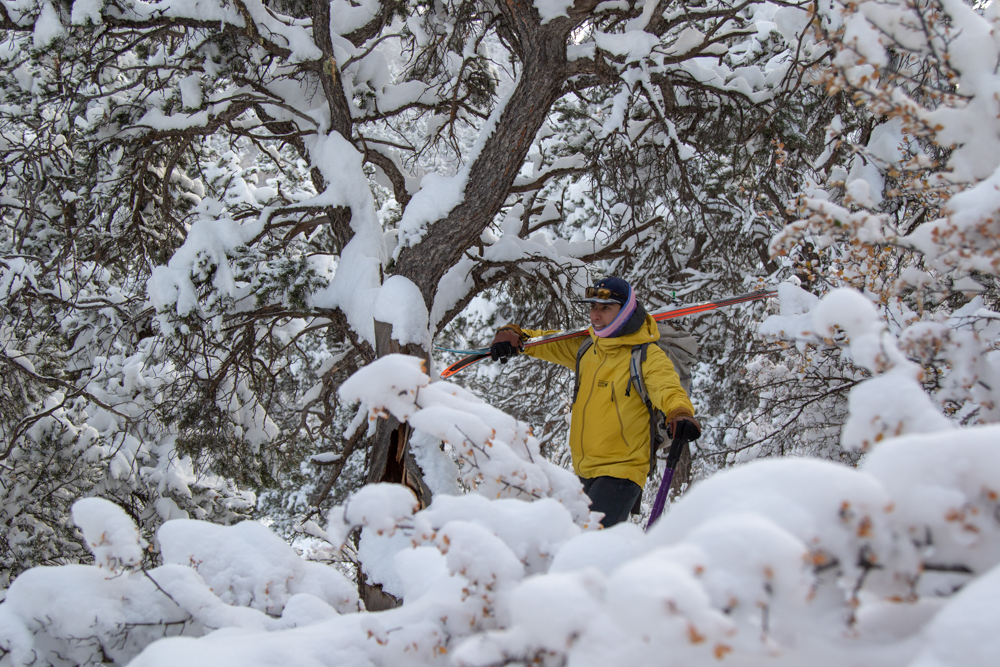 The High Exposure kit is composed of the shell, bibs, and gloves. I also had a chance to pair it with the Mountain Hardwear Kor Strata mid-layer as a cohesive top to the bottom breathable layering system. Something that helps this kit stand among other ski kits on the market is the breathability and lightweight nature of these pieces. Often gear manufacturers will tread the line between a kit designed for resort use and one that can also be used in the backcountry. This High Exposure kit does not have that mixed identity and is one that can be used by the dedicated backcountry tourer and ski-mountaineer.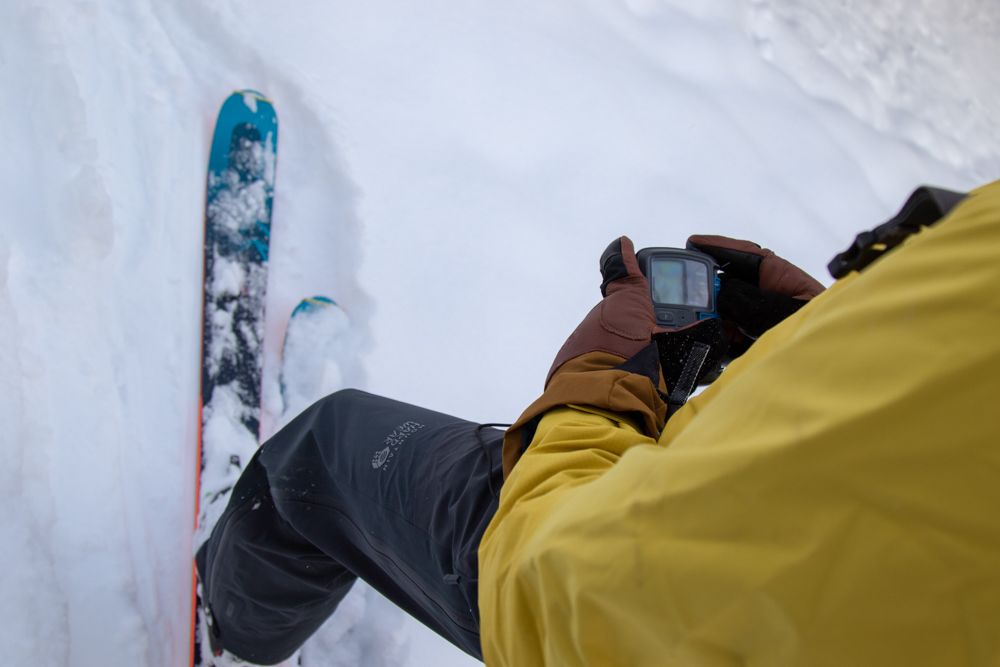 Let's start with the pockets. Not advertised on Mountain Hardware's website is the internal stitched beacon pocket found within the left pocket of the pants with a loop to hook the beacon tether. I am a dedicated beacon in my pocket kind of person rather than using the harness that beacons usually come with. So this is a must for me when shopping for skiing pants. In the past, especially before beacon pockets became standard features, I heavily modified my touring pants to better accommodate this feature. These bibs are not a "high-rise" bib, meaning that they certainly cover the body above the hips, but do not extend and high as your traditional bib. For that reason, there is not that kangaroo-style pouch that has become ubiquitous for ski bibs. I personally did not miss this pocket as I appreciated the minimalist and lightweight nature of these bibs and found the necessary coverage for deeper snow.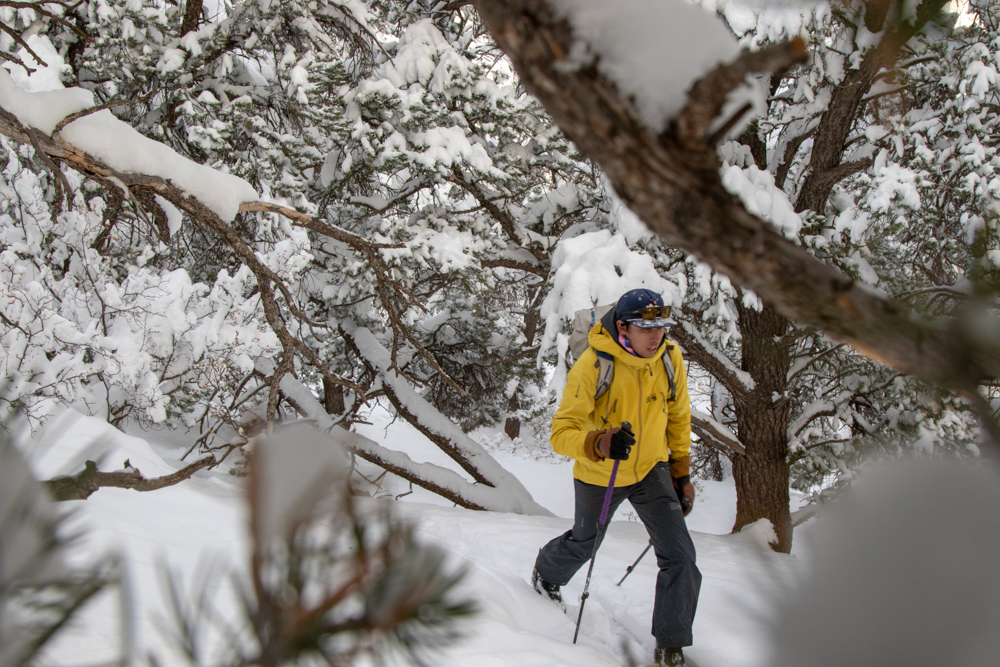 Comfort/Breathability
I am calling the High Exposure Bibs a bib/pant hybrid because they are not your traditional full ski bib. After a season of sweating in other "high-rise" bibs, I found these bibs comfortable to wear in all types of conditions. At least in Colorado, where hot and cold temperatures go hand-in-hand, the minimalism found in this bib design is preferable. The side venting zippers are not cumbersome and run from top to bottom incorporating the drop-seat design that allows you to fully open up your bibs.
Often the bibs I encounter on the market are made for those deep resort days rather than the sweat of a skin track. These bibs can handle a long tour on cold or warm days. The attraction of bibs is that you can have them "float" over your body with the use of suspenders. Not held back by a tight waistband or belts, using lightweight bibs during the demands of skinning are oh so nice. There is something special about these bibs that I have not seen often in this industry, at least at a price point of $200-300 lower than other gear companies.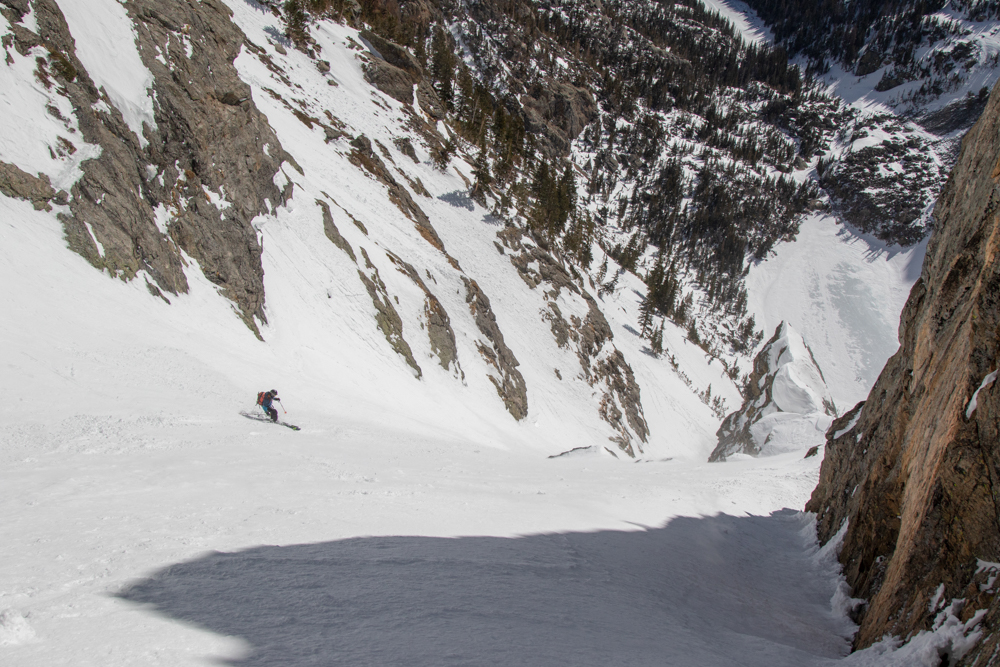 Overall the fit is surprisingly stellar. Out of the box I was worried about the pant width being unflattering to a slender and tall body type. The fit is flattering all the while functional in that it can accommodate a variety of ski boots and walk-mode settings. This is a great pant for touring. The biggest perk of using bibs is the ability to have a less restrictive pant leading to a comfortable experience.
I have to give lots of credit to the breathability of the High Exposure kit. You want your ski bibs to keep you dry and warm from a cold winter environment, but you also want your bibs to be breathable to keep condensation from building on the inside. It is a true test of engineering to stay dry from inner and outer sources of moisture during a tour in storm snow. The C-Knit fabric is a winner and feels naturally breathable with an additional option to unzip the side vents for rapid breathability. This includes a drop-seat option that will let you take these off quickly for backcountry bathroom visits.
Look/Style
I find Mountain Hardwear outerwear to fit boxier than I usually like as a tall and slender body-type. While the items of this kit tend to follow that formula, the High Exposure Bibs have a more flattering cut. I would say that these bibs fit true to size and perhaps slightly short in the inseam.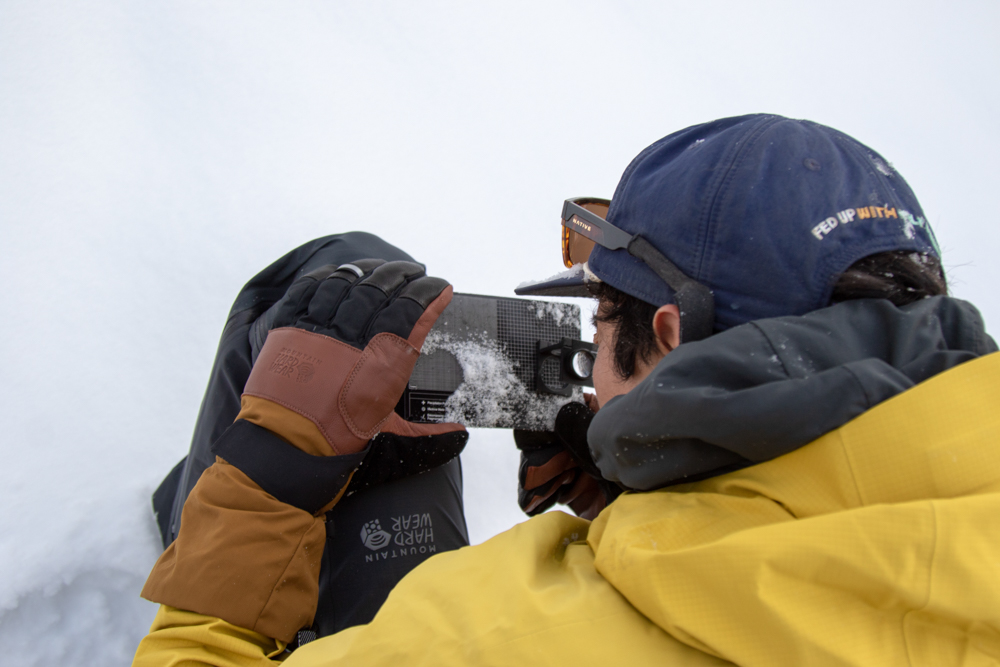 Weight/Packability
I also need to speak to the lightweight nature of these bibs. I was shocked when I received these bibs in the mail because of how small and light the packaging was. These bibs feel like nothing. With that said, it should also be noted these bibs are shells. Not insulated. I would recommend pairing these bibs within your layering system.
Function/Performance
With the demands of a season of ski touring, these bibs will keep you dry and comfortable. The construction is durable with reinforced fabric and stitching in the right places. Mountain Hardwear is living up to its reputation of designing functional and durable gear.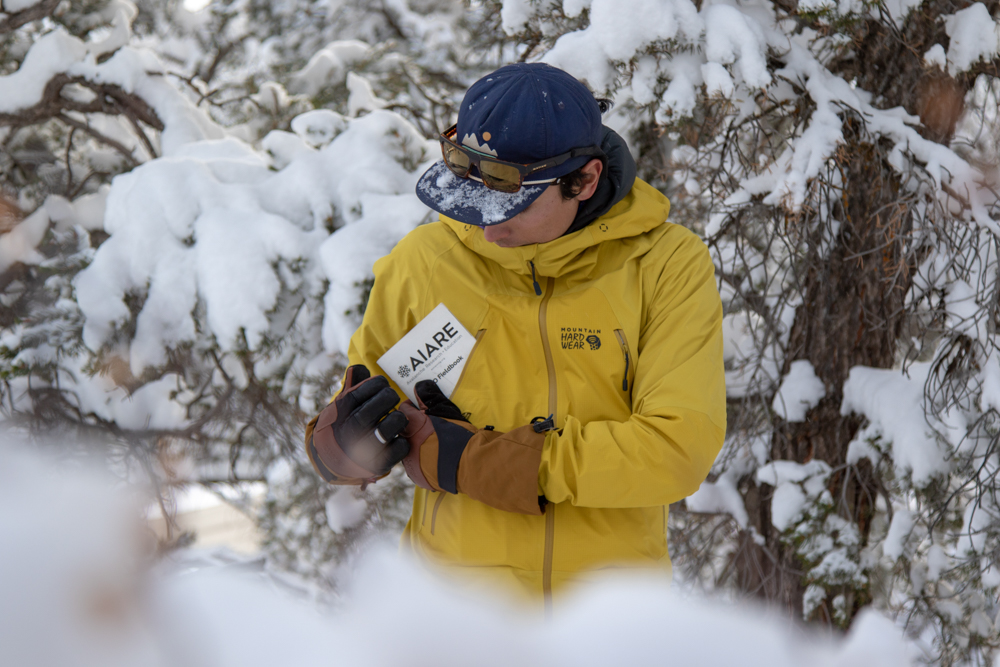 Durability/Construction
I have yet to claim that these bibs have been put through the wringer. But being familiar with the C-Knit fabric and the overall inspection of the pants, I can say that they appear as if they will be pants to last. The side zippers are durable but also low profile, integrating with the rest of the piece. The boot cuffs seem like they should be a little beefier for durability's sake, but will accommodate a range of boot sizes.
Friendliness to the Earth
While Mountain Hardwear has started to implement practices in their gear manufacturing that are in-line with sustainability, They state on their website that they have implemented alternatives that are "better" for the environment but that still does not mean "best". Their efforts such as using more sustainable dyes and recycling some Primaloft materials are admirable but not industry-leading.
Shop the Mountain Hardwear Men's High Exposure Gore-Tex C Knit Bib on Outdoor Prolink. Not a member? Apply today!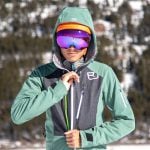 Aidan Goldie is a ski mountaineer based out of Colorado. When he is not climbing and descending peaks in the American West, he is an outdoor educator, working with schools and nonprofits guiding groups through the Colorado wilderness. Connect with him on instagram @agoldie94.