ProView – Mountain Hardwear Women's High Exposure Gore-Tex C-Knit Bib
As an avid backcountry skier, you spend hundreds of hours in your gear over thousands of vertical kilometers while moving, standing still in cold conditions, and hopefully skiing deep, deep snow. All of those hours give you the opportunity to notice nuances like zipper placement, pocket depth, material durability, noisiness, venting systems, and ultimate comfort. Throughout your skiing, you iterate through different products and configurations to find exactly what works for you and why, and you construct a list of design features you can and can't live without. The Mountain Hardwear High Exposure™ Bib fulfills several of my personal must-haves: large outer thigh vents, a drop seat, and a comfortable torso height. Other obvious wins include the 3L Gore-Tex® C-Knit™ material, the long or short inseam options, and exceptionally lightweight. 
Mountain Hardwear Women's High Exposure Gore-Tex C-Knit Bib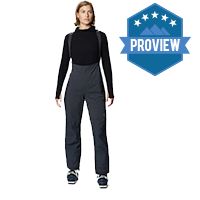 Product Description: Our lightest 3L ski bibs designed with GORE-TEX C-Knit™ shell fabric for premium waterproof protection and unparalleled breathability on human-powered backcountry adventures, the High Exposure™ GORE-TEX Bib handles wet snow conditions and technical mountain terrain.
Offer price: $450 MSRP
Quality

Features

Fit

Durability

Eco-Friendly
Summary
The Mountain Hardwear High Exposure™ Bib immediately struck me as a functional hard shell made with incredibly lightweight nylon. With all the essential features and no extra bulk, the High Exposure™ Bibs make a comfortable and durable touring layer backed by industry-standard technology and a company committed to producing and repairing high-quality products. 
Pros
Excellent fit
Full-length vents and open back panel for temperature regulation
Lightweight and windproof (Gore-Tex® C-Knit™)
Cons
Small front pockets
Vents are two zippers as opposed to three
Features
In speaking directly to the vents, you may ask: are they necessary? Isn't Gore-Tex® one of the most breathable waterproof layers on the market? Yes, it is indeed breathable by design – each square inch of Gore-Tex® membrane has over nine billion pours that are 20,000 times smaller than a droplet of water but 700 times bigger than a water molecule, allowing for water vapor to escape while restricting the passage of liquid water. However, I have found that in high exertion circumstances and/or outings with excessive solar radiation regular Gore-Tex® and Gore-Tex® Pro™ membranes do not vent vapor and heat fast enough to maintain a consistent temperature. So far, the High Exposure™ Bibs have been noticeably more breathable (C-Knit™ over Pro™, which uses a thinner, lower profile circular weave in the liner), but the inclusion of customizable size vents is a gracious nod to the sweaty. I've found I often need more airflow inside of a shell to drive the evaporative process during higher output periods, and vents are a must-have, soft or hard shell. The only thing I would change is the addition of a third zipper. 
The other winning features of the High Exposure™ Bibs are the torso design and the double zipper dropseat. Bibs usually have a drop seat, but how functional that drop seat is occurs on a spectrum. I've met plenty-a-drop-seat that seemed like a good idea, but realistically required me to almost completely disrobe to ensure a safe working area, a major blow to morale when it's cold and windy. The High Exposure™ drop seat is easy to use, assuming you prefer to take your pack off. I had no issues reaching back to unzip (if your shoulders are inflexible go for the opposite side snap). For those among us who have discovered the she-wee the long zipper fly in front leaves you plenty of room. 
The torso design features a cut-away window above the waist between crossing elastic suspenders, which allows for less material under your backpack and therefore less back sweat. The snaps are also located far enough towards the side of the ribcage so as not to rub, and the height sits right at your natural waist, allowing forward bending and movement without any restrictions. On bibs with higher torso panels I've found extra back material can ride up under a backpack, and this doesn't happen with the High Exposure™. 
Durability
Some supplemental design features I found thoughtful were the different denier nylon coatings in higher abrasion areas, keeping durability where it matters but also cutting down on bulk and walking noise. With the inclusion of the circular weave C-Knit™ technology the High Exposure™ Bibs may be the lightest touring specific design on the market at 475g/1lb (both of the Arc'teryx and Patagonia equivalents are heavier), which is crucial if you're traveling far and simply enjoyable otherwise.
Room for Improvement
If there were one thing I would change it would be deepening the existing front pockets for a little more room. There isn't quite enough space to comfortably fit a beacon if that's your preferred carrying method. The High Exposure™ Bibs can be worn with a harness though it is not an ideal configuration (I wouldn't consider this a drawback for a ski-touring specific pant, but if you are exclusively focused on ski mountaineering and would be wearing a harness full days at a time you wouldn't be able to utilize the front pockets). 
Friendliness to the Earth
The primary method Gore-Tex® is using to reduce their carbon footprint is maximizing the life-cycle of their products. As for the material itself, Gore-Tex® membranes are manufactured from polytetrafluoroethylene (PTFE), a synthetic plastic resin made popular in teflon pans which is highly nonbiodegradable. In keeping with the theme of extending product life, I can personally vouch for Mountain Hardwear's repair program. I wouldn't hesitate to send in these bibs should they need repair; the experience is pleasant and easy.  
Final Word
I was impressed by the High Exposure™ Bib's minimalist yet functional design. The torso length, non-restrictive fit, and lightweight Gore-Tex® C-Knit™ give you everything you need for hundreds of hours on the skintrack.
Shop the Mountain Hardwear Women's High Exposure Gore-Tex C-Knit Bib on Outdoor Prolink. Not a member? Apply today!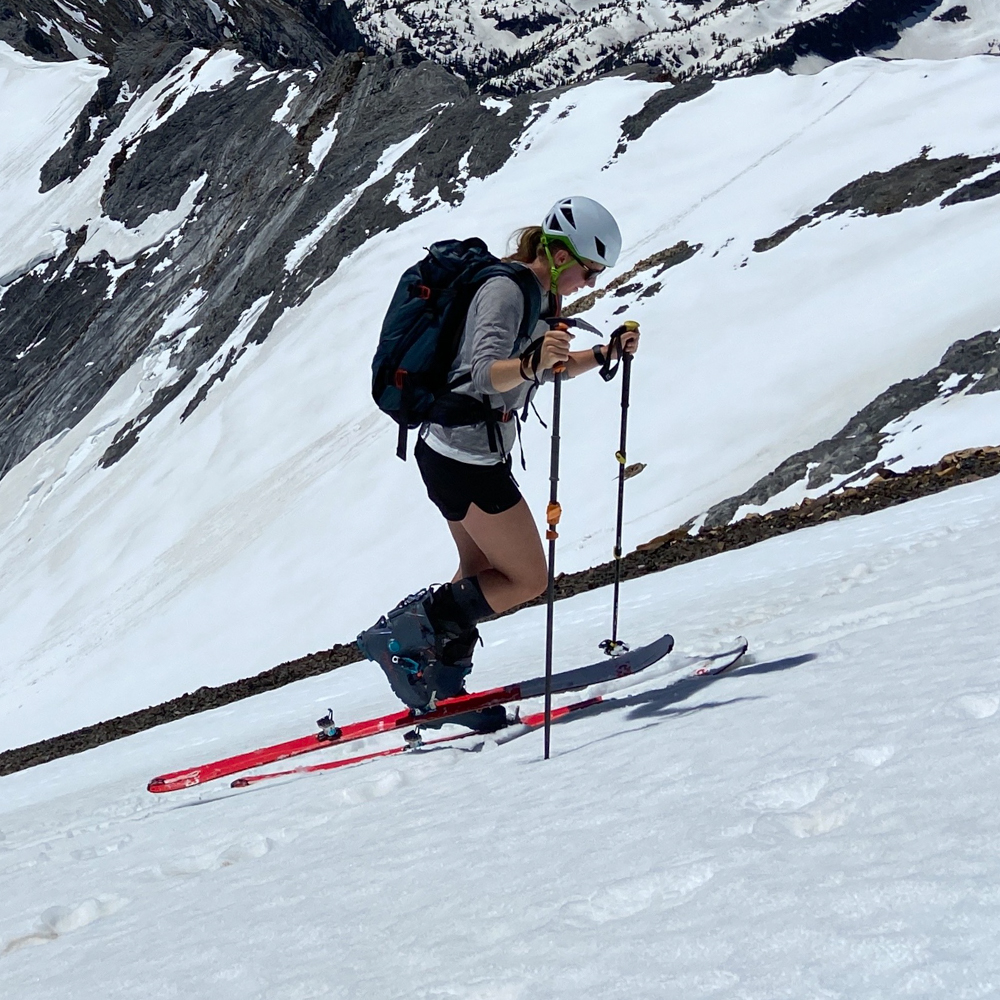 Sarah is a firefighter for the USDA Forest Service, an avid backcountry skier, trail runner, climber, and a grad student. She is also a contributor to backcountryskiingcanada.com and an RMU brand ambassador.