ProView – Mountain Hardwear Men's Chockstone Hoody
The Chockstone Hoody is my kind of jacket. I want something that I can put on, leave on, not think about, and then at the end of the day say, "I didn't think about that jacket all day because it did its job," and this is that jacket.
I've had the Chockstone Hoody over a month, so I really tried to put it through a gauntlet of tests in that short amount of time in order to write a confident review. So that's just what I did.
Mountain Hardwear Men's Chockstone Hoody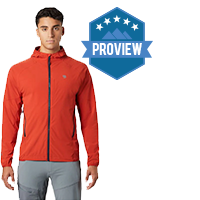 Product Description: Anchor your mixed-alpine outerwear collection with this lightweight hoody. The double-weave construction provides plenty of stretch and movement, while a water-resistant exterior adds durability.
Offer price: $135 MSRP
Quality

Features

Fit

Durability

Eco-Friendly
Summary
I'm a huge fan of the Chockstone Hoody. The fit is athletic and trim and the fabric is breathable and durable.
Cons
The hood doesn't fit over a helmet
Some people won't like the fit
From early morning trail runs and frosty morning bike commutes to full day vertical epics and a North Carolina friction squeeze chimney this jacket handles it all and still looks good enough to wear out to dinner.
Fit/Comfort
I love the way Chockstone Hoody fits, but it isn't my normal size, so listen up! I usually wear a medium, but according to Mountain Hardwear's sizing chart, I'm at the top end of a small bordering on Medium. I went with the small and it is a very trim fit, but I love it. I can still wear a t-shirt and R1 type layer underneath, and let's be honest that's about all anyone will ever need. The Chockstone is comfortable next to your skin and comfortable to move in without overheating.
Look/Style
I think the Chockstone Hoody is a good looking jacket. You're not going to be walking any runways in it, but if you throw it over a nice button-up and hit the town you're not going to look like the stinky dirtbag that you are.
Features
As always I think only useful features are important, and I'm happy to report that this jacket has super simple, super useful features. The hem and wrists aren't adjustable, but the elastic is comfortable and works. The hand pockets are harness compatible and you have a chest pocket as well. The only real bummer about this jacket is the hood won't fit over a helmet, but it does fit snugly enough (with the same firm elastic as the cuffs and waist) to fit under a helmet.
Weight/Packability
The Chockstone Hoody isn't a featherweight contender at 13.8 oz., so it may not be the right jacket for you ounce-counters out there. It's still very packable though. The right hand pocket doubles as a stuff sack and packs down to stash away or clip to a harness.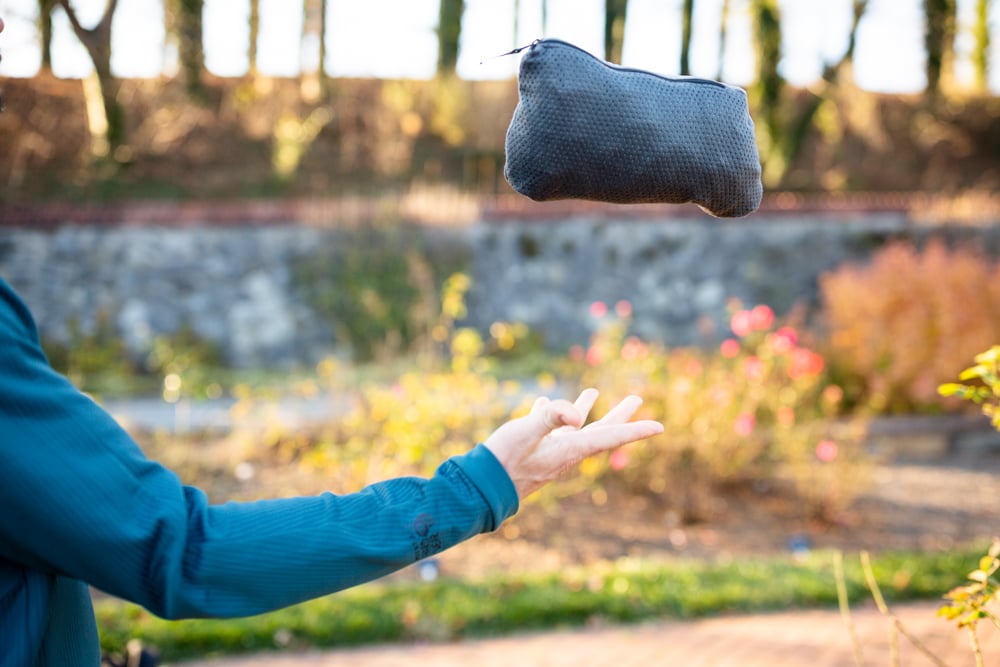 Function/Performance
The Chockstone Hoody is simple but everything it does it does well. It's thick enough to hold a little heat, but thin enough to breathe well while you're working. I prefer the simplicity of the elastic closures rather than having adjustable stuff everywhere. To me the beauty of a layer is in its function. I want something I can put on and go. I don't want to fuss with dialing stuff in or worrying if it will hold up. 10 out of 10 for the Chockstone Hoody in this department.
Durability/Construction
I wore this through a 20 foot squeeze chimney and then wore it on a date with my wife a few days later. That is to say, it performed perfectly being scraped and crammed through a chimney and still looks brand new. I liked this jacket up until that point, then I really loved it. 
Friendliness to the Earth
I don't know much about Mountain Hardwear on this front. I know they have been a staple in the outdoor industry for decades and are committed to ethical adventuring and LNT principles. I can't say authoritatively how they recycle gear or anything like that, but I can say that this piece of gear and any MH gear is going to hold up to hard use and be backed by a solid warranty. I think that's a severely underrated factor in the environmental world. If a MHW jacket lasts you twice as long as another brand then that is about half the impact. 
The Final Word
If I'm being honest I wouldn't change a thing about this jacket. I could see how people would want it lighter or a less trim fit or more adjustability, but I am just as happy as can be with this jacket.
Shop the Mountain Hardwear Men's Chockstone Hoody on Outdoor Prolink. Not a member? Apply today!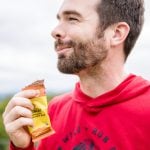 Harry is a father of 3 knee-high, ankle-biters, and the husband of one beautiful lady. He is currently mastering the zen art of balancing family, work, and making himself intentionally uncomfortable. He's also an AMGA SPI, W-EMT, LNT Master Educator, and lover of people and places. Learn more @harrymcsween.