ProView – Mountain Hardwear Women's Boundary Line Gore-Tex Insulated Pant
Adventure often begins where the resort's highest lift ends. Vanlifing through California, Nevada, and Colorado in early season conditions, the Boundary Line pants facilitated every powdery, icy, slushy snow interaction in my westerly migration of December 2019.
Mountain Hardwear Women's Boundary Line Gore-Tex Insulated Pant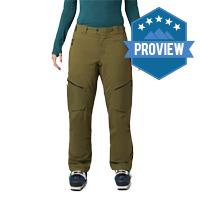 Product Description: Our most full-featured ski pant for hard-charging women who seek 100-day seasons⏤in-bounds and out. The Boundary Line™ GORE-TEX Pant features an ultra-comfortable, women's specific articulation and 2L GORE-TEX waterproof and breathable shell fabric for ultimate durability and wet-weather protection. So, you can make turns confidently without making sacrifices in your style.
Offer price: MSRP: $350.00
Quality

Features

Fit

Durability
Summary
The fabrication and looser leg fit made this an easy pant to love in most conditions, and I was especially grateful for its quick-dry fabrication and water-shedding capabilities. In adverse conditions these pants really excel; touring or booting uphill, though, I often got too hot. Still: If I could only have one pair of pants as a resort rider, these would be the ones.
Pros
Very affordable for a workhorse pant
Four fantastic pockets
Quick-dry, water-shedding fabric
Durable instep kick patches
Petite and Long options available for all waist sizes
Cons
Too warm for true uphill travel
Needs more/better vent options to be a backcountry transition pant
Narrow waist with wider thigh cut might be snug for some
Only ONE powder skirt attachment loop on the entire pant
Early season snowpack can be tricky regardless of your avalanche climate: exposed rocks ("sharks") and frequent downpours threaten to dampen spirits as much as they jeopardize good snow.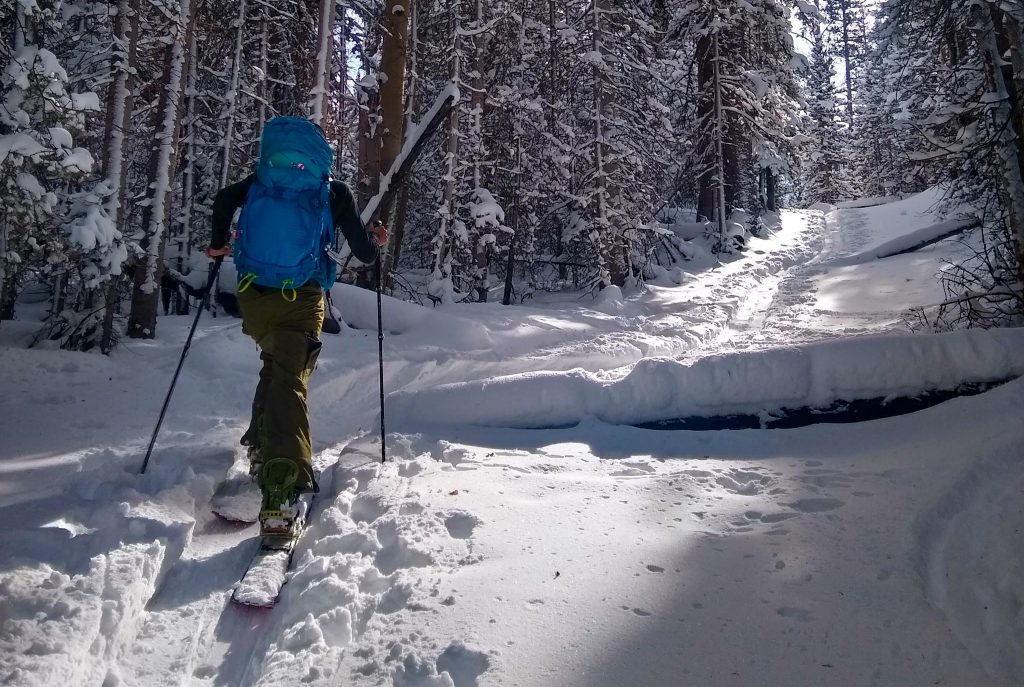 As a backcountry splitboarder, volunteer Adaptive Ski Instructor, and remote-working brand strategist, chasing a good time in the mountains is as much about safety as it is about fun. Mountain Hardwear designed these full-featured pants for cat trips, heli drops, and lift-accessed backcountry, but what happens when Sierra cement and Colorado blower are in the same trip's forecast? I wore these pants in every condition possible for a month just to find out.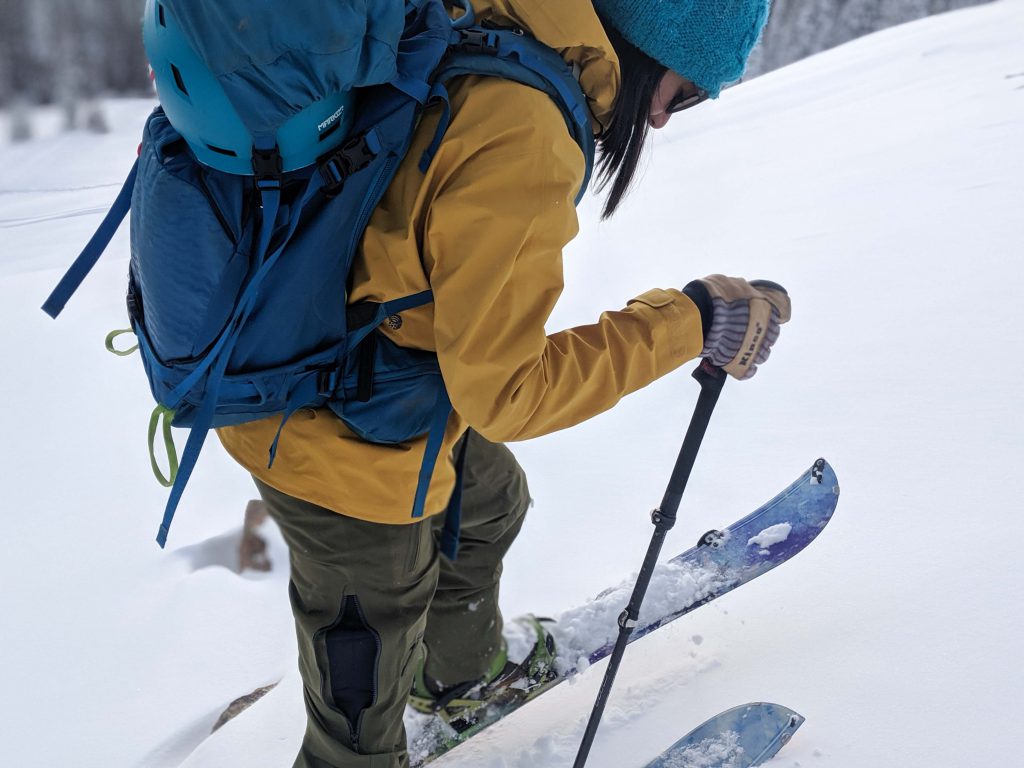 Performance
During the winter, I live in the snow. My love for snowsports, outdoor education, and flexibility to find/meet clients on the road mean that I live very close to the elements—and as such, I am privileged to have been able to test these pants in a variety of conditions.
On my first day as a new Adaptive Ski Instructor for Achieve Tahoe at Alpine Meadows, California, fluffy powder showered over two days' accumulation of heavy, wet snow. The Squaw snow stake read eight inches, but down low, in Tahoe City, slush bogged down the roads. Honestly, I couldn't have asked for better conditions to test these pants.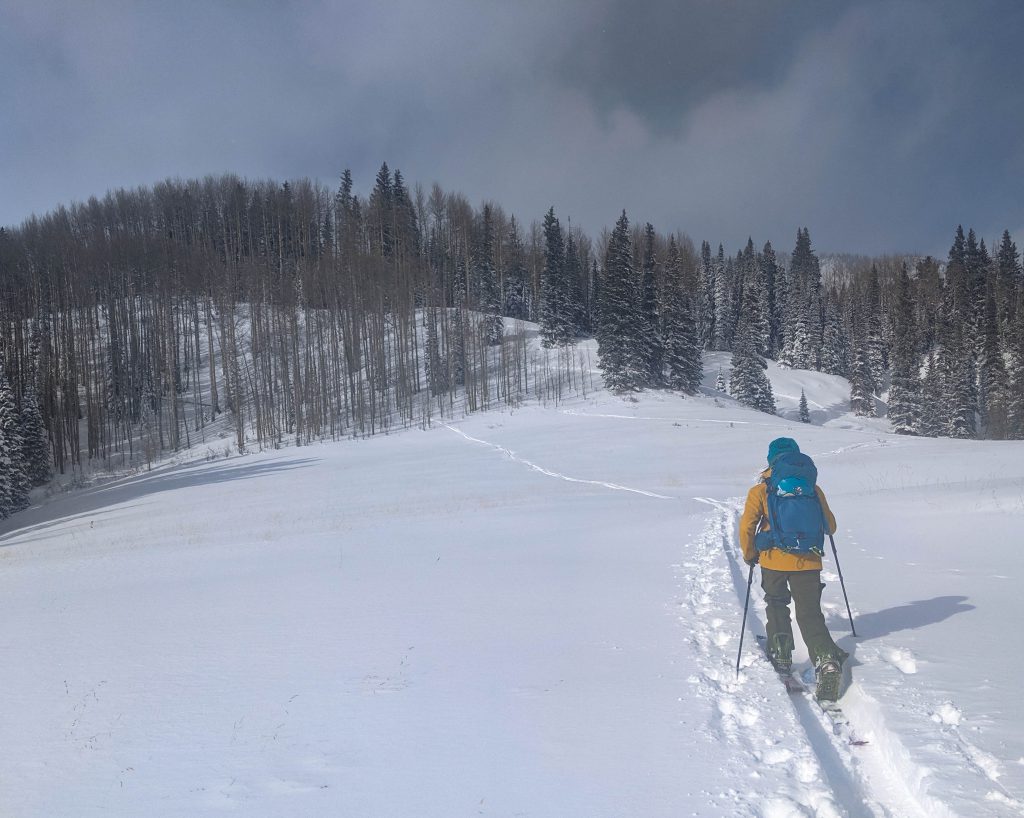 Wet snow may have soaked my gloves as I put on my tire chains, but drinking coffee with the Achieve Tahoe crew 20 minutes later, I didn't see one shred of evidence that I'd been wallowing in muddy snow just down the hill.
Every new instructor must first take a Skiing Basics clinic, and as a newcomer to Alpine (and the program), I wanted to look professional but still have fun. Luckily, the conditions—and these pants—made that easy. In spite of chairlift seat puddles, cutting wind, and (finally), sunny skies, I was able to focus on the task at hand: breaking down physical movement and technique to build my own skills as a future adaptive ski instructor.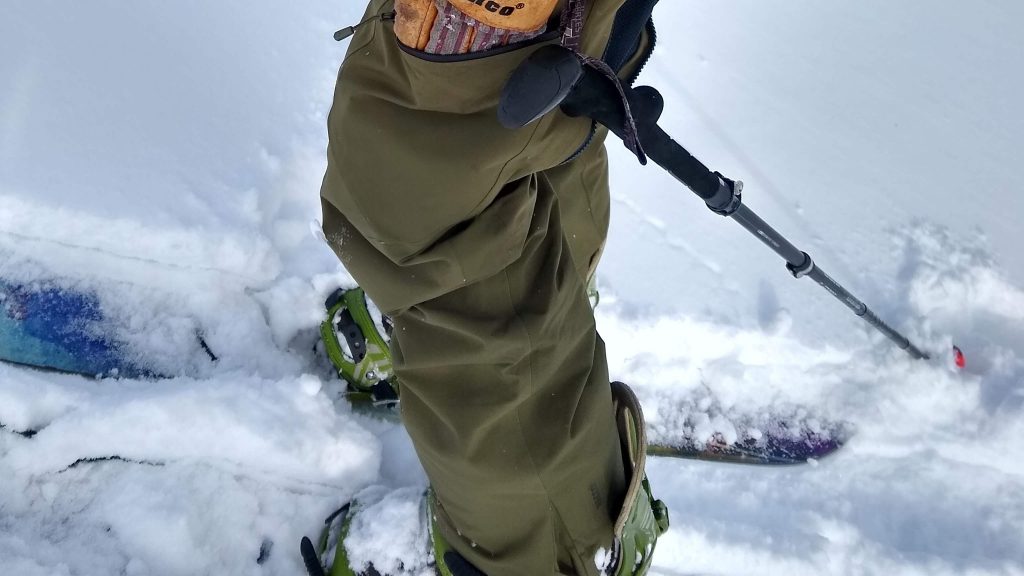 In Colorado, these pants were amazing for digging my van out of a foot of blower snow in 5°F pre-dawn temperatures. Touring on Lizard Head and Ophir in the next couple of days, the Boundary Line kept me happy until the sun came out. Maybe I run hot, but I quickly overheated in bluebird conditions with the body-mapped insulation.
Fit, Style, and Comfort
The Boundary Line fits like a good work pant: mostly snug in just the right spots, I felt like I was ready to get things done. These pants also made me feel really good: they're comfortable and stylish while also being functional.
The high waist, wide hip cut, and semi-tapered leg contours seemed more "Relaxed" (for resort skiing) rather than "Active" (for backcountry skiing), reminding me once again that Mountain Hardwear seems to have designed these pants for chargers taking advantage of mechanized methods of mountain locomotion.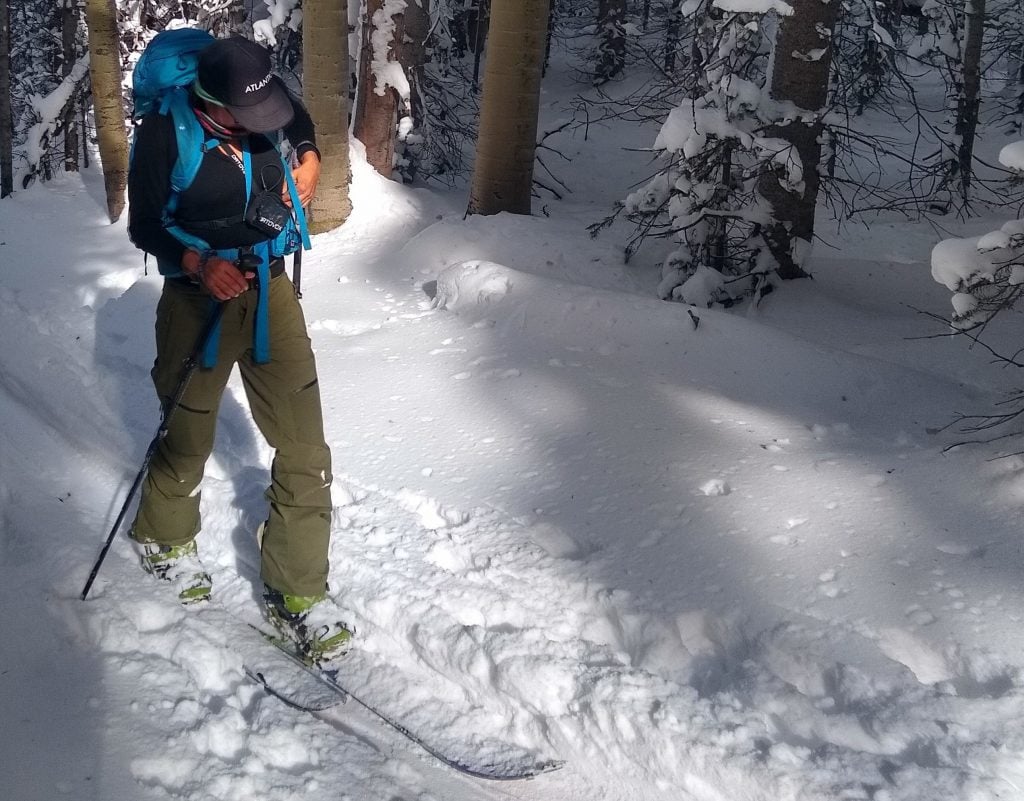 Nevertheless, I got a few extra style points with the Long inseam (which gave me an extra two inches to hide my snowboard boots). At just over five feet, seven inches, I appreciated the extra length. I'd highly recommend taking advantage of the inseam selection option the brand provides when shopping on their site.
One of my favorite subtle features: the high-backed, lightly insulated waist prevented my belt from riding up (and rubbing against my lower back).
Weight / Packability
At 154 g/m2, the Boundary Line is lightweight for a waterproof, quick-drying insulated pant. That said, they do not pack down as well as a shell pants. For a hut trip, this might not matter, though, if these pants stay on your body the entire time.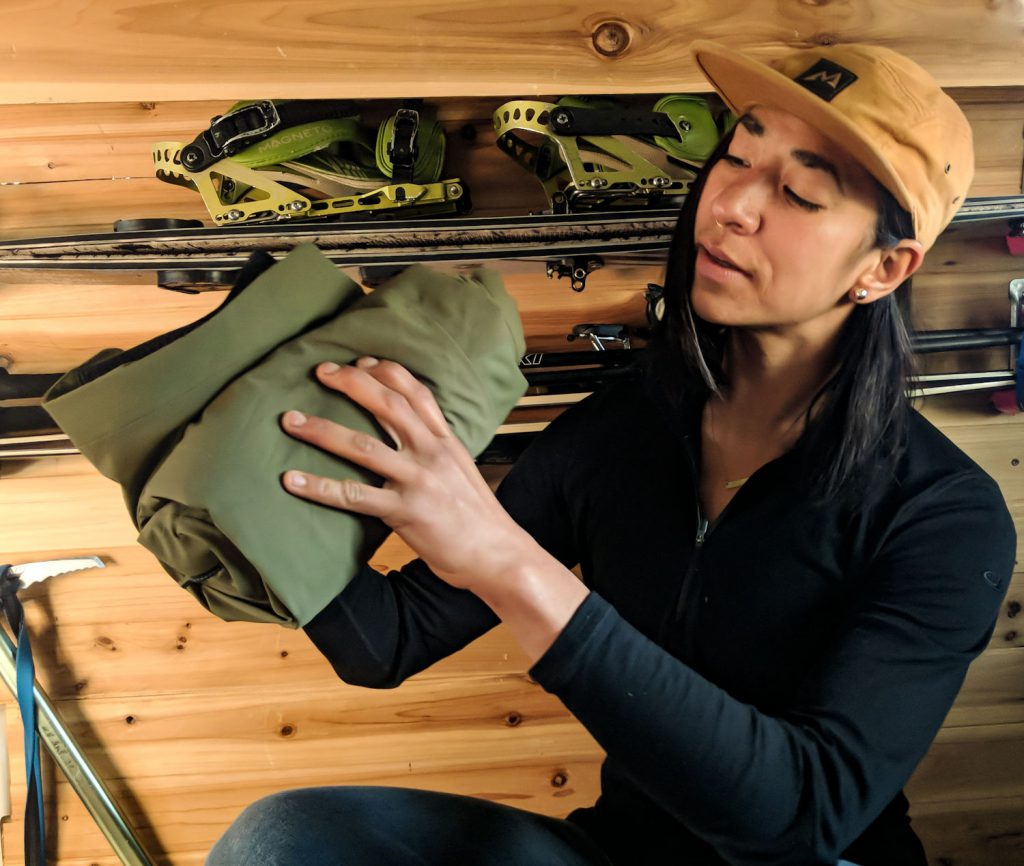 Durability / Construction
The 2L GORE-TEX stretch fabric means these pants are highly water-resistant—because in my experience, rainy days in the Pacific Northwest foil even the most "waterproof" pants. During testing, these pants shed intermittent wet snow, several dousings in shallow puddles, and still blocked wind effectively.
Room For Improvement
The reinforced instep at the ankle isn't as durable I'd like to see for a pant designed to transition from the resort to the backcountry. However, for dedicated resort-, cat-, or heli-skiing, this shouldn't be an issue. That said, I noticed some initial wear near the ankle cuff's snap, a stress point for uphill-traveling splitboarders. Throughout the season, I'll look forward to monitoring this; it's easy to shred ankle cuffs on backcountry transition pants (since they easily catch on splitboard touring bindings).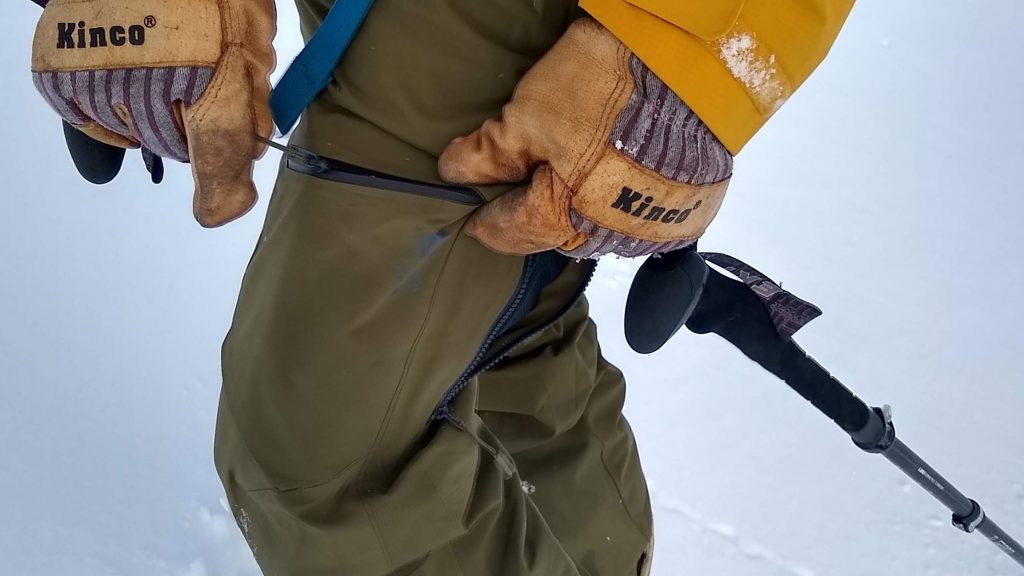 Room for Improvement
While this is an excellent pant for a variety of reasons—including that I felt as appealing as one can in snow clothes—I'd like to see tougher fabrication on the instep, the addition of inner thigh vents, additional jacket-to-pant powder interface loops, and, most importantly, the use of recycled materials.
The Final Word
The Mountain Hardwear Boundary Line is a stellar pant for machine-assisted skiing: lift-accessed, cat- and heli-skiing, and even snowmobiling backcountry users will love its construction, fit, warmth, and durability. Resort riders dipping their toes into the backcountry will certainly appreciate features like extra pockets, a high-rise back, and RECCO® technology as well.
Ladies that spend a lot of time backcountry touring or uphill skiing may want to look elsewhere though; this pant's insulation might be too hot to handle unless you're recreating in <10°F (-12°C) temperatures.
Friendliness to the Earth
Even though Mountain Hardwear's vision to support a sustainable future hasn't yet impacted the Boundary Line's fabrication, it is still a great all-around pant for most everyday uses. Bonus: the customizable inseam length makes this a great option for tall and petite women. Join their Elevated Rewards club, and you'll get free shipping, too. Now go forth, shred pow.
Shop the Mountain Hardwear Women's Boundary Line Gore-Tex Insulated Pant on Outdoor Prolink. Not a member? Apply today!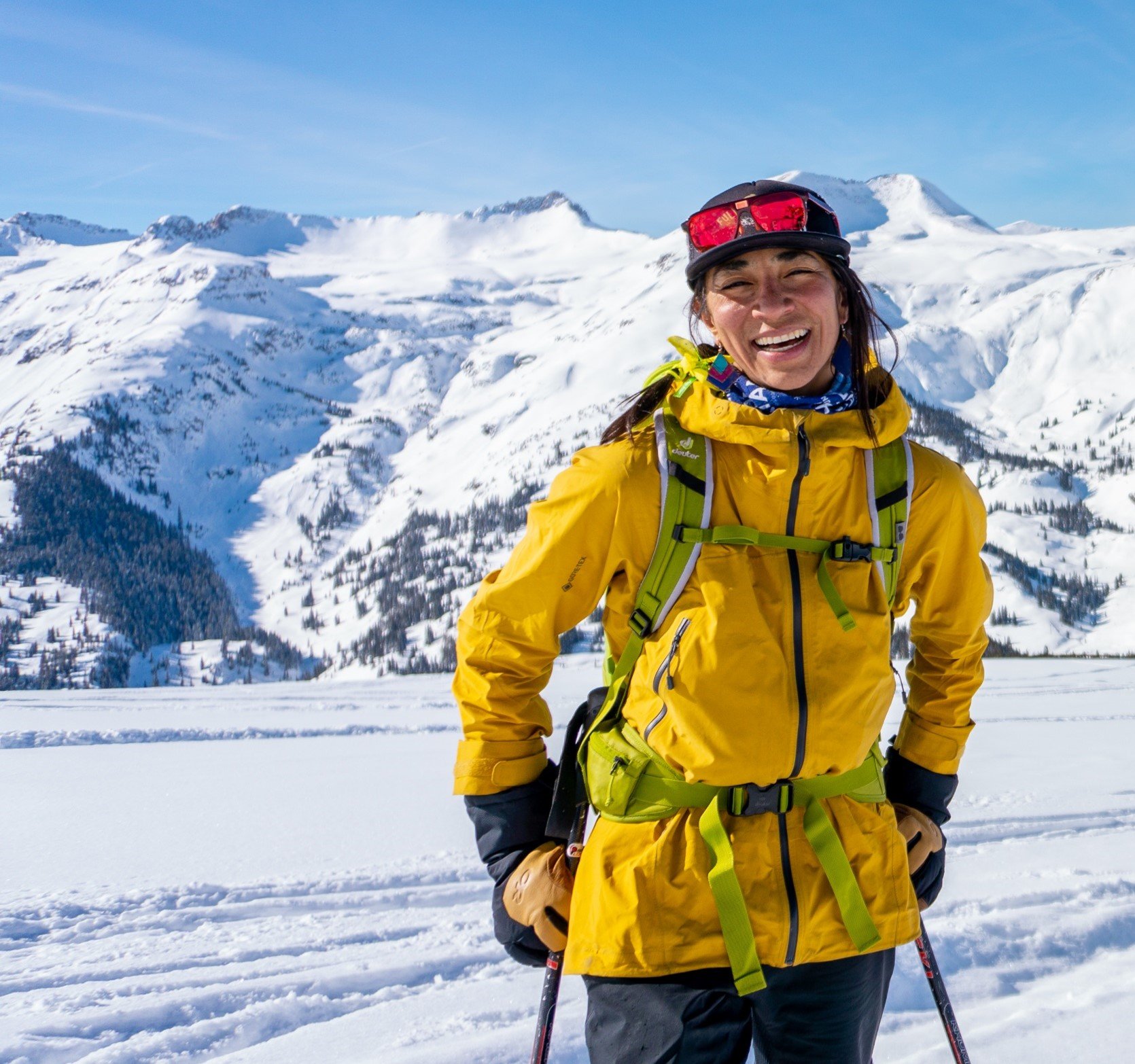 Athlete and storyteller Dani Reyes-Acosta aims to inspire individual action and collective communion through self-care and self-determination found in the outdoors. After leaving cushy corporate life to find her way back to her roots, she ticked rock climbs and ski lines across Argentina, Chile, Canada, and the USA on a circuitous path to self-actualization. Find her online as @NotLostJustDiscovering or via DaniReyesAcosta.com