ProView – Outdoor Research Women's Swift Lite Kit Review
I tested OR's new Swift Kit at the start of trail running season, stoked to swap running tights and a puffy for a sweet pair of retro Swift Lite shorts and the 90s anorak-style Swfitbreaker. As a native New Englander who has been trail running for nearly a decade, I have high expectations for gear that can stand up to the predictably unpredictable weather: easily transition from hot sunshine to muddy streambeds and back again during a run. I'm really looking for pieces that are versatile, durable, and dynamic.
Outdoor Research Women's Swift Lite Kit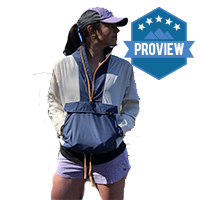 Product Name: Outdoor Research Women's Swift Lite Kit
Product Description: Training both indoors and outdoors this collection of activewear features, lightweight t-shirts, tanks, long sleeve shirts, leggings, shorts and more. Enjoy the benefits of sun protection, moisture-wicking fabrics in a comfortable fit and feel while innovative technologies use minimal weight to keep you fast-and-light for every workout.
Offer price: MSRP: $30.00-$100.00
Currency: USD
Quality

Durability

Fit

Features

Eco-Friendly
Summary
OR's Swift Lite kit comes on the tails of great success with the Swift Cap. Unfortunately, the rest of the lineup doesn't quite rise to the same standards. While the Swift Cap might be a staple in your trail running wardrobe, the rest of the kit probably won't be. 
Pros
The Swift Cap is tried and true – comfortable and lightweight with great sun protection
Swift Lite shorts are comfortable and breathable
The kit comes in a wide range of easy to mix and match retro colors
Cons
Swift Lite shorts are stuck in between classic track runners and a fitted trail short, but not a great model for either
Echo Tank is relatively heavy weight for the material
Swiftbreaker is not particularly practical for trail running, better suited for a day on the town than running on trails
I put the Swift Kit through the paces in Vermont this spring. We had days in the 80s Farenheit and in the 30s, rain, shine, and everything in between. It was great to have a matching set to play with. Breaking down the specs of each piece of gear should help you decide if any or all of the Swift Kit is next to add to your capsule running wardrobe.
Swift Cap
Fit/Comfort
Super comfortable and uber-adjustable. The nylon size-adjusting strap is shockingly easy to work with mid-run. The Swift Cap easily fit everyone in my household!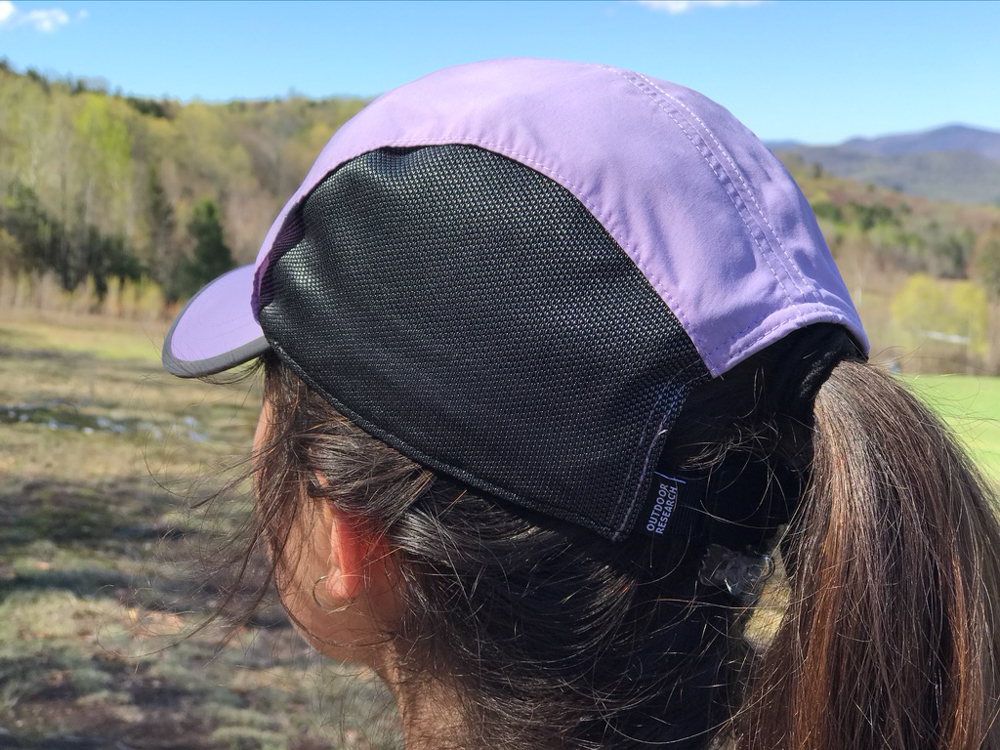 Look/Style
I love the range of colors OR offers the Swift Cap in – from Lavender (my choice) to Space Jam, the whole crew is here. Snag it in a few colors to wear this staple daily! The Swift Cap admittedly looks pretty basic on the rack, but really pulls through in the try-on.
Features
UPF-50! With mesh side panels to keep you cool and minimally sweaty. The brim is well-shaped to keep the sun out without being in your peripheral vision.
Weight/Packability
The Swift Cap is well-weighted (only 2.5oz!) – heavy enough to stay put during a downhill, but light enough to keep on for the uphill pursuits.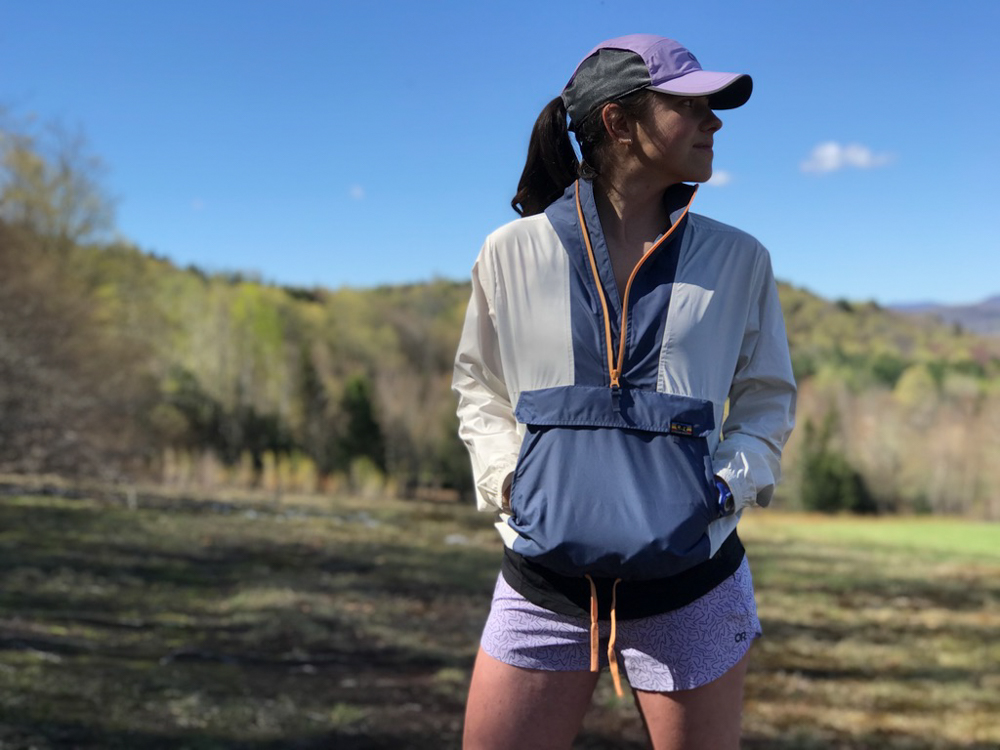 Function/Performance
High performing and highly functional. The Swift Cap definitely mitigated sun exposure and I appreciated how easily it stayed put during technical runs.
Durability/Construction
In the month of testing, I had no issues at all with the Swift Cap's construction! It seems like it will stand up well to summer running.
Swift Lite Shorts
Fit/Comfort
While comfortable, the Swift Lite shorts have a strange fit. Too fitted to be classic track shorts, but not fitted enough for a leg day at the gym. I wish OR had gone for either a more minimal drawstring waistband or a larger mesh one as the 1" waistband doesn't strike a strong balance between the two. The shorts were great for a home gym session or a walk, but not ideal for a rigorous trail run.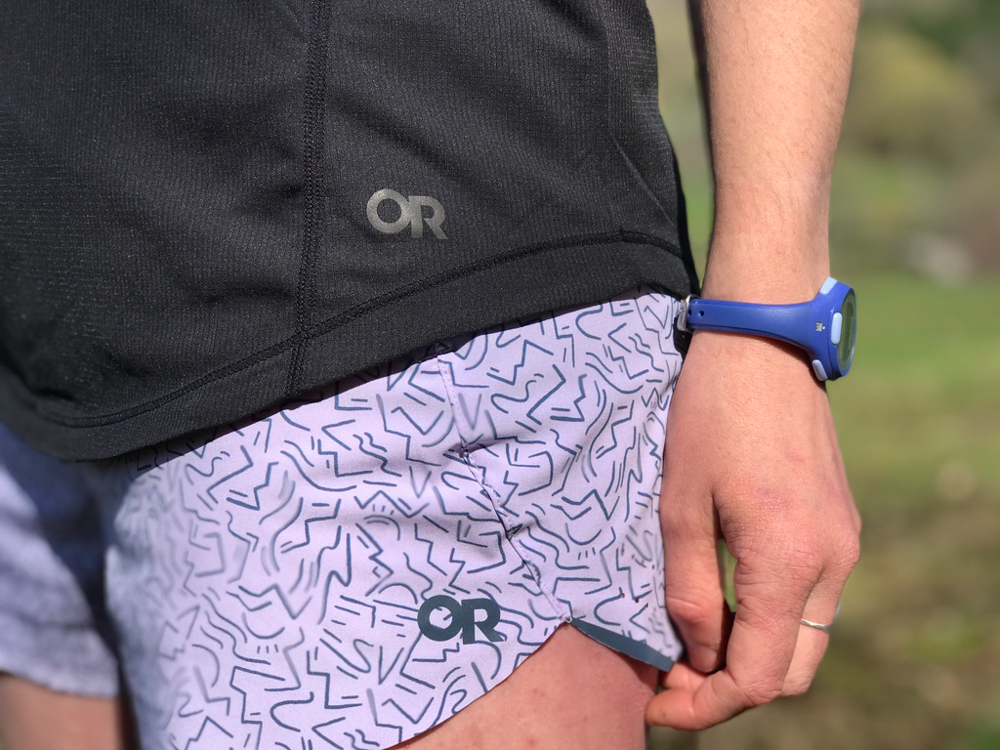 Look/Style
I love the print of the Lavender Squiggle – a shout out to the 90s seamless geometric patterns that's easy to wear and fun to look at. Ultra Geo looks great for those looking for a bolder option.
Features
I appreciate the thought behind the zip pocket on the Swift Lite shorts, but wish it had been better executed. It's hard to access with either hand, and only big enough for a (small) gel. I ran with my car keys in this pocket, and regretted it immediately after leaving the trail head. I would love to see OR add a stash pocket to the waistband or scrap the pocket entirely.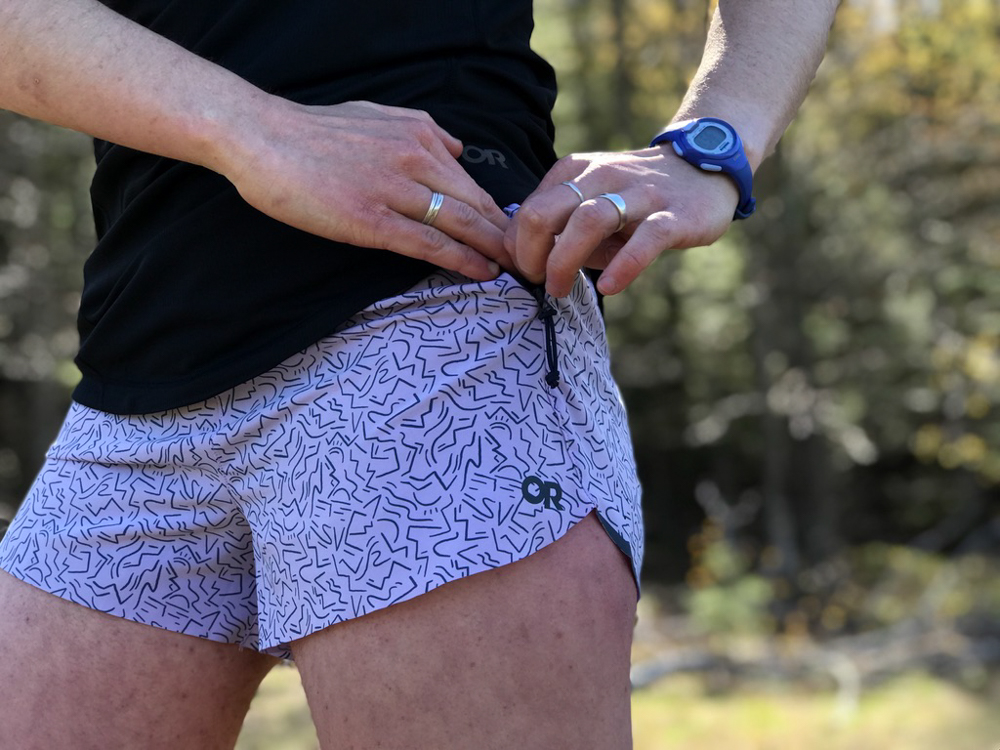 Weight/Packability (if applicable)
The Swift Lite shorts are made with OR's Echo Fabric, designed to offer 30 UPF protection and breathability. It's about as buttery-soft as you can get in a short, and pretty breathable.
Function/Performance
Despite the lightweight fabric, the Swift Lite shorts are relatively slow to dry out, so not my go-to for runs with water crossings. I found the liner left a lot to be desired, and overall the shorts are just not well designed for trail running. I would rather they were either less (no liner, no pocket, more minimal waist band) or more (longer short, larger pocket, more supportive waistband).
Durability/Construction
The Swift Lite shorts had a rough time on the trails, and struggled to stand up to any close-knit technical terrain with rocks or branches. OR's soft fabric choice is comfortable but prone to snagging, so not the best choice for any route with close quarters.
Echo Tank
Fit/Comfort
The Echo Tank is long and baggy but not oversized. It's hard to pair with anything but spandex shorts, and even then feels simultaneously loose and fitted in the wrong ways.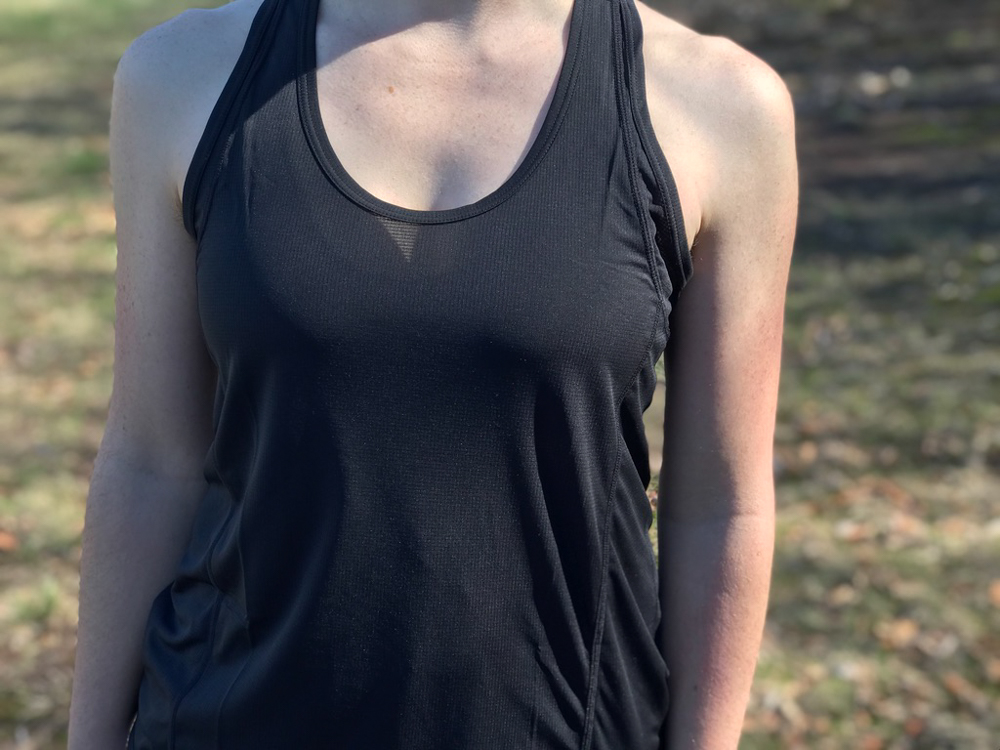 Look/Style
OR added an extra panel in the spot right next to your armpit (in "Rhubarb" this area is blue)- I imagine for extra coverage, but the look is not cute. The Echo Tank reads as fitting as "off" as it feels.
Weight/Packability
This tank felt surprisingly heavy to me. Not particularly breathable. As packable as you'd expect, so easy to stuff into a running vest.
Swiftbreaker
Fit/Comfort
The Swiftbreaker fits easily – oversized with an adjustable drawstring. Definitely most comfortable with a long sleeve underneath as the ripstop polyester is not the most cozy.
Look/Style
We love an oversized but almost cropped adjustable 90s throwback anorak vibe! Three sweet color sets to choose from, easy to pair with most fits. I would not recommend the Snow/Dawn for anyone getting after it in the mud….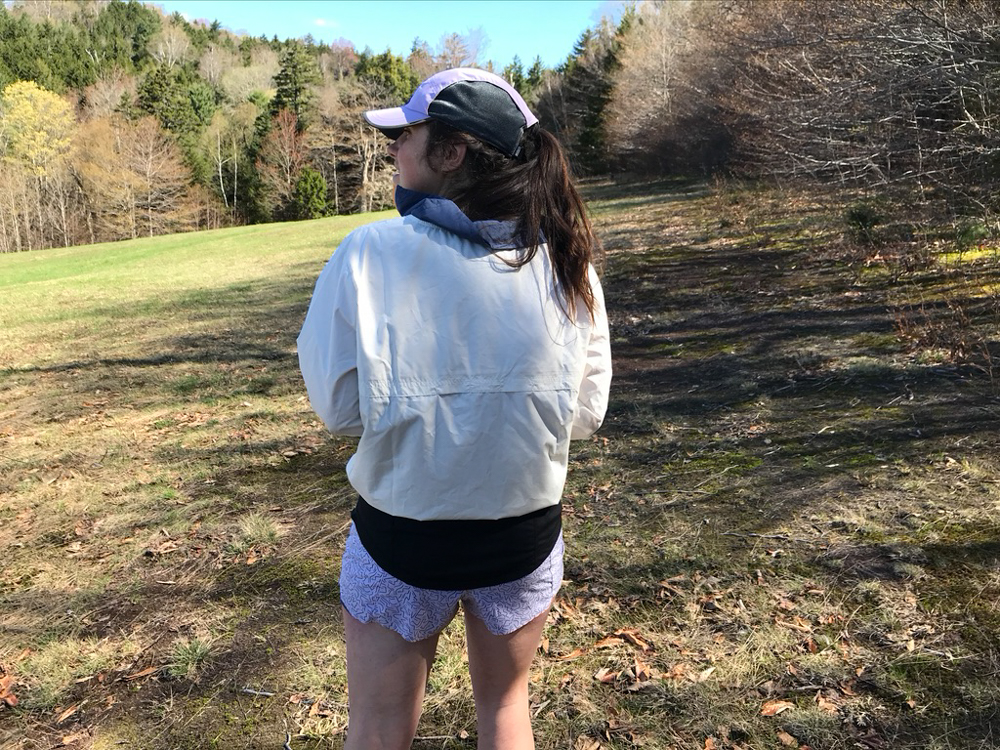 Features
The Swiftbreaker really brings it on the feature front. Two sets of snaps on the front pocket, a separate zipper kangaroo pouch, easy to access cross-body pocket, and a breathable mesh section on the back to keep overheating to a minimum.
Weight/Packability
Not your lightest weight windbreaker option, the Swiftbreaker excels as a casual and cute windbreaker – but isn't the best choice for your ultralight ultramarathon gear kit.
Function/Performance
I wasn't able to test the Swiftbreaker in a true downpour, but it definitely kept me dry in a drizzle and did a pretty good job cutting the wind. The pockets are large enough to store any and all treats in, but definitely get weighed down easily.
Durability/Construction
So far, so good! The Swiftbreaker did well in the woods and the 100% ripstop nylon should last for a while.
Friendliness to the Earth
You can feel good about the environmental impact of the Swift Kit – OR partners with bluesign to ensure confidence and regular external review in their environmental impacts. They incorporate recycled materials into some of their products, and are a founding member of the Outdoor Industry Association (OIA) Climate Action Corps. I'm excited to see how they can shift the Swift Lite Kit to incorporate recycled content going forward.
The Final Word
OR's Swift Kit is a mixed bag, with each piece of gear best suited for a variety of uses. We love the vibe and style, just not the unilateral application to trail running. Adventurers of all sorts should check out the Swift Cap, to be sure. Going for a run in the park or want to look cute for a gym date? Grab a pair of the Swift Lite shorts. Meeting up with friends for a casual hike or want to flaunt your athleisure style? Pull out the Swiftbreaker.
TL;DR – Shop the Swift Lite Kit for you. Definitely pop the Swift Cap into your bag, and add the Swiftbreaker and Swift Lite shorts if that's your vibe. Skip the Echo Tank. We love the style and overall look of the fit, it's just not the one-stop-shop for technical trail running gear you might be looking for.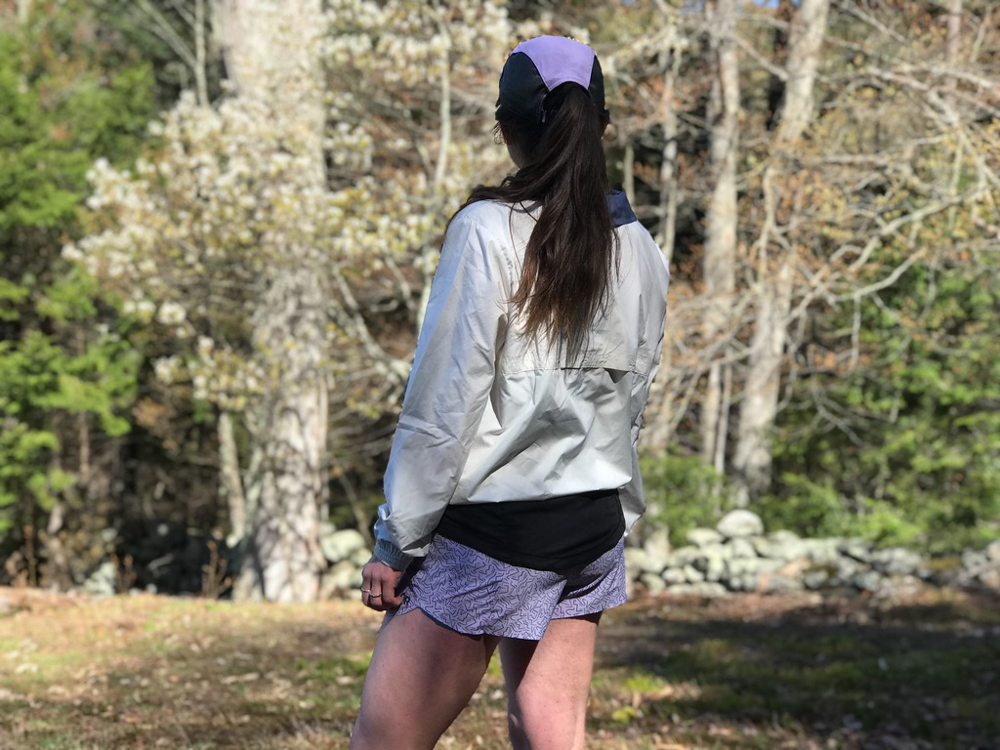 ---
Shop Outdoor Research on Outdoor Prolink. Not a member? Apply today!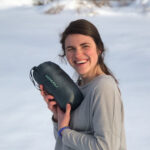 Lucia has worked year-round outdoors across New England as an Outward Bound instructor, alpine ski instructor, and now farmer in Vermont. She is an avid adventurer in all seasons, and loves to trail run, ski, snowshoe, backpack, and hike in her free time. She's passionate about finding environmentally-sound, durable, comfortable gear that is as rugged as her New England roots.