ProView – Primus Lite+
With the explosion of the all-in-one personal cook system category over the last few years, I have found myself looking for a replacement and a hopeful improvement over my 10-year-old backpacking stove. When I tested the Primus Lite+ I found a familiar design with improved features and functionality. I was excited to test the Lite+ mainly for Primus's devotion to fuel efficiency and making innovative products that last.
Primus Lite+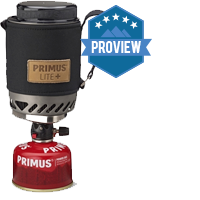 Product Description: Lite+ sets a new standard for compact all-in-one stoves. The unique locking mechanism (patent pending) makes it very sturdy. The stove has a lower burner than would otherwise be possible, resulting in a more stable, lighter, and compact stove. Perfect for the solo trip or a coffee break for two – with the optional coffee press it makes two cups of fresh coffee in a handful of minutes! The stove and all accessories, including a 100-gram gas cartridge, fit into the 500 ml hard anodized aluminum pot. The sleeve also features a webbing handle with the added ability to use the stove hanging. The lid cuts cooking time and keeps all the parts securely in place in your backpack – and can also be used as a mug. Lite+ includes a foot support for added stability on uneven surfaces and a suspending cord. Lite+ comes with 3 studs which make it possible to use other pots. Gas is not included
Offer price: MSRP: $114.95
Quality

Features

Durability

Eco-Friendly
Summary
Overall, I think the Primus Lite+ would make a great backpacking stove for those willing to carry some extra weight. With a pot capacity of 0.5 liters, this is best used as a single person stove. If I were using this with another person I would prefer a larger pot that can boil more water. It comes with everything you need to hang the stove making it a great option for climbing, uneven terrain, or in a high alpine environment.
Pros
Fuel-efficient

Feels sturdy

Good boil time

Hanging system included

Great pairing between burner and stove
Cons
Heavy compared to pot capacity

Control knob can be hard to use with gloves

Sometimes the igniter takes several presses to ignite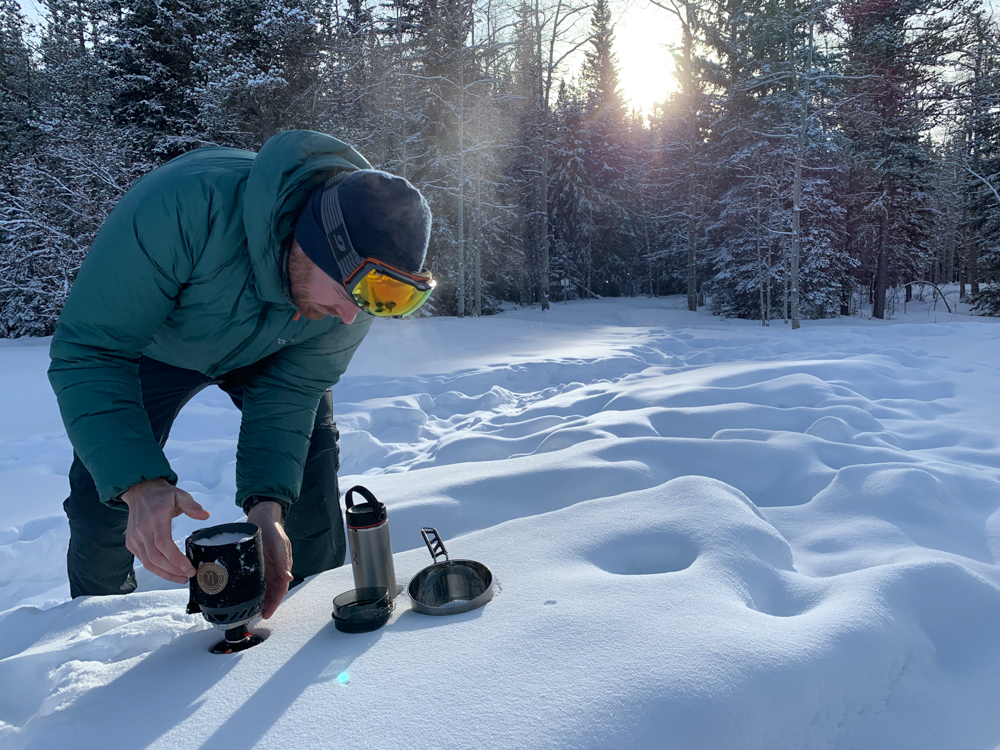 Due to my hectic travel schedule, I was able to test the Lite+ to in conditions that I can only refer to as interesting. While traveling through Alberta, over the span of about ten days, I found myself in three of the coldest cities on earth. An Arctic vortex blew down from the north and parked itself over the entire region for what felt like an eternity. Wind chills were dipping below -40 Fahrenheit and my thermometer never showed warmer than -15f the entire time I was there. When I did go outside I found myself shuffling from one heated building to another. Eventually, I decided that I had had enough. I packed my skis, removed my newly purchased oil pan heater from the van, and headed west towards the mountains. I sent off on a short xc-ski tour in the West Bragg Creek area between Banff National Park and Calgary. I figured if the Lite+ could perform well under these conditions I could probably trust it through just about anything. With the temperature as cold as it was, I figured I'd bring the stove along to make some hot tea while I was out.
I tested the Primus Lite+ in cold conditions both with and without gusty wind. Temperatures for testing were between -15f and -29f. I balanced out my testing by running some tests indoors to simulate warmer conditions. The elevation was between 4,000ft and 6,000ft. I boiled cold water indoors, boiled cold water outdoors, and melted snow to a full boil several times outdoors.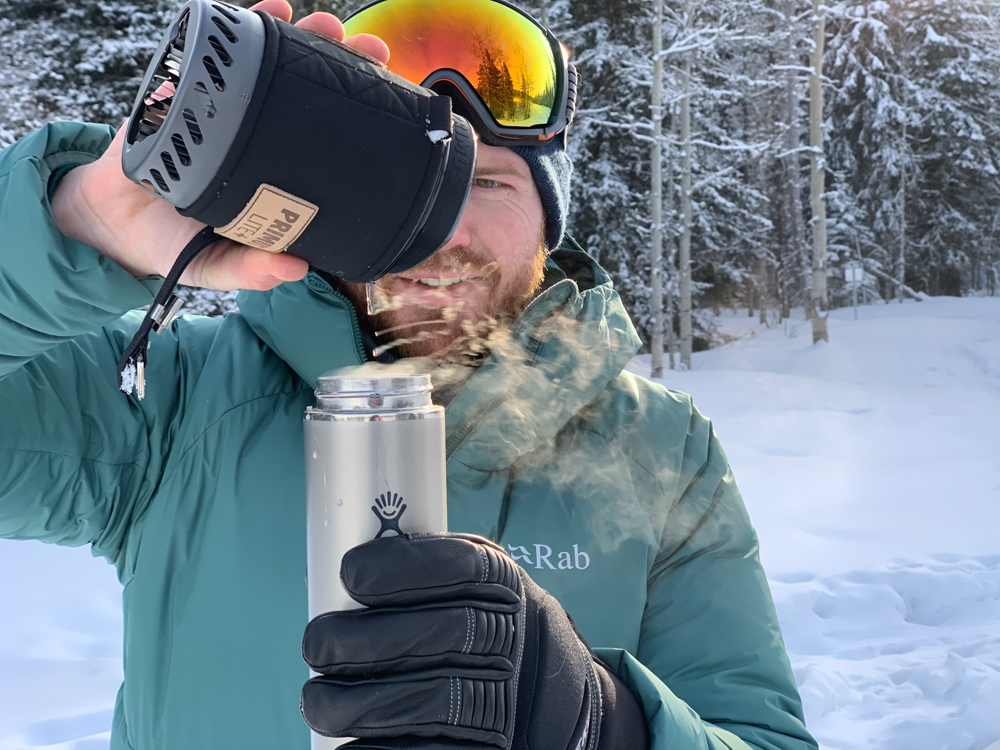 Look/Style
At a glance, the Primus Lite+ looks remarkably similar to other "all-in-one" backpacking stoves on the market. All of its pieces (igniter, fuel, fuel stabilizer, hanging attachment, and the pot lid that doubles as a cup) fit right into the 500ml hard anodized aluminum pot. Primus gave the Lite+ an upgraded insulated sleeve made from Fjallraven G-1000 fabric. It makes the stove look nice and sleek, and the sleeve really feels nice in your hand. I didn't have any issues with the pot being too hot while holding onto the sleeve that I've had with the cheaper foam/felt sleeves on the market. The Lite+ is available in 5 retro-ish colors.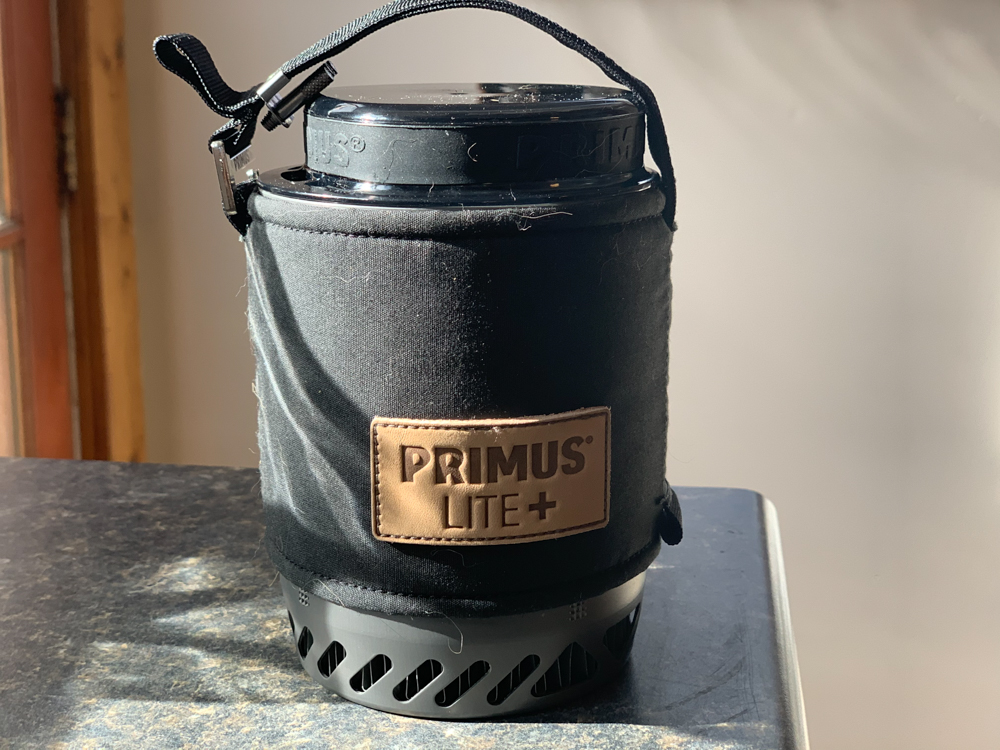 Features
This stove has some familiar features but it also has some pretty exciting exclusive features as well. Let's start with the former. The Piezo igniter is a single push igniter that functions similarly to the Jetboil platform. It also comes with a built-in heat exchanger to help with fuel efficiency. The Lite+ comes with a fuel canister stabilizer to keep the stove steady on uneven surfaces.
However, unlike any other stove that I'm aware of, the Primus also comes with a little cord to hang the stove in case the ground is too uneven for cooking. For this, the mug handle easily disconnects from the side and folds over to double as a hanging handle. I also found this useful for keeping the lid on while traveling or stashing the stove in my pack. The strainer pot lid doubles as a cup. Although, I'm not crazy about heating and drinking out of plastic. I suspect this won't bother most people.
Without question, my favorite thing about this stove, and the reason I would choose it over many other stoves on the market is the way that the pot connects to the stove. The pot has a triangular opening on the bottom that fits directly on top of the stove. A simple twist locks the two together. I was able to do this with ease in snowy conditions with bulky gloves on. This was a pleasant surprise. In the name of fuel efficiency and a lower center of gravity, Primus utilizes its Low-profile Laminar Flow Burner Technology on the Lite+. Another big plus for me is that you don't need an additional attachment if you want to cook with a regular pan or pot. On a small holder on the pot's mug handle, you'll find three support pegs that can be screwed into the burner. These pegs are all you need to cook with a regular pot or pan.
Weight / Packability
For its size, I actually find this stove to be a little heavy for the amount of water it can boil. The stove itself weighs 12.3 ounces. For comparison, the Jetboil weighs 13.1 ounces and can boil twice the amount of water. However, the jetboil takes up more room in a pack. Another bonus for the primus is that its trail weight includes the pot support pegs. Despite the extra weight, I appreciate the packability of this little guy. It may be a little heavy but it packs down to a pleasantly small size.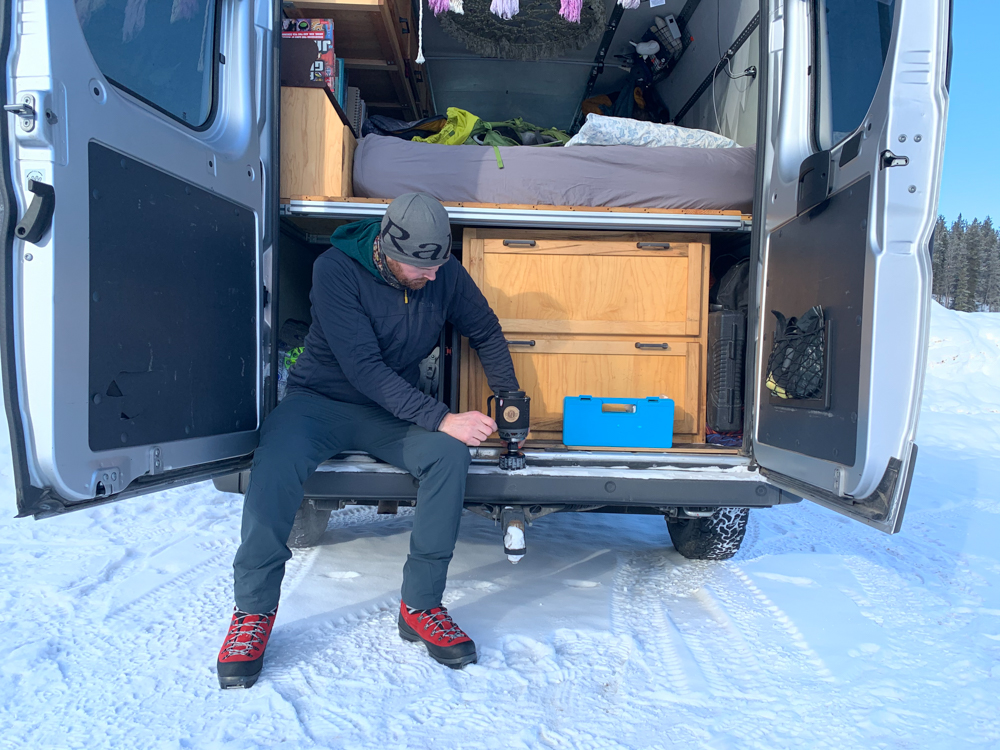 Function/Performance
Mine fired up on the first push six out of ten times. It always lit but sometimes took as many as six or seven pushes for it to fire up. I accidentally got some snow between the pot and the stove but the igniter still seemed to work well. As mentioned above, I did several boil tests including some in pretty nasty conditions. I recorded a consistent boil time of 2:40 at an elevation of 7,000 ft with at 68-degree air temperature. I was able to melt snow in 2:45 at an elevation of 3,000 ft with an air temperature of -20f. I was able to bring that snowmelt to a boil in an additional 1:10. I repeated this test five times. Three of the five times I got fairly consistent results but in the last two times, with a slight breeze, the burner took an additional minute to melt snow and bring it to a boil. Honestly, I thought this stove performed well in the extreme cold. Despite using it in deep snow, accidentally getting snow into the burner causing the igniter to become wet wasn't an issue. One of the biggest perks of this stove is how efficient it is with fuel. It's widely considered one of the most fuel-efficient stoves on the market and I found this to be true. Throughout all of my use and testing, I have only used ⅔ of a single 3.5oz gas canister. While I was unable to verify the numbers, I have read that the stove uses roughly .02oz of gas to bring 0.5 liters of water to a boil. The pot nests nicely on the burner and feels very steady.
The simmer worked well but it still seemed to burn a little hotter than I would have liked.
Durability/Construction
I like the way this stove feels in my hand. All of the pieces feel durable including the igniter and the heavy-duty sleeve for the pot. I'd like to see a silicone lid instead of the plastic lid/cup. Only because I prefer to drink out of silicone as opposed to plastic. The igniter and fuel adjustment knobs feel sturdy and seem like they will hold up well for the long haul. The pot is constructed from hard-anodized aluminum which offers heavy-duty scratch resistance.
The Final Word
Overall, I think the Primus Lite+ would make a great backpacking stove for those willing to carry some extra weight. With a pot capacity of 0.5 liters, this is best used as a single person stove. If I were using this with another person I would prefer a larger pot that can boil more water. It comes with everything you need to hang the stove making it a great option for climbing, uneven terrain, or in a high alpine environment.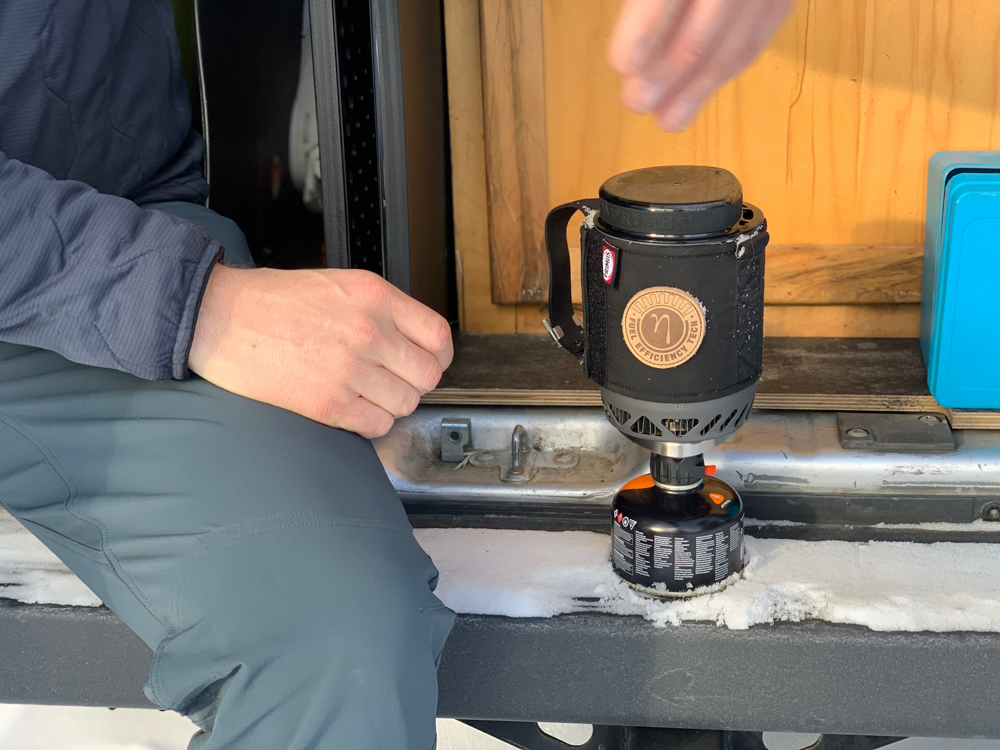 Shop the Primus Lite+ on Outdoor Prolink. Not a member? Apply today!
Ben Dawson is a full-time #vanlifer, father, and adventure journalist/photographer based in the western United States. He has a passion for conservation and spends most of his time creating content for various brands in the outdoor space. Connect with him on Instagram at @meetme_onthe_mountain