ProView – Sierra Designs Clip Flashlight 2
The Sierra Designs Clip Flashlight 2 non-freestanding tent is a stalwart product in a very reputable company's stable of backcountry travel and camping gear. The single-entry, three-season tent weighs less than four pounds and has a full-coverage poly-taffeta rainfly with 1500 mm polyurethane coating, multi-use front vestibule, two interior pockets, and will deploy from sack to shelter in under five minutes. 
Sierra Designs Clip Flashlight 2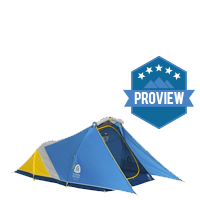 Product Description: The Clip Flashlight 2 is one of the most iconic and best-selling tents of all time due to itts peak height, usable interior space, and vast gear storage. The non-freestanding 1 door 1 vestibule design with an all mesh body comes in at under 4 pounds for the whole package, and due to clever design, the fly can be porched out to create an awning. With all this awesomeness, there will be sticker shock, but in the best way possible, $199 is hard to beat.
Offer price: MSRP: $199.95
Quality

Features

Space

Durability
Summary
The Sierra Designs Clip Flashlight 2 offers an outstanding balance of quality and affordability, providing users with what should be a durable and safe backcountry shelter in all but the most extreme three-season conditions. There are certainly competitors that weigh less and boast comparable features, but not at this price point. The single-door entry is a drawback for some, as is the tent's narrow end and gimmicky light holder. Nevertheless, it's fun, smart vestibule/awning, ability to hold off weather and packability make this Sierra Designs tent one to consider for any non-fast-packing backpacker.
Pros
Price

Sturdy stance when pitched

Weather performance

Multi-use vestibule

Easy set-up & take-down
Cons
Included "lantern"

Reduced space at foot-end

Exit process from the closed vestibule
Sierra Designs stands out in the industry for its expert balance of expedition-quality outdoor equipment and accessible pricing.
I own two 15º sleeping bags from Sierra Designs, each well over 10-years-old. I can't convince myself to retire them, even though I know they now make bags just as warm at half the weight. I suppose I find it important to pay homage to quality manufacturing in the outdoor gear market, and Sierra Designs makes that an easy thing to do.
The Sierra Designs Clip Flashlight 2 is yet another example of what can be done when an established manufacturer wants to preserve a beloved product but recognizes ways it can be improved. Read reviews on Sierra Designs' product page and you'll find people lauding the Flashlight for its years of durability and practical design, a go-anywhere outdoor shelter with room for two, a unique feature-set, and years of well-earned praise.
The new version of the two-person, three-season shelter has been streamlined with a lower, but plenty accessible front entry height and a wind-beating ground stance due to multiple anchor points, low profile "tunnel tent" form factor, and it's outwardly tensioned, aluminum pole insert design.
Performance
While the COVID-19 pandemic greatly altered a couple of early season backcountry trips, it didn't stop the northern Sierra Nevada from delivering its typical cold, wet spring. The Clip Flashlight 2 sat pitched for days of windy, unsettled weather on my open gravel patio. It took on wet snow, sapling-breaking winds, and consistent, miserable drizzle. Two of us burrowed into our bags, with a 47-lb Australian Shepherd, and suburban camped within reach of the home wifi and under the soothing din of rain on the rainfly's 68-denier poly taffeta. 
Set Up
The non-freestanding tent sets up quickly. Unpack it, stake its corners, and bend its two DAC poles across the width of the tent body, the longer serving as the arched front support. Each pole tip enters its aluminum tab through a wide insert and when tensioned, naturally seats into a more narrow channel. This subtle design choice helps the tent remain broad and confident in its stance. 
Features
The rainfly sits well above the mesh tent body, allowing moisture to escape and air to freely circulate, meaning the Clip Flashlight 2 is ready for a deep cold snap well into fall or through early spring.
You can't help but be a big fan of the multi-use front vestibule, the standout feature of the tent. I was able to forgive the reach required to seize its zipper pulls in each lower front corner because of its full protection, room to move, and gear stashing benefits.
With trekking poles, the vestibule converts to an awning, ideal for repelling lighter precipitation, shade, warmer nights, and shelter while preparing meals. When not deployed, the vestibule can be rolled and fastened to the front pole. It became my shade-spot of choice after arriving early to camp one day, post-lockdown, of course. Use it for reading, afternoon coffee prep, and front-porch comfort while away from home.
The Clip Flashlight 2's interior is made convenient by the expansive front pockets. Each is smartly positioned right where one would want to reach for a journal or emergency beanie.
Floating overhead is the Flashlight's included—but removable— "lantern." Insert your headlamp or accessory light for a soft spread of interior illumination. You'll experience some sag if the light is too heavy, but a quick pull on the cord tensioner will get back into place. In truth, I didn't get a ton of use from this accessory, as I've been someone who keeps the headlamp within reach. Still, I see value in it for camping with kids and when both tent parties tend to stay up late reading. And again, it's removable and can save you a few ounces if left in the gear bin.
Fit/Comfort
The tent narrows and lowers at the foot, but it's broad foyer allows easy entry while a companion is already snug for the evening. Not everyone adores one-door entry tents, and there is likely to be disturbance when its time for a tentmate to make a late night dash for the cathole. Nevertheless, it's a tent, not an Airbnb.
The weight of the tent is right in the middle of most front-runners in this category.
Value
One could debate that the MSR Hubba Hubba NX, for example, has two doors and fewer ounces. But what the latter doesn't come with is a lighter price tag. In fact, very few two-person backpacking tents that pack this small can be found for less than $400, outside of a few cottage manufacturers, such as TarpTent. The Clip Flashlight 2's closest competition on price and quality is REI's Half Dome 2 and the Marmot Limelight 2. REI's is $30 more, Marmot's about $50.
Durability
Minor criticisms aside, the Clip Flashlight 2 excels when it matters: in nasty weather. One particular test run found me and the aforementioned Aussie beholden to the whims of an all-night front arrival. Freight-train winds were gaining steam on the ridges above us and could be heard frothing through the descending forest, ever louder on their way down the slope before finally crashing into our pitch at the edge of a meadow with all the gracefulness of a rockslide. The dog barely slept as the fly shook and poles twitched under the consistent strain. 
Sun-up did little to calm the winds, but did slowly warm the tent until the call of caffeine forced me out to face the cold Sierra spring. I discovered upon take-down that I hadn't battened-down the fly's hook-and-loop tabs to the poles, meaning I had even additional reinforcements against the weather. I didn't need them.

We were tired, but intact. As was the tent. Nary a stake was loose or tie-down slack.
What more do you want from a sub-four pound, sub-$200 backcountry shelter?
This Clip Flashlight 2 has its reputation for a reason.
Find Sierra Designs Clip Flashlight 2 on Outdoor Prolink. Not a member? Apply today!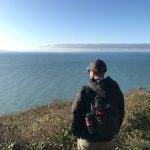 Craig is a full-time writer and backpacking/hiking guide living in Truckee, CA. He guides for Wildland Trekking in the Sierra and desert southwest and co-owns Pika Odysseys, a fledging wilderness wellness and experiences company. He's a fan of craft beer, good and bad coffee, and a not-so-mini Australian Shepherd named Ranger.