ProView – Gregory Rhune 25 Review
Backpacks can be hard to judge. Technically speaking, they have one job, to carry stuff. If it can do that, then is its promise to the consumer fulfilled? Hard to argue it isn't.
Obviously, you can pick apart this take when you consider all the special use backpacks on the market, such as those for lightweight thru-hiking or backcountry skiing. Their role within the confines of those unique activities is pretty easy to define. But it's the middle ground where things get muddled, the mid-volume ranges whose collective purpose can vary from containing chalky indoor climbing shoes to cross-country carry-on. So, this is how I used the Gregory Rhune 25, a nifty, pocket-happy pack that falls under the Commuter category on its company's website. 
Gregory Rhune 25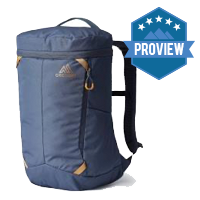 Product Name: Gregory Rhune 25
Product Description: Comfort, performance, and progress collide in the Rhune 25 through the combination of technical performance materials and recycled fabrics elegantly designed with the product's lifecycle in mind.
Offer price: MSRP: $129.95
Quality

Features

Comfort

Durability
Summary
In truth, I keep thinking there's a pocket somewhere, or a nifty feature I overlooked. If so, terrific, because I plan on using this pack for years, doing exactly what the outside pocket's clever in-liner message says: making time for the munchies, and making time to breathe. 
Pros
Internal pocket collection
Easy-to-find zipper pulls
Recycled fabric construction
Wide, durable grab handle
General comfort
Cons
Internal volume when adjacent pockets packed
Water bottle pocket security
Fit leaves little room for additional insulation
My take in testing was centered around the idea that commuters have to be prepared for anything, such as post-work activities, last minute travel, and bad weather. Just look at what others are saying on Gregory's website — it's a pack with a myriad of use cases. 
For the sake of this review, let's agree that a few features need to be included for a bag to be called a commuter pack, and the Gregory Rhune 25 fits the bill.
An item in this category likely needs to safely carry a computer and a couple of mobile devices (check), those devices' respective charging mechanisms (check), double-walled aluminum bottles (meh-check), snacks (check), wallet, personal items (check), offer quick access to often-needed items (check), provide internal organization options (check) and lest we forget, ample space in its primary chamber (sort-of check).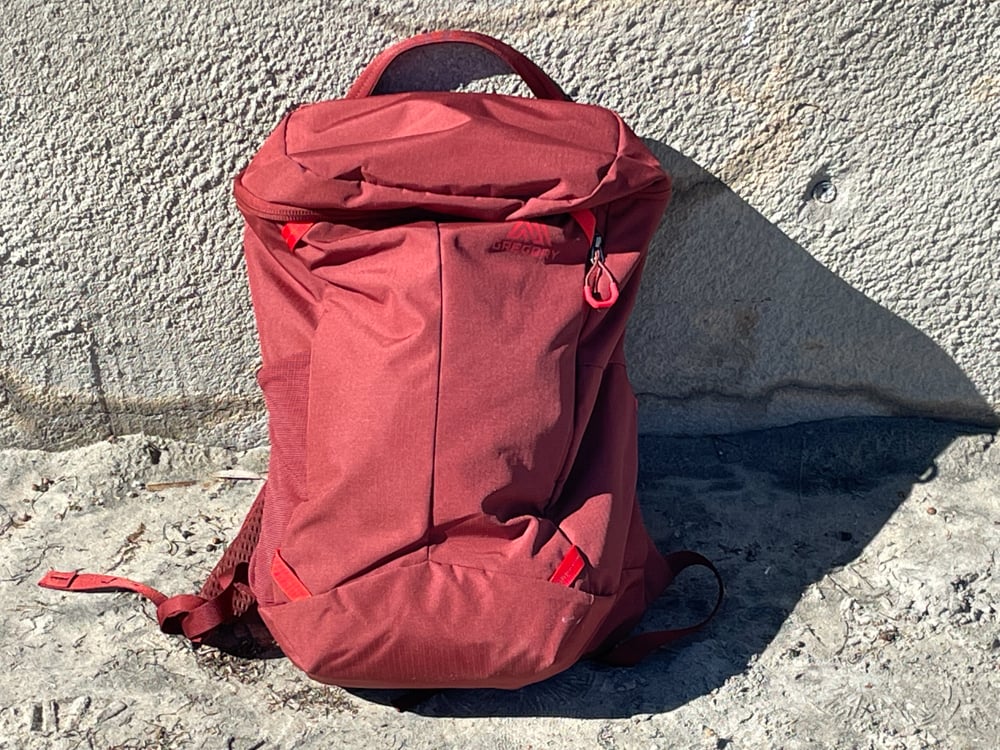 I found that the Rhune succeeds so well in clever item organization that it slightly neglects general internal storage. Stashing items in its external, side-zip tunnel at the same time as an item or two are placed in two internal mesh pockets tends to absorb overall internal volume, compromising cubic inches typically ideal for a rain shell, puffy jacket or hoody. However, don't let this be the deciding factor in your decision to choose the Rhune 25, because there's much more good going on here than bad. 
While we tend to associate commuting with wheels-on-the-ground urban work travel, don't sleep on how great an airline pack Gregory has built. Laptops, tablets, chargers, cords, books, snacks and drink bottles—yes, old-school wide-mouth Nalgenes—all have a safe place to call home in the Rhune 25. However, the mesh water bottle pocket hugs wider bottles better than it does more narrow containers. My Kleen Kanteen slipped out a couple of times when leaning over to tie shoes and when scrambling up some small ledges. So alright, it's not perfect. But is any pack?
I tested the Rhune in a number of ordinary use cases, as to be expected of a pack in this category. It traveled to San Diego from Truckee for a half marathon, some surf sessions, and remote work hours. It carried flip-flops, dry clothes and some post-race Modelos as a gear-check bag come race day. I also put it to use as a hiking day-pack roaming about the cliffs and brush of Torrey Pines State Park in an effort to spot the increasing population of Great White Sharks that's been worrying the locals of late.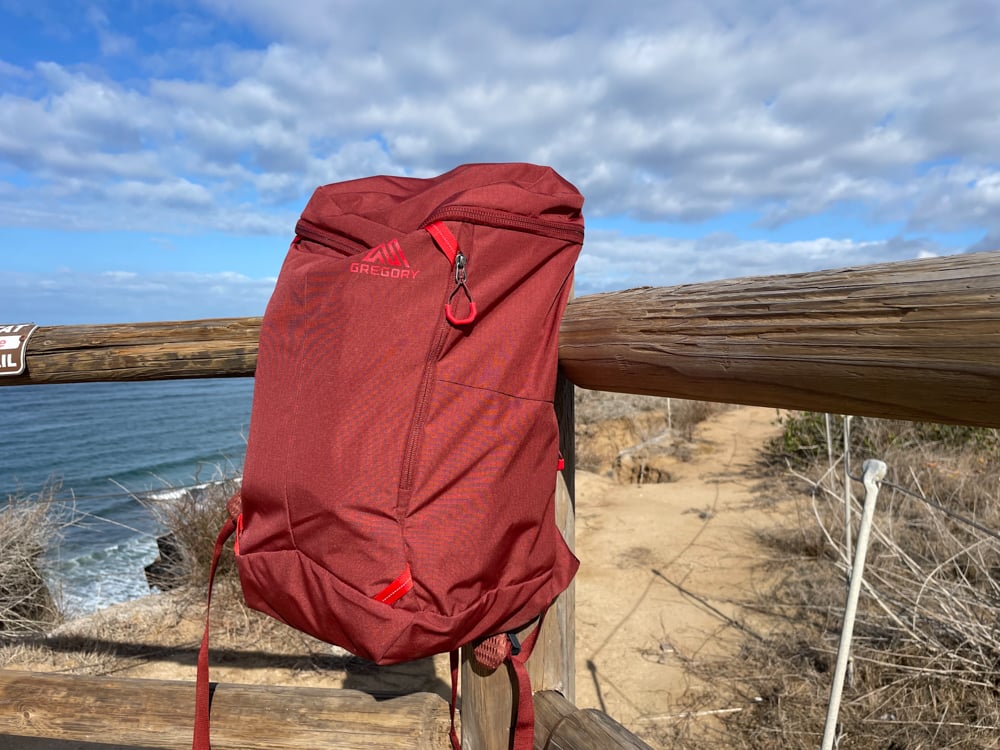 The Rhune also now smells a bit like the clothes I wear when hosting trivia at a local craft beer and gastro pub that has a couple of busy fryers and even less ventilation. An iPad, stack of answer sheets, pens and charging gear are in tow, a load not dissimilar to what I carry when bouncing around different coffee shops in town when the home office has grown distracting.  
Quality
The benefit of using a pack made by a company that only makes backpacks (well, mostly), is that you know the product isn't a side hustle for the brand. I'm sure Gregory is capable, but there's a reason it doesn't produce hard shell ski pants. Technical apparel isn't its core competency.
Running parallel to my take on its durability is the overall quality of the Rhune 25. The details are there. You can't find places were they skimped on stitches or zipper types. The seams are burley and evident, it's not a pack to be used lightly. Even the external mesh bottle pocket is well done, the one feature on most packs that is first to be affected by daily use. Combing existing online reviews of the Rhune will not turn up a single complaint about overall quality. 
I carry a Gregory Denali 100 when guiding backpacking trips, an environment that is far more tough on backpacks. After a number of multi-day trips lugging 65lbs+, there is only minor wear and tear to be found, and none off it is in places where it matters.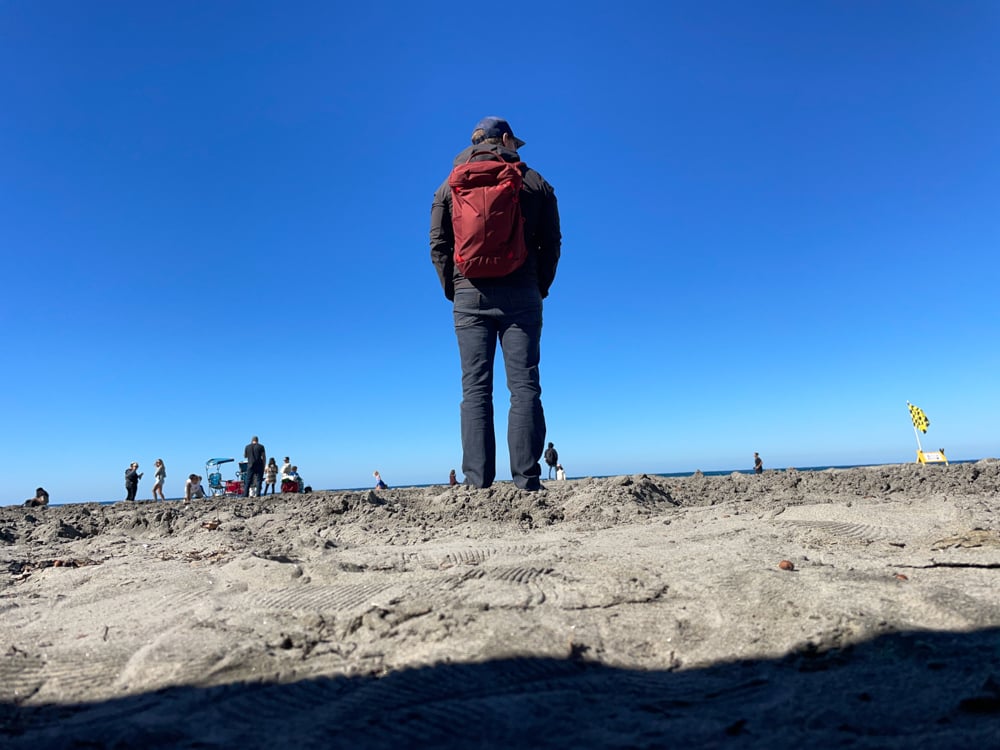 Features
This pack can't be described without highlighting its exterior pockets, one of which reaches deep across the front off the pack from the right, under the lid, and the second, a sneaky hideaway accessible from just above the lower shoulder-strap attachment. Both are quick to open and close and practical for chargers, cables, passports, snacks and whatever else can be defined as frequently needed. The lid pocket is a little tighter than I expected.
The internal laptop sleeve can imbibe the fattest of PCs, if that's your preference. But Mac owners will love it the most. I tested it with my 13'' MacBook Air. Lining the interior are additional sleeves, some vertical pen tunnels and a couple of oppositely opposed mesh pockets I used for my wallet and some spare battery packs.
Durability
From its sturdy YKK zippers and their meaty rubber coated pulls to the seemingly tear-proof 300-denier recycled polyester pack body, Gregory made a commuter pack as tough as a mountaineering pack. This is essentially a two-layer bag, as the pack body is wrapped in an exterior shell of recycled polyester to provide additional element resistance, something I learned when a thermos of dark roast managed to find its way past a half-tightened lid (I can't say the same for my air-travel pants). The burly grab handle feels like a climbing sling in your hand, and its width across the pack means you can just reach blindly under seats and tables and find it.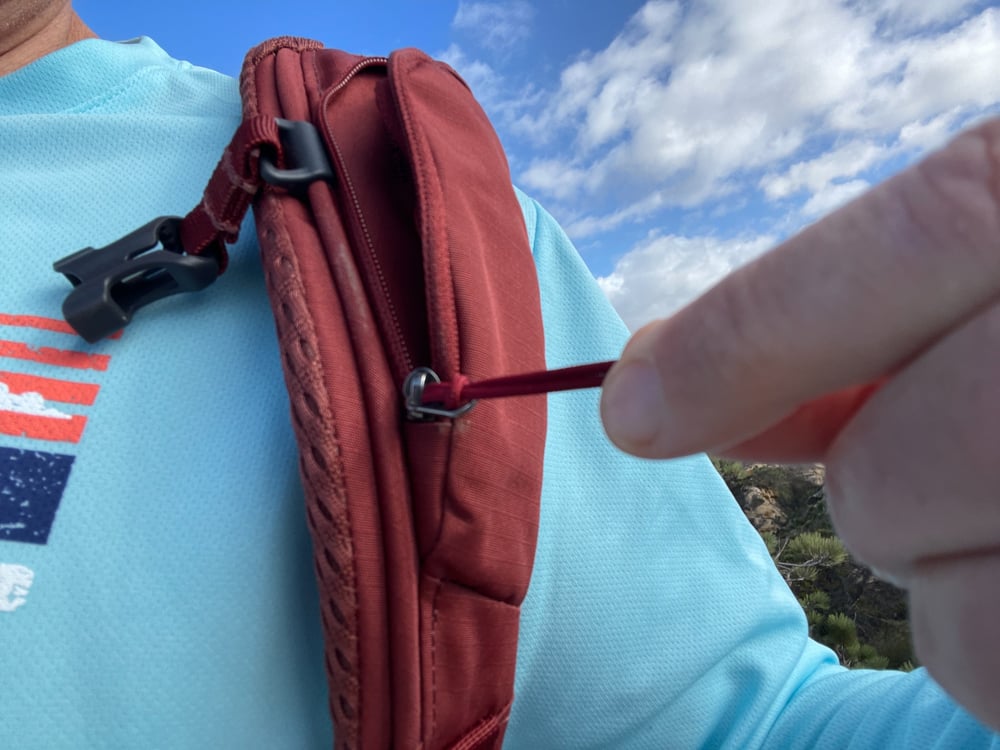 Comfort
The benefit of smaller packs is that they're never that heavy, but commuter packs, given their intent to travel, do need to be comfortable. They need to be nimble, so to speak, when putting on and during periods of use. No problem here at all. I think the key is the wide shoulder straps, almost more so than the padded back panel, which is likely going to be on top of a couple layers in most use cases. Fastening the removable, sliding sternum strap hugs it all little tighter, too.
In truth, I keep thinking there's a pocket somewhere, or a nifty feature I overlooked. If so, terrific, because I plan on using this pack for years, doing exactly what the outside pocket's clever in-liner message says: making time for the munchies, and making time to breathe. 
If you'd like to hear another perspective on the Rhune 25, check out Proview – Rhune 25 Review by Mollie Bailey.
Shop Gregory Rhune 25 on Outdoor Prolink. Not a member? Apply today!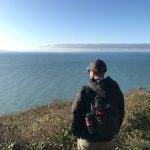 Craig is a full-time writer and backpacking/hiking guide living in Truckee, CA. He guides for Wildland Trekking in the Sierra and desert southwest and co-owns Pika Odysseys, a fledging wilderness wellness and experiences company. He's a fan of craft beer, good and bad coffee, and a not-so-mini Australian Shepherd named Ranger.