ProView – Sierra Designs Cold Canyon Hoodie
I picked up this jacket to supplement on cold days for rock and ice climbing. The review is based on its use for alpine rock climbs in the PNW. Ice is yet to form in PNW, which is where I believe this jacket will shine the most, to be seen.
Sierra Designs Cold Canyon Hoodie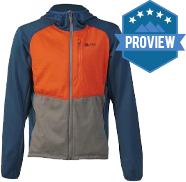 Product Description: The Cold Canyon Hoodie gives you stretch grid fleece that moves with you and vents heat with ease. Thumb loops allow for easy layering as a mid-layer, while a nylon wind breaker front sustains heat when moving quickly, allowing flow everywhere else.
Offer price: MSRP: $149.95
Quality

Features

Fit

Durability
Summary
This will be my go-to fleece jacket if I am not sure of the destination weather, whether its too cold or not so cold day. The heavyweight category reserves it for too cold days but the zipper helps in regulating temps on warmer days. The Thumb loop and precision on the hoodie are highlights of the jacket.
Pros
Comfortable
Warm
Precise Hood
Large chest pocket
Cons
Size runs large
Noisy
Lack of more color
This fleece traveled from the first snowflakes of fall weather in North Cascades, Washington, to Smith Rock, Oregon, then to much warmer southernly granites of Castle Crags, California. The jacket was used in temperatures ranging from 60F to 15F. My goal was to identify if I can wear this jacket during active climbing and keep my body temp regulated.
Fit/Comfort
This fleece jacket is comfortable to slide into, on the inside its soft and nylon lining towards the chest keeps warmth close to the core body.
Sizing runs a bit large, standing tall 5'8" and with positive ape index, a size small was still a bit long on both sleeves and waist length.
The nylon incorporation in the lining is slightly noisy which can be an annoyance/ distraction that users should be aware. 
Look/Style
More color option is something to desire for, but existing color combinations for both female and male are attractive, with proper inclusion of accent color to neutral base. 
Features
Thumb loops stays in position and does not pinch on the skin. It does not impede dexterity while climbing.
Hand warmer pockets are generous size and located appropriately to slide in-out seamlessly even with large gloves on.
This jacket blows any chest pockets out of the water. Chest pocket is large enough to hold the largest phone on the markets or the X-large candy bar that you grabbed on Halloween weekend to fuel your Fall alpine mission. This chest pocket might become my avalanche beacon holder for ski touring missions. 
Function/Performance
The stretch grid fleece fabric is good, reaching overhead and stretching for those rock holds was not hindered by any resistance due to thumb loop or overall fabric pull.
The fit on the hoodie is the best I have experienced ever. It fits over or under the helmet and does not obstruct the field of vision, even when moving head side to side.
Jacket Performed optimally between 30-50F weather. Anything warmer and the jacket was quite warm, particularly for uphill travel. Anything cooler and the jacket was enough for uphill travel but not for stationary belay stations. The jacket does seem to retain sweat quite easily and along with it sweat smells.
Durability/Construction
The jacket was used while jamming cracks and adding snow chains on tires without much care to be ginger or delicate on it; rest assured the fabric held up. It has been through at least five washes so far and I have not seen any burs or loose stitches. 
The Final Word
This jacket meets and exceeds expectations, apart from some improvements needed in sizing and material used to reduce the noisy feeling. It can take on rough rock texture and will hold up nicely. The precise design of the hood and thumb loop feature alone are good reasons to buy this jacket.
Find Sierra Designs Cold Canyon Hoodie on Outdoor Prolink. Not a member? Apply today!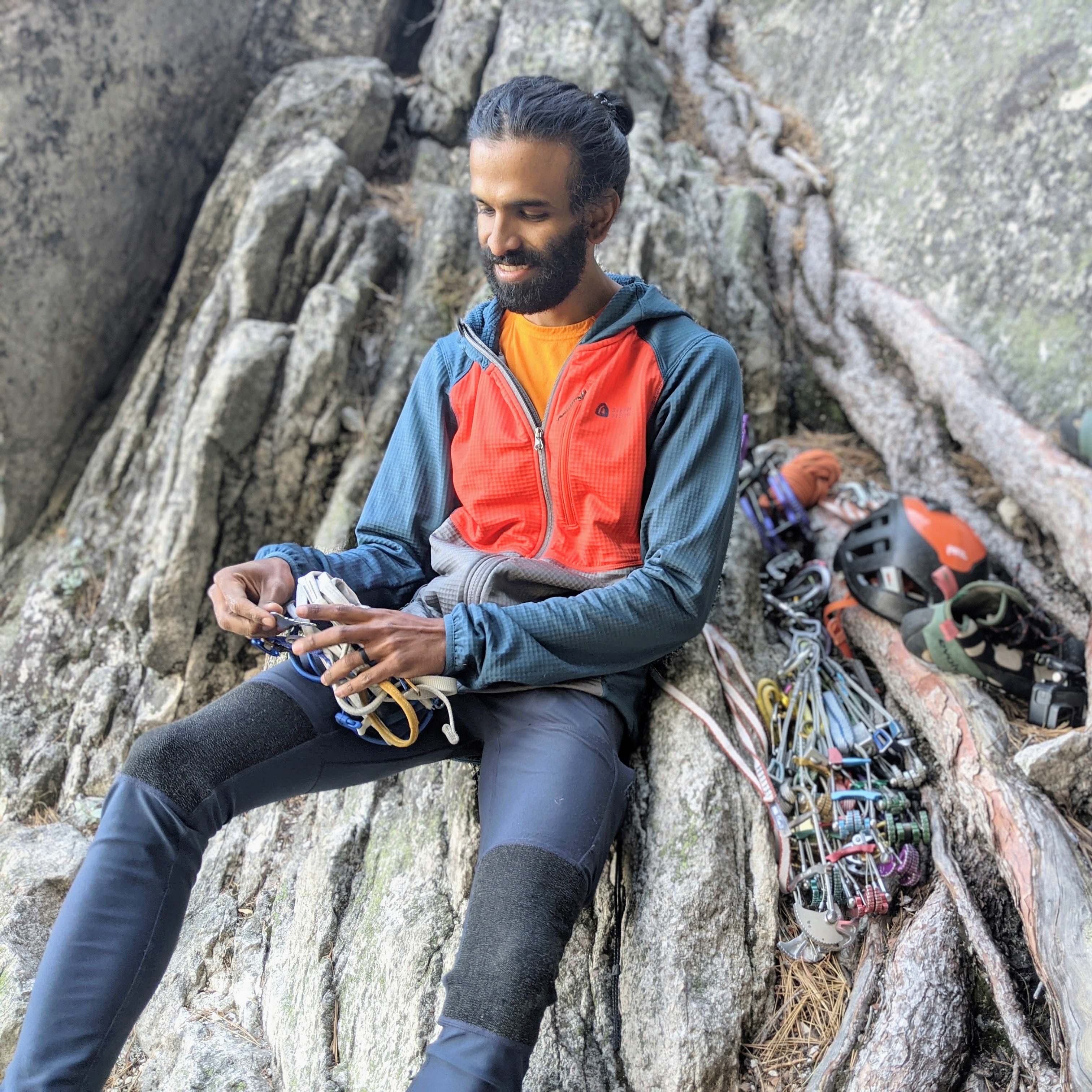 Shiv is a climber transitioning between ski mountaineering during winter seasons to alpine ice and rock for the remaining seasons. Based in PNW he spends 120+ days in the alpine wilderness, is a volunteer medical first responder, and earns a living as an engineer.