ProView – Therm-a-rest Space Cowboy 45 Sleeping Bag
The Thermarest Space Cowboy 45 is a good summer backpacking sleeping bag. It's small size and light weight make it easy to carry. It's a synthetic-fill, ultralight sleeping bag designed for summer use. The list price for the bag ranges from $129.95 to $149.95 depending on the size.
Therm-a-rest Space Cowboy 45 Sleeping Bag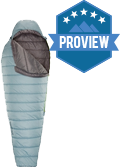 Product Description: The feather-weight Space Cowboy is built with eraLoft™ synthetic insulation to endure the rigors of backpacking and cowboy camping in variable conditions. Designed with innovative Therm-a-Rest features like SynergyLink™ Connectors and Zoned Insulation, the bag is among the lightest and most packable in its class. The mummy-style bag compresses down to take up minimal room in your pack and comes in two outdoor-inspired colors. Whether exploring the western frontier, bike packing through the desert or wandering through the wild, the Space Cowboy has you covered. Storage sack and compression stuff sack included.
Offer price: MSRP: $129.95 - $149.95
Quality

Features

Fit

Durability
Summary
The Thermarest Space Cowboy is a lightweight bag for warm temperatures. It's good for ultralight backpacking during the summer in warm climates.
Pros
Lightweight

Small size in stuff sack
Cons
Temperature range is limited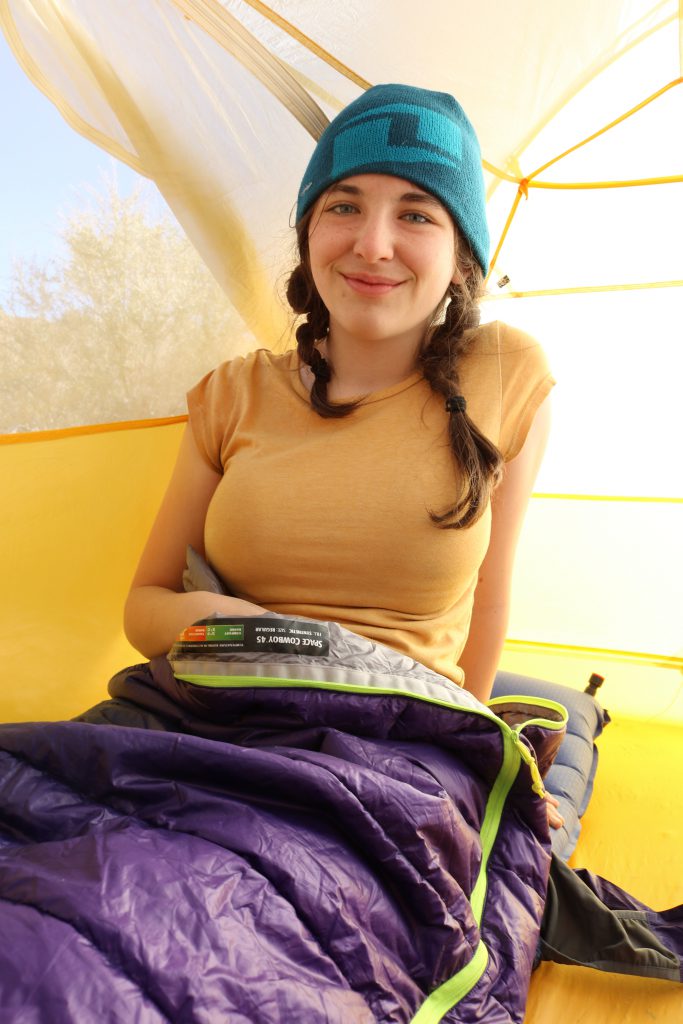 Weight
The manufacturer says the bag weighs one pound, four ounces, and packs down to just a little larger than an insulated liter water bottle. When I weighed it at home in the stuff sack I found it weighed 1 pound, 7 ounces. That leaves plenty of room in your pack for other gear or lightens your overall load. As an ultralight backpacker, I'm used to sub-3-pound bags, but this one packs down pretty small.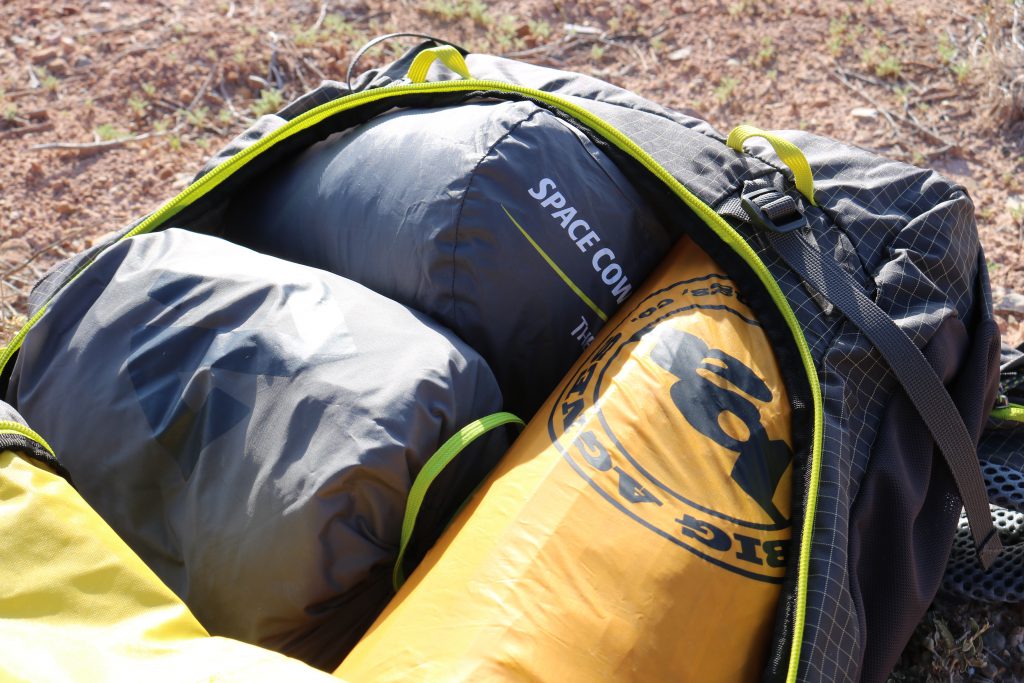 Look
In keeping with the space theme, the bag's colors are "ether" (light blue) and "galactic" (purple). I tested the galactic version of the bag.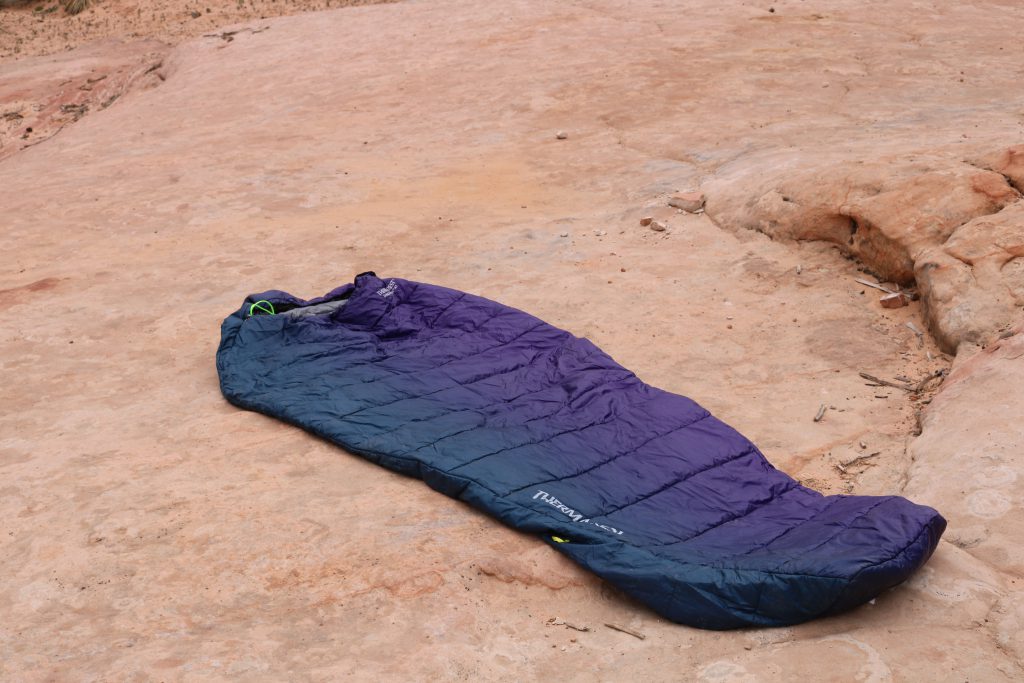 Features
One of the first things I noticed about this sleeping bag was the presence of a draft tube, which many manufacturers remove in their quest to save weight, though there is no draft collar. You control heat loss by opening or closing the drawstring on the opening. Also, there's a plastic snap to secure the side zipper. I prefer this to the Velcro closures on other sleeping bags as the Velcro gets caught on hair and clothing. The eraLoft synthetic insulation seems thinner than that in other 45-degree bags I own. The bag uses zoned insulation, putting more of it around the torso and less around the legs. I was a little concerned as I first examined how thin the bag was, but this one seemed better made than others I have encountered. I was pleased by the quilted design, which keeps insulation where you want it. Maybe it was just the draft tube, but it still felt warmer than those other 45-degree ultralight bags. That said, the insulation appears that it may bunch up with continued use. We'll see.
The material is durable. I'm not worried about its tearing.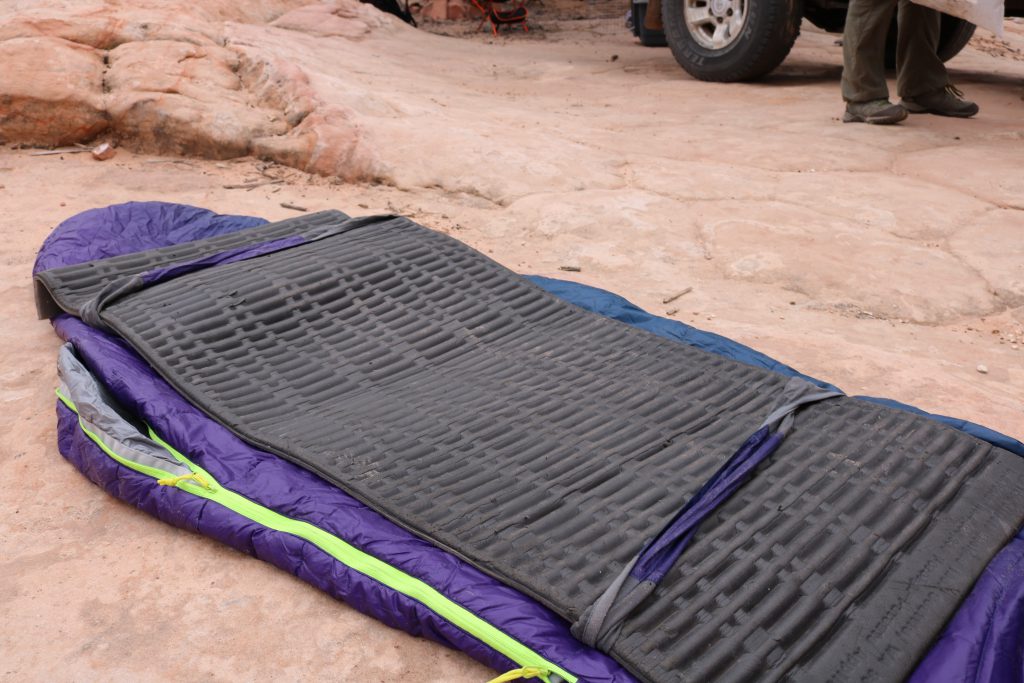 Features
A feature I haven't experienced with other bags is the Synergylink connectors designed to keep the Space Cowboy attached to a sleeping pad. I tried it out and it seems like a fine feature for those who sleep on their backs. As a confirmed side sleeper, I preferred to be able to move the sleeping bag with my body, which is hard when using the connectors. Thermarest says the connectors hold the pad in place while you roll, but I felt they confined my movement, so I stopped using them after the first night. With their hook-and-loop design, it's easy to take the connectors off.
I recently took the Space Cowboy on a trip to southern Utah. Conditions varied, but overnight temperatures ranged from 40 to 50 degrees at night.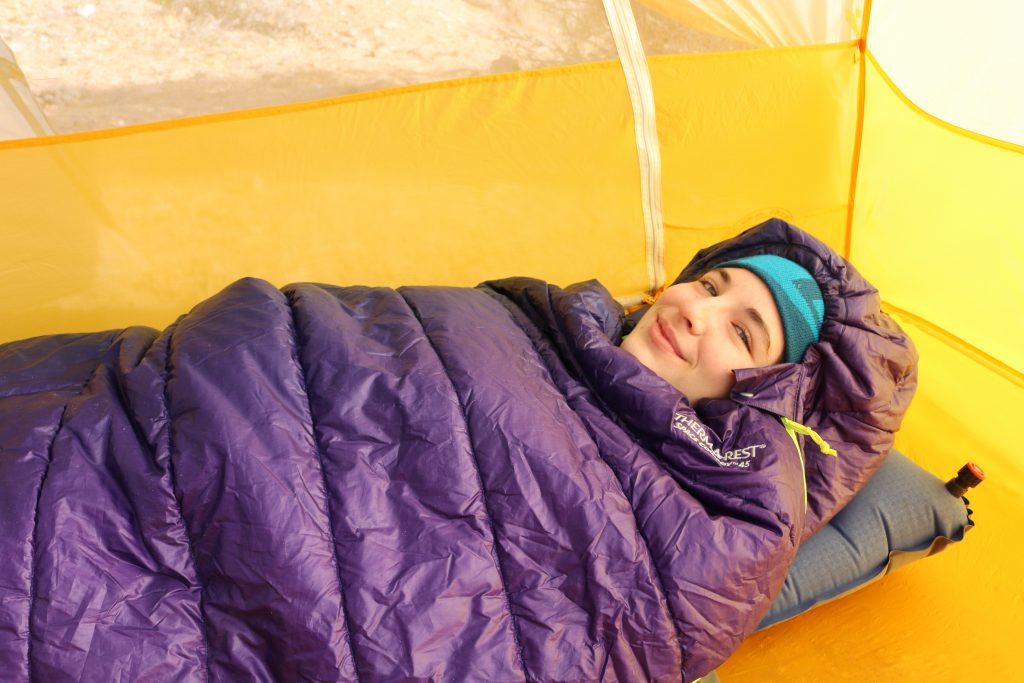 The lightweight sleeping bag was nice, shedding a couple of pounds from the average backpacking load. This sleeping bag packed down smaller than other ultralight bags I use. There was plenty of room for my tent and other items, which is important when backpacking with family because I end up carrying a lot of communal gear.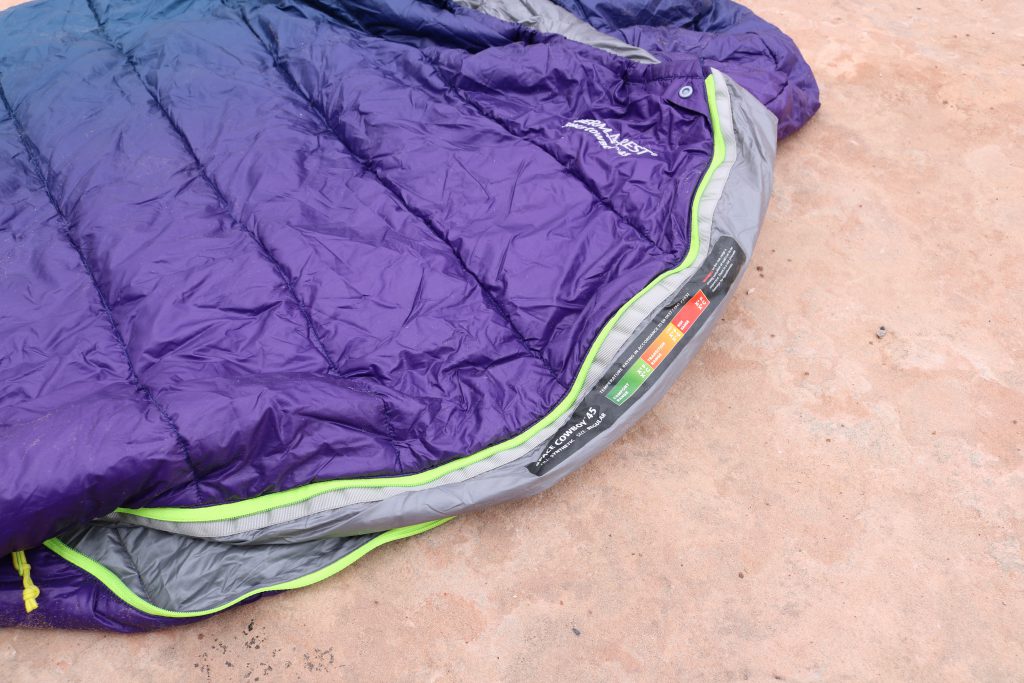 The bag is rated to 45 degrees. My experience was that the comfort level in the bag was closer to 50 when I was wearing thermal underwear and a beanie. By increasing my layers, I could sleep well in the mid-40s, but at 40 degrees, I was shivering and had to find extra blankets (for me that means begging extras from my wife who was using my 20-degree backpacking quilt and didn't need the extras she brought). In their defense, Thermarest does say that the bag is intended for summer camping, but I was pretty cold at night on our early spring trip.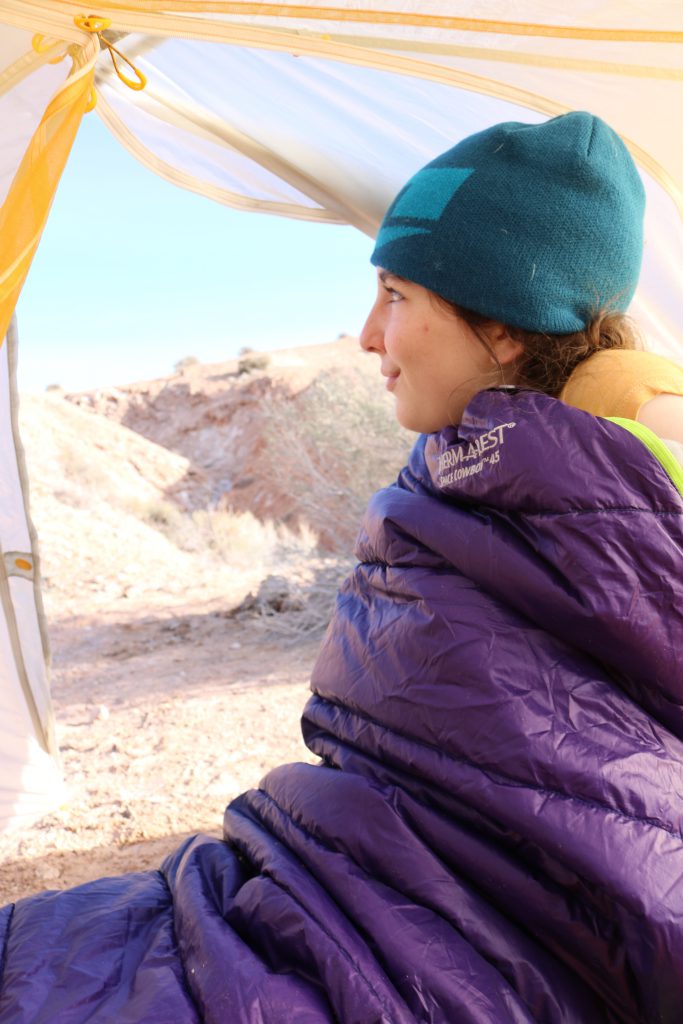 I'll be adding the Space Cowboy to my summer camping gear, but I'll stick to colder-rated bags for shoulder seasons when I might encounter overnight lows in the 40s or below.
Shop the Therm-a-rest Space Cowboy 45 Sleeping Bag on Outdoor Prolink. Not a member? Apply today!
Shem Flitton grew up exploring Utah's West Desert, camping, hunting, and riding horses. He is an avid ultralight backpacker, hiker, and endurance road cyclist. He has climbed the highest peak in each of Utah's 29 counties and explored many national parks, slot canyons, and other trails.
Shem has introduced many people to the wonders of the backcountry both as a Boy Scout leader and as a guide for his friends. He has run marathons, relays, and an ultramarathon. He has ridden several biking events and relays. He's a wilderness first responder and serves as a team lead on the Timpanogos Emergency Response Team. He lives along the Wasatch Front with his wife, five kids, and Enya, his mutt dog.