ProView – Trango Agility 9.1 Red Flag
The Trango Agility 9.1mm rope is a cutting-edge take on a triple-rated rope. With the "RED FLAG" treatment on the last 5m of either end, this single, double, and twin-rated rope is easy to distinguish anytime you approach the end of the rope.
Trango Agility 9.1 Red Flag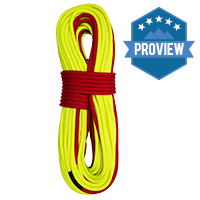 Product Description: The Agility 9.1 is designed to be the only rope you'll ever need. Triple rated to serve duty in a single, double, or twin setup, available with or without dry treatment, and featuring Spider Wear for enhanced durability, this lightweight powerhouse goes anywhere and does everything from alpine to sport to trad. The Agility 9.1 includes the proprietary RED FLAG treatment marking the final 5M of each end a bright, contrasting red and providing a clear visual indicator of approaching rope ends. Easy to locate ends give climbers enhanced levels of safety during the riskiest parts of rappelling and lowering. This rope combines futuristic performance with revolutionary safety features to make our most advanced rope yet.
Offer price: MSRP: $354.95
Quality

Features

Durability
Summary
The Trango Agility 9.1mm rope is a cutting edge take on a triple rated rope. With the "RED FLAG" treatment on the last 5m of either end, this single, double, and twin rated rope is easy to distinguish anytime you approach the end of the rope.
Pros
Lightweight
Added safety features
Trango states that the "Agility 9.1 is designed to be the only rope you'll ever need" and I set out to put that to the test. During the review, I brought the Agility with me ice climbing, trad climbing, and sport climbing. I have been climbing in many disciplines for quite a while now and was stoked to be able to use a lightweight, dry treated rope that was equally equipped for ice as it was trad. Honestly, I was also pretty excited to try out another Trango rope after having one a few years ago that was a complete dud. From the cold, frozen ice in the alpine to the warm, coarse granite of the South Platte, I definitely saw what the Trango Agility was made of.
Performance
As soon as I received the rope, I unpackaged it and headed up North Table Mountain here in Golden, Colorado. Once I arrived at the base of my intended climb I started flaking the Agility out and immediately had to deal with a massive rat's nest of pig tails. To be fair to Trango, I didn't flake it multiple times at home before using it. I guess I just got pampered with my Edelrid and Mammut ropes that come pre-flaked. Not a big deal, but over the course of the evening and throughout testing I found the Agility to curl more than any rope I have used thus far. Nothing debilitating like knots forming, but just a lot of two-handed lowering and shaking out the pig tails.
The next day we took the Agility out to climb some beautiful blue water ice, but the approach was a slog. Thankfully at only 56g/m the Trango Agility is lightweight which is definitely noticeable on the longer approaches which saves much-needed stoke for the send later! The Agility handled well with gloves on due to its "wiry" nature which is a double edge sword. The rope clips well when you place protection, but beware to wrap your third-hand extra on rappels. We found that the Agility slipped more than other ropes due to is very smooth, durable sheath texture.
What I really liked about the Trango Agility was the RED FLAG markings for many reasons aside from safety use, but I'll explain that a little later. I was also impressed by the durability of the Agility when I made my way down to the South Platte with it. The granite is very rough down there and even after being skeptical based on my past experienced, the Agility did well running over the sharp edges and rock all day. I think we managed 14 pitches that day and I didn't notice any large rough spots at all!
Look/Style
I love the look and colors of the Agility 9.1! Trango knocked it out of the park with the color combos. The yellow and red Agility is HIGHLY visible and fun which is the rope I got to review. I can't tell you how many compliments I got from other climbers about it during testing. The other choice is a lime green color with a maroon RED FLAG marking. Both of these ropes are bright, colorful, and overall perfect for popping in those climbing butt shots next time you're out.
Features
Let's talk about Trango's RED FLAG proprietary markings. These markings were intended to warn climbers whenever they are approaching the ends of their rope, be it on rappel or lowering. It is a well-thought-out and useful feature. However, I cannot stress this enough that you as a climber should not be relying on a ropes markings to rappel or lower safely. Close those systems people and tie those knots! There are really no excuses for not tying knots or closing your climbing system. I am not going to go so far as to say the RED FLAG markings are dangerous because they'll make climbers complacent, but rather that they are a highly useful tool that can help catch a near miss before it becomes an accident. Just remember to not rely on them is all. Good job Trango for the innovative and helpful tool! The unconventional reason I love the RED FLAG markings is that you can find your ends when you are looking to tie in at the start of the climb. It also acts as a perfect marker to get out your camera because you know your climber is close to topping out when they aren't visible. Aside from the RED FLAG markings the rope comes with the standard black middle mark in the center of the rope.
Weight/Packability
As I stated previously the Trango Agility is a perfect weight and size for those demanding climbs far from the trailhead. At 9.1mm, the Trango Agility is on the skinnier side for a single rope in todays market.
Room for Improvement
The fit and finish of the Agility were a bit lacking, to be honest. When I received the rope, there were black marks and a couple of frays visible from the factory. The ends of the rope are wrapped in a thinner piece of plastic than other ropes, but they always come off eventually no matter the company so that's fine. My end caps ended up coming off the first day and I found to my surprise that the ends of the rope aren't "rounded off" with a hot knife but rather just cut straight. Anyways, this means that the rope ends will start fraying a lot sooner than other ropes you may have, so be prepared to whip out the hot knife. Those are minor issues though, the only major issue that could be improved upon by Trango is the core and sheath bonding. This happened on my other Trango rope as well but basically, the core and sheath moved independently of each other much more than any of my other ropes. This leads to a "chinese finger trap" motion of the rope which can cause your 9.1mm to feel more like a 10.1mm rope.
Final Word
The Trango Agility 9.1mm is a well-rounded rope, but without its innovative RED FLAG features, I would consider the rope pretty average. With the outdoors booming thanks to COVID, outdoor gear has also been booming and innovating quickly. The Agility isn't necessarily lighter, more durable, or more innovative than its competition. However, for the price and the features, the Trango Agility should definitely be one of your considerations! I look forward to my Agility proving me wrong the longer I use it.
Shop the Trango on Outdoor Prolink. Not a member? Apply today!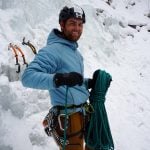 Zach is an aspiring alpinist, ski mountaineer, climber, and photographer. He is a Wilderness First Responder and frequently volunteers with the Colorado Mountain Club to help train future mountaineers. Zach works part-time as a marine biologist in Alaska and a wildlife biologist here in Colorado. You can catch him climbing around Golden where he lives today.