ProView – Ultimate Direction Adventure Vest 5.0
You and your overpacked car hit the road, and before you know it, an unknown trail grabs your attention. The length is as uncertain as the terrain, and the distant rumble of thunder instills hesitation, but you push forward. Now, with your car left behind, you must choose your pack wisely to answer each unknown as it comes, and what better a pack than the Adventure Vest 5.0.
Ultimate Direction Adventure Vest 5.0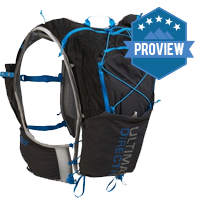 Product Description: The UD Adventure Vest 5.0 is the running vest that eats its young.
Offer price: $179.95
Quality

Fit

Durability

Features

Eco-Friendly
Summary
Week after week, Ultimate Direction's latest Adventure Vest accompanied me through swamps, waterfalls, 20-mile runs, alpine scrambles, and so much more. With each passing adventure, the above-average quality of the pack shown through. Plentiful pockets, practical features, and good adjustability allowed this pack to function well wherever it went.
Pros
There really is a pocket for everything
Useful on-the-go storage and accessibility
Breathable materials
Highly practical built-in rainfly
Versatile fit for different body types
Truly very lightweight
Carries soft bottles very well
Loads of room for water
Cons
Pack bounces with heavier objects (think apples or small cameras)
Side synch often came loose
Elastic synch chord on the back of the pack was annoyingly long and always in the way
Bigger items in the main compartment uncomfortably push on your back
Pole carry is limited in versatility, and a bit awkward on the move
Pocket dimensions implore you to invest in a full lightweight kit of gear
There's no question this is the right way. The signs are clear, my mental compass is dialed, and the trail is calling me down this specific direction. Or…is it? 15 miles turned into 18, and quickly into 20 before I realized my trail run had turned into a trail journey. So much for a mental compass, but at least the Adventure Vest had my back.
Lately, my affinity for runs around town and the local trail system has been waning, and the longer trails around Mt. Hood, the Central Cascades, and the Oregon Coast have called out. Longer trails mean more gear, and I'm always hunting for the pack that can marry accessibility and practicality while maintaining comfort. The Adventure Vest 5.0 is an effective combination of the three.
Fifteen miles in, all my missed turns behind me, I was grateful for my hard-fought adventure. The Adventure Vest held the GPS I should have used, a jacket, gloves, a liter of water, a camera, various snacks, and my phone all with relative comfort after even the longest of that day's miles.
Features
When the days are long, and the miles longer, you want every last bit of comfortable storage and accessibility in your pack. The Adventure Vest sports three front pockets, two side pockets, and two zipped, shoulder-mounted, gear stashes (both of which hold various GPS's perfectly) that are all accessible on the move. A front-mounted running pole attachment point adds to the versatility if the right poles are chosen. Finally, you're left with an external gear stash, and two larger compartments on the back of the pack to store your larger items. Pockets aplenty make for confident packing. However, the larger pockets on the back feel floppy when filled and are better served with less in them. This unfortunately isn't remedied by the corded elastic on the back that never seemed to synch down how I would like. With good planning and lightweight gear, you can fit a whole lot for long days. 
Fit and Durability
Each time I hit the trail, the Adventure Vest seemed to fit a little differently, mostly as a result of varying pack jobs and kits for the day. It always took tinkering, but in time, the combination of the Adventure Vest's Comfort Synch system and rail-mounted sternum straps had the pack balanced, snug, and ready for miles. The only persistent issue I had was the gradual loosening of the Comfort Synch system over the course of longer runs. 
The Adventure's durability was one of my first main concerns, but I never had those concerns validated. After miles in the rain, a few tumbles down the trail, and an extended stint bushwhacking through the forest, I've found no tears or real signs of wear. Reinforced rails and seams all along the edges of the straps and main pack inspire confidence that the shape will hold over time.
Performance
Lying somewhere between ultra-running, and fastpacking, the Adventure Vest 5.0 really prospers when the only fact is that the day will be long, and the trail unforgiving. It took getting lost on the trail for me to really push this pack, as that's when I needed it to make my life easier, and that it did. I wouldn't purposefully push this pack to the top of a glaciated peak or choose to run fifty-mile days with it. Still, when I know I'm choosing to attack a trail a notch above my comfort zone, the Adventure Vest is purpose-built to make things easier, and I'll continue to choose it for many of my more uncomfortable pursuits.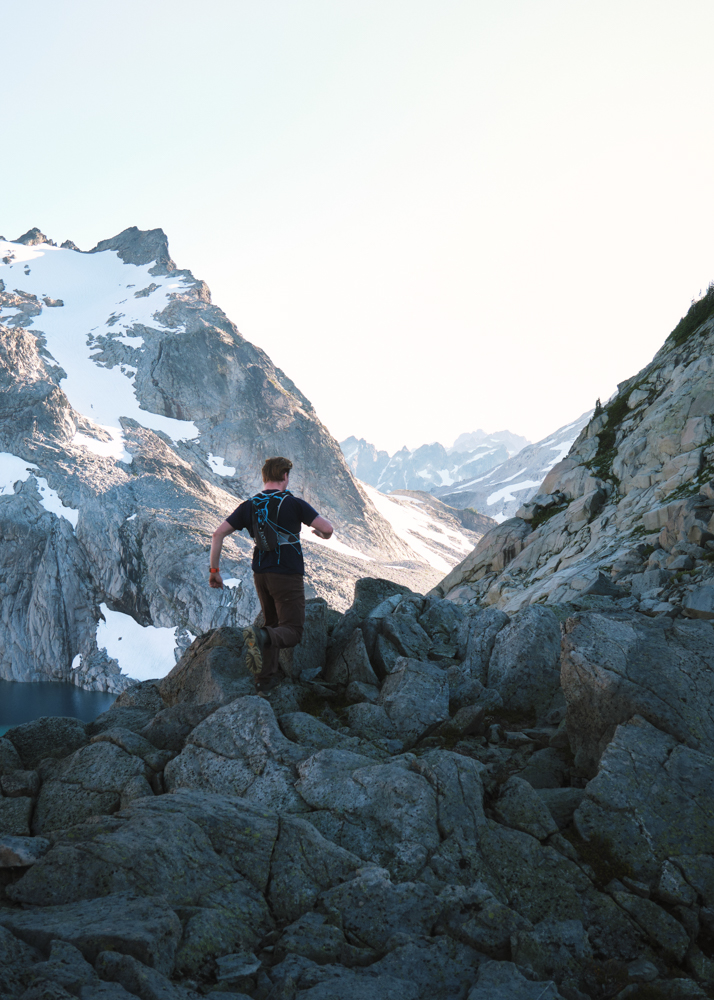 Friendliness to Earth
Ultimate Direction unfortunately makes no mention of climate-based initiative or concern as it pertains to the manufacturing, distribution, or recycling of their gear. While concern for the world is evident in their "About" page, they haven't shown a propensity to strive for cleaner production.
The Final Word
As the market for plus-sized running packs has become more competitive, Ultimate Direction has seized the opportunity to produce a great range of options. Much like their other packs, the Adventure Vest 5.0 is a strong choice for anyone looking to chase longer days.
Shop Ultimate Direction Adventure Vest 5.0 on Outdoor Prolink. Not a member? Apply today!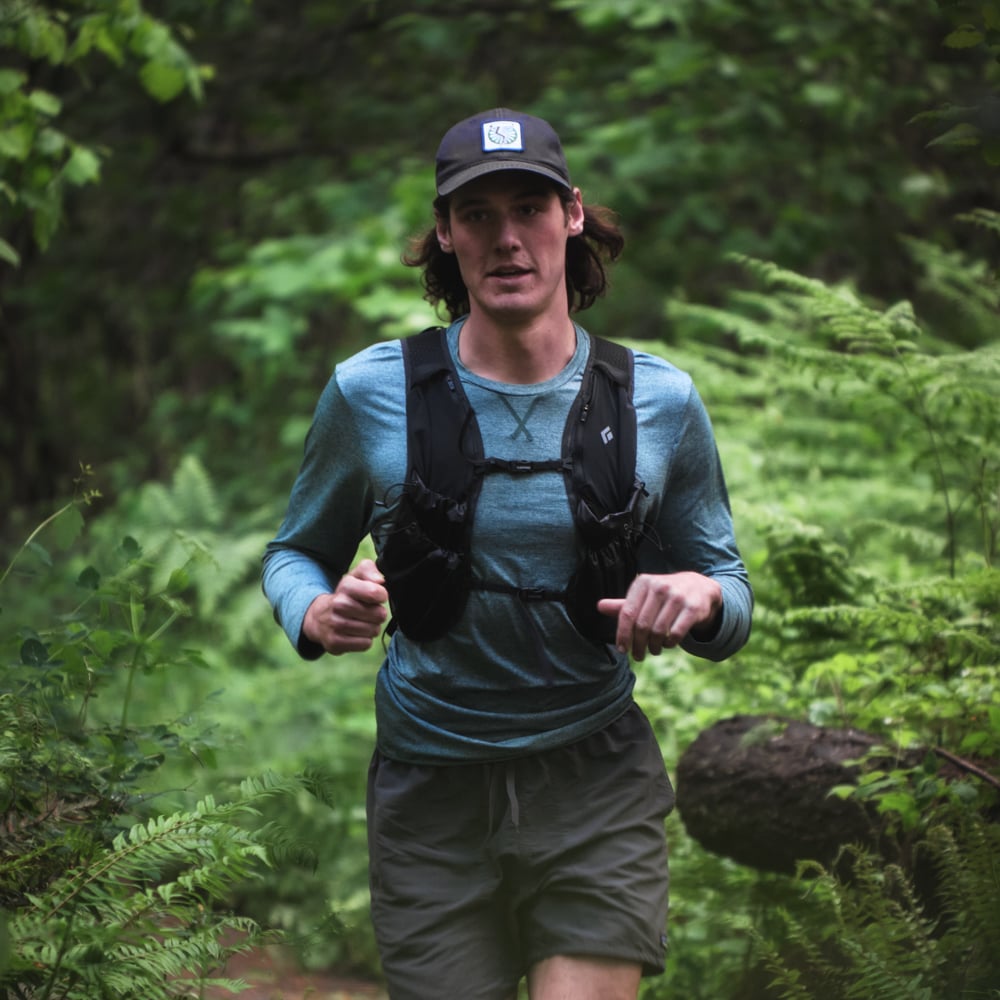 Sam is an adventure photographer, mountaineer, and backpacker that learned to crawl down a trail before he could walk. With aspirations of using his degree in marketing to work within the outdoor industry, Sam hopes to help promote more sustainable initiatives for outdoor companies. In his free time, Sam takes to the mountains in whatever capacity the weather allows, usually with a camera in one hand, and a Cliff bar in the other. Sam always loves to connect on Instagram at @swbugas.