ProView – Ultimate Direction Women's Hydro Tight
Don't be THAT person who runs with their phone in their hand the whole time. I've been there, done that, and I'm here to tell you that you deserve better. UD's new Women's Hydro Tights combine silky soft leggings with ample running storage so that you can carry your phone, keys, nutrition, and even two included water bottles for those longer runs.
Ultimate Direction Women's Hydro Tight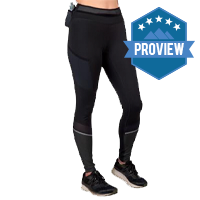 Product Description: Introducing the most comfortable way to run with gear and water in cold weather. Using our patent-pending built-in storage for water bottles and essentials, the Hydro Tight never rides up or bounces. They're also more breathable than pairing a running belt or vest with traditional bottoms. Versatile design allows the Hydro Tight to be worn with or without water bottles.
Offer price: $129.95
Quality

Fit

Durability

Features
Summary
These leggings have easily become a staple in my running gear rotation. They're silky smooth and look sleek. However, I do recommend going up a size up. The waist adjuster is sweet once the leggings are on, but it's a bit of a squeeze to get it up above the hips.
Pros
Stylish
Super soft material
Comes with 2x 300ml water bottles
Pockets galore!
Cons
Runs small
Hard to get waistband up over hips
Logo on back pocket/left hip chip away after first wash
If you know anything about me, it's that I love shorts. I typically dread wearing pants or leggings because they feel constricting, but when the temps are low, I like to wear the comfiest leggings I can find. With that in mind, I low-key love these leggings because they're so flattering and I love the design.
I put these leggings to the test on a few occasions. I'm currently training for a full trail marathon in August so on Saturdays you'll find me out and about getting my long runs in on the trails. I also run Spartans and love to sign up for running races on a whim.
My first go with them was at North Table Mountain in Golden where we cranked out 8 miles and 1,165 ft of elevation. It was a beautiful morning. A little chilly, but the sun came up and warmed us up on the descent. I typically don't carry hydration with me for anything in the single digits, but decided to fill up one of the included hydration bottles for a test run. I wore them again on a few hikes without the water bottles and they were pretty incredible.
Fit/Comfort
I'm 5' 7", 145 lbs, and usually wear a small in most brands of leggings. I received these in a size small, and I couldn't even get these around my thighs (yikes). I ended up having to size up to a medium and even then, the waist adjuster was tight and hard to get up over my hips. Once they're on, they're dreamy and so comfy, but I'll be honest when I say I dread going to the bathroom because it feels like I'm going to rip the waistband every time it goes over my hips (hasn't happened yet!).
Look/Style
I love love love the look and style of these leggings! They don't scrunch in weird places and even after a few washes, they maintain their elasticity. The reflective bands around the calves are awesome and add a little eye-catcher.
Features
Center back pocket is spacious and has a small velcro latch. I almost wish it was a stretch band or something a little tighter. My iPhone X was bouncing a little, but I'm sure with a few more adjustments, it could work better. The thigh pockets are a huge plus. I don't like having my phone on one side because of feeling imbalanced, but the mesh is sturdy and was perfect for wrappers and my mask
The included water bottles are awesome, but after about 4 miles on the trail, I noticed that the pocket where I put the bottle was a little wet. I tried tightening it, but it definitely leaked a bit. I also found it a bit difficult to put the bottle back into the designated pocket while running.
Function/Performance
After wearing these leggings on a few more runs and hikes, I definitely recommend them for outdoor activities. They don't slip down and you barely notice them when you're running. They're not the perfect running belt replacement, but they're close. I still find myself using my Salomon Pulse running belt on top of these because it's tighter and keeps my phone from bouncing.
Durability/Construction
So far, so good. I haven't taken any nasty falls in them yet so I'm curious to see how they hold up in that situation, but I've taken them on some long, gnarly trails, and they're holding up great. The only thing that I've noticed that I'm pretty bummed about is that the logo print on the back waist and left hip are chipping away (bummer because they look sweet!).
Friendliness to the Earth
When I looked into Ultimate Direction and their "About" Page, I was excited to see that they did have a section on the environment. They mention recycling/composting in their office as well as contributing to the Conservation Alliance. They also mention utilizing their products in order to eliminate disposable bottles.
The Final Word
These leggings have easily become a staple in my athletic wear collection. Once you get the right size, they fit so well, don't slip down, and look great! I'm not convinced that they're the best option for replacing your running belt, but with a few tweaks, UD is close!
Shop Ultimate Direction Women's Hydro Tight on Outdoor Prolink. Not a member? Apply today!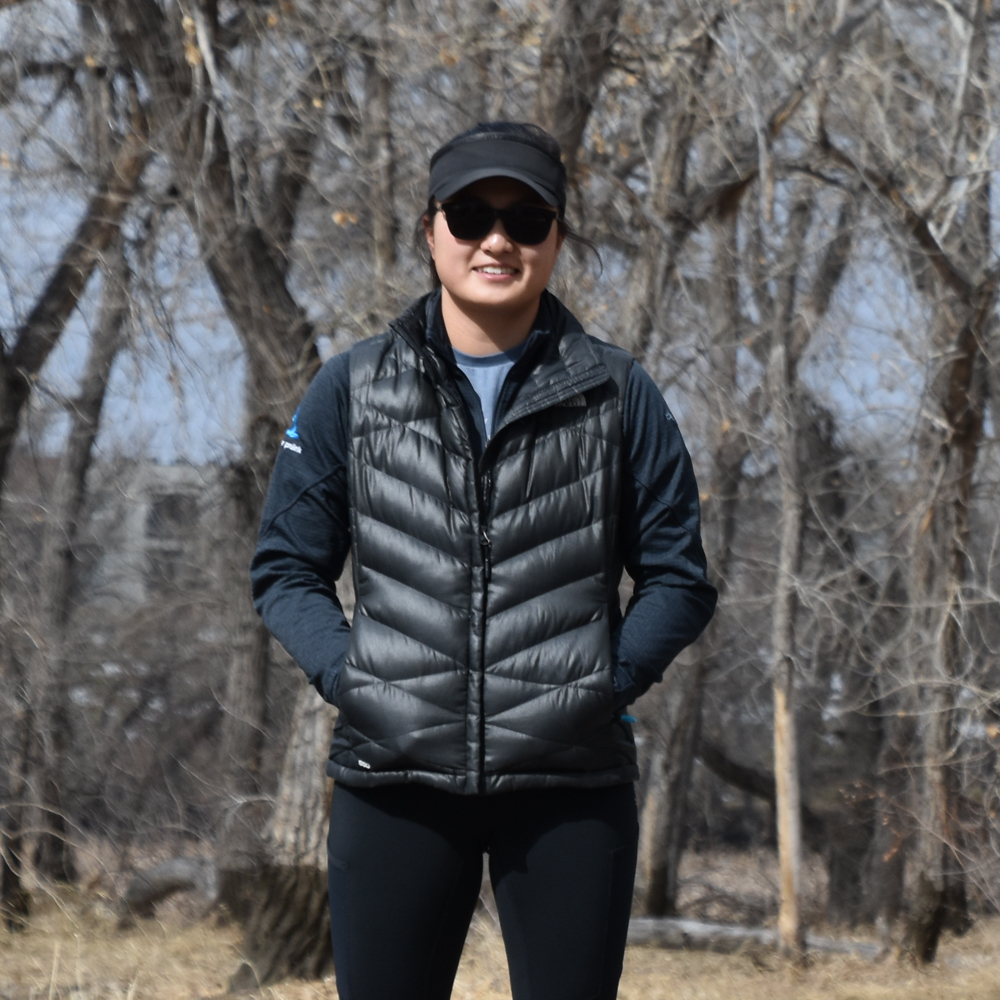 Seiyoung Lee is a Membership Coordinator at Outdoor Prolink. She comes from a history of working in outdoor events and can't get enough of the outdoor industry. You can typically find her running on some trails, snowboarding in the Rockies, travel backpacking, or laying on the floor with her dogs. Find her on Instagram @saywhat_seiyoung.