Summer Trad Climbing Destinations
It's heating up! Summer is in full swing and trad climbers everywhere are hunting for shady crags and cooler temps. Fortunately for everyone everywhere, there are tons of places to go trad climbing in the summer where you can avoid the sweltering heat. Take a trip to one of these ideal summer destinations, or just drive your van there and set up shop for the next two months. Either way, it's time to get after some granite!
The Eastern Sierra (Pictured Above)
Photo Credit: Kate Sabo
Holy granite batman! If you like stunning approaches, pristine alpine lakes, wildflowers, and of course, high quality granite cracks, then the Eastern Sierra is for you. Just drive towards highway 395 and park anywhere. The Eastern Sierra is positively exploding with high quality granite alpine climbs. If hiking long distances isn't your thing, you can also head to Pine Creek Canyon (beware there is also sport climbing there) or Patricia Bowl. The list doesn't end there; Lake Tahoe, Truckee, Yosemite Valley, Tuolumne, and even Bishop are all bursting with excellent trad climbs. The Eastern Sierra climbing is stunning and endless, you could spend the rest of your life trying to do all the climbs and you'd never get to them all. This summer, point your vehicle towards California and break out the ultralight cams! It's time to go alpine climbing.
Vedauwoo, Wyoming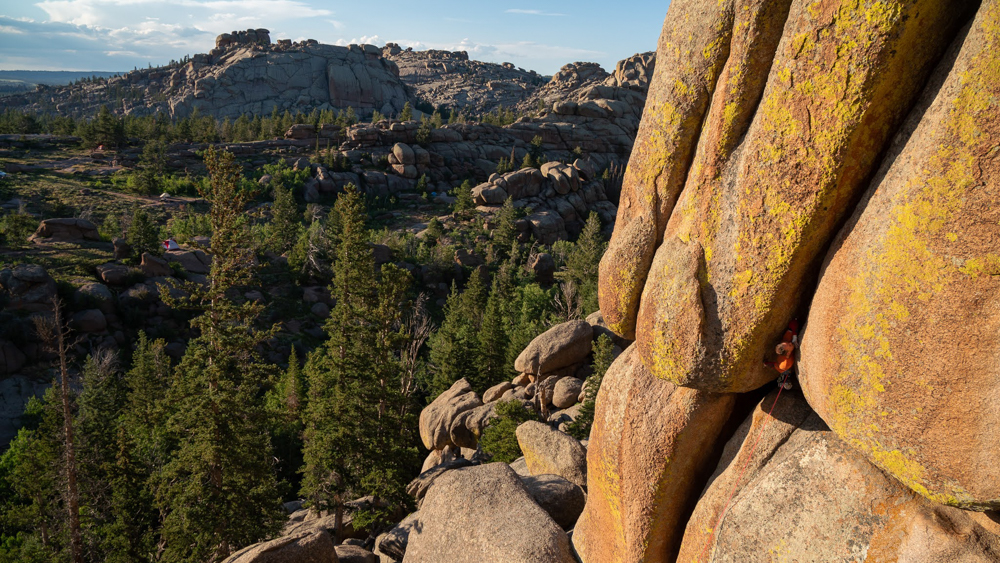 How do you feel about wide cracks? How about heinous sandbags? How about free camping and uncrowded crags? The highly underrated Vedauwoo National Recreation Area is a place where you can find hard climbers, stunning sunsets, carpets of wildflowers, and the occasional moose. It's much cooler (literally and figuratively) than the cragging in Colorado, and is only a short drive from a few major cities. Vedauwoo is known for its hard and grueling offwidth climbs, but you shouldn't discount the finger cracks out here either. This is the most sandbagged place I've ever climbed, so if you need practice leaving your ego at the door, then this is the place for you. I make it sound scary, but in all honesty, the climbing is technical and burly, but you'll get full value out of each and every one of your climbing days. It's fun to push yourself, enjoy the voo!
Squamish, British Columbia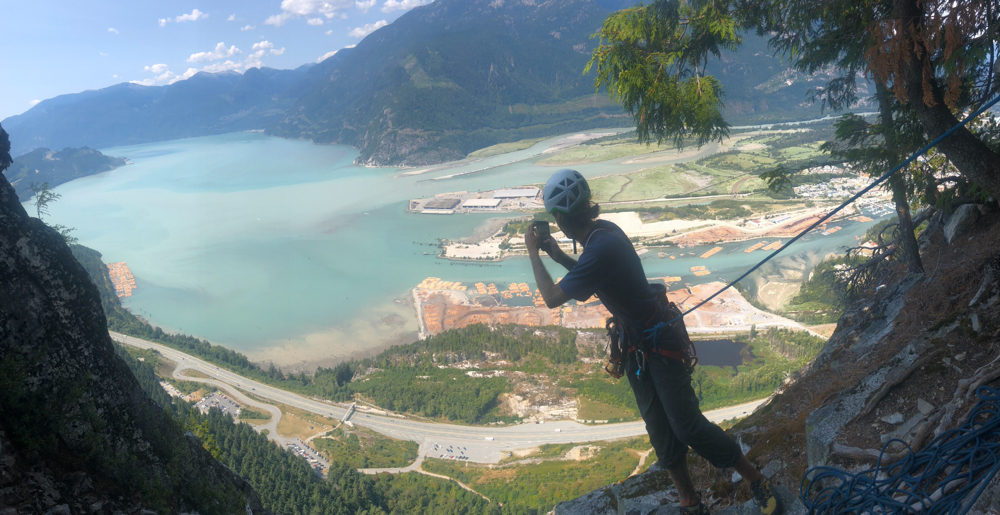 Squamish, British Columbia, is a good time through and through. The approaches are fairly short, the climbing is technical yet safe, and the views from The Chief are unmatched. Once Americans are allowed back across the border, I highly recommend checking out Squamish for a summer trad climbing destination. There are tons of single and multi pitch climbs with both bolted and trad anchors. If you need practice placing gear, or if you want to project harder trad lines, Squamish has both in abundance. The camping situation has recently been a bit testy, so please respect local ordinances and boundaries.
Index, Washington
Don't tell the locals I sent you, but the granite climbing in Index is some of the best in the world. A word of warning to the beginning trad leaders, this place is not for you. The climbing in Index is stout with some significant runouts and tricky gear. If you are trying to get your trad legs under you, this is not the place to do so. However! If you are a confident trad climber who loves splitter and sticky granite with a unique climbing style and a backwoods vibe, then this is your paradise. As Index is still a newer crag, please mind your trash, your human waste, and (of course) your pets.
Grand Teton National Park
Moderate Alpine Climbing with a stellar view? Yes please! The Grand Teton National Park is treat for those who want to get more alpine climbing under there belt. The tetons have everything from huge scrambling days, to hard and serious trad lines. You'll need to get a permit if you want to camp inside the park, which most people do when they plan on climbing in Grand Teton National Park. This place can be a common spot for folks trying to do their first alpine routes, which is great! However, I want to encourage folks to really understand their climbing systems before heading out there. The alpine can be dangerous and going slow can sometimes be deadly. Pick a route that is well within your ability levels, go with someone you trust, and give yourself plenty of time, food, and water. But most of all, have fun!
Where else?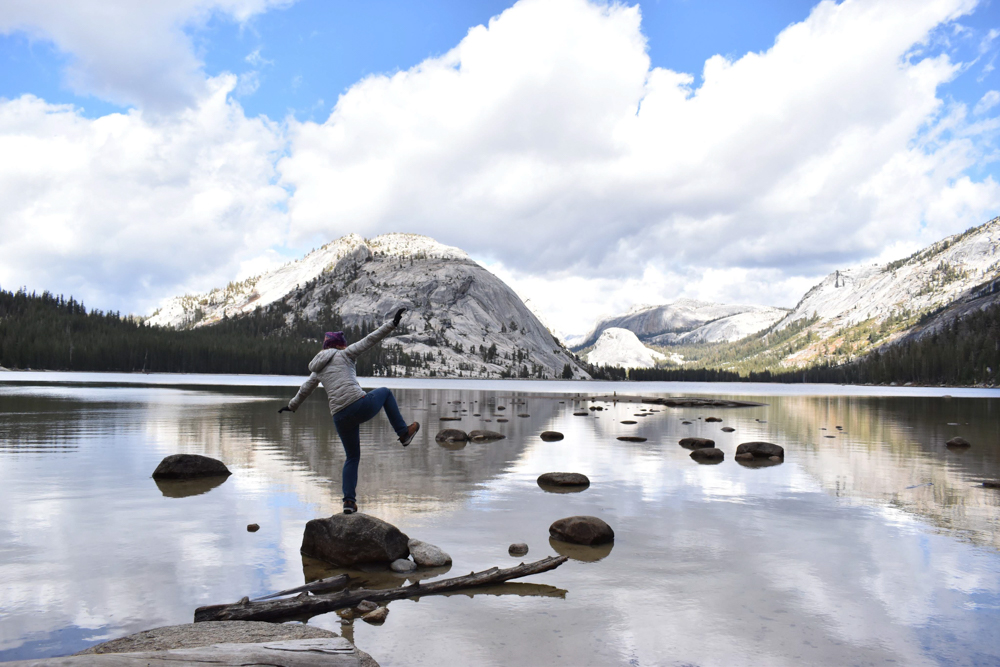 These are only a few of the stellar trad climbing destinations out there for summer temps. You can find high quality granite cracks all over the country, but in general, the farther North you are, the better the temperature will be. Where are you climbing this summer? What's a good place for trad climbing when the days are long and the nights are warm? Let us know down in the comments!
Kaya Lindsay is a writer, photographer, and filmmaker with a passion for rock climbing and the outdoors.
In 2016 she converted a Sprinter Van into a tiny home and has been traveling around the US & Canada to pursue her passion for rock climbing. Since hitting the road she has begun a career in filmmaking and is currently working on her One Chick Travels series, highlighting solo female travelers who live and work to pursue an adventurous lifestyle. Her films have been highlighted by major brands such as Backcountry and Outside TV. To fulfill her passion for writing, she chronicles her many adventures in her blog. Professionally, she writes for the adventure sports company Outdoor Prolink and The Climbing Zine. Kaya hopes to spend many more years in her tiny home on wheels, Lyra, and is currently living in Moab Utah.