The Coolest New Climbing Gear That Came Out of OR
Outdoor Retailer is a huge tradeshow where outdoor brands get to showcase their gear for the new year. I walked the floors this June looking for the coolest new climbing equipment I could find. In the end I came up with five items that really peaked my interest. This is a list of the coolest new climbing gear that came out of Outdoor Retailer.
The Incubator Bouldering Pad by Ocun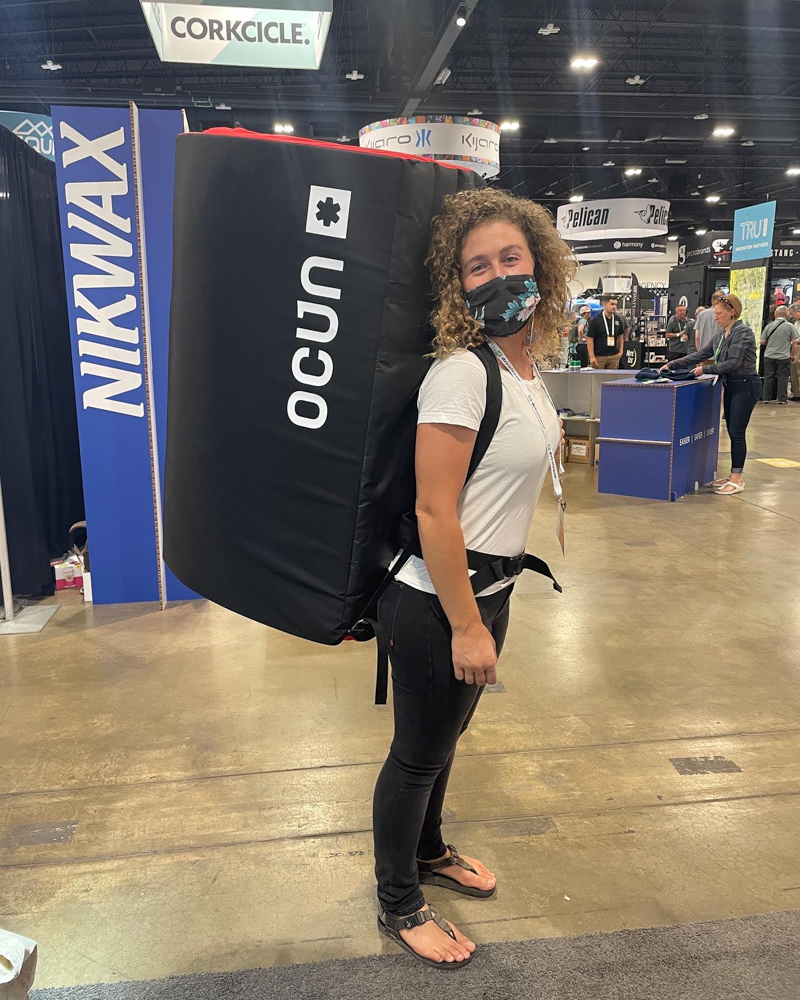 Ocun has, for a long time, been known for their crack climbing gloves and not much else. It's a crying shame that more folks don't know about the rest of their climbing line. I stopped by the Ocun (also, I learned that it's pronounced OH-TSOON) booth this year and took a gander at their absolutely massive bouldering pads. The one that really took my breath away was the Incubator. This pad is huge. Like really huge. It's longer than any pad I've ever seen before, but folds up much smaller than others of similar size. The pad has four folding points, and instead of sandwiching in on itself, it wraps itself like a burrito and makes for a much more comfortable (and compact) carry.
The hip belts and shoulder straps are sturdy and comfortable as well. Inside this pad is their "FTS" technology, or FTS Absorption — cylindrical Foam Tub Suspension (FTS) that increases the padding, absorbs more impact when you fall, and reduces weight for your approach.
These pads are not yet available in the US, but will be heading our way either late 2022 or early 2023. The Incubator is high up on my list for new year purchases.
The Generator and the Generator Mid by Scarpa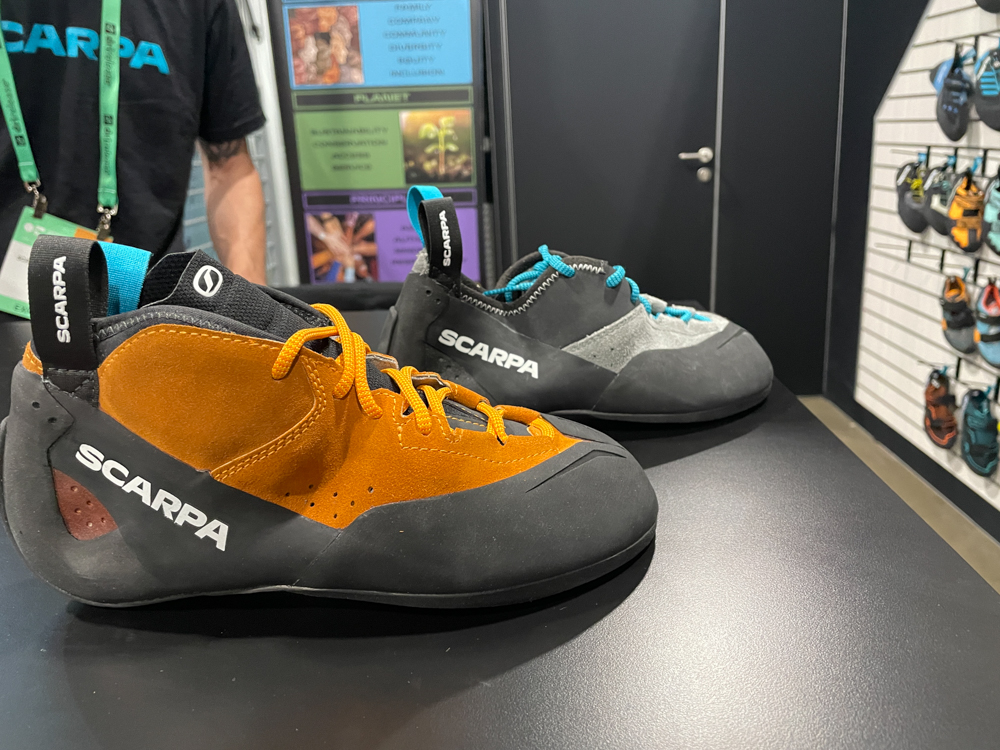 I don't want to compare shoes too much, but we can't talk about trad climbing specific shoes without talking about the La Sportiva TC Pro. For years it has dominated the market as the trad climbing shoe. In the last few years I've seen a lot of brands begin to tiptoe (pun intended) into the trad climbing shoe market. With the release of the Adidas 5.10 Grandstones a few years ago, and a whole line of trad shoes from Butora, we really started to see the need for more diverse types of trad climbing shoes.
While walking by the Scarpa booth, I spoke with one of their representatives who told me about their prototype for a trad specific shoe: The Generator. This high top shoe has padding around the ankle bone, sturdy lace protecting slots, high coverage rubber around the toe box, and a much less aggressive sole than the gym climbing shoes they are known for.
This shoe comes in a low top model as well, for folks who want something a bit lighter. If the name is to imply anything–Generator Crack is a hard offwidth in Yosemite–then I am excited to see how these shoes play out in a real world environment.
They will be coming to a climbing store near you by March of 2023.
SheFly Pants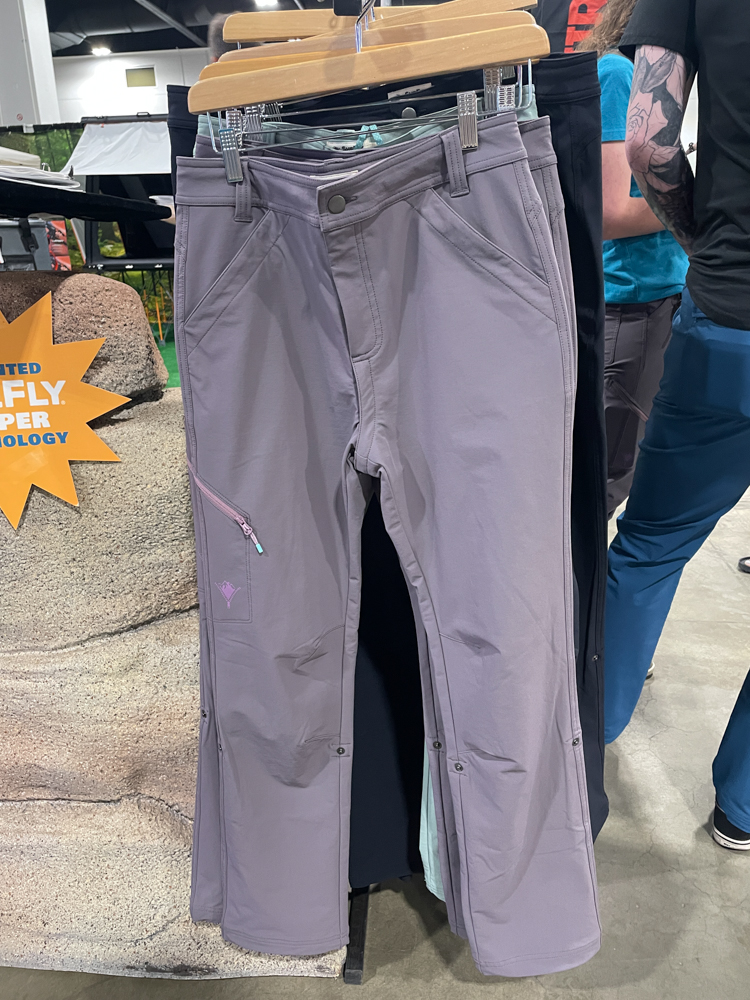 This is probably the product I am most excited about from the entire OR show. The SheFly pants are a woman owned and operated company who make a pair of pants with a patented "pee zipper" that runs from the front of the pants to the back. It allows you to squat and pee outside without taking your pants off!
I got to try on a pair of the pants (yes I'm in the women's restroom, no I did not actually use them for their intended purpose), and not only were they super comfortable, but super cute! They have multiple, deep, zippered pockets, the fabric is stretchy and durable, and I cannot wait to try these on with a climbing harness!
As a person who wears a climbing harness for many hours during the day, I can tell you that peeing discreetly is a challenge. The SheFly pants are going to revolutionize my long multi-pitch days.
You can currently buy the SheFly pants on their website, and they are working on a pair of leggings and shorts as we speak.
Wool Aid Merino Wool Bandages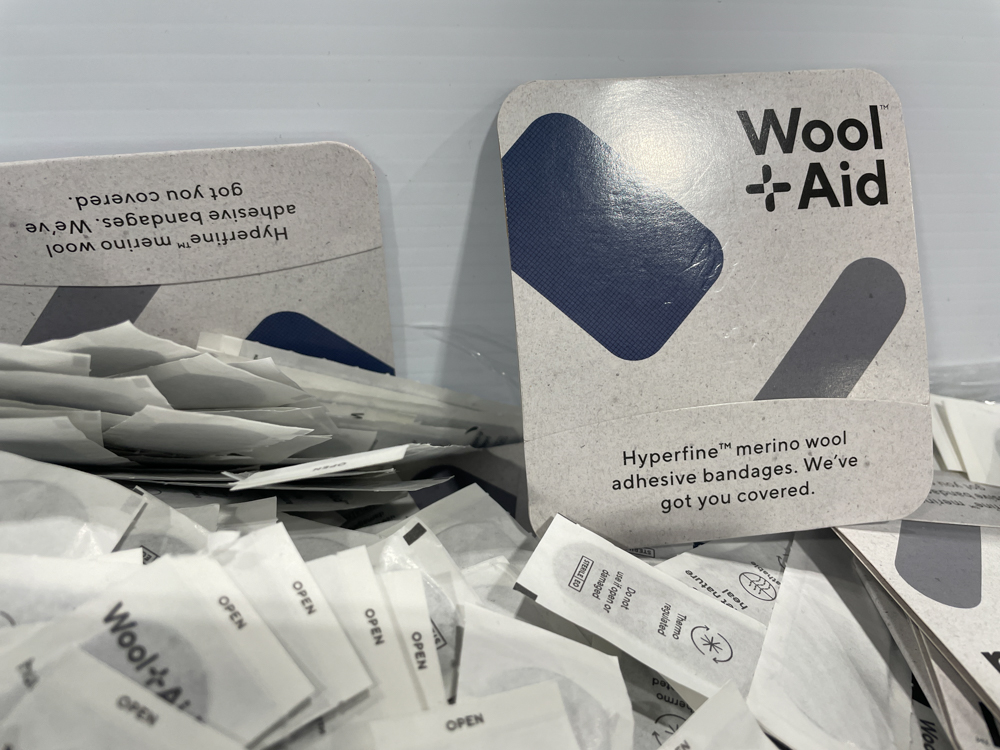 This product is not technically a climbing specific product, but as someone who is nearly always nursing a minor flesh wound from climbing, I am really excited for this sustainable and tough bandage.
The Merino Wool Adhesive Bandages, known as Wool Aid, are a sustainable solution to bandages. I go through a massive box of bandages every few weeks during peak climbing season, and I love the idea of reducing my plastic consumption in this way. The Wool Aid bandages are flexible, comfortable, and come in a variety of nice colors; pink, black, gray, navy, and a nice denim color. They have individual finger bandages and larger bandages for bigger wounds. This is perfect for offwidth scrapes and abrasions.
Currently they are not available for purchase, as they are a New Zealand company, but will be available online towards the end of the summer. You can find out more about them on their Instagram at @WoolAid.
Rope Brush from Edelweiss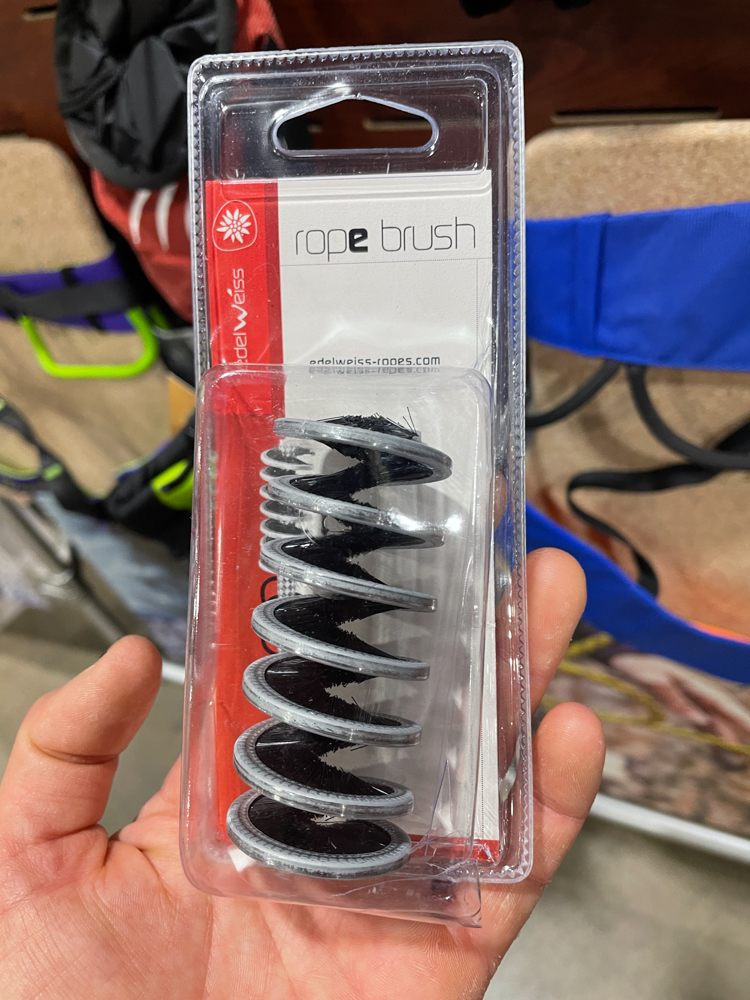 Ok, this one isn't new, but it is new to me!
I hadn't seen this style of rope brush before, and I'm really excited about it. The corkscrew pattern allows you to run your rope through one end, and brush away the dirt and grime while you flake your rope.
You can order these babies online at their website, or likely anywhere that sells ropes, since I seem to be the only one who didn't know these existed until now.
That's a Wrap!
In the end, there's a lot of cool things coming to the climbing community in the next year. I'm seeing a big shift into more trad specific equipment, and more sustainable items for consumers. The outdoors is expanding, and with it, the kinds of people who recreate. I love the SheFly inclusive mission for helping create easier outdoor access through their clothing, and I love the Wool Aid push towards a more sustainable future.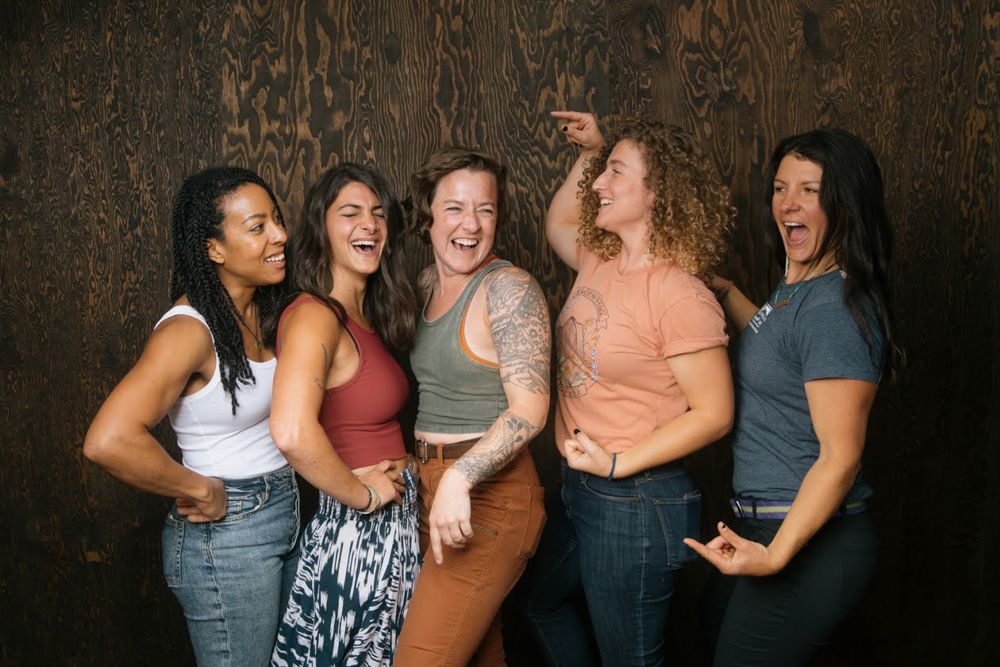 Here's to many more Outdoor Retailer shows and all the ways the industry is expanding.
Photo credit: Kaya Lindsay
Kaya Lindsay is a writer, photographer, and filmmaker with a passion for rock climbing and the outdoors.
In 2016 she converted a Sprinter Van into a tiny home and has been traveling around the US & Canada to pursue her passion for rock climbing. Since hitting the road she has begun a career in filmmaking and is currently working on her One Chick Travels series, highlighting solo female travelers who live and work to pursue an adventurous lifestyle. Her films have been highlighted by major brands such as Backcountry and Outside TV. To fulfill her passion for writing, she chronicles her many adventures in her blog. Professionally, she writes for the adventure sports company Outdoor Prolink and The Climbing Zine. Kaya hopes to spend many more years in her tiny home on wheels, Lyra, and is currently living in Moab Utah.