Choosing Your Next Rab Sleeping Bag – Cozy Cocoon or Shiver Bivvy
A good night's rest can make or break a day of adventure; therefore, sleeping bags matter. Ever wake up shivering cold wondering why you ventured outside to begin with? Tried shoving a heavy bag into your pack to barely have room for your sleeping pad and food? Have you ever tried to perform at your best mentally or physically after a night of poor sleep? It likely didn't go as well as it could have. Performing at a high level or simply being in a pleasant mood is much more likely after a quality night of rest. An appropriate sleep system for the style of camping you're doing is a major factor in how the experience pans out.
As a backpacking guide, backcountry skier and adventure athlete, I've spent many nights in the wilderness sleeping under the stars, nestled in mountain huts, and bivvying in my truck camper. Leading groups of people in the mountains and the desert for multi-day adventures, I hear a lot of feedback from folks about how the gear they used has affected their trip for better or worse – especially sleeping bags.
The goal is to choose a bag that's the optimal weight-to-warmth ratio for the type of adventure, environment, and climate you're in. For example, I would take one type of sleeping bag for an overnight winter camping adventure, a different one for a high alpine backpacking trip in the fall, and another type for a midsummer desert car camping trip. How do you know which one to choose?
This article is a guide to assist the decision making process of choosing the best Rab sleeping bag for your outdoor goals so you can happily wake up from a cozy night of dreaming, enjoy a cup of coffee, and charge into the day feeling energized.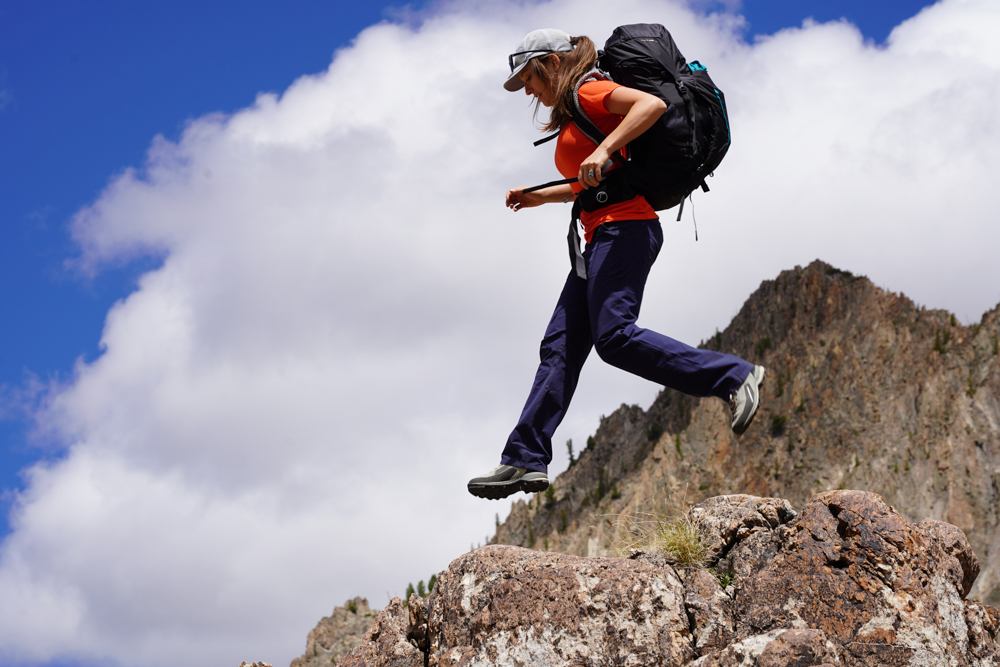 I did a deep dive into the Rab Lab to understand the design and construction of sleeping bags to help choose my next one.
"A sleeping bag enables us to explore and experience the world in an extraordinary way. Keeping us warm and comfortable when we need to rest and packing down small when we're on the move." – Rab Lab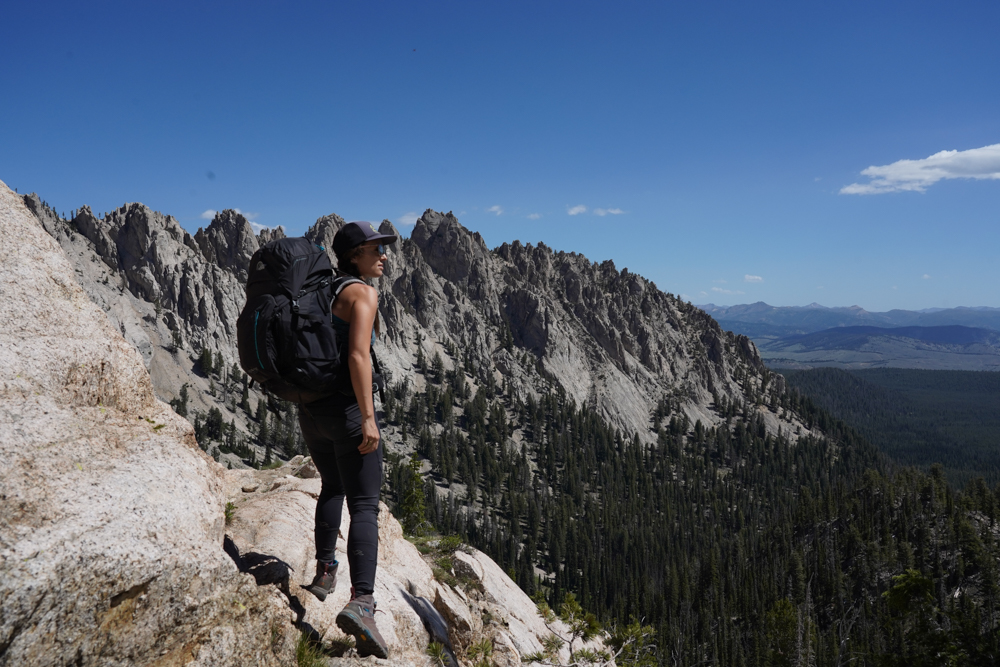 How to Pick the Right Bag
We want to find the bag that weighs the least while also being warm for a good night's rest. There's a sweet spot for each bag. If you're on a budget, it's worth doing some research to find the bag that will check the boxes for the majority of your adventures, while staying within your financial considerations.
What Are Temperature Ratings?
Temperature Ratings are used instead of seasonal ratings because Rab sleeping bags are used in a variety of climates from Antarctica to the UK to the southern Utah desert and beyond. The temperature ratings are generally described as the Comfort, Limit of Comfort and Extreme rating. The ratings are used as an overall guide. These refer to the quality of sleep based on how insulating the bag is.
Comfort is calculated for someone sleeping in a relaxed position getting a good night's sleep
Limit of Comfort is a person in a curled position fighting the cold while sleeping through the night
Extreme is rated on a minimum temperature someone can remain in for six hours really fighting against the cold.
I certainly prefer to use bags rated for Comfort! Our bodies are all very different. What one person needs for a good night's sleep is not necessarily the same as another. As well as the mat you're sleeping on, the conditions and how many layers you're sleeping in. You also need to account for factors like how much food and drink you've consumed.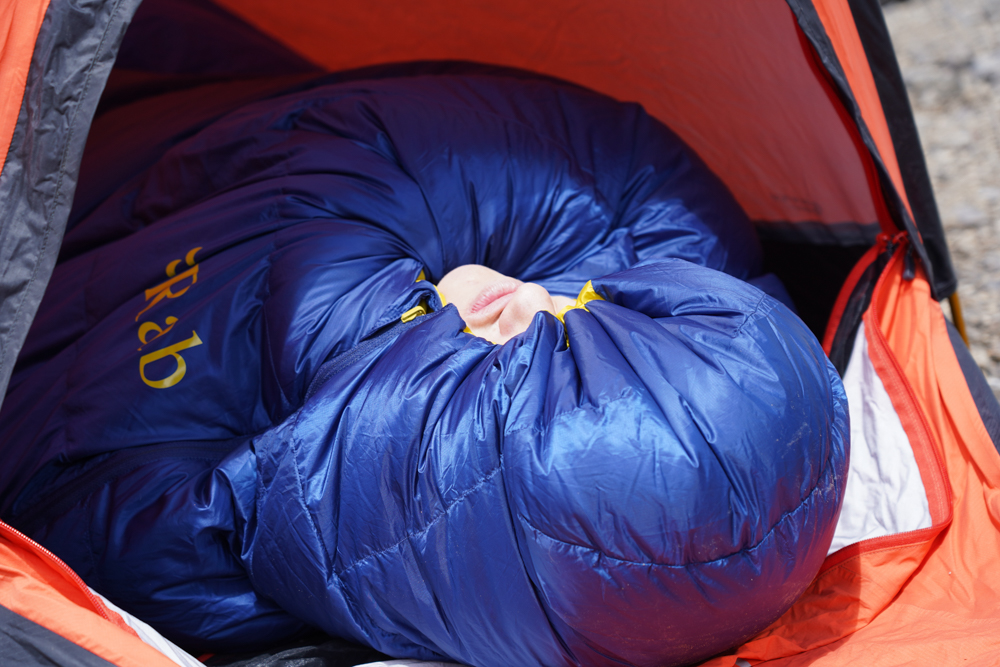 Sleeping Bag Features
Here are a few features of Rab bags that may help you get a good night's sleep.
An Angled foot box allows extra room around your toes
The neck and shoulder baffles with an adjustable drawcord help achieve the perfect fit and retain heat inside the bag (and keep bugs out!)
An insulated zip baffle stops any warmth from escaping
Most bags have an internal zip pocket to keep items such as batteries or a phone warm – really helpful for hearing your alarm for an alpine start!
What's the real difference of women's bag versus a standard bag?
Because women generally have a lower skin temperature than men, the Rab women's bags are tailored to accommodate this. The women's bags contain the same amount of down as the standard bags, but are shorter in length. The down is redistributed around the foot box and the central torso to help with temperature regulation. The women's bags also have a different cut to accommodate the female form. They're slightly narrower around the shoulders, winders around the hips and smaller in the foot box. These adjustments boost comfort and eliminate dead space making the bag more thermally efficient. If you're going for the women's specific bag, be sure the listed height matches your body type.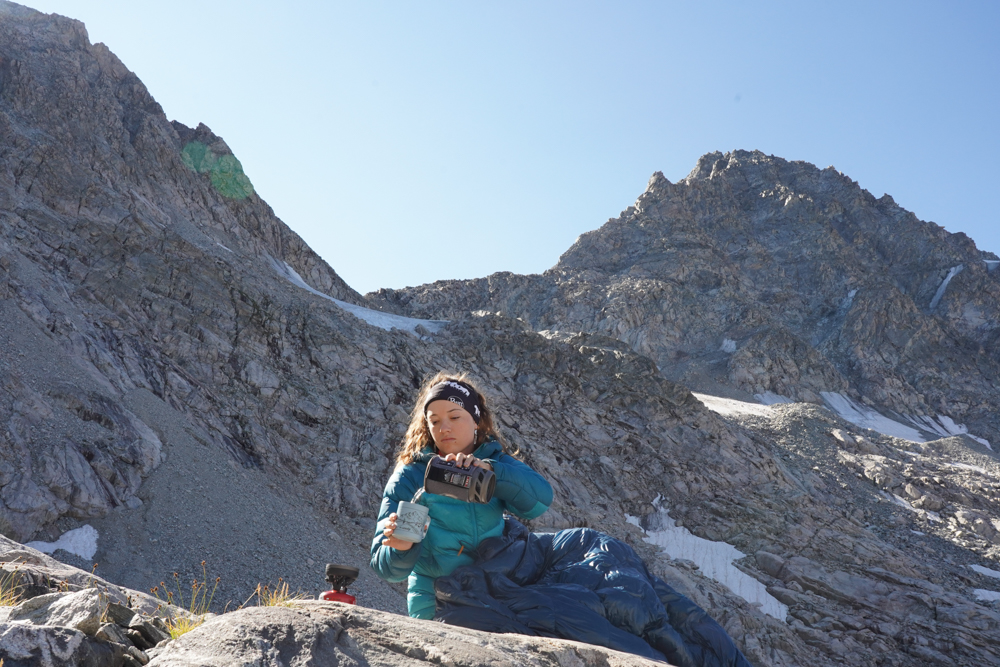 Now you may know what temperature rating you're looking for, what does all the technical lingo mean that differentiates the many bag options. To help decipher the details, here's a summary of how Rab describes the construction of their bags.
What's inside the bag?
As the masters of insulation, these bags are filled with down or synthetic quilting. Of all the insulations, down has the best warmth-to-weight ratio.
Both down and synthetic fibers work in a similar way by trapping air within their structures. Synthetic insulation is completely man-made from polyester with different sized filaments intertwined to create air pockets that insulate you from the cold. Benefits to synthetic are the strength and resilience, light weight, fast drying, and it's effective in damp conditions. Each material has pros and cons based on the location, activities, and conditions you expect to encounter.
Down offers unrivaled warmth for weight and is highly compressible and packable. Down is composed of the fluffy clusters that are found underneath the tougher outer feathers of ducks and geese. These create tiny air pockets that trap warmth and keep out the cold from the surrounding environment. The more air the sleeping bag can trap, the warmer you will be. With quality and ethics as an integral part of Rab's heritage, every stage of the process sourcing down is certified by the Responsible Down Standard.
All the down in the sleeping bags is processed with a PFC-free hydroponic down treatment. Down is innately water repellent, but will lose its insulating properties when saturated with water. The hydrophobic treatment helps protect the down from saturation in damp conditions, preserving its lofting ability and insulation properties and is less susceptible to microbial action which can weaken the materials.
Fill Power rating gives an indication of warmth. It measures how well the down lofts and how much air it traps.
Fill Weight is the total amount of down used in the products and can be one of the largest influences on the overall warmth.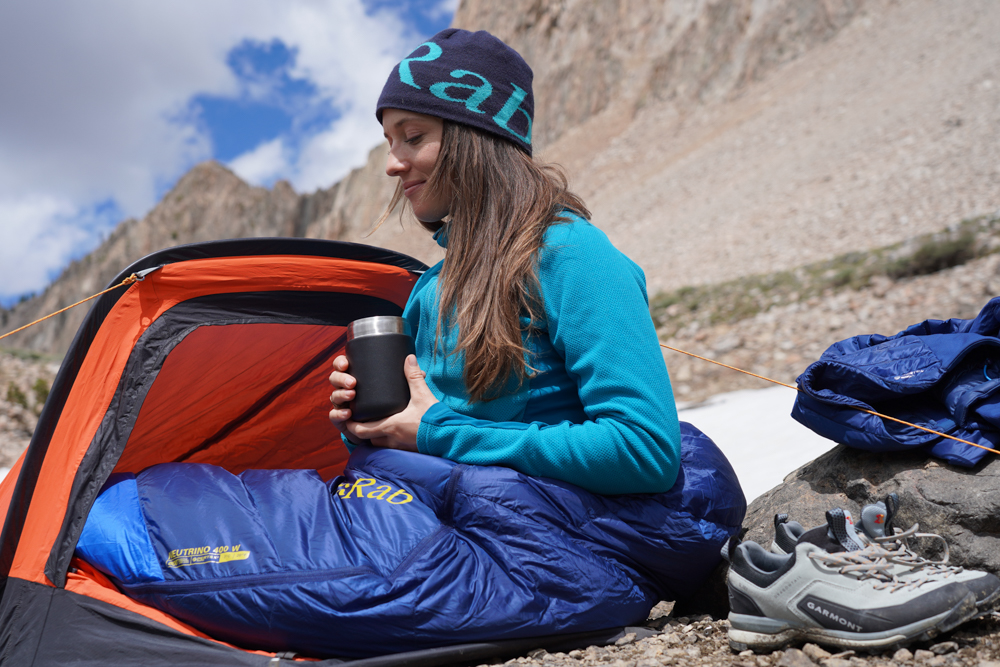 Down needs to be strategically contained within small compartments called baffles to hold it in place and trap the air that keeps you warm. These compartments are made where the outer and inner fabrics are sewn together to create pockets or chambers. Box wall construction method separates the inner and outer fabrics allowing the down to fully loft, maximizing the air that is trapped, increasing the warmth and eliminating the cold spots.
Rab designers refine the distribution of the down in each baffle to deliver different levels of warmth to certain areas working with body mapping. A greater percentage of the down is generally found around the torso and in the foot box.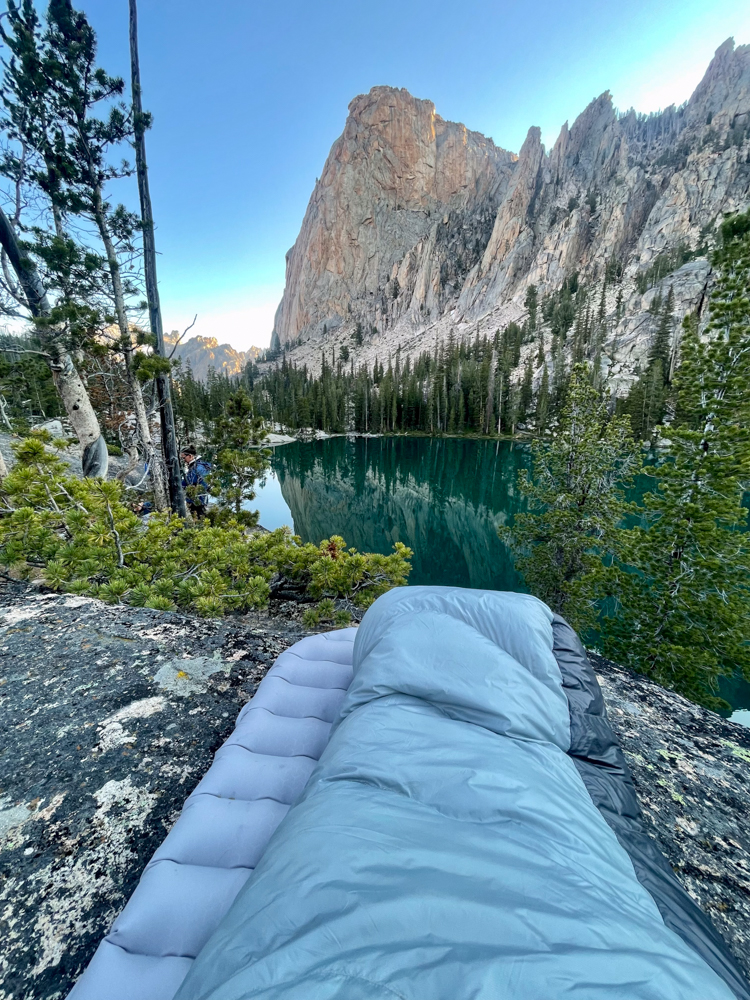 Sleeping Bag Shape
Sleeping bags come in different shapes with each one honed to the bag's intended activity.
Tapered Mummy is the narrowest shape which eliminates 'dead space' making it as thermally efficient as possible. This shape compromises space, but maximizes performance and reduces pack size.
Wide Mummy shape maintains comfort with room around the legs, still increases thermal efficiency with the tapered leg compartment, but decreases the packed weight and size.
Extra Wide Mummy shape allows you to sleep in extra layers, such as the Expedition Bags designed for extreme cold environments.
Rectangular shape has an L shaped zip which allows the bag to be opened into a quilt or zipped together with another rectangular bag to form a double sleeping bag. The rectangle shape is all about comfort, space, and versatility.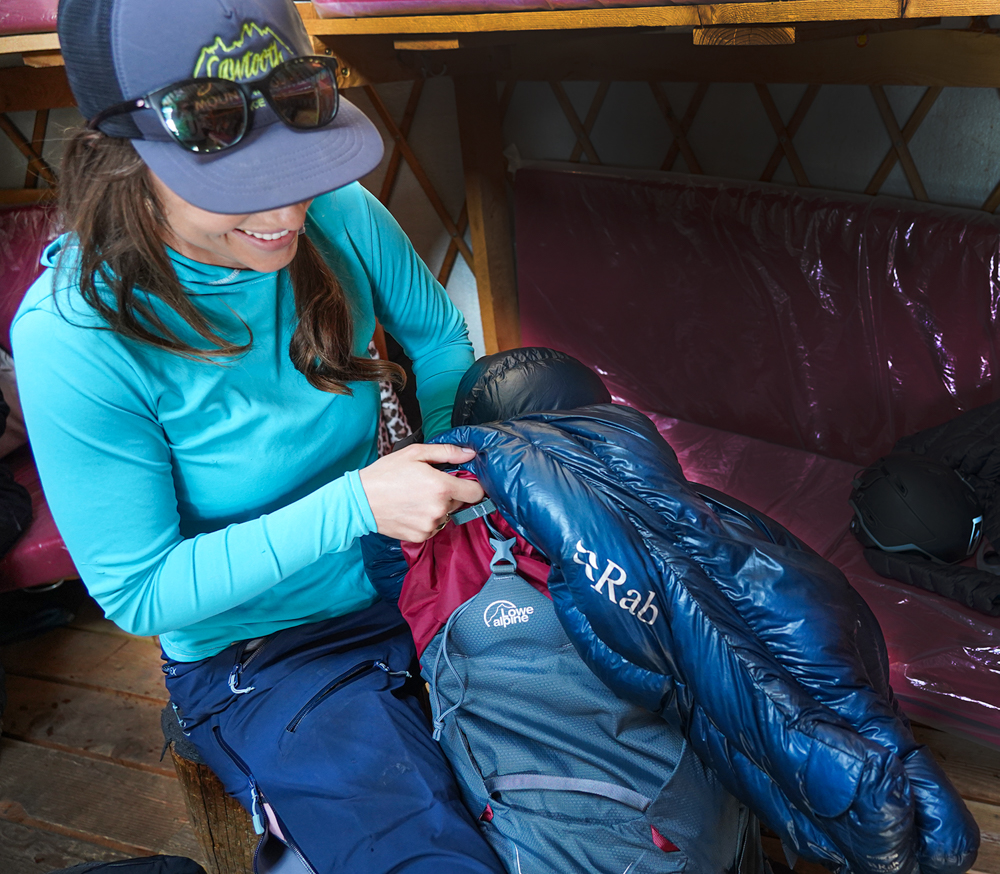 Fabric Material
Similar to technical outdoor clothing, fabric technologies play a key role. If you have a specific objective in harsh weather conditions, it's worth making sure the fabric of your sleeping bag fits the environment. Rab uses a variety of fabric technologies that each serve a purpose.
7D Pertex Quantum is exceptionally light and packable
Pertex Quantum Pro is weather resistant
Gore Infinium is for extreme protection
Atmos fabric is packable and fast drying, with high water resistance, it protects from the weather on mountain adventures.
TILT (see below)
The newest fabric addition is TILT which stands for Thermo Ionic Lining Technology and is a heat-reflective fabric treatment designed to substantially reduce radiant heat loss from the body without any compromise to pack size or breath ability. TILT is used in two different forms in sleeping bags; as a visible lining and as a scrim, layered within the bags construction. It works to reduce radiant heat loss reflecting heat back towards the body. More cozy nights? Yes, please!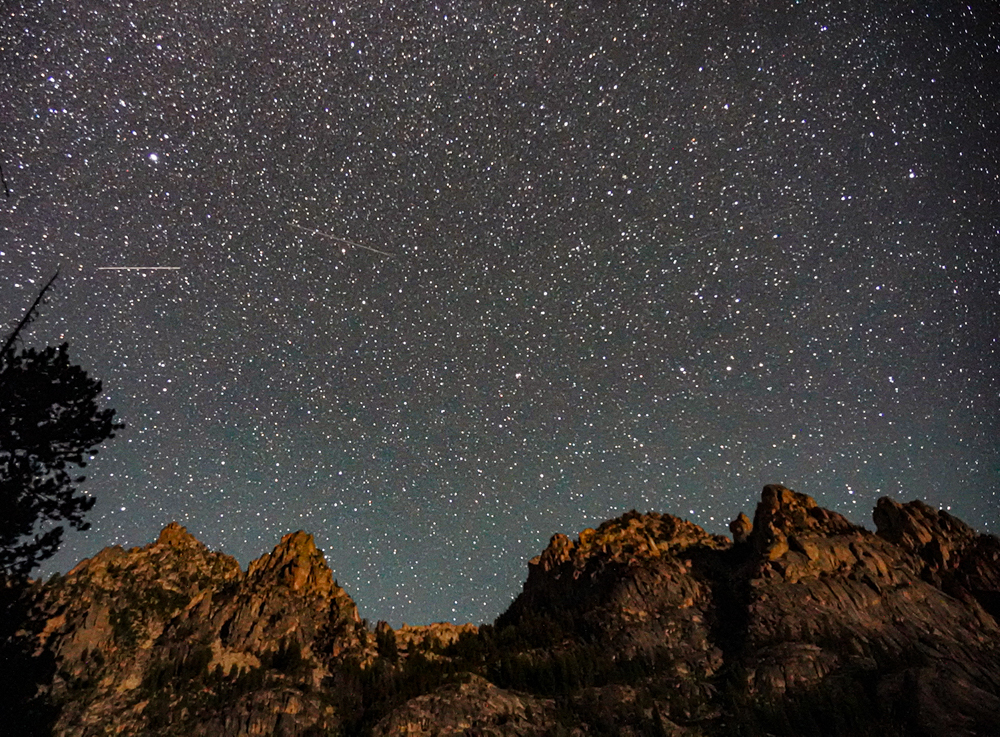 Final Thoughts
My personal advice is to choose a bag that will suit the majority of your adventures. If you're into multi-day backpacking trips, go with a lighter weight bag with a temperature rating similar to the place you visit most. If you're into winter camping, definitely get a bag that will keep you warm through the night. The decisions will then come down to weight and if you're packing the bag into a backpack or if it's a base camp. Perhaps you're only interested in car camping, then go for a slightly heavier bag with a shape that's most comfortable to sleep in.
This diagram should be helpful in determining which bag has the warmth-to-weight ratio for you. Narrow your choices down here, then dive into the details at the Rab Lab.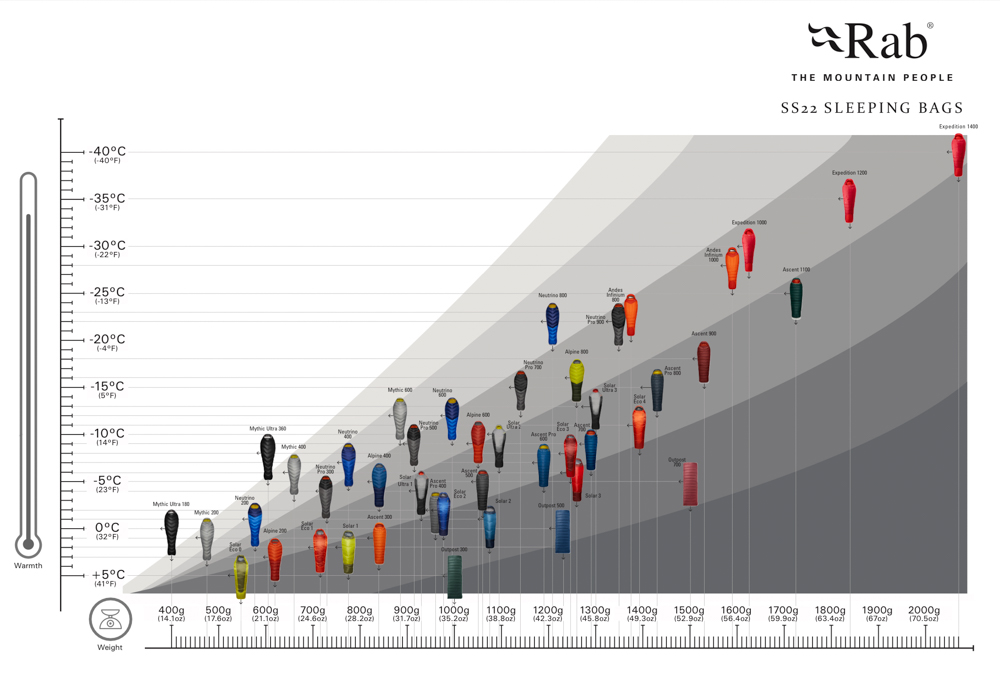 Whether you need a lightweight, packable sleeping bag with an excellent warmth-to-weight ratio for alpine climbing and mountaineering, or a warm, durable bag for regular camping, there are different sleeping bags built to keep you warm and comfortable, so you can recharge ready for tomorrow's adventures.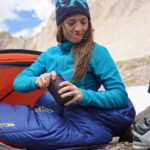 Based in Stanley, Idaho, Amy Jane David is an outdoor adventure athlete specializing in big mountain backcountry skiing, guiding multi-day backpacking adventures, and storytelling through photo and video content of time connecting with nature.