COVID-19 by the Numbers: How the Pandemic is Impacting Outdoor Industry Employment and Shopping Habits
With many outdoor guiding services, outdoor education programs, ski resorts and others forced to shut down early, celebrated programs like NOLS is laying off staff and canceling summer programs; retail shops are temporarily closed and many other outdoor programs are in limbo – the outdoor recreation economy is in a state never seen before.
We surveyed our members – verified outdoor industry professionals – to better understand the impacts of the pandemic on their employment status, spending habits and brand sentiments. Here are the key takeaways from the ~700 respondents.
36.2% of respondents have been furloughed or laid-off.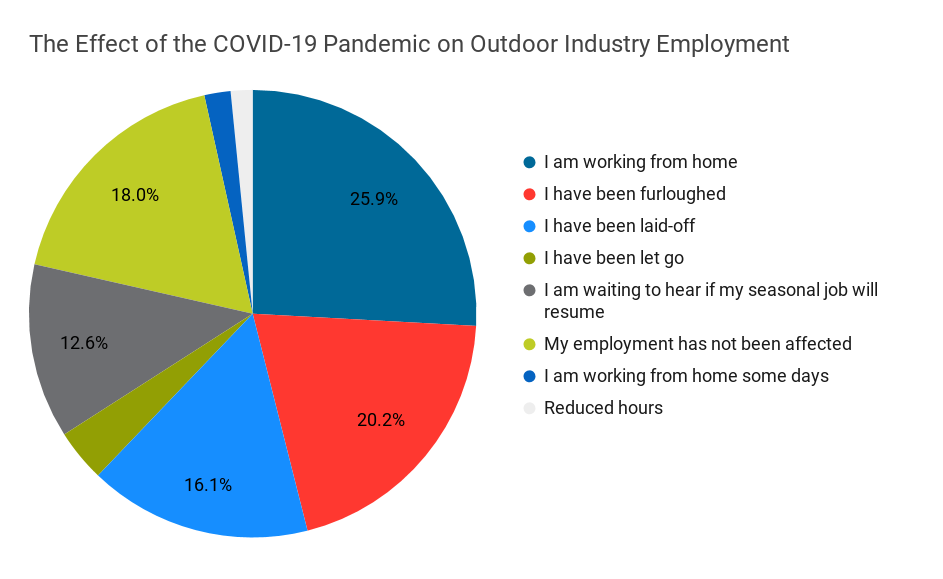 More than a quarter of respondents are now working from home and about 18% have not experienced any impacts to their employment. Just under 20% were laid off or let go entirely. When segmented by employment category, the following trends emerge:
Land and Resource Management – Those who work for the USGS, Parks and Recreation, EPA and other land and resource management organizations are mostly unaffected or working from home.
Outdoor Industry – Ski resort employees, climbing gym employees, and ski instructors have been subject to the lion's share of lay-offs and furloughs due to the closure of resorts and gyms.
Outdoor Brands – While some brands have gone through lay-offs recently, the majority of brand employees are working from home.
Guides – This group has had a mixed bag of impacts. Most climbing, rafting and other spring/summer guides are waiting to hear if their jobs will resume this season, while many winter sport guides have been furloughed. Others were laid off entirely.
EMS – Search and rescue professionals, firefighters and other emergency medical professionals were some of the only respondents who said their hours have actually increased due to the pandemic.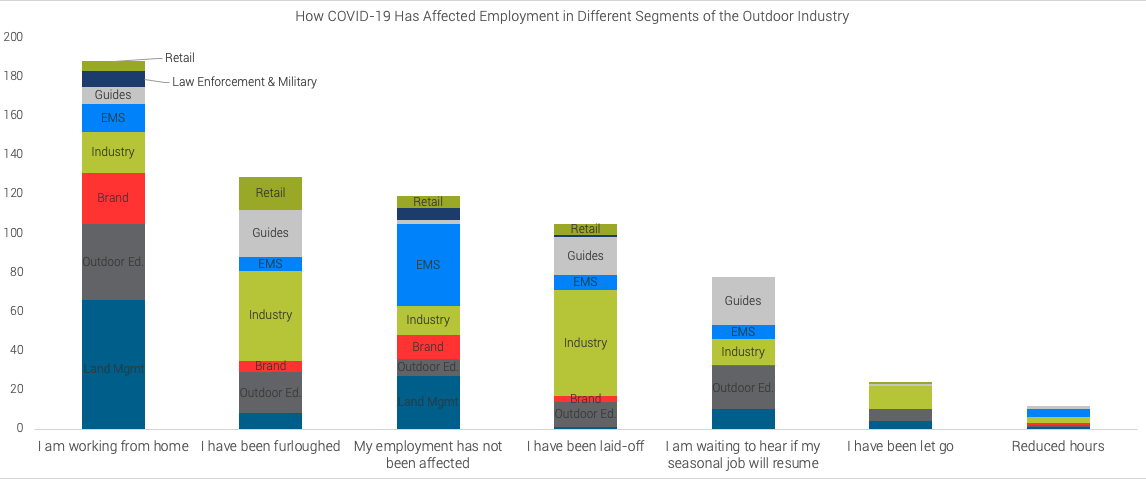 21% of pros are receiving unemployment, and another 12% are still waiting on their first payment.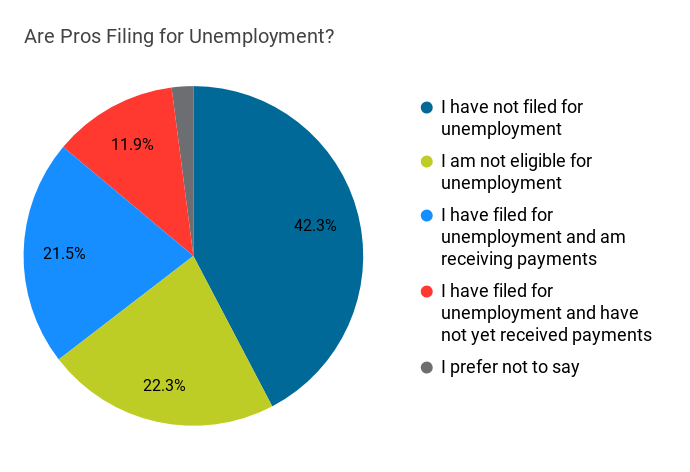 For many receiving checks through Pandemic Unemployment Assistance (PUA), the additional $600 a week from the CARES act has been a major boom and driven their total unemployment wages above their usual wages pre-pandemic. One impact of this wage surplus has been increased spending on outdoor recreation goods.
30% have spent (or are planning to spend) their stimulus check.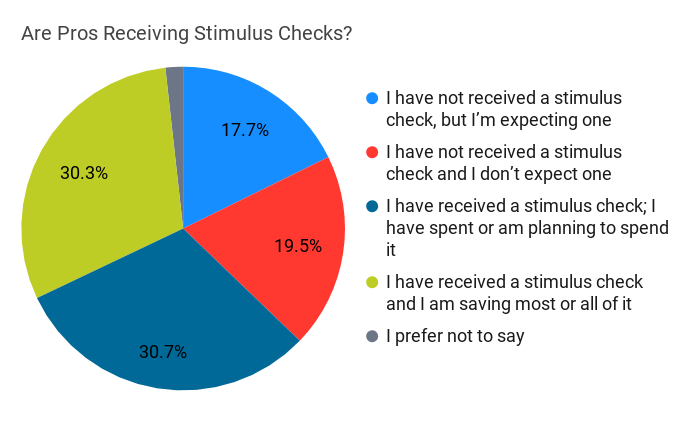 When asked if they have received a stimulus check and how they plan to spend it, we got a pretty mixed bag. 30.3% intend to save their stimulus check, while slightly more (30.7%) are planning to spend it. Another 19.5% are still waiting for their stimulus check to arrive.
Online shopping is increasing.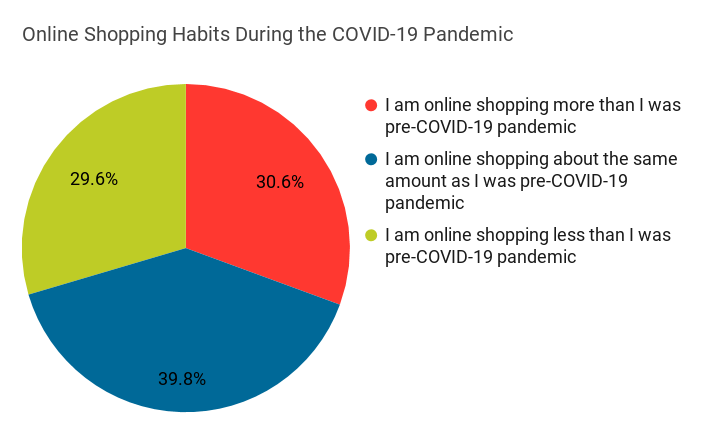 About 70% of respondents said that they are shopping online the same amount or more than they did before the pandemic. Another 30% said they are curtailing their online shopping to save money.
Order volume on Outdoor Prolink initially fell off a cliff in mid-March as stay-at-home orders went in to place. Several brands stopped shipping orders as they sent warehouse staff home or operated with skeleton crews to maintain social distance – mostly brands with warehouses in California, Colorado or on the east coast. However, in mid-April and early May, as unemployment checks were rolling out and stimulus checks arriving, sales began moving up and to the right once again, drastically.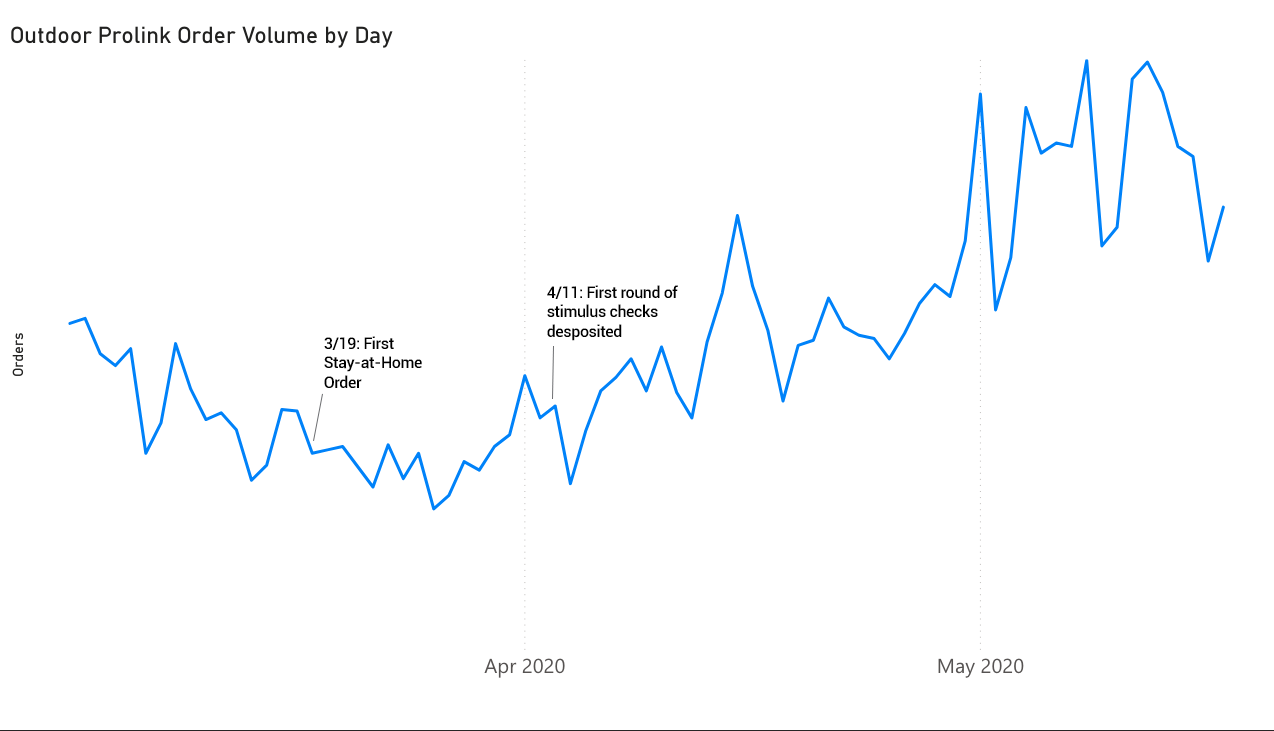 Key product categories from March, April and May include camping, climbing, footwear and packs.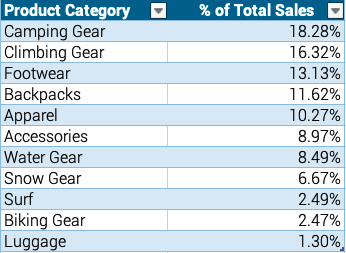 Outdoor recreation goods rank with essential items like food and hardware.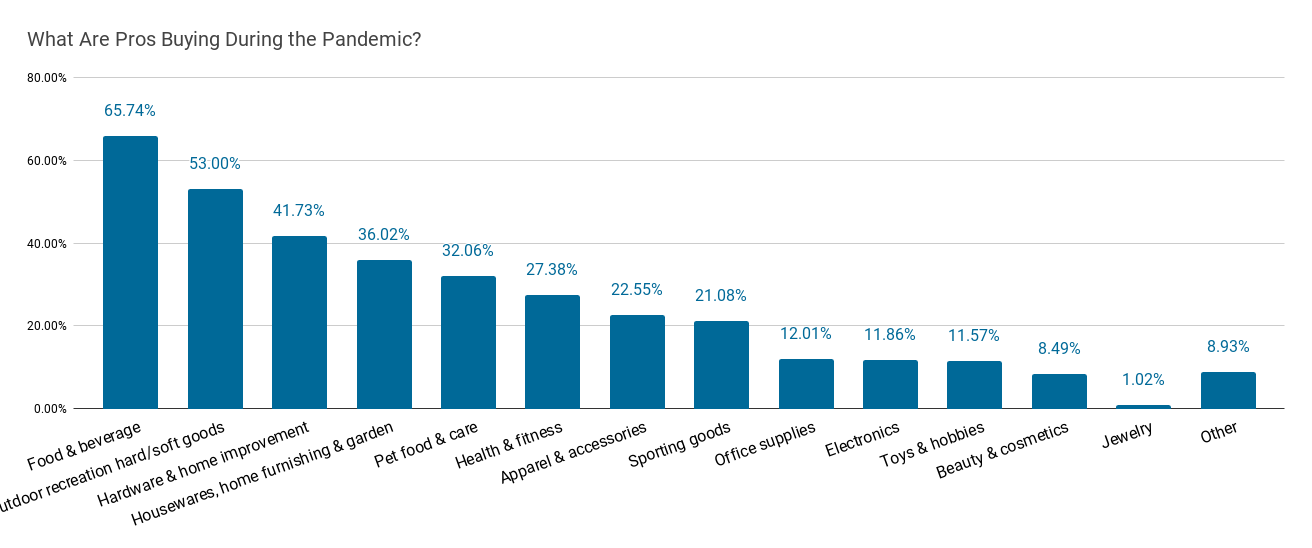 When asked what they are buying during the pandemic, outdoor recreation goods (53% of respondents) came in second only to food and beverage (65% of respondents) followed by hardware and housewares. Essentially, pros regard outdoor gear as essential.
28% said they will continue shopping mostly online after stay-at-home orders lift.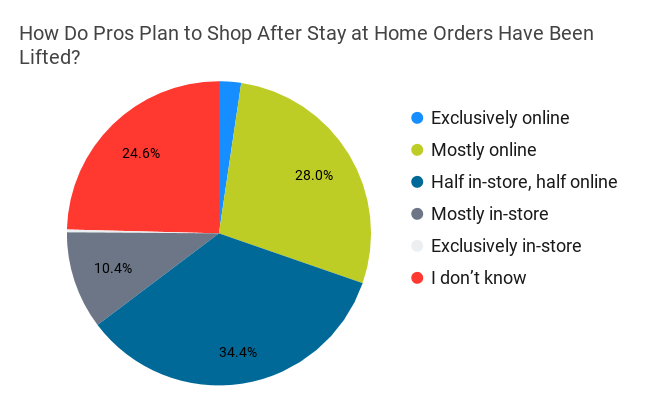 Not surprisingly, nearly 25% of respondents said they don't know where they are going to be shopping in the coming months. The majority of pros will resume shopping store and online, while about 30% are planning to stick mostly or entirely to online stores.
Pros want to support brands that are contributing to COVID-19 relief efforts.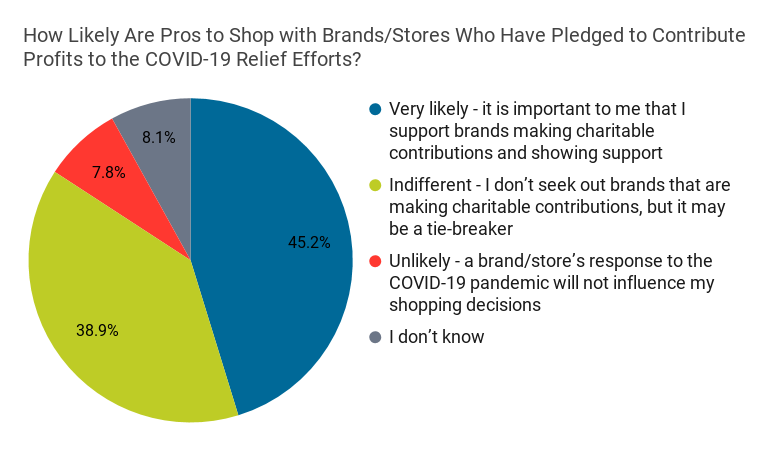 Outdoor industry brands were fast to answer the call for help by manufacturing masks, face shields, eye protection and by donating profits back to struggling retail shops and COVID-19 relief funds. 45% of Outdoor Prolink pros said that they are likely to prioritize shopping from brands and stores that have stepped up to give back.
Only 6% of pros are staying mostly inside.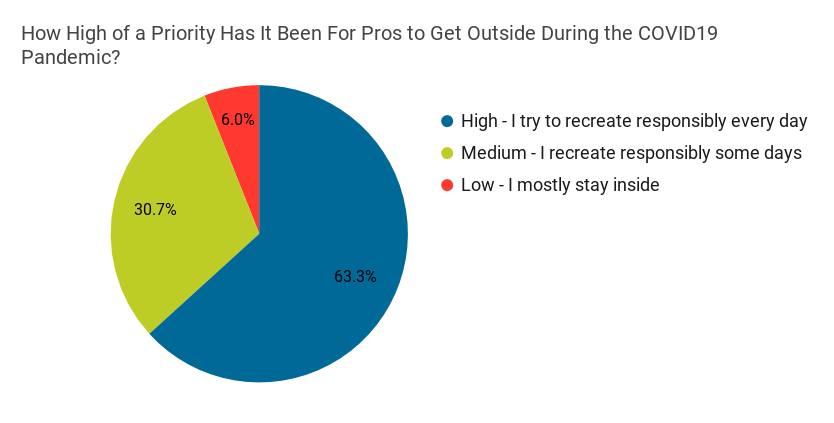 Though they might be spending their time outside in new and different ways, 94% of respondents said they are still making outdoor recreation a priority in the last few months. Those who are continuing to get outside are sticking to biking, hiking, running and camping. Many said they are continuing to climb or ski, but their risk tolerance is far lower than normal. Eleven key trends emerged in how pros are changing their outdoor recreation habits during the pandemic; you can read all about it here.
As things change over the coming months, the Outdoor Prolink team will continue to have their finger on the pulse of the outdoor professional market. Stay tuned for additional surveys and insights!
How has your employment been impacted by the pandemic? Have your shopping habits changed? Let us know in the comments!