Dawn Patrol vs. Yawn Patrol: Embracing the Shorter Ski Tour
There's a freedom that comes from shorter ski tours. You can fit them into the workweek, they allow time for other hobbies during the weekend, and you can avoid the midday craze during the weekday.
The dawn patrol dominates amongst the weekday crowd. It's convenient, timely, and gets the day started. The yawn patrol (afternoon tour) can be a great alternative. No early morning wake-up needed, typically less people, and you might even have a skin track in already from the dawn patrollers!
I'll discuss both the dawn patrol and yawn patrol, weighing pros and cons for both. Ultimately, both are skiing and both get you outside, so whichever you choose you can't lose!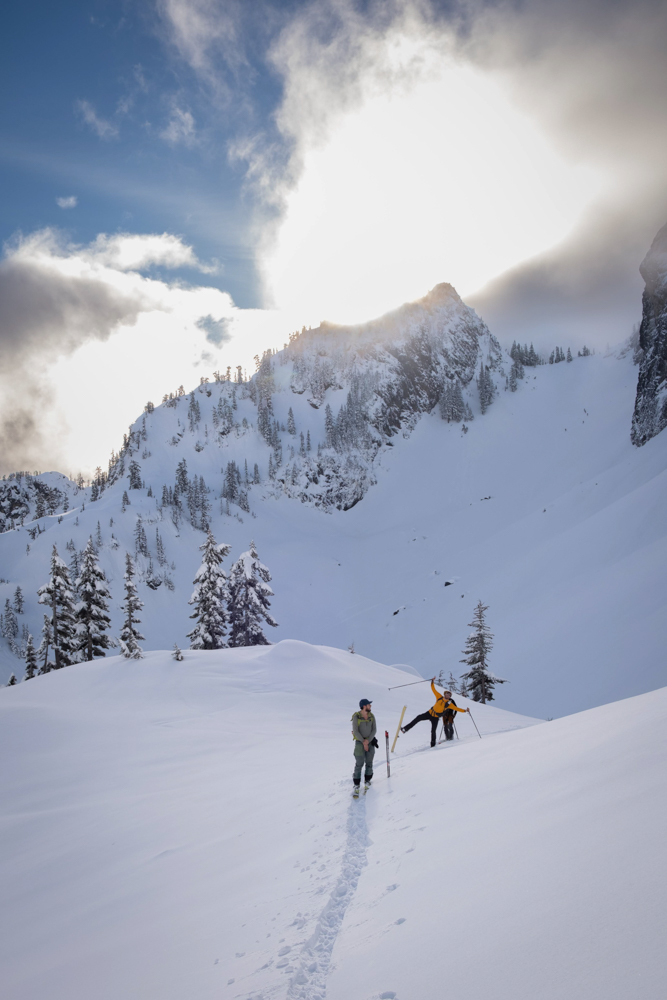 Time Limits
Unless you're a professional athlete, you likely work within the confines of a daily work schedule. While 9-5 may not be the norm for everyone, most of us have to be near a computer or at a job site for most of the day.
Both the dawn patrol and yawn patrol accommodate the confines of a work schedule; it really just depends on which limit (morning vs evening) is more flexible with your employer/work situation. If you're able to roll into work an hour late, the dawn patrol is ideal for you. If you start by 5:30 AM you can fit in a pretty healthy ski day by 8:30 AM or so. If it's an epic pow day, staying an extra hour or two will be really tempting.
If mornings are very productive for you and you need to get the day going, the yawn patrol may be a better setup. Ducking out of work after lunch or mid-afternoon allows you to still take advantage of the afternoon daylight. Plus, you get to enjoy a nice sunset!
Fighting for First Tracks
Backcountry skiing can be a territorial sport, especially in dense mountain areas like the Wasatch and the Tetons. If you're a dawn patroller you've probably experienced the 'rat race' of fighting for first tracks. In the dark of morning it's quite easy to pick out who all is in line behind you: just look for the headlamps. Some skiers embrace this competition, seeing it as a 'race environment' of sorts. But it can certainly be a turn off for some.
Yawn patrols can remove this competitive element since you're likely recycling the skin tracks set by the dawn patrollers. So if you're more interested in just getting out, enjoying your turns, and not having to worry about redlining for first tracks, the yawn patrol may be a great option for you. Plus, if it's a midday storm that dumps a few inches after morning, you might even get your own first tracks!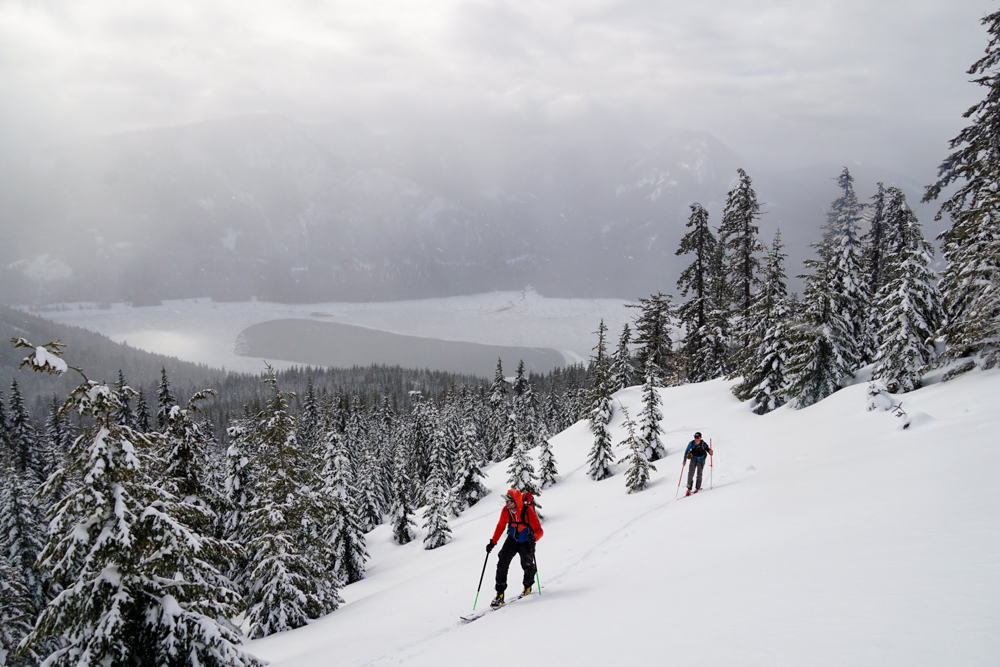 Solar Exposure and Conditions
The sun has a huge influence on backcountry snow, both in a good and bad way.
In the winter, the sun is often seen as a negative influence on powder skiing. Sure, it may help stabilize weak layers in the snowpack, but it also contributes to 'breakable crust' development. This is where the dawn patrol is advantageous: you can get out early and beat the sun. If there's a fresh dump of snow and it's going to be warm, you probably want to dawn patrol and get off the slopes before the sun starts impacting the snowpack. Roller balls, wet avalanches, and other hazards can be dangerous as it warms up. If you head out for a yawn patrol and the sun has been out all day on new snow, prepare for some solar crust (i.e. 'breakable'). Aspects play a huge role in breakable crust development, which I won't go into depth on here…but long story short dawn patrols help mitigate the effect of the sun.
In the springtime, the sun helps soften slopes once the snowpack has undergone melt-freeze cycles. 'Corn skiing' can be a great opportunity for a yawn patrol once the snowpack has gone isothermal. This is a tricky weather pattern to predict, as sometimes the snowpack warms up too much and then wet slides are a hazard to deal with. But a sunset, 'reverse-corn' harvest can be a great way to spend an evening.
Partners
Everyone has different commitments. Whether it's family, work, or personal, if you're trying to get out backcountry skiing with a partner your schedule will be influenced by whom you try and ski with. It's a useful question to pose to your ski partner: are you a morning person or evening person?
Waking up before dawn can feel intimidating and committing. If you or your partner bail first thing in the morning, you might feel crummy the rest of the day for not getting out. Conversely, if you're planning on skiing in the evening you have the whole day to make plans, coordinate, and potentially reschedule/find another partner if plans fall through.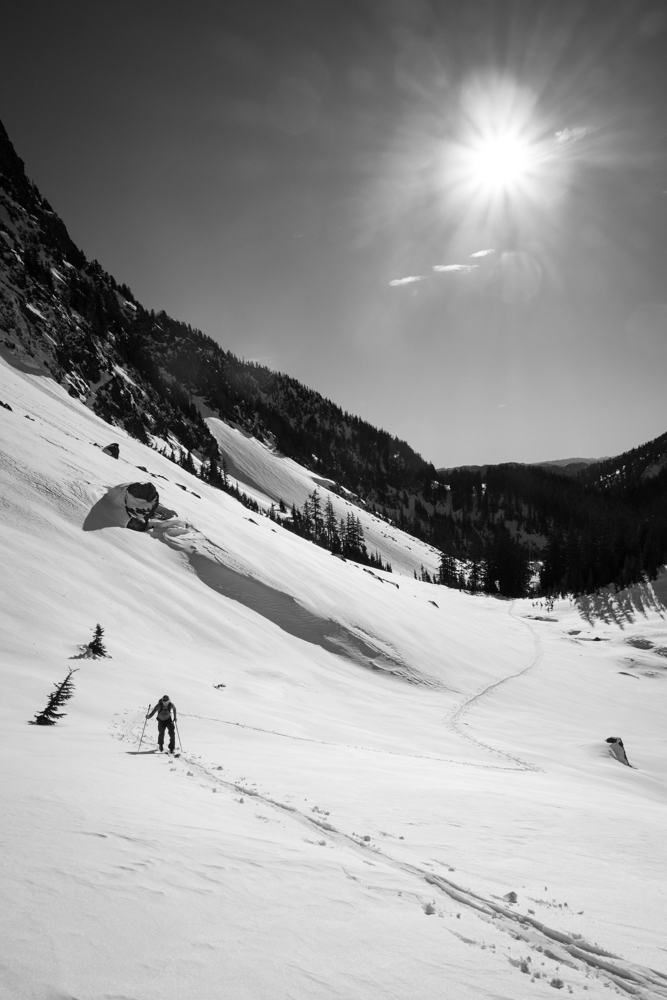 Get Out and About!
Morning or evening, getting outside for a few hours is a great way to break up the stress of everyday life. Plus, a short dawn or yawn patrol can also be a great way to scout objectives for longer days that maybe require some recon. Hopefully thinking more about dawn and yawn patrols has you stoked to get out more this year!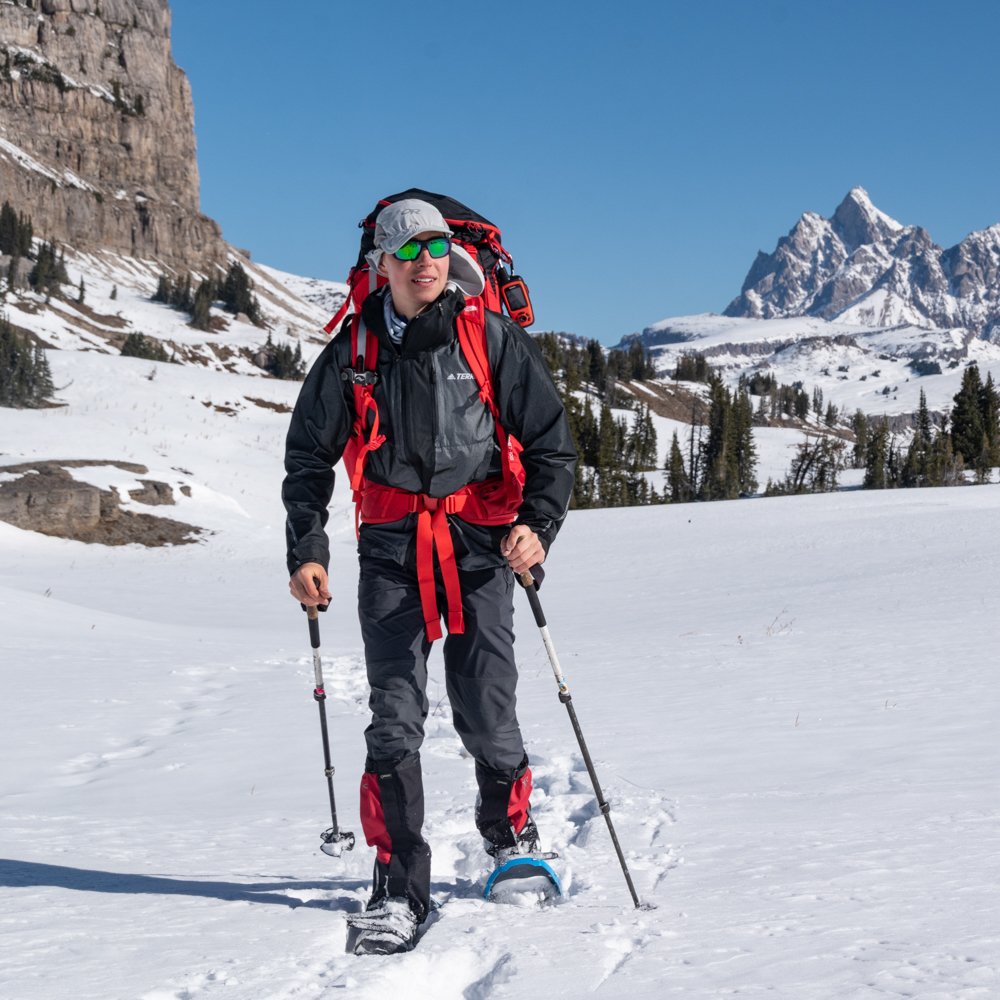 Sam Chaneles is an avid mountaineer and backpacker, climbing peaks in the Cascades, Mexico, Ecuador, and Africa, as well as hiking the John Muir Trail and off-trail routes in Colorado. He has climbed peaks such as Aconcagua, Mt. Rainier, Cotopaxi, Chimborazo, Kilimanjaro, and many more. Sam graduated with a B.S. in Mechanical Engineering from Georgia Tech. During his time there he was a Trip and Expedition Leader for the school's Outdoor Recreation program (ORGT). He has led expeditions to New Zealand, Alaska, Corsica, France, and throughout the United States. Sam is based in Issaquah, WA just outside of the Cascade Mountains. You can follow Sam and his adventures on Instagram at @samchaneles, or on his website at www.engineeredforadventure.com.