ProView – Zeal Cloudfall Haa Aani Review
Being an Indigenous woman on the slopes, I personally connect back to the land through snowboarding. And that means supporting outdoor brands that not only make sustainable, high-quality products, but also actively promote women of color to boldly carve their individual paths within outdoor spaces. Zeal Optics happens to be one of those brands. When it comes to embracing hardcore charging on snow–without sacrificing both clarity and depth perception–say hello to the new Automatic+ Haa Aaní Cloudfall Goggle.
Zeal Cloudfall Haa Aani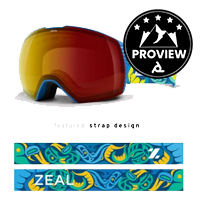 Product Name: Zeal Cloudfall Haa Aani
Product Description: Welcome to the future of winter optics. The new Cloudfall combines our award-winning patented Rail Lock System lens interchange with the groundbreaking, distortion-free field of view that only Observation Deck Technology provides, for the first time ever in a spherical-lens goggle.
Offer price: MSRP: $199.00 - $319.00
Currency: USD
Quality

Features

Fit

Eco-Friendly
Summary
These medium-fit goggles are my new snowboarding go-to. With a photochromic lens that does it all–automatically adjusting tint to adapt to fluctuating light conditions–they are perfect to use across the board: from bluebird park laps to whiteout powder runs at the resort. Gone are the days of carrying an extra lens uncomfortably in my jacket pocket! 
Pros
The Auto+ photochromic lens technology works like a charm.

 

Can be used in a variety of conditions.
Crystal-clear vision.
No fogging, inside or out.

 

An easy-use rail lock frame/lens system.
Cons
The spherical frame is a tad bit uncomfortable on my nose bridge.
Okay, I'll confess: I normally prefer a cylindrical (a.k.a, flat) lens when it comes to my goggle selection. I've ridden with Zeal's goggs for the past four seasons–both the Hatchet (my first pair) and (most recently) the Lookout have been my go-to choices. Call me picky, but I just love the way a flat lens looks and feels (very lightweight) when I board. Yet once introduced to the Cloudfall design, I couldn't pass up the opportunity to give them a whirl. Always willing to go out on a limb.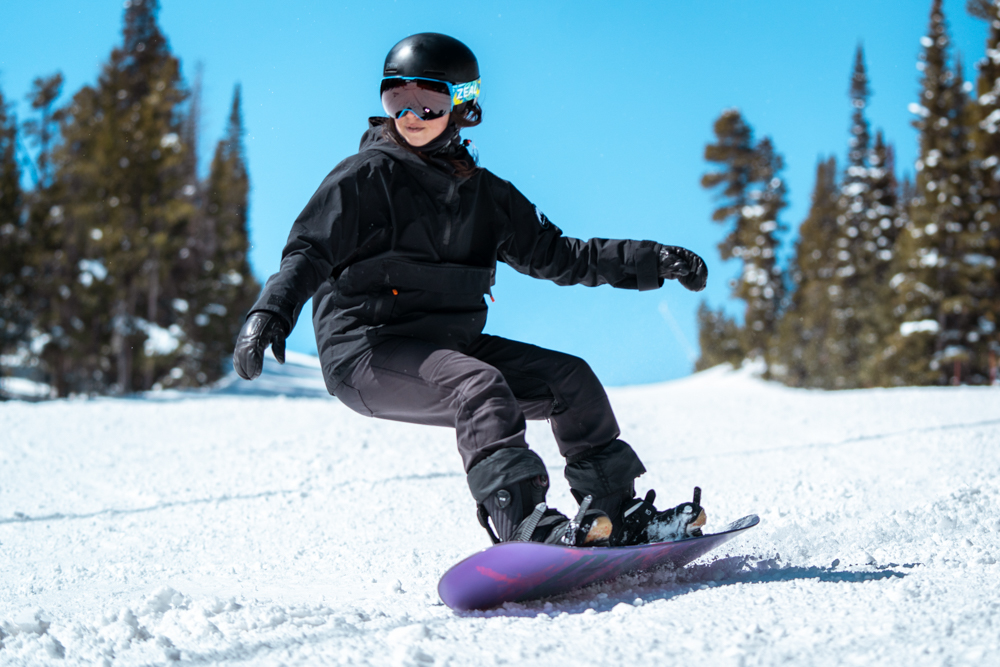 A snowboarder of seven years, I'm typically an all-mountain kind of gal. Trees, steeps, and powder are my jam. However, this past season, I decided to push myself into the one subsection of riding that I've been avoiding for so long – freestyle and terrain park. Partially out of fear of injuring myself (logical), partially out of fear that I wouldn't belong (as a BIPOC woman), freestyle–and the "boys-club" culture that comes with it–can seem intimidating at first glance.
Yet I rose to the challenge anyways. After all, pushing ourselves beyond comfort zones are how we grow as people. And even though I tested the Auto+ Cloudfall on all-mountain terrain within resort boundaries, I placed great(er) emphasis on using them in the terrain park. When working with freestyle features, my mission was to test out the goggle's visibility during a variety of conditions–on both low light and sunny days. In powder and groomed terrain. Would they hold up? Let's find out.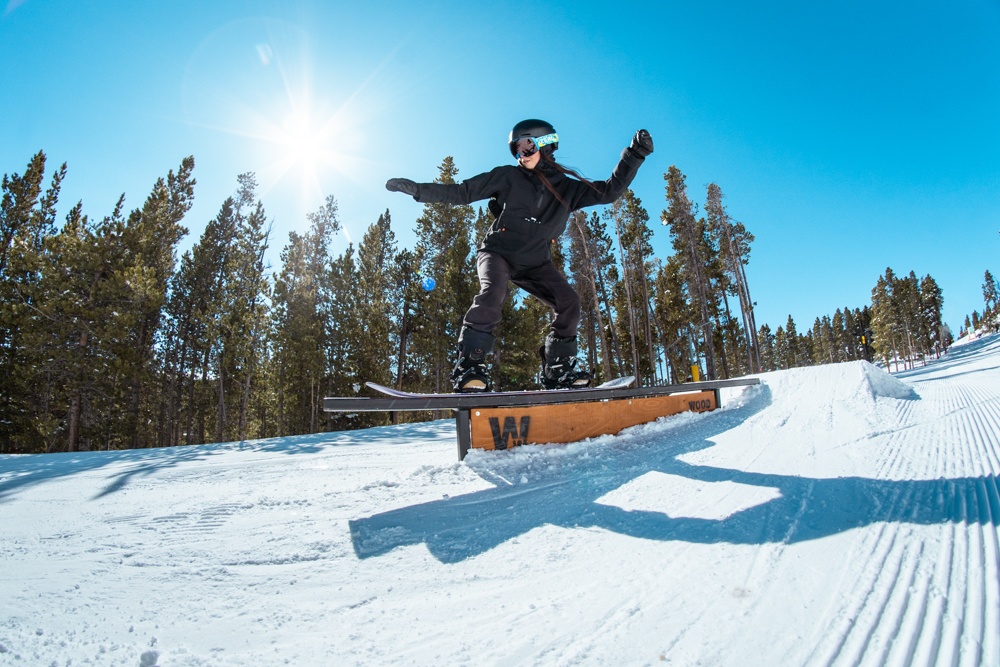 Look/Style
Zeal has always been steezy when it comes to the style of their goggles. And the Cloudfall is no exception. I was a little worried at first that the spherical lens would look insect-like against my face. But paired with my helmet of choice (Smith's Code–the best park look in my opinion), the goggle frame pieces together like a puzzle. A perfect match.
The band choice for this specific goggle was selected for a very important reason. The intricate design features the work of Tlingít artist, Crystal Worl–displaying colorful, interwoven salmon patterns–bringing cultural awareness to Indigenous traditions of the Tlingít people of Southeast Alaska.
"The Tlingít believe that when they take care of the land and its inhabitants, the land in turn takes care of them. This concept is often summarized with the Tlingít phrase Haa Aaní, which means 'Our Land'…The forests and waterways that shelter salmon runs provide an abundance for the Tlingít and Alaskan people, and are a resource to be respected."

https://www.zealoptics.com/US/en_US/haa-aani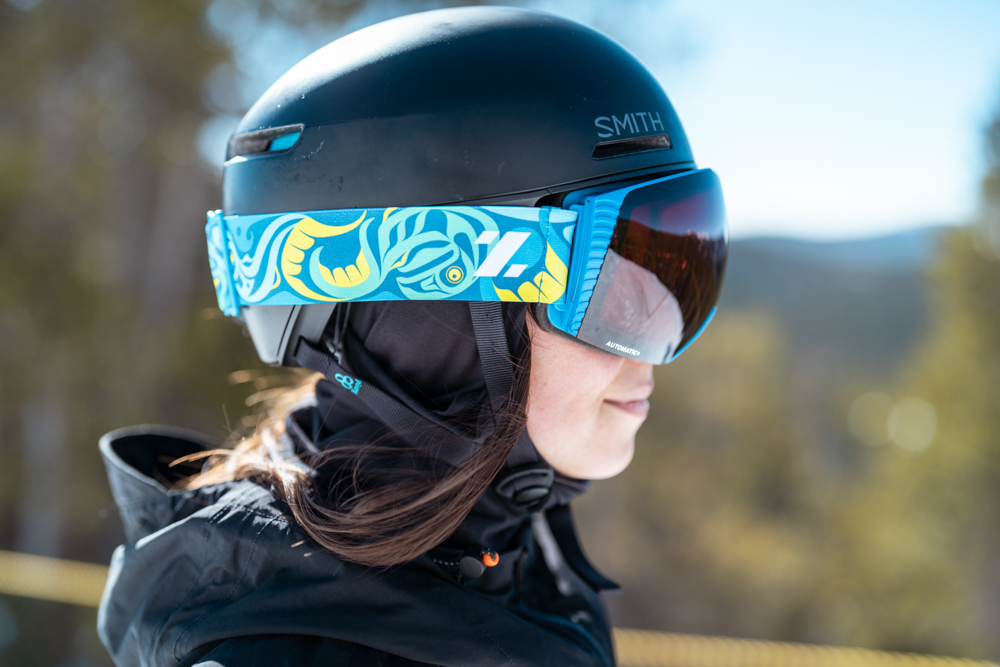 Through the Haa Aaní Alliance, Zeal is partnering with three non-profit organizations to protect free-flowing rivers and salmon spawning grounds – vital for both humans and preserving natural ecosystems. For every Haa Aaní goggle sold, $5 USD will be donated to help support the project's mission.
As a person of both mixed race and Indigenous heritage, I stand behind groups that demonstrate authentic allyship by actually taking action to make a valuable impact. For me, it's personally a complex relationship to be recreating on Indigenous land through a sport I love, knowing the barrier to entry still remains high–specifically for women of color. Yet at the same time, snowboarding has given me so much–both physically and mentally. Therefore, I actively seek to help lower that barrier by not only being in this space, but also introducing other women that look like me to this sport. Through both instruction and collaboration. In turn, I'm all for brands that walk-the-walk. Zeal Optics is a living example.
Fit/Comfort
In all honesty, the fit was the only thing that didn't hold up as well as I would've liked. Even though the goggle worked against my helmet, the frame continuously pressed down on the bridge of my nose–sometimes hindering my airflow. I'd have to constantly shift and adjust the frame upward to get it comfortable enough. The nature of a spherical lens felt heavier. But to each their own–it depends on your facial/nose structure.
Features/Function
Automatic+ Photochromic Lens
This feature is, by far, my favorite. As an instructor, I love a goggle lens that can withstand Colorado's constantly fluctuating snow and light conditions. It's easier for me to use a single lens without having to swap out, especially during a lesson. Thankfully, Zeal makes each of their goggles in the Automatic+ option: a photochromic lens that changes tint–based upon light exposure–within roughly ten seconds. Absolutely game-changer.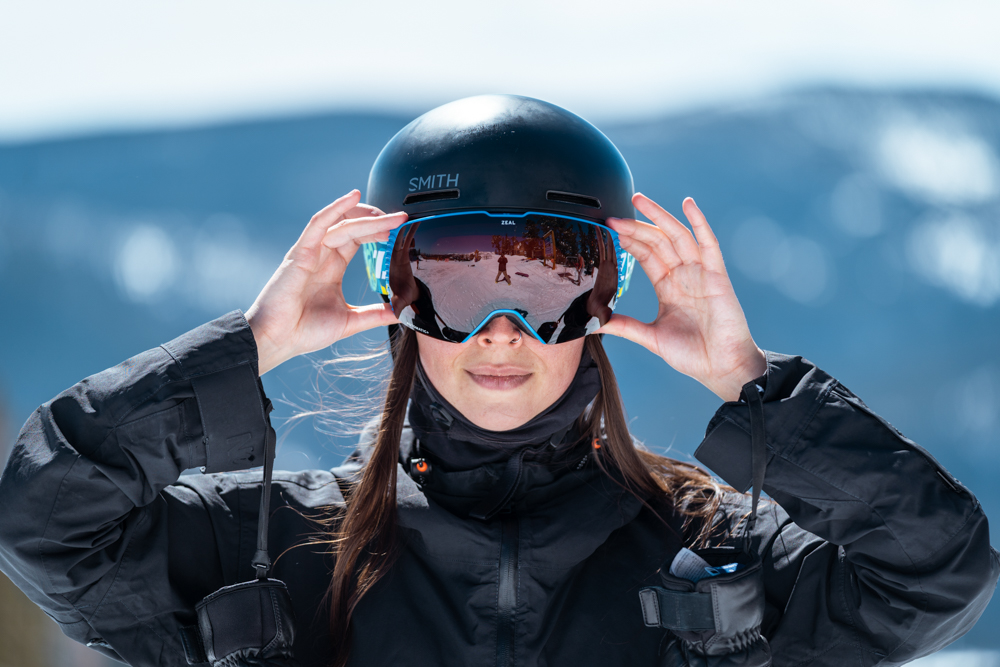 Observation Deck Technology
You wouldn't be able to tell–in part because it's curved–but the lens on the Cloudfall tilts out at a forty-five degree angle. It's called Observation Deck Technology (or, OTG). The whole point of this is to expand your bird's-eye view (a.k.a, aerial view) as you ski or ride. Taken from inspiration and the design behind air traffic control towers, the Cloudfall is the first of Zeal's spherical lenses to include this particular feature. And I gotta say, when it came to popping off jumps, the technology really did aid me in pinpointing my landing.
Rail Lock System
Even though I hardly used this feature–considering I have the Auto+ lens–it's still really nice that it's incorporated into the Cloudfall's frame design. Zeal's patented //Rail Lock System (//RLs) makes it super easy to swap out lenses, if need be. The Cloudfall's rimless frame has a dual sliding rail system that guides and locks (by use of magnets) the lens into place. What I really like are the ribbed finger grips on either side of the lens periphery. To change 'em out I simply place one index finger at the top of the frame, and then use both thumbs on the grips to gently push and slide the lens upward, until it comes off. Easy peasy!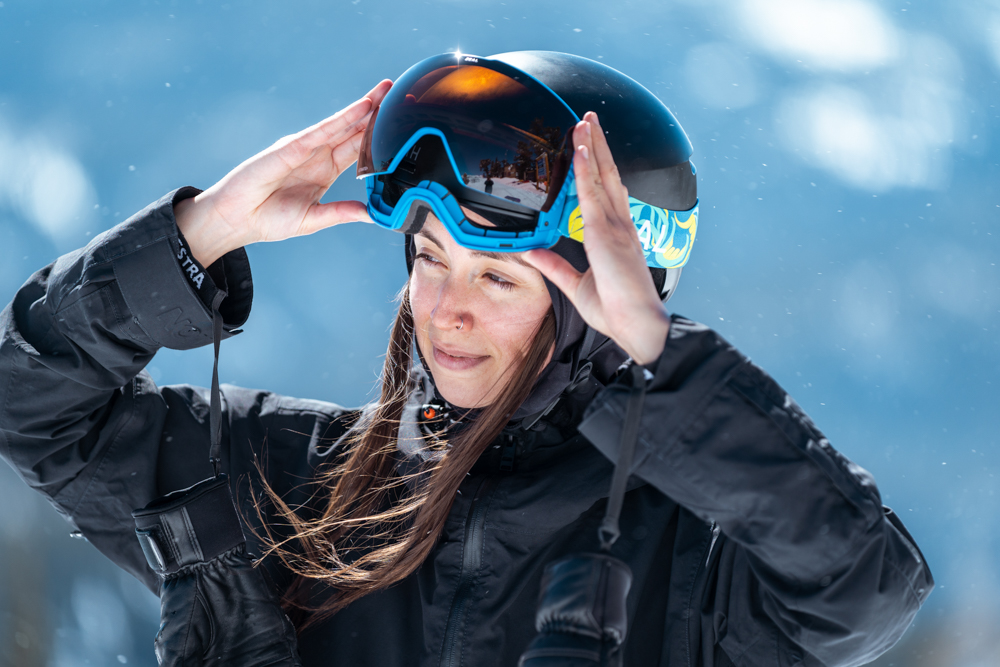 Injected Anti-Fog
Something like anti-fog seems so simple, yet this feature really sets Zeal Optics apart from other competing goggle brands. Rather than a traditional spray-on method, Zeal injects Everclear Anti-Fog into the mold of each lens on all their goggle designs. Not only does this mean that the goggles rarely fog up–unless worn incorrectly against your helmet–but also, you can pat down either side of the lens (using the fabric goggle bag ONLY) without ever removing the anti-fog. It's convenient not having to constantly replace and spray in new anti-fog, especially on those cold days. During my trial runs in heavy powder and close-to-negative temperatures, the goggle still held up and didn't fog over. Safe to say that my vision wasn't compromised.
Performance
It took me a little over a month to get enough trial runs in with these goggles. As I guessed, the Auto+ technology of the Cloudfall really held its own in the terrain park. And the spherical lens didn't distort my depth perception at all. In approaching each feature–on both sunny and cloudy/overcast days–the clarity of the high-density polycarbonate lens allowed me to execute freestyle tricks with ease. I was confident in knowing where to land, and really felt the superhero victory vibes each time I did.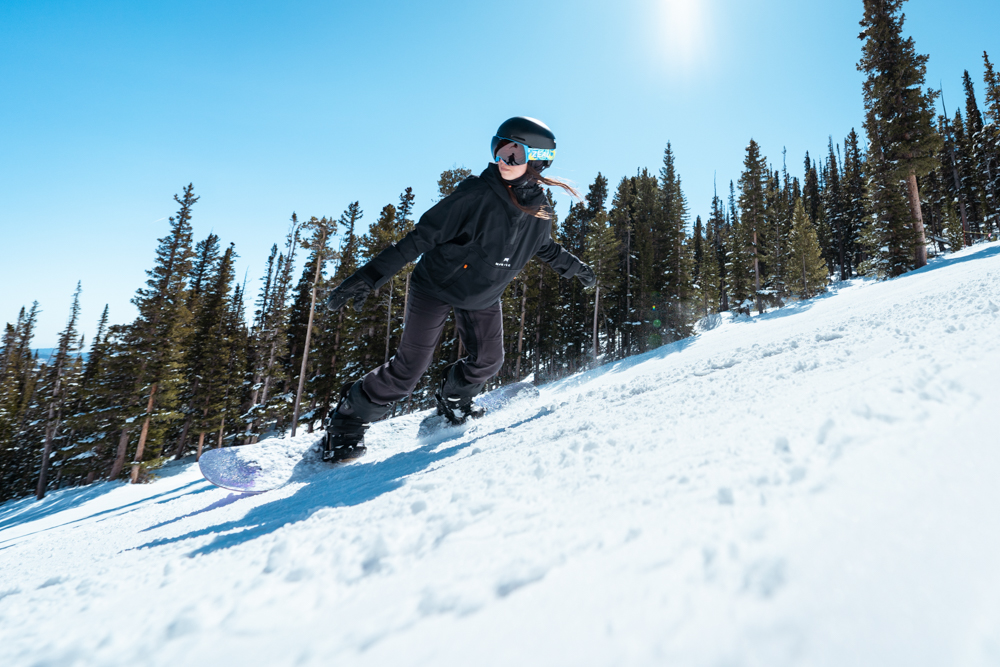 With regard to all-mountain riding, the lens technology still holds an A in my book. I journeyed with them into trees, through heavy powder, in flat light conditions, you name it. I'm so used to the photochromic feature at this point, that I barely recognize when it transitions its yellow-base (YB) tint. In variable, fluctuating conditions–trust me, I've seen it go from blizzardy to clear sunlight over the course of a single day in Colorado–it's nice not having to swap out lenses. I still wish the goggs didn't push down on my nose–but with enough adjusting of the dual, non-slip strap system against my helmet, they work well enough.
Friendliness to the Earth
In addition to the Haa Aaní Alliance–one out of many partnerships–Zeal is founded on sustainability. It's one of their core pillars. All goggles and sunglasses are made with plant-based materials, engineered to reduce environmental impact. And they pride themselves on using renewable resources in the manufacturing of their optics–decreasing the use of fossil fuels.
So, in a nutshell, by using Zeal's goggles and/or sunglasses, you automatically are supporting efforts to help protect and preserve our planet. I'm all for plant-based, eco-friendly gear with a purpose. It's one of the reasons I was drawn to the brand in the first place. Count me in!
The Final Word
For my first spherical Zeal Optics goggle, I'm wholeheartedly pleased with the Cloudfall. They pride themselves on photochromic technology in their Automatic+ lens, which definitely lives up to the hype. Of all the tech features, it's my personal favorite–the bread and butter to complement my snowboarding.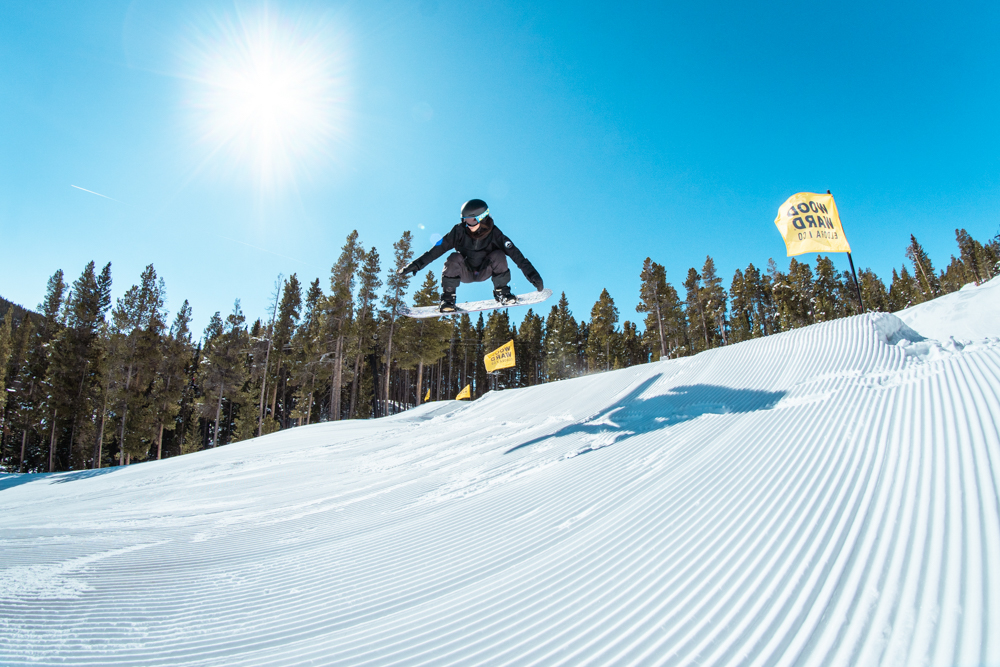 Zeal manages to combine innovative, eco-friendly technology with practicality and simplicity in their goggles–minimalist in look on the outside, feature-packed on the inside. I could trust the clarity and depth perception of the polycarbonate lens to drop into a full-speed flow-state down the mountain.
Keep in mind that, by design, the Cloudfall's spherical lens might be uncomfortable and heavy on certain nosebridges and facial types. But overall, the pros certainly outweigh the single con here. Give them a go!
Shop Zeal Cloudfall Haa Aani on Outdoor Prolink. Not a member? Apply today!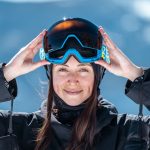 Amanda Cruz is a certified snowboard instructor, yoga teacher, and DEI (Diversity, Equity, & Inclusion) advocate living in Boulder, Colorado. Having worked at Eldora Mountain Resort for the past four seasons, she has actively taught in her home mountain's women's-specific program. When not instructing or educating on the importance of equal representation in outdoor spaces, she's most likely adventuring along the slopes, practicing freestyle in the terrain park, hiking, or going to yoga and coffee meet-ups with friends. 
You can find her on Instagram at @ventureyogi