PridePads Africa
During the month of October Outdoor Prolink is proud to have PridePads Africa as our featured nonprofit during checkout. Every year, Outdoor Prolink partners with nonprofits to give back to organizations we align with. To honor these amazing nonprofits, we're spotlighting each one and sharing why you should care about their missions too.
PridePads Africa is a nonprofit close to the hearts of everyone at Outdoor Prolink. Mary Shackleton, wife of Outdoor Prolink's CEO, co-founded PridePads and is currently the Vice President of the organization. PridePads Africa provides affordable menstrual pads and health education to girls in Cameroon to help keep them in school. The PridePads team recently went on a trip to their new headquarters in Cameroon and we had the opportunity to chat with Elizabeth Cleveland, Executive Director at PridePads Africa, about the trip and the organization.
What's the story behind PridePads?
Professor Ajume Wingo, a Prince from the Kingdom of Nso, was traveling by bus in his homeland of Cameroon, Africa, when he witnessed a young girl being ostracized by fellow travelers when she found herself menstruating for the very first time. Lack of education around menstruation led to this girl's unnecessary humiliation and shame. After coming to her aid and explaining that menstruation is a normal process and nothing to be afraid of, he vowed to do all that he could to ensure that no other girl would experience that shame again.
This experience had such a profound impact on Ajume that he decided to start PridePads Africa, a 510(c)(3) committed to providing access to affordable, biodegradable sanitary pads, menstrual health education, and livelihood empowerment for girls and women in Cameroon, Africa. On average, rural schoolgirls miss four to six days of school every month while menstruating, which contributes to gender inequality, child marriage, and teenage pregnancy.
Having been raised in a matriarchal society, Ajume recognizes that the stigma surrounding menstruation and the lack of access to sanitary pads and proper feminine hygiene education has compromised women's health and their opportunities for far too long. He hopes PridePads Africa inspires women around the world to unite in supporting its mission to help free girls from senseless obstacles and empower them to change their communities for the better.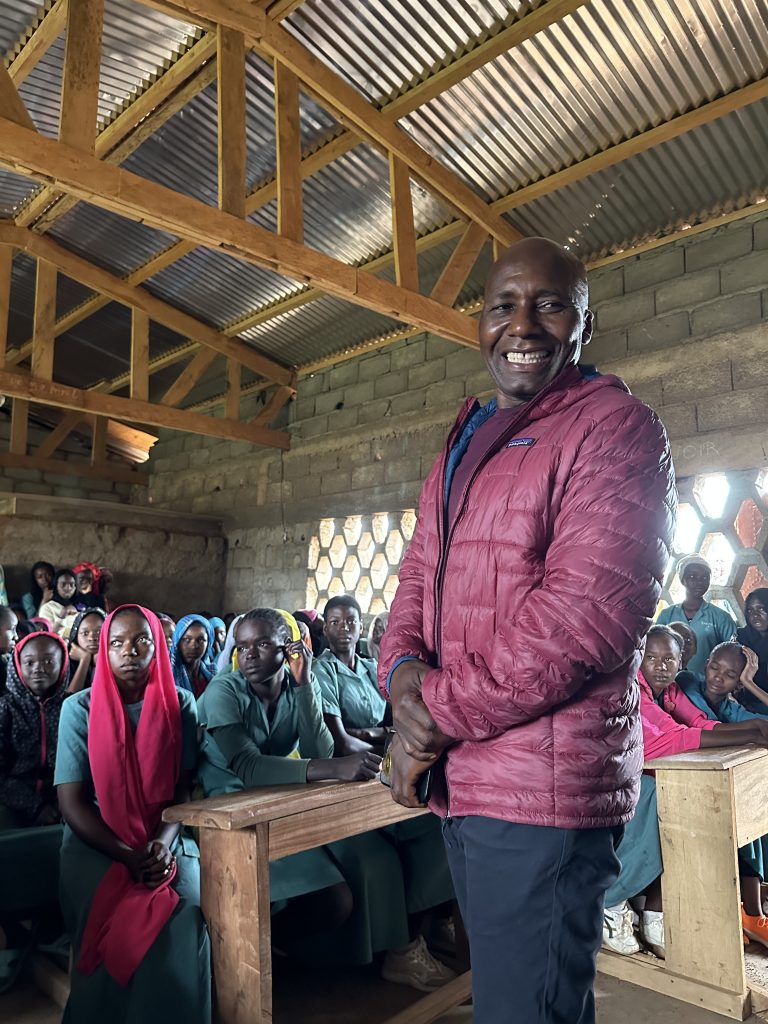 What sets PridePads apart?
In the USA, when our daughters reach adolescence we embrace it. We celebrate it. We support them during this critical time as they navigate their way into womanhood. We hope they realize their potential. We hope they understand they can pursue their dreams. We don't think about menstruation as being a barrier to education or better economic opportunities but it can be and it is. To thousands of girls throughout Africa and other developing countries this barrier exists and creates discrimination and gender inequality. At PridePads, we empower girls and keep them in school during their periods to ensure a brighter future.
Tell us about the recent Cameroon trip.
We hadn't had a board trip to Cameroon since 2019 because of the pandemic, so it was time to go visit our team and see our facility. We recently moved our headquarters and this was our first time seeing the new facility. It was a great opportunity to address some production concerns since we'd recently received a new shipment of raw materials and we wanted to make sure that everything was running smoothly. The three co-founders, Stephanie Carter, Mary Shackleton, and Ajumma Wingo, and I made the trip and we were joined by a handful of people who are also involved in Pride Pads, including our the president of our Cameroonian board, Barbara. It was also Barbara's first time to the facility and it was her first flight ever. She traveled from Yaoundé, the capital of Cameroon, to Ngaoundere.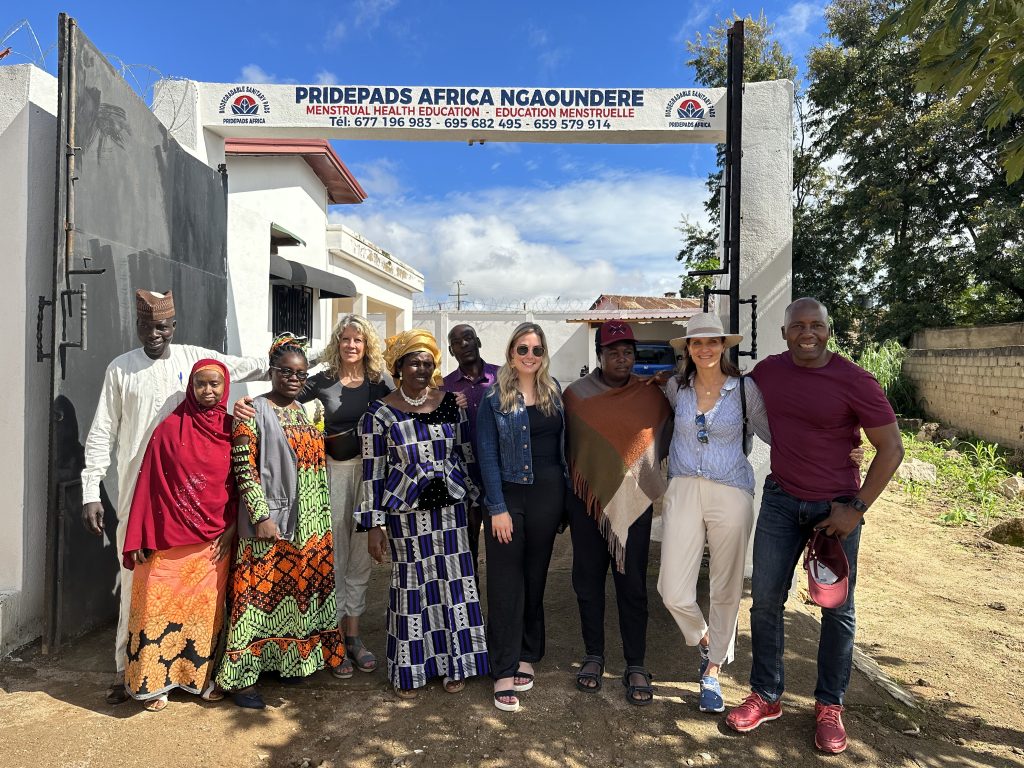 We spent most of our time in Ngaoundere working with our team there to resolve the production issues. We also visited four schools that our team in Ngaoundere visits regularly. The students actually came back from summer break to visit with us which was very generous of them. It was great to meet with the students and the administration and everyone was in agreement that PridePads has had a real impact at the schools.
It feels like such a small thing to ensure girls have menstrual pads readily available and accessible, but it makes such a big difference to these students. Going on the trip and feeling the impact that we have in Cameroon really reignited us to keep going on this mission.
Can you share a memorable experience from the trip?
Not only were the students more open to talking about menstruation, they were open to giving us suggestions on how to improve pads. This was very powerful to me. They weren't just blindly accepting the product, they were offering insights on how the pads could be improved and other ways we could support them. It was a nice feedback loop that we had going and it was great they were comfortable enough to tell us their honest thoughts.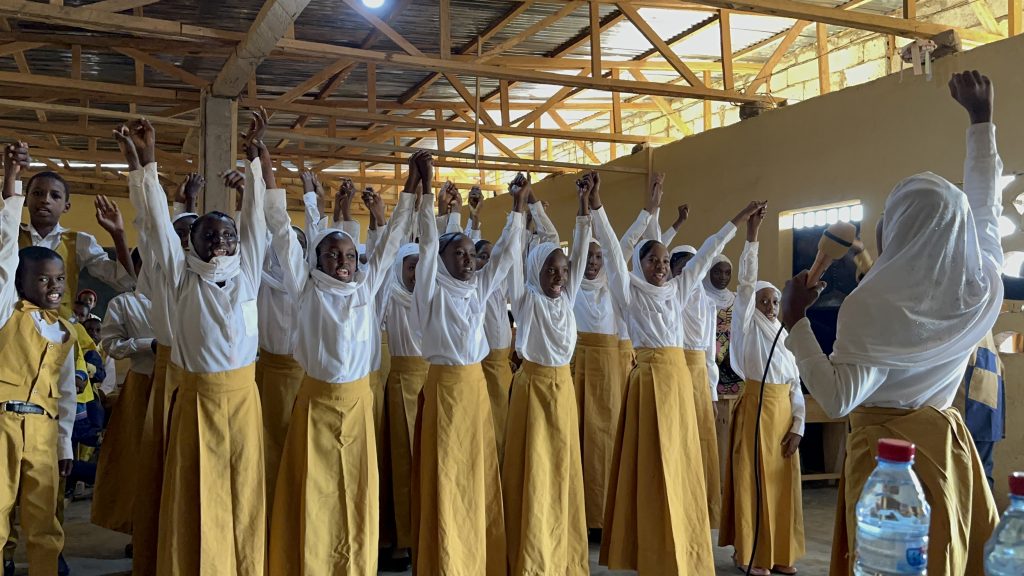 How was this trip different from past trips?
The last trip the team went on was actually the launch of PridePads, so it was definitely different. This trip was meant to serve as a check-in to reconnect with our team in Cameroon and meet them in-person. We were able to sort out the production issues we were having which was really productive.
What is the impact you see PridePads having at these schools?
Girls actually stay in school when they're on their periods. Before they had access to pads they were not in school at all and they would stay home. That's five to seven days a month, so they're missing a ton of school. It was amazing to hear them say that with PridePads, they can come to school and prevent falling behind on their classes.
As part of our education seminar, Jaika, has also been teaching cramp management and sharing natural remedies, like ginger or sucking on a sugar cube, to reduce pain. The girls also said that has helped them stay in school even when they have really painful periods.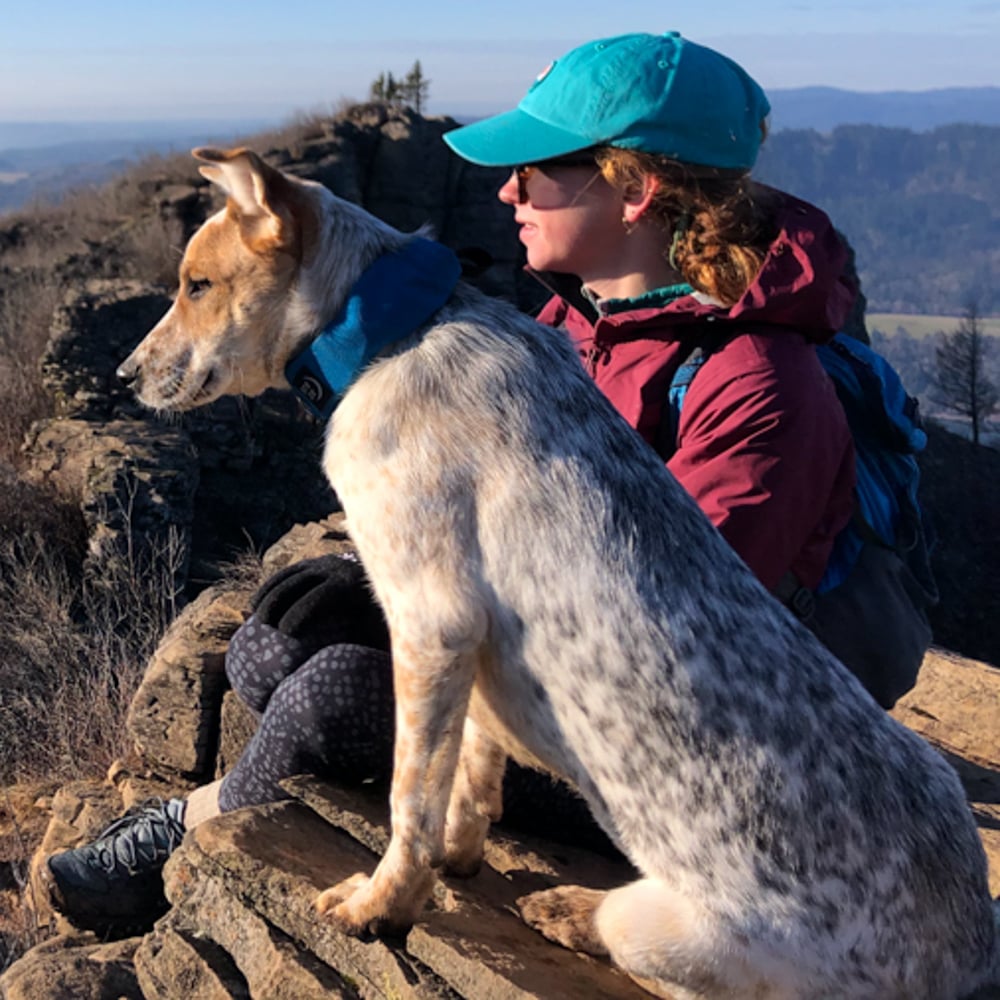 Kelly Knauf leads the marketing team at Outdoor Prolink. She is a mountain lover, outdoor enthusiast, and professional snack packer. By day she answers emails and writes content, by night she's plotting her next camping trip or snowboarding adventure.