ProView – Bobo's Protein Bars
Bobo's has been on my radar for a long time so I was excited to try their new protein bars. Something I was stoked about almost more than trying the bars was that Bobo's is making a huge impact in their local Boulder, Colorado community and, as such, setting the bar for other brands in their niche and beyond — more on that later! I'm always looking for more yummy snacks to bring on my hikes in the summer/fall and ski trips in the winter/spring. The most important factors for me are the taste of a snack and how easily it can be eaten in a variety of conditions – Bobo's peanut butter chocolate chip protein bar and the almond butter protein bar delivered in both taste and temperature/weather versatility. I'll discuss a couple adventures I took the protein bars on in the next section.
Bobo's Protein Bars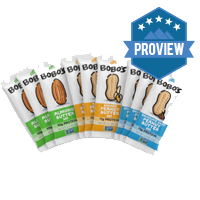 Product Name: Bobo's Protein Bars
Product Description: ou will love this gluten-free nut butter protein bar with your whole heart Sweetened with a touch of honey and date paste, these yummy bars pack a punch with 10g. of plant-based protein. Finally, the gluten-free protein bar that you've always wanted. Same organic whole grain oats. Same delicious Bobo's taste. And as always, made with heart.
Offer price: MSRP: $26.99
Durability in Variety of Weather

Taste

Weight/Packability

Eco-Friendly
Summary
Bobo's is a brand I've had my eye on for awhile — not just because of their great gluten-free options, but because of their community outreach. So when given the opportunity to try a few of their popular protein bars I was thrilled and delighted. My review focuses on the Peanut Butter Chocolate Chip and the Almond Butter protein bars. 
Pros
Great flavor
Gluten-free
Non-GMO
Plant-based
Cons
I did not love the sesame seeds on the almond butter bar (That's it – I could only think of one con)
It's an interesting time to recreate outdoors right now in the PNW as it is what most call shoulder season — too cold/wet to hike and not enough snow to ski. But I was able to get out a few times in the last few weeks – once on an overcast/drizzly day and once on a sunny day.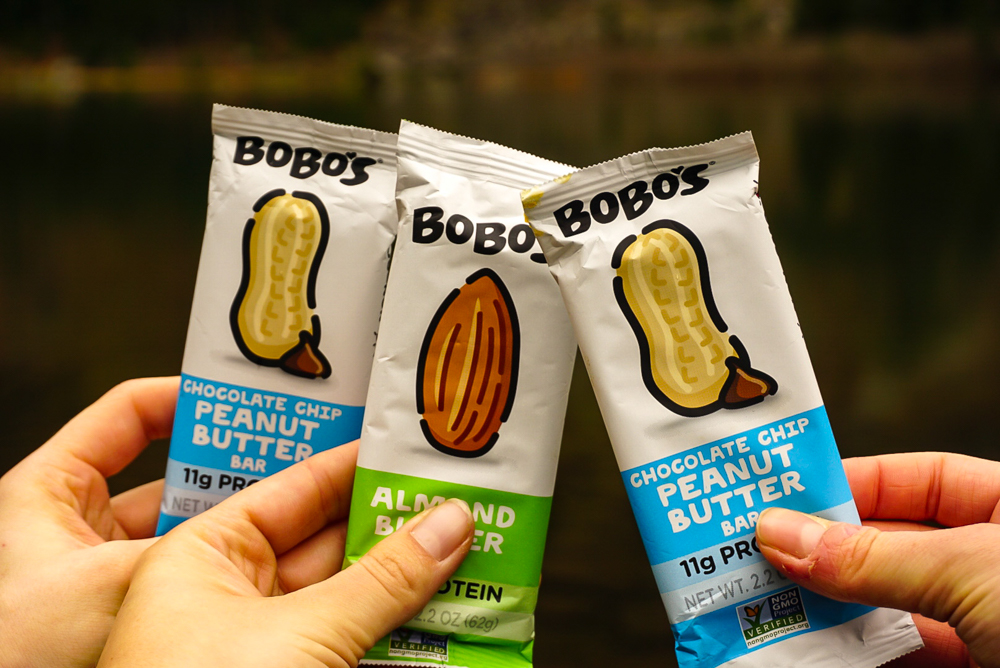 Heather Lake
One of the adventures I took the bars on was a rainy-day hike to Heather Lake, a short 4.2 mi round trip hike off of Mountain Loop Highway in the Central Cascades of Washington. I shared the bars with my two girlfriends who had nothing but positive things to say. We enjoyed the on-again off-again drizzle of the hike and munched on our bars beside beautiful Heather Lake. My labradoodle, Daisy, even snuck a few nibbles (she's 14 and living her best life, what can I say?!). Despite the chilly temps the bars stayed nice and soft and fit perfectly in the hip-belt pocket of my daypack. This hike wasn't quite long enough to justify packing a full lunch so having one of Bobo's protein bars was the perfect mid-hike fuel to enjoy before heading back down.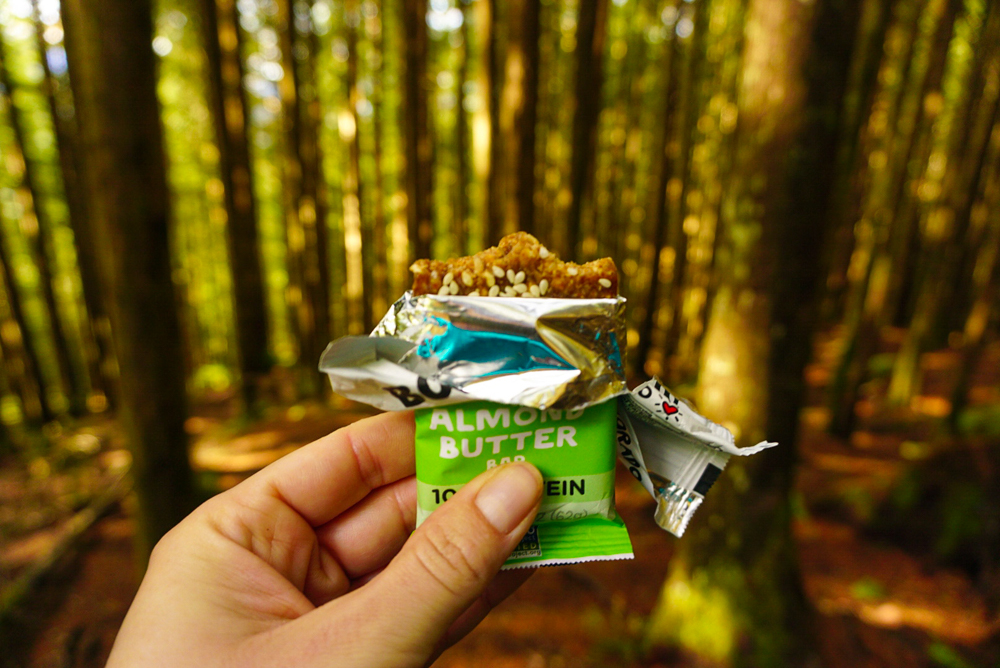 Wallace Falls
Another outing I took the bars on was a hike to Wallace Falls, a 5.6 mi round trip hike off of Highway 2 near Stevens Pass, Washington. My girlfriend and I enjoyed several water crossings and gushing waterfall views – it was the perfect day for this hike. To give some context, Washington has had the wettest fall on record, surpassing the previous record set in 2006; so our lakes, streams, and waterfalls have been super full. This hike is also normally extremely popular due in part to its beauty, moderate difficulty, and ease of access to the trailhead. We were blessed with a beautiful sunny day but the hike up was quite chilly. It was nice not having to worry about the bars getting hard or breaking in my backpack while we hiked. We enjoyed part of our bars at the final viewpoint and then saved the rest for the car. Now that the sun was higher in the sky the hike down was a lot warmer. Nonetheless, my peanut butter chocolate chip bar stayed intact and did not get melty or mushy in my bag. Overall it was a wonderful weekday hike on a normally super-crowded trail that we got to enjoy nearly all to ourselves. This was the second day-hike that I brought these bars on and they have now proven themselves as deserving a permanent spot in my backpack!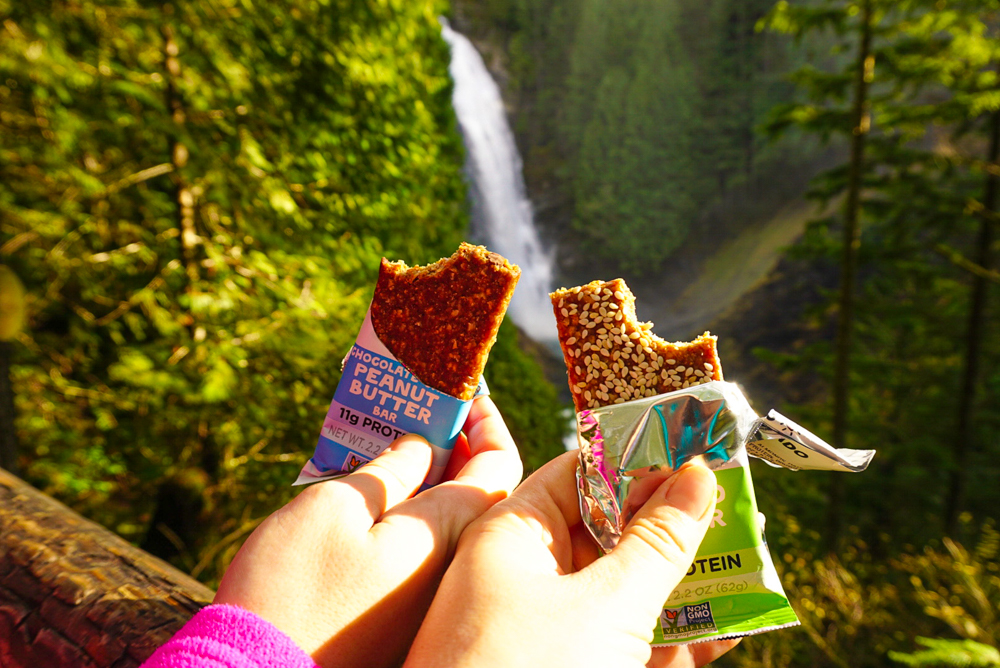 Community Involvement + Friendliness to the Earth
In 2016 Bobo's started partnering with local non-profit There With Care, a spectacular organization providing fundamental services to children and families experiencing a medical crisis (often involving a child or infant with a terminal illness). Through their partnership with There With Care Bobo's created the "There With Care Chocolate Almond Brownie Bar" to honor a courageous three-year-old battling brain cancer. With 100% of the proceeds from the brownie bar going straight to There With Care Bobo's is making such a huge impact for these children and families experiencing stress, grief, and all of the many emotions that come with having a sick child.
I also think it's super inspiring that Bobo's started as a mother-daughter duo in Boulder, Colorado and has continued to keep their family values at the center of their business.
All of their products are Certified Non-GMO and most of their products are vegan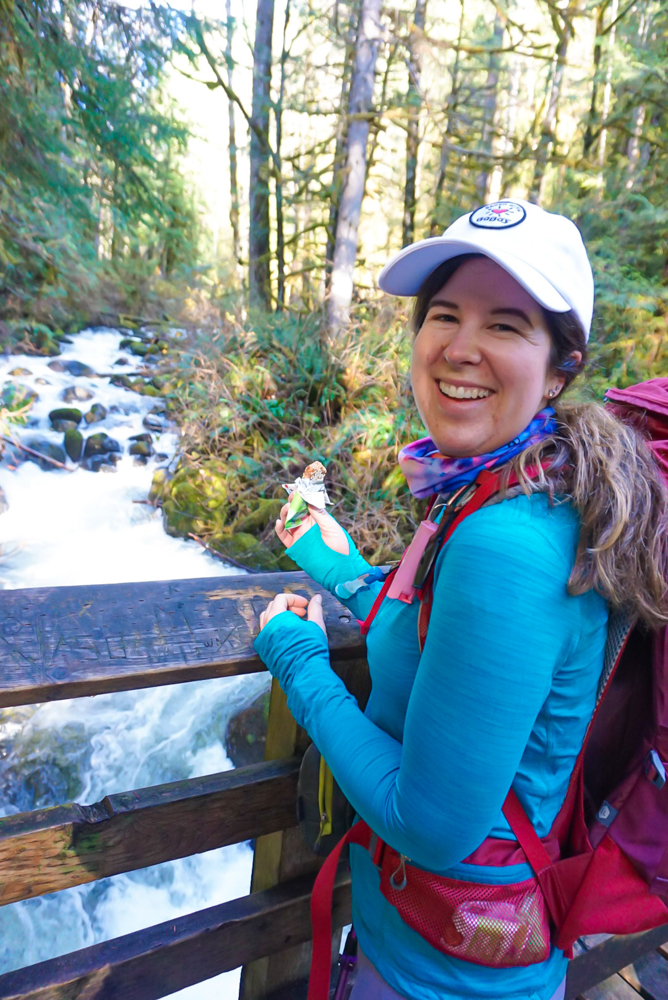 The Final Word
Bobo's Chocolate Chip Peanut Butter Protein Bar and Almond Butter Protein Bar are both healthy snacks that pack a lot of flavor! It's good to know of a bar that is gluten-free, dairy-free, and soy-free while still being delicious. And their mother-daughter story and dedication to community outreach doesn't hurt either.

A Few More Things I Love:
10g of protein in the almond butter bar
11g in the peanut butter chocolate chip bar
Low sugar (only 7g or less added from organic honey)
Long shelf-life
Small and bendy enough to fit in your pocket
Mess-free: they are soft but don't crumble or break, making them easy to eat on-the-go
Easy-to-open packaging
Areas for improvement:
I would love to see more eco-friendly packaging. Also, 2.2 oz is a little heavy but not bad when considering the density/consistency of the product
An explanation of the ratings:
Taste: 5/5 – while I liked both bars I really enjoyed the peanut butter chocolate chip – it is the perfect blend of sweet and savory.
Durability in Variety of Weather: 5/5 – I found this to be a great year-round adventure snack as it doesn't harden or melt. Planning on bringing a few in my ski pack this season.
Weight/Packability: 4/5 – They could be a little lighter but are nice and packable because of their malleable construction; you can put them in most pockets and they will bend as needed, which is great.
Eco-Friendly 3/5 – I would love to see some more sustainable packaging but I do like that their products are handmade in the US from local ingredients.
Find Bobo's Oat Bars on Outdoor Prolink. Not a member? Apply today!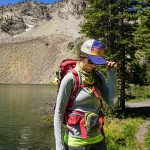 Kelly is a PSIA-certified alpine ski instructor from Seattle, WA who has a passion for the outdoors. When she is not teaching skiing you will most likely find her hiking, backpacking, or snowshoeing throughout the Pacific North West with her labradoodle, Daisy. Find her on Instagram, @kellll_bell89!