ProView – Zeal Optics Portal
I've been reviewing outdoor gear for about five years now and every now and then I come across a product that just makes me smile. Zeal Optics' Portal is one of those products. Not only are they beautiful goggles, but the lenses provide the best color and clarity of any goggles I've ever worn. I enjoyed the lenses so much that I even opted to wear them in lieu of my sunglasses while snowshoeing!
Zeal Optics Portal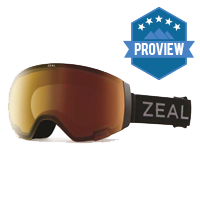 Product Description: Meet Portal, Zeal Optics' new rimless frame design with unsurpassed peripheral vision and simple and secure lens swaps. Portal is equipped with our revolutionary patent-pending Rail Lock System that allows you to guide, slide, and lock your goggle lens in place anywhere on the mountain. With RLS, align your lens with the frame's dual rails for the most advanced lens swap yet. The lens seamlessly slides into the channel and locks into place with our magnet system for a safe and secure closure that also keeps out snow and ice while you're skiing or snowboarding. Portal//RLS is available in the Zeal Optics Automatic+, Polarized and Optimum Collections for the best optics in any condition.
Offer price: MSRP: $179.00 - $299.00
Quality

Features

Look/Design

Ease of Use

Fit/Comfort

Durability

Eco-Friendly
Summary
If you're looking for a new pair of goggles (and even if you're not) the Zeal Optics' Portal is it. You can swap out the lens in 10 seconds, they provide incredible clarity regardless of what type of weather you're in, and they're stylish and comfortable. I for one am hooked and, frankly, disappointed I had to ski the first 31 years of my life without them. 
Pros
High-quality, high-performance lenses (with polarized lense option)
Rimless frame offers optimal peripheral vision
Ability to easily change lenses using Rail Lock System
Fun variety of colors offered for head strap
Anti-fog (even with a facemask on as per COVID regulations)

 

Helmet-compatible with anti-slip grip
Cons
"One size fits most" – this particular model is not ideal for smaller faces
No recycled materials used in production
Combination of thick foam padding and large lens causes mild pressure on nose/face when wearing with a helmet (I should note this is typical of most goggles on the market today, but it was hard to think of cons for these, so I felt it was worth mentioning)
To give a little context, I've been a downhill skier for nearly 30 years (learned at three years old), and I'm a Certified PSIA Level 1 Alpine Instructor. And as if I needed an excuse to get more ski gear, this season I finally made the break and got into backcountry skiing. So when presented with the opportunity to test the Zeal Optics' Portal I was thrilled and delighted.
I really put the Zeal Optics' Portal to the test, sporting the goggles while resort skiing in Sun Valley, Idaho; snowshoeing at Galena Lodge outside of Ketchum, Idaho; and ski touring at Artist Point near Mount Baker, Washington.
While winters in Washington state are known to be filled with overcast and drizzly days, the day we went ski touring around Artist Point was not one of them. We hit the jackpot with a gorgeous partly-sunny day with great visibility. This was my first day testing out the Zeal Optics' Portal and I have to say my friends were a bit jealous! The polarized lens helped fight the glare of the snow and provided amazing clarity of the surrounding mountain views. After this trip they undoubtedly secured a regular spot in my backcountry kit.
The day I snowshoed up at Galena Lodge near Ketchum, ID it was low-visibility and lightly snowing off and on; ideal conditions for the Sky Blue Mirror lens. Sometimes I think I don't need to wear glasses or goggles on cloudy days but the Sky Blue Mirror lens reminded me why I should. It was so nice to have total visibility while also protecting my eyes from the damaging glare from the snow. Adjusting them to fit over my beanie rather than my ski helmet proved to be fast and easy. It also didn't hurt to have the extra warmth and facial coverage in the inclement weather. I will definitely be bringing these on future snowshoeing adventures.
The third and final venue was Sun Valley Ski Resort in Ketchum, ID. SV is known for its gorgeous bluebird days so I knew it would be the perfect venue to test the Polarized Phoenix Mirror lens. While I used them over multiple days, I'm just going to highlight the last day that I used them. We got to the parking lot by 8:15 am with a goal of being in line for the lift by 8:30 am (with 9" of new you've got to go early!). Having used the Sky Blue Mirror lens most recently for snowshoeing, I switched it out while gathering our ski gear at the car. To my surprise, it took only a few seconds. I've used several goggles with interchangeable lenses and swapping them out was always a pain and very tedious. The Rail Lock System that Zeal Optics created makes it fast and stress-free. You simply line them up at the top and slide them into place with the help of the internal magnets. Constantly worrying that I'm going to break my goggles while changing out the lens is not something I want; these goggles take away that worry.
We made it to the line by 8:30 and my mom and I were the 14th chair up the mountain! It was a balmy 15 degrees at the base and even colder at the top of Bald Mountain (just shy of 10,000 ft). I was so thankful to have the Zeal Optics' Portal that left nothing for me to worry about while seeking out fresh tracks. Other skiers had issues with their goggles fogging up due to the cold, especially with the mask requirement while in the lift line, but not me! The Portal exceeded my expectations by remaining unfogged and providing great clarity while skiing fresh powder in the bright morning sun.
Fit/Comfort
While I found them to be quite comfortable I would not recommend them to someone with a smaller face as the lens is on the larger side. That being said, they fit me well and the large lens provides great peripheral vision.
Look/Style
As far as ski goggle style goes these are one of the best looking I've come across. Not only that, but the changeable lens option allows you to collect different lenses, maybe getting some for functionality and others for style. They also come in a variety of colors for the head strap.
Features
The Rail Lock System and lens change functionality are hands-down the best features of these goggles. And, in my opinion, they make Zeal Optics' Portal the best goggles on the market.
Weight/Packability
They are lightweight and come with a divided cloth case, making it easy to carry a second lens with you in case you want to swap while recreating.
Function/Performance
The Zeal Optics' Portal provided better clarity and color than any previous goggles I've skied with. And the fact that you can change the lens in less than 10 seconds makes them any skier/snowboarders' dream.
Durability
I think the only potential issue with durability for these is the lens(es) getting scratched. While these seem more scratch-resistant than most, I would definitely recommend treating these with the respect they deserve and keeping them in the case when not in use.
Friendliness to the Earth
The lens change function promotes sustainability, allowing you to extend the life of the goggles, purchasing new lenses while keeping the original frame. I would love to see them use recycled materials in production, but the lens change function is a great start and more sustainable than other leading competitors.

The Final Word
If you're looking for a new pair of goggles (and even if you're not) the Zeal Optics' Portal is it. You can swap out the lens in 10 seconds, they provide incredible clarity regardless of what type of weather you're in, and they're stylish and comfortable. I for one am hooked and, frankly, disappointed I had to ski the first 31 years of my life without them.
Shop Zeal Portal on Outdoor Prolink. Not a member? Apply today!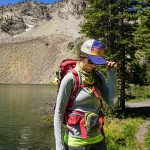 Kelly is a PSIA-certified alpine ski instructor from Seattle, WA who has a passion for the outdoors. When she is not teaching skiing you will most likely find her hiking, backpacking, or snowshoeing throughout the Pacific North West with her labradoodle, Daisy. Find her on Instagram, @kellll_bell89!