ProView – Cotopaxi Cielo Rain Jacket Review
As a registered Maine sea kayak guide, I adventure around the wettest parts of Acadia National Park each summer. Leading oceanic expeditions, my preferences for outdoor gear are things that keep me dry and easily recognized from afar. The only time I am not working on the water is when it is too rainy and windy to do so. When that happens, I put on my rain jacket and hike to see the stormy ocean from the cliffsides of Acadia National Park instead. This shoulder season, I have worn my Cielo Rain Jacket daily in chilly mist and fog, downpours, and guiding sea kayak tours. My partner, Sam, also a wilderness and sea kayak guide, helped test the jacket and is featured below. #GuideCoupleGoals 
Cotopaxi Cielo Rain Jacket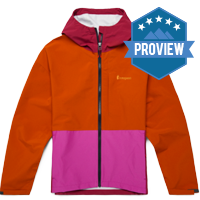 Product Name: Cotopaxi Cielo Rain Jacket
Product Description: The Cielo is a unique take on the traditional outdoor rain jacket. It's not just the Cielo's design that makes it celestial—in keeping with our Gear for Good promise, this rain jacket is made from PFC-free recycled materials so you can stay dry in bouts of light-to-moderate precipitation, minus unwanted chemicals.
Offer price: MSRP: $145.00
Quality

Features

Fit

Durability

Eco-Frindly
Summary
The Cotopaxi Cielo rain jacket keeps you dry and stylish during outdoor adventures. Its lightweight design, vibrant patchwork patterns, and sustainable construction make it a go-to choice for those seeking performance, color, and eco-friendliness.
Pros
True to size
Comfortable
Brightly colored
Stain resistant
Cons
Water soaks into the top layer
Doesn't keep you warm
Fit/Comfort
I like my clothes to have a loose fit. I fit M/L and chose a large for the Women's Cielo rain jacket. It fit me perfectly and was a great size for layering. The arms were not too snug and long enough without getting in the way, especially since the sleeves had velcro where I could tighten the cuff to my wrists. I had a full range of motion to twist and turn my torso and arms without any awkward tensions constricting me, which sometimes happens with the stiff material of raincoats. I could also comfortably layer a sun shirt and thin jacket underneath this Cotopaxi gear. On another occasion, I fit my Cotopaxi fanny pack under the jacket, but that was a little snug.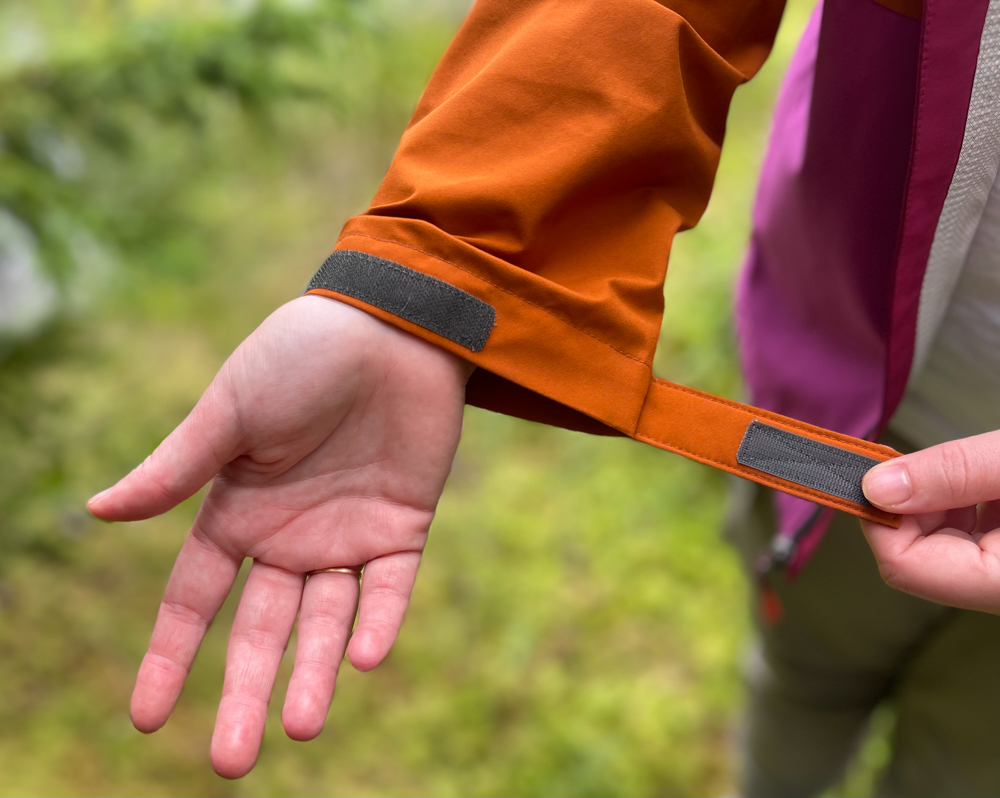 Look/Style
Cotopaxi forever has my heart with its colorful patchwork designs. The color options offer a fun way to express yourself and confidently explore the outdoors with personality. As an outdoor guide, I am also strongly in favor of unique color patterns in the case of an emergency where I need to be found or distinguishable. Wearing the Cotopaxi Cielo rain jacket has made it easy for my tour groups to identify me as the guide, as I am the only one wearing a nontraditional colored rain jacket. The Cielo rain jacket's patchwork feature and the saturated and bold colors made me stand out in a crowd against nature's green or blue background. It was also helpful that the zipper was a different color making it easy to see, zip up, or spot any issues.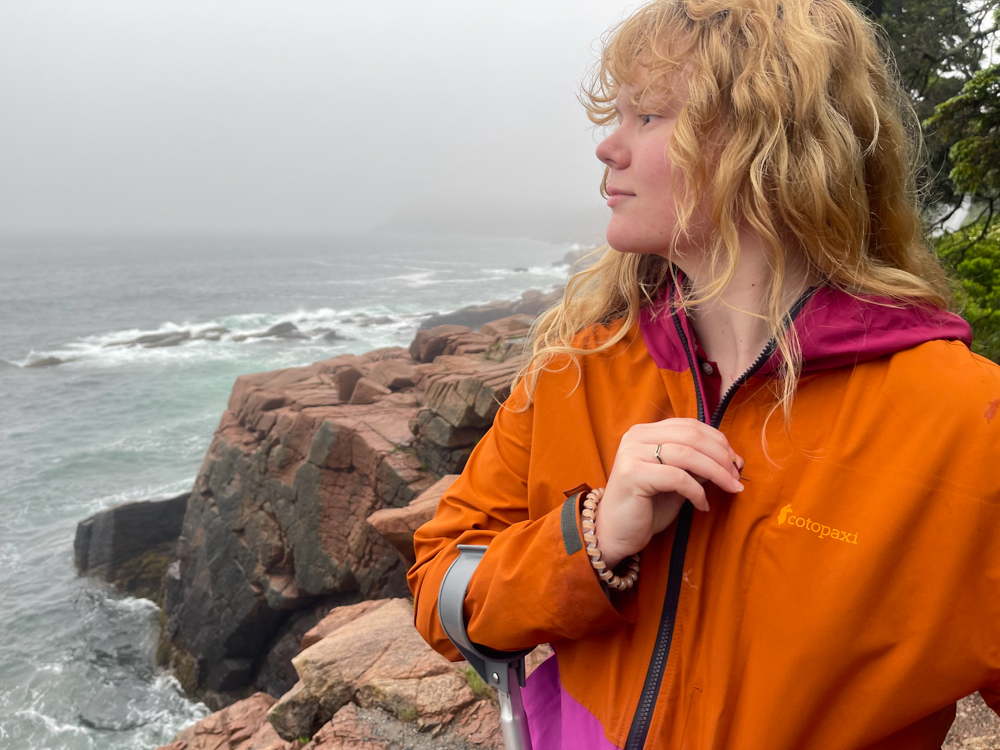 Features
I was stoked about the jacket's simple yet essential features. The hood easily fits a helmet, and with the drawstring clamp, I could fit it for side viewing without head protection. The roomy shoulders let me move around and stretch without any restrictions. The deep chest pocket provided ample space for all the essentials, including a big IPhone 12 Max. Plus, I enjoyed that all of the pockets had added cords on the zippers. They are a nice detail that helps with zipping when you have cold hands on a rainy day.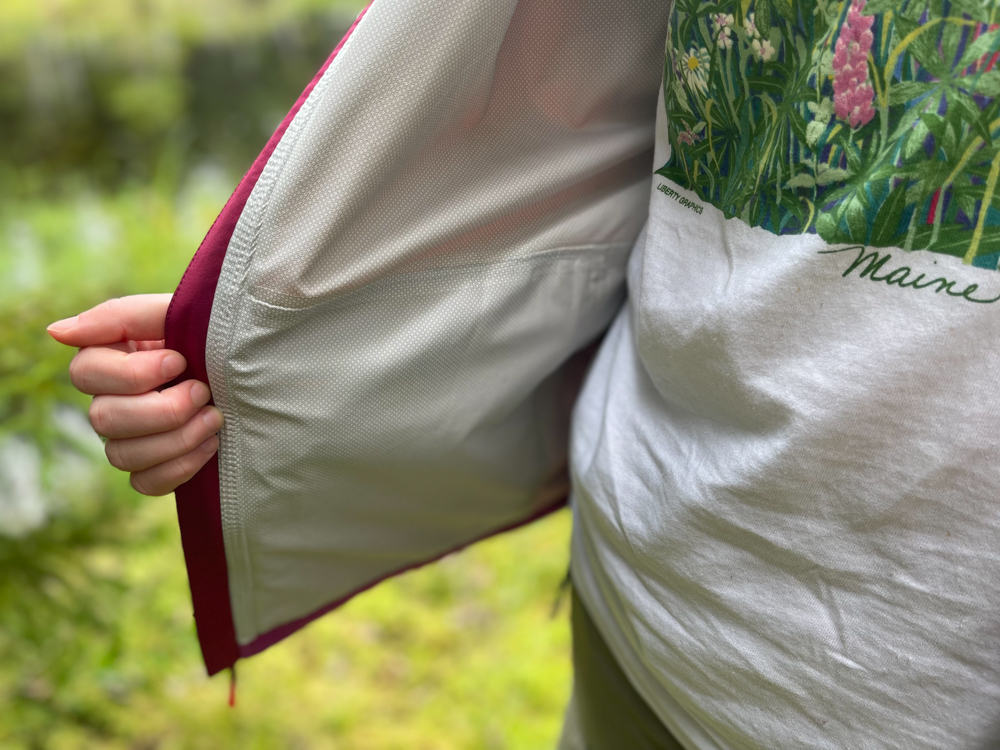 Function/Performance
While my primary function is as a kayak guide, I am judging this jacket on hiking and biking functions as well — as it is what the product is more geared for. The Cielo rain jacket does what it promises — it keeps you dry in normal rainy conditions. This rain jacket is light, breathable, perfect for layering, and perfect for summer outdoors. However, when I first tested the Cielo rain jacket, I was shocked by how quickly water soaked into the colorful top layer. In 5-10 minutes, the water had darkened all of my hood and shoulder material instead of sliding off. This weighed down the jacket a bit, and in cold air and cold rain, having the top layer wet made me cold, even if the rain never soaked through. Considering the breathability of the jacket, I am okay with this. The 100% recycled polyester layer underneath the color kept me completely dry, as the jacket is equipped with full seam taping to keep the water out. 
Friendliness to the Earth
Cotopaxi is a sustainable brand that prioritizes environmental friendliness through initiatives such as using recycled materials in their products as well as putting 1% of revenues into ESG projects in Latin America run by the Cotopaxi Foundation, which alleviates poverty and strengths educational efforts in the region. I love sporting colorful "Gear for Good," as I know Cotopaxi's durable gear is ethically sourced and made with the whole lifecycle of the item in mind. To back this, Cotopaxi has a "guarantee for good" which offers trade-ins, warranties, and returns. The Cotopaxi Cielo rain jacket represents these ideals using 100% recycled polyester and PFC-free recycled materials.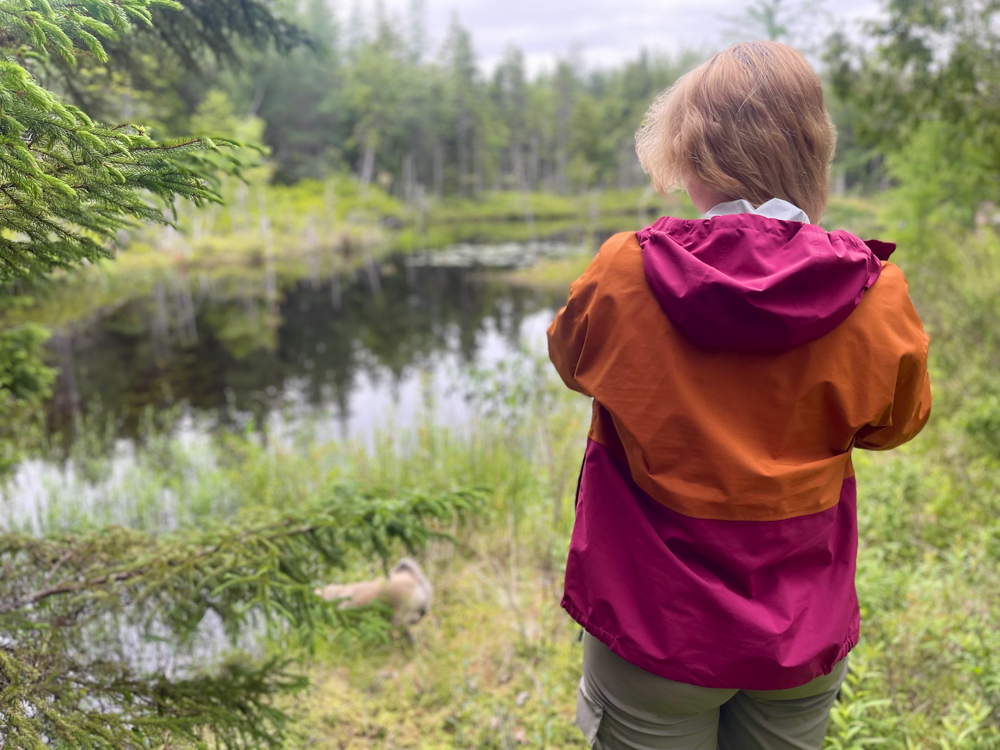 Final Word
The Cielo rain jacket delivers on its promise of keeping you dry in rainy conditions. It's lightweight, breathable, and perfect for layering during summer outdoor activities like hiking or biking. The 100% recycled polyester layer underneath the colorful top layer ensures no rain seeps through. Cotopaxi's vibrant patchwork designs express personal style and provide visibility and easy identification in emergencies. The jacket's unique colors, bold saturation, and contrasting zipper make it both fun and functional.
---
Shop the Cotopaxi Cielo Rain Jacket on Outdoor Prolink. Not a member? Apply today!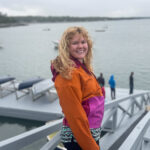 Annslee Bottoms grew up running barefoot in the southern heat of Alabama, jumping in creeks or on horses. Now she is a registered Maine sea kayak guide, with two seasons and 100+ sea kayak tours under her belt. When she isn't on the water, Annslee is traveling internationally, cooking something quick, or solving jigsaw puzzles. You can connect with her on Instagram at @Annslee.b