ProView – Cotopaxi Women's Teca Calido Hooded Jacket
When I pulled this jacket out of the box, I was excited to see the retro-inspired styling and colors that Cotopaxi is known for. It didn't take me long to realize that the Teca Calido is reversible! Something that not many brands do, but provides options if the jacket is primarily for everyday use – which is what this one does best. The synthetic, insulated jacket has a sleek, two tone side with zipper pockets and a quilted side with slide in and drop in pockets that offers a little more fashion flair on and off the trails.
Cotopaxi Teca Calido Hooded Jacket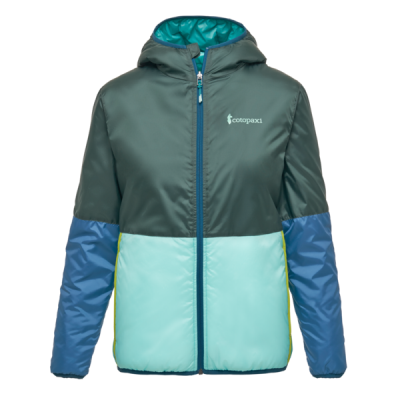 Product Description: This core-warming jacket combines recycled polyester insulation and repurposed taffeta for reversible and convenient color-blocked protection. Wear it fall through spring—around town or far from it. The Cálido brings the heat, but it also stows and deploys at a moment's notice: Pack it into its own chest pocket and whip it out when the temperature drops. Elastic binding on hood, hem, and cuffs keeps the warmth in, and two pockets on both sides of the jacket keep your hands toasty.
Offer price: MSRP: $150.00
Quality

Features

Fit

Style

Eco-Friendly
Summary
The Teca Calido Hooded Jacket is a durable, reversible, do-it-all insulated jacket from Cotopaxi. If you are looking for a one-jacket-quiver to wear from town to the trails, this synthetic option is both functional for adventures and offers fun flare for everyday wear.
Pros
Comfortable
Reversible
Retro Style
Environmentally Conscious
Wind Resistant
Cons
Hard to Zip into Stash Pocket
Unflattering Fit Due to Pockets/Cut
Fit
I've found that Cotopaxi's women's jackets tend to be a bit boxy, and that was the case with this one as well, additionally, the bottom half of the jacket is made even more puffy/wide because of the pockets and insulation on both sides – so it isn't a very flattering or sleek fit. With a little more tapering and/or less insulation on the pockets themselves, this problem would be solved. I was impressed, however, that even in the small, Cotopaxi designed it with long enough sleeves, which is something I struggle with in most brands in a size small.
Durability
I started using the jacket for daily wear the day I got it for things like running errands and stacking wood. I was most impressed with the outer material of both sides of the jacket which stood up to abuse handedly. My only durability concern is the stitching on the outer corner of the pockets on the quilted side that allows it to be both a drop in from the top and slide in from the side pockets – I can see this failing after years of use. The drop in pocket feature is essential for this side of the jacket, however, because the flat slide in pockets are good for keeping hands warm, but don't hold anything in them reliably (a phone or keys will slip right out.) The quilted side also has a zippered pocket on the chest which is a more secure way to hold valuables.
Performance
In addition to everyday use, I took this jacket backcountry skiing, resort skiing and on short hikes. While active, I've been most impressed with how wind resistant it is for a jacket that isn't a shell. It kept the breeze out on chairlifts and windy walks. While skiing in resort, I used it as both a mid layer on chilly days and an outer layer on warmer ones. As an outer layer it worked well, particularly with the two-tone side out, thanks to the internal zippered pocket to keep my pass secure. As a mid-layer, it compressed down nicely under my ski shell to keep me toasty but not add too much bulk. In addition, the cozy, insulated hood can fit over a helmet and zips up nicely to stay warm while changing in and out of ski gear.
For touring, I kept this in my pack as an emergency layer and was so happy to have it when we reached a summit and it was gusting 45 MPH winds. Thanks to it's boxiness I was able to actually put it on over my ski shell to keep me warmer while changing over. Cotopaxi designed the Teca Calido jacket to pack into its own chest pocket, which I did to pack it into my bag, but it is definitely a tight fit that takes longer to pack than I was expecting. Another inch of space in this pocket would make it much easier to pack into itself – after using it, I didn't want to take the time to try to fit it back in, so just shoved it in my pack.
Eco-Friendly
One thing I'd like to highlight, too, is Cotopaxi's commitment to the environment. Their Teca line of products is made from remnant fabrics from other pieces to reduce waste, so you can feel better about purchasing this or another of their products if you are in the market for new gear. The Teca Calido Jacket specifically is made with a repurposed taffeta outer and 100% recycled polyester insulation.
The Final Word
The Teca Calido Hooded Jacket is a durable, reversible, do-it-all insulated jacket from Cotopaxi. If you are looking for a one-jacket-quiver to wear from town to the trails, this synthetic option is both functional for adventures and offers fun flare for everyday wear.
Shop the Cotopaxi Teca Calido Hooded Jacket on Outdoor Prolink. Not a member? Apply today!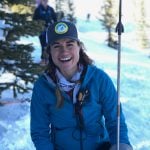 Originally from the mountains of Maine, Kelly has been a ski patroller since she was 16 years old. Her love of the outdoors drove her to a degree in Outdoor Recreation Business Administration followed by an M.A. in Exercise Physiology from Columbia University. Since graduating Kelly moved to Colorado and still patrols, manages a fitness & cycling program for a large climbing gym and works full-time in corporate wellness. When she isn't helping improve the fitness of others or teaching the next generation of patrollers, you can usually find her on or near rocks – jumping off of them on her skis, avoiding them while guiding friends through whitewater, biking over them, or climbing to the tops of them.  Connect with her on Instagram @Kelly_ventures.