ProView – Cotopaxi Women's Fuego Down Jacket
When I pulled this jacket out of the box, the first things I noticed were the fun color scheme Cotopaxi is known for and how soft it is. I usually associate down jackets with slippery material and the "swishy" noise that wind pants make, but the Fuego is buttery soft. A friend also noticed, saying "Wow! Your jacket is so quiet! My biggest complaint about my down jacket is that it's so noisy."
Cotopaxi Women's Fuego Down Jacket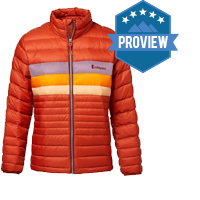 Product Description: The Fuego is our quintessential down insulation layer. It's made with responsibly sourced, water-resistant 800-fill goose down, making it the lightweight down jacket we can't seem to take off from fall through spring—we even take it camping in the summer. This versatility comes courtesy of its streamlined fit, toasty down insulation, and DWR-finished ripstop nylon shell. We also added a built-in scuba hood and elastic binding throughout, further sealing out the cold, and the assortment of stash pockets throughout provide space for all your essentials. Rounding out the Fuego is an adjustable drawcord at the hem and an updated zipper for silky operation in all conditions.
Offer price: MSRP: $230.00
Quality

Features

Fit

Style

Eco-Friendly
Summary
Stylish enough for everyday wear, but technical enough for high-altitude adventures, the Cotopaxi Fuego jacket is a capable down puffy that is comfortable and functional.
Pros
Comfortable
Quiet
Stylish
Internal pockets
Design Features:
Two internal pockets: One of my biggest complaints with a lot of jackets is that there aren't enough pockets. Cotopaxi included two on the inside left of the Fuego: one zippered and one open-topped pocket so you can safely (and warmly) stash your keys, phone, sunglasses, or even goggles.
While the jacket comes with a stuff sack, I also found that the larger interior pocket was just large enough for me to fold the whole jacket into itself to throw in my pack.
Silver, high-quality YKK zipper on the front to add another bump to its look with the color scheme, and, I haven't had any issues with it snagging.
Finally, I was really pleased with how thin/low profile the Fuego looks. With high-quality 800Fill Goose Down, Cotopaxi packed a lot of warmth without the bulk. My only complaint is that the "athletic fit" feels extra boxy at the hips and while the sleeves were okay on my arms most of the time when pulling skins off or reaching for things in my pack my wrists were totally exposed. A tiny bit more tapering and a little added length in the sleeves would have improved this a lot for me, but otherwise, the jacket fit well through the torso and shoulders. Cotopaxi notes on its website that wearers may want to size up because of the athletic fit, so that could have made the sleeves longer, however, would have made the waist/hips too large on me.
Performance Outside
I took this jacket on evening spring backcountry ski laps, on hikes up 13- and 14,000 foot peaks, and on a river trip for hanging out at camp in the evening. The Fuego jacket performed well in each of these scenarios and I was impressed with its windproofness on high peaks, coziness for just hanging out around a campfire, and comfort in a range of temperatures and conditions.
The durability is also impressive — I shoved it in and out of my pack frequently and pulled my skins off my skis several times (hello, sharp edges!) and never worried about ripping the fabric. No feathers have popped out, either. I also used the scuba hood in each of these scenarios and love the added protection from wind or cold without having to worry about the hood being blown off my head.
The Final Word
I would recommend this jacket to those wanting something that can perform during a variety of adventures and also be used for everyday wear year round when temps drop. Some minor tweaks to the sleeve length and boxiness at the hips and a slightly bigger internal pocket to pack itself into would be nice improvements. But as is, the Cotopaxi Fuego is a solid hooded down jacket made by a company committed to best practices for sustainability and ethics.
Shop the Cotopaxi Women's Fuego Down Jacket on Outdoor Prolink. Not a member? Apply today!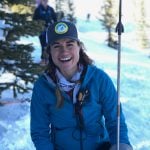 Originally from the mountains of Maine, Kelly has been a ski patroller since she was 16 years old. Her love of the outdoors drove her to a degree in Outdoor Recreation Business Administration followed by an M.A. in Exercise Physiology from Columbia University. Since graduating Kelly moved to Colorado and still patrols, manages a fitness & cycling program for a large climbing gym and works full-time in corporate wellness. When she isn't helping improve the fitness of others or teaching the next generation of patrollers, you can usually find her on or near rocks – jumping off of them on her skis, avoiding them while guiding friends through whitewater, biking over them, or climbing to the tops of them.  Connect with her on Instagram @Kelly_ventures.