ProView – Darn Tough Hiking Socks
One of the greatest yet simplest pleasures I've had in my life is putting on new socks for the first time. I sometimes even tuck my new socks away and wait for a special day to wear them for the first time. Sometimes, this softness comes at the cost of durability as I have worn through socks in a matter of months before. After hearing about Darn Tough's legendary lifetime guarantee, I was excited to put their Captain Stripe, VanGrizzle, Scout, and Nomad socks to the test backpacking and hiking around Colorado and Utah and working long days on film shoots.
Darn Tough Hiking Socks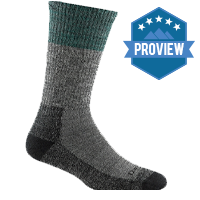 Product Description: Darn Tough Vermont Socks are purpose built premium merino wool socks made in Vermont, USA. Our socks are guaranteed for life to be the best fitting, and most comfrotable.
Offer price: $21.00-$24.00 MSRP
Comfort

Wicking

Warmth

Stink

Sustainability/Sourcing

Value
Summary
Darn Tough offers a wide range of fine-gauge knitted merino wool socks proudly and sustainably made in Vermont. Due to their fine knit and thoughtfully placed stretch, they will not bunch up or slide around on your foot. It is this same fine knit that made them less breathable, eventually leaving my feet slightly colder and stinkier than normal.
Pros
Extremely durable
Brand stands behind the product with lifetime warranty
Stay in place on foot with not bunching
No blisters in my experience
Cons
Did not wick and breathe well
Smelled more than normal after a long day and especially after multiple days
Don't have that brand new sock feel I crave
Comfort
When I put a sock on I want it to be comfortable. As I mentioned, one of my favorite feelings ever is sliding into a brand new sock. Soft merino knits have sent me to cloud 9 before. While Darn Tough's socks were definitely soft, my anticipation of heavenly softness left me disappointed. The socks were certainly softer than not, but despite being knit, they have more of a felty sensation to them. I attribute this to the extremely fine gauge knit they use. While this didn't fulfill my craving for softness, it is also what allows these socks to stay in place so well on the foot. The fine-knit combined with strategic cushioning and mesh-ier areas keep the sock suctioned on as if it were an octopus that had just latched on to your foot with no intentions of letting go. They do not bunch or slide, so they also do not create extra friction. I am not particularly susceptible to blisters, but I didn't feel anything even beginning to resemble a hot spot while wearing these. What they lacked in softness they made up for in fit.
Wicking
While wearing all of the socks in my hiking boots, trail shoes, Blundstones, and slippers, my feet sweated a normal amount. However, they did not wick away this moisture the way I have experienced with merino before, especially with the more heavily cushioned Scout and Nomad. The Captain Stripe and VanGrizzle did not wick away moisture particularly well either though. Because they fit so well they gathered moisture from the skin, but it seemed to be locked into the socks tight knit. Let's be clear, it still blows cotton out of the water, but in the merino world these socks fall behind.
Warmth
The more cushioned socks like the Nomad, Scout, and VanGrizzle were just above average warmth while the Captain Stripe was rather cool to wear as winter emerged in October and November. During activity, the socks thermoregulated well, but post-activity the lack of wicking ability left my feet wet and they continued to get colder as my body worked less. When backpacking, I usually wear the same socks that I hiked in until I put on my sleeping bag socks in my tent before bed, but in the Nomad and Scout my feet became too cold and I had to switch into a dry pair.
Stink
After a full day of working on a film set in the Nomad sock and two full days hiking through Colorado's fall aspen groves in the VanGrizzle sock, my feet smelled worse than normal. I've never had much of a foot odor problem, especially when wearing merino wool, but with my feet staying wetter than normal there may have been more of a chance for the odor to build up. They didn't smell putrid or anywhere close, just enough that it was noticeably worse than I am used to.
Sustainability/Sourcing
It is clear from looking at Darn Tough's packaging, socks, and sustainability page, that they are committed to continual improvement while also acknowledging their flaws; they are working towards using 100% Responsible Wool Standard certified wool; they are working to phase out virgin, petroleum based fibers in order to incorporate more recycled fibers; their packaging and shipping boxes are from recycled materials, and they are working to eliminate the use of polybags by 2021. While polybags are recyclable, the majority of material recovery facilities do not handle them. Most importantly to me is that they openly acknowledge that they, as part of the textile industry, have a long way to go, yet are actively seeking to have the smallest impact possible from production to packaging.
Value/Durability
Darn Tough socks are slightly more expensive than their competition, but they are backed by an unconditional lifetime guarantee stating, "If our socks are not the most comfortable, durable and best fitting socks you have ever owned, return them for another pair. No strings. No conditions. Socks guaranteed for life." Spending something like $3-5 more upfront will ensure that if your socks wear out in a year, you can get them replaced for the cost of shipping rather than buying a new pair for $20+. I have many friends who swear by them because of this. As far as durability goes, I have not noticed any wear on them in the several months that I've had them and I have read accounts of these socks easily making it through hundreds of miles of thru-hiking. It seems they are not only backed for life but built so you will likely not even need to take advantage of the guarantee.
A Little about each sock:
The Captain Stripe Micro Crew was the lightest of the socks with a lightly-cushioned sole and non-cushioned top of the foot through the lower calf. They were great for hotter days or more active pursuits, but afterwards were wet which left my feet the coldest.
The VanGrizzle Boot Sock Cushion had a medium-light amount of cushion through the foot with more breathable stretchy fabric on the top of the foot and front of the ankle. It was slightly less cushion than the scout and had a fun pattern. These socks would work well as a do-it-all cushioned hiking sock.
Other than having slightly more cushion and no fun pattern, the Scout Boot Sock Cushion was very similar to the VanGrizzle. I preferred the extra cushion and simple colorways myself, but it performed very similarly to the VanGrizzle. This sock and the Nomad below are what I found myself reaching for while working from home as the temperatures dropped. The Scout is a medium cushion do-it-all hiking sock that was also nice for long days on my feet while working.
The Nomad was the thickest of the four socks with a plush full cushion. Although cushioned, it was not obtrusively thick and performed best in cooler conditions or extremely long days where lots of wear on all sides of the foot was inevitable. After a long day in the Scout, it was important to get into dry socks with all the trapped moisture in the full cushion. Along with the Scout, I wore this when lounging around the house. It was slightly warmer than the Scout, but in the grand picture of socks, I'd call them both mid-warmth.
The Final Word
Darn Tough offers a wide range of fine-gauge knitted merino wool socks proudly and sustainably made in Vermont. Due to their fine knit and thoughtfully placed stretch, they will not bunch up or slide around on your foot. It is this same fine knit that made them less breathable, eventually leaving my feet slightly colder and stinkier than normal. They didn't have the softness I crave the first time I put on the sock, but what they lack in softness they make up for with durability and a lifetime warranty against defects in workmanship or simply wearing through. For a few dollars more than the competition, you'll get a sock that will last a lifetime, it's just up to you to figure out if the lack of wicking and associated drawbacks are worth never needing to worry about your socks prematurely wearing through again.
Shop Darn Tough on Outdoor Prolink. Not a member? Apply today!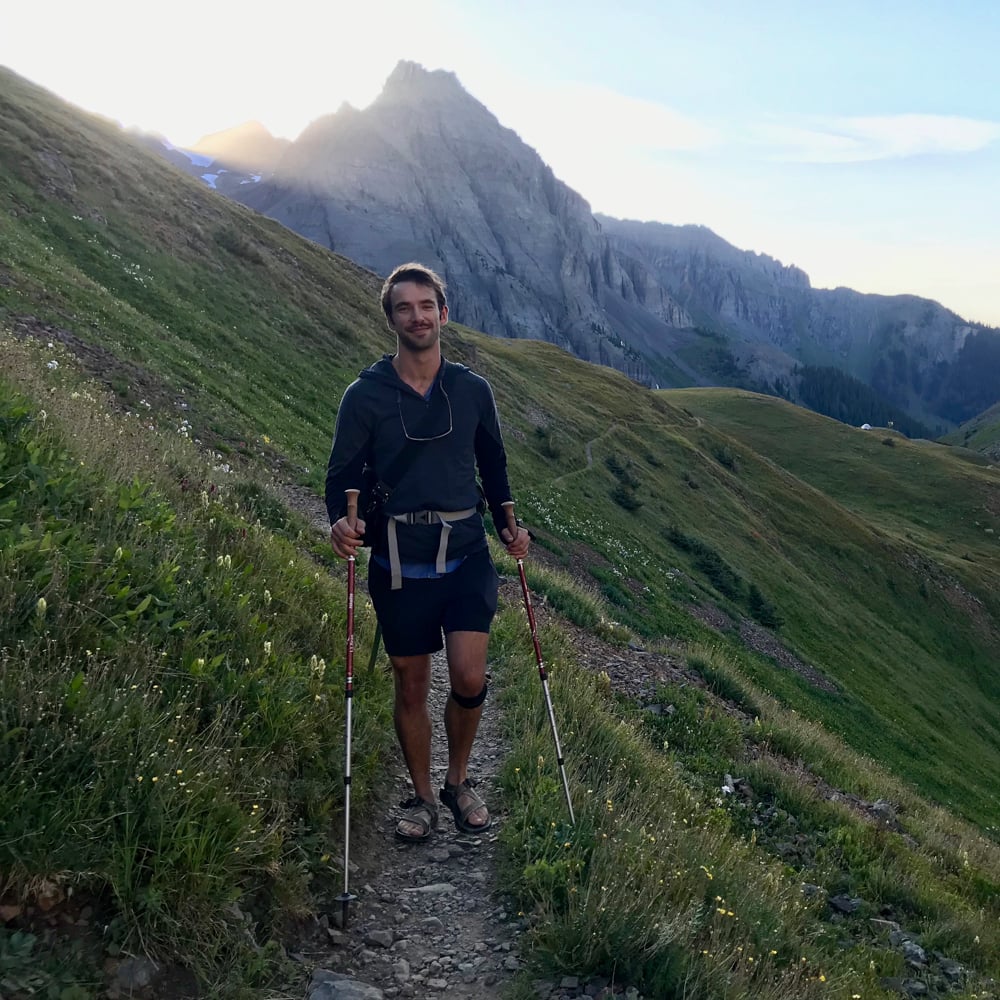 Will Sardinsky is a freelance filmmaker and photographer exploring how story connects humans to their environment. His work expresses his fondness of the Colorado landscape, making vast, untouched areas of the West home for his subject and his audience. In both documentary and commercial work, Will's emphasis is on crafting a well-told story, hopefully, a story that can create a connection for communal well-being.
When he's not working you can find him kayaking, split boarding, or backpacking and likely lugging around unnecessarily large and obscenely slow film cameras to escape the fast-paced digital realm. Check out his work at
@willsardinskymedia
or
www.willsardinsky.com
.