ProView – Darn Tough Hiking Socks
A lightweight pack full of different sock assortments! I was impressed with the light weight, incredibly soft, and compelling designs of the Darn Tough sport weight socks.
Darn Tough Hiking Socks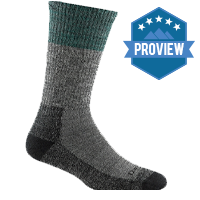 Product Description: Darn Tough Vermont Socks are purpose built premium merino wool socks made in Vermont, USA. Our socks are guaranteed for life to be the best fitting, and most comfrotable.
Offer price: $21.00-$24.00 MSRP
Quality

Features

Fit

Durability

Eco-Friendly
Summary
I really like Darn Tough socks and they made me feel just as supported as the competing brand I've been loyal to for years. I don't think that I'm quite yet converted to a Darn Tough fanatic, but I see and understand the hype and would certainly recommend them to friends and family members. Darn Tough has a great mission statement, supports its customers, and truly believes in producing a product built to last. 
Pros
Super comfortable
Durable
Lifetime Warrenty
It was mid-week on a slightly cool summer day when I decided to give the socks a try. I didn't want it to be too hot, as the socks might have made me sweat, but not too cold where I would need a thicker pair. I found an old trail behind one of my friend's neighborhood called Nighthawks Trail and set out on a brisk walk. I was worried the socks were too thin and would cause me blisters in my new boots. Instead, they kept my feet dry, and I didn't find my foot was sliding in my boot. I went for a few miles, the sun rising higher and it getting hotter by the minute. My feet still remained comfortable, despite the heat. The trail winded up the ravine where I could look out over Klamath Lake. There was a slight breeze coming off the water between the thick manzanita bramble. I find so much solace and clarity when I'm out in nature when it's me and my thoughts. I can place all social expectations on hold as I listen to what I truly want and need.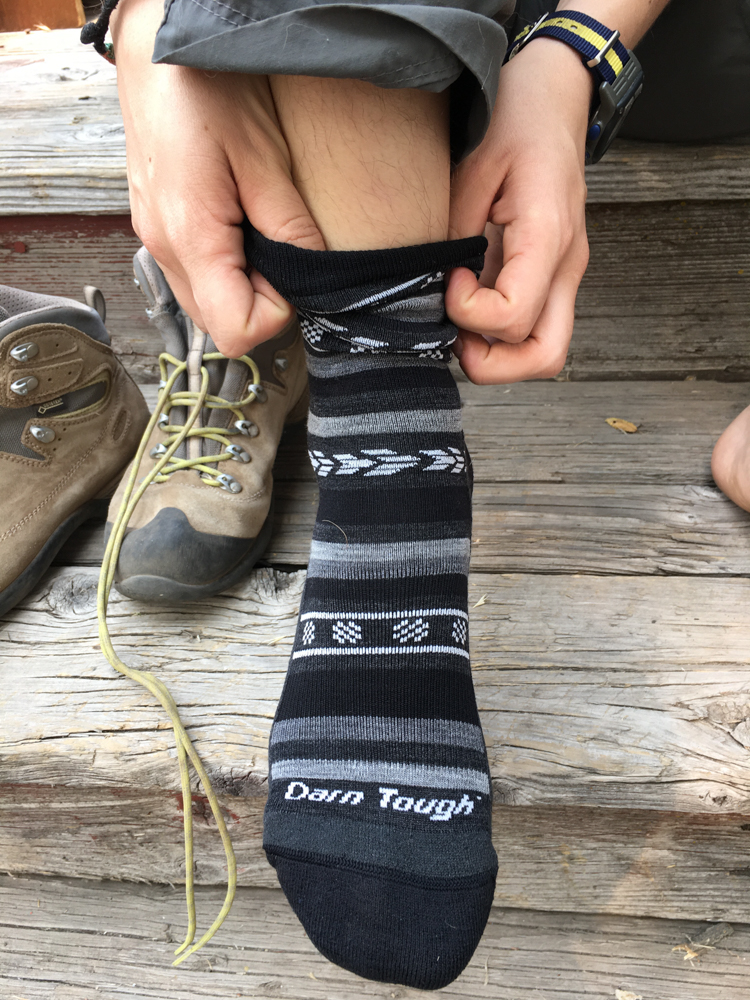 No one else was on the trail so I decided to try some light jogging. I noticed that the shoes slipped a bit when I would push off, and I think this is due to the slick nature of the socks. I tried jumping up on stumps, being a little kid again. I was also trying to get my dog to feel confident in the outdoors, trying new things, and being playful. We had a lot of fun! The socks seemed to adapt to whatever my inner nature wanted to be in that moment. I imagine, when I took my boots off and then the socks, the socks were slightly damp but wicked water off easily.
I've used these socks several times since then. They are great for a light sock to have around the house, great for running with high ankle running shoes, hiking boots, and I even used them for soccer practice! 
My friend tried them on who has different size feet and they fit her comfortably. I take these socks wherever I go. The only problem I have encountered is they are a little slick and my dog got her tooth caught and made a hole in one of them. It was an easy fix but not the usual durability you see in the thicker socks of this brand.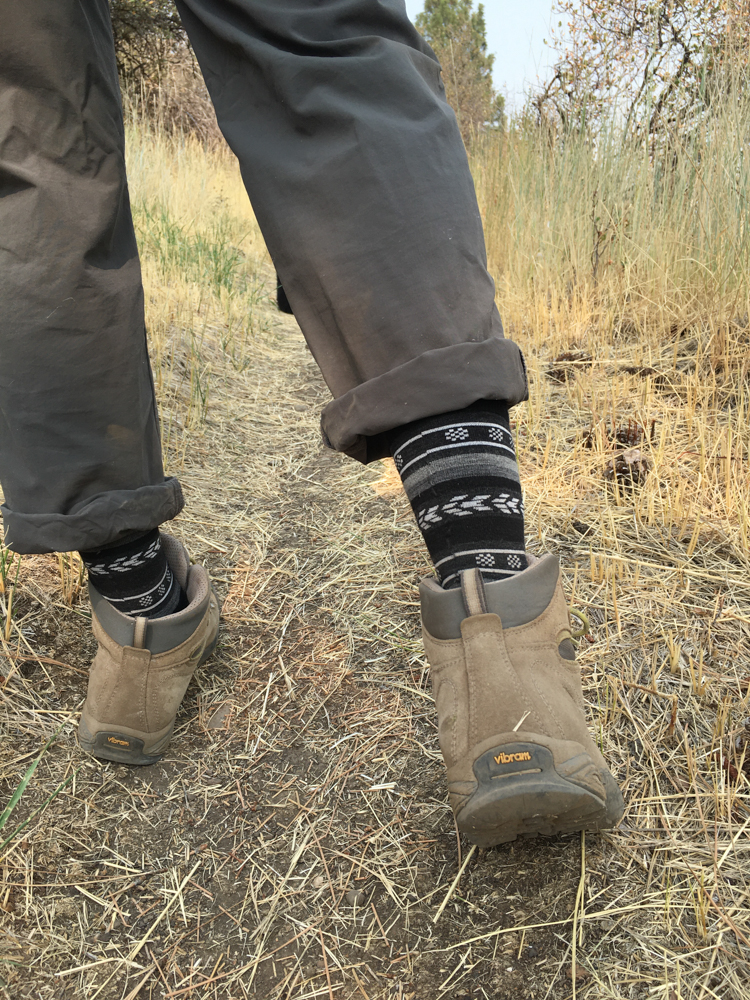 Fit
The socks fit my feet perfectly. I even had my sibling try them on who has smaller feet than me, and they fit her well also.
Look/Style
These socks are really fun! They have cool designs, including sloths and roses. I have had several people compliment the socks while walking around town.
Features
Cool designs, stretchable fit. High ankle, lightweight material that breathes easily. Even though they are wool, the socks aren't itchy.
Weight/Packability
Thin, soft and, warm packaging. Very easy to fold together, and super lightweight. Great traveling socks! I was able to pack all of them in my backpack and daypack without taking up any room.
Function/Performance
These socks are durable like their thicker counterparts. Also, they have a lifetime guarantee like thicker socks. They worked well in my new hiking boots and I've taken them on several hikes and have loved them. I don't think with time they would last as long as their thicker counterparts. With a few washes, they seem more faded in color. They did prevent blisters that my other socks weren't able to prevent!
Durability/Construction
The fabric is lightweight and strong. However, my dog did grab them by accident and it tore a hole through one of them. I don't think that the heavier pairs that I carry would have torn so easily. They are flexible so easy to slip on and take off. They are slick so slide a bit in my shoes. 
The product met my expectations. The socks were much more thin than I thought they would be, however proved to be a benefit on warmer days because I was still in need of a high ankle wool sock. I loved the designs and appreciated the fitting of the socks. I take them everywhere now!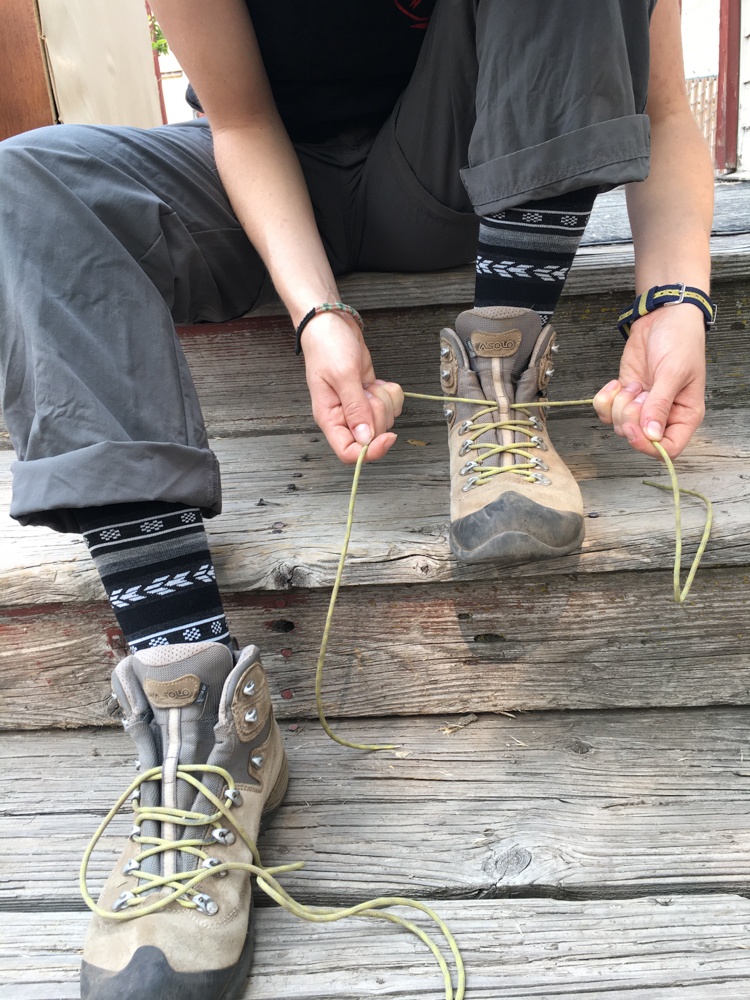 Eco-Friendly
Darn Tough socks are made for sustainability and durability, two of their founding principles. They help engineer a sock that is going to last and guarantee a sock for life, therefore if a sock does get damaged or worn, you can send them the socks and they will replace it for you. They believe that a sock returned to them is better than in the landfill, where they can reuse material for more socks.
The Final Word
These socks are great! I will definitely be recommending and buying more of these lightweight hiking socks for the future. They are perfect for most of my hiking, running, and soccer needs.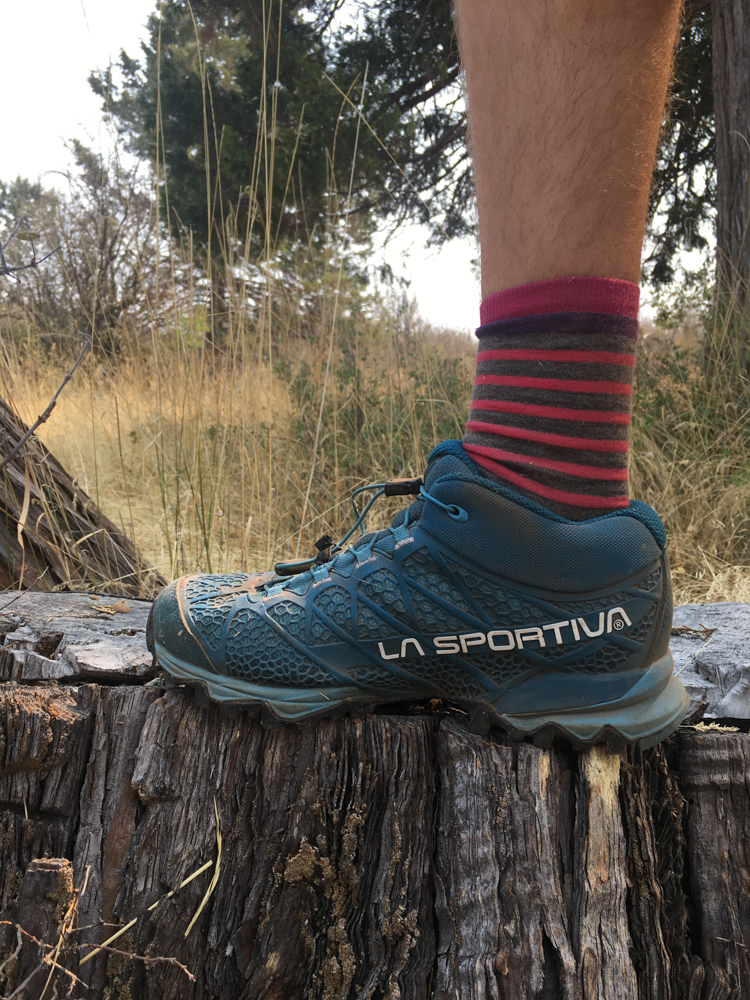 Shop Darn Tough on Outdoor Prolink. Not a member? Apply today!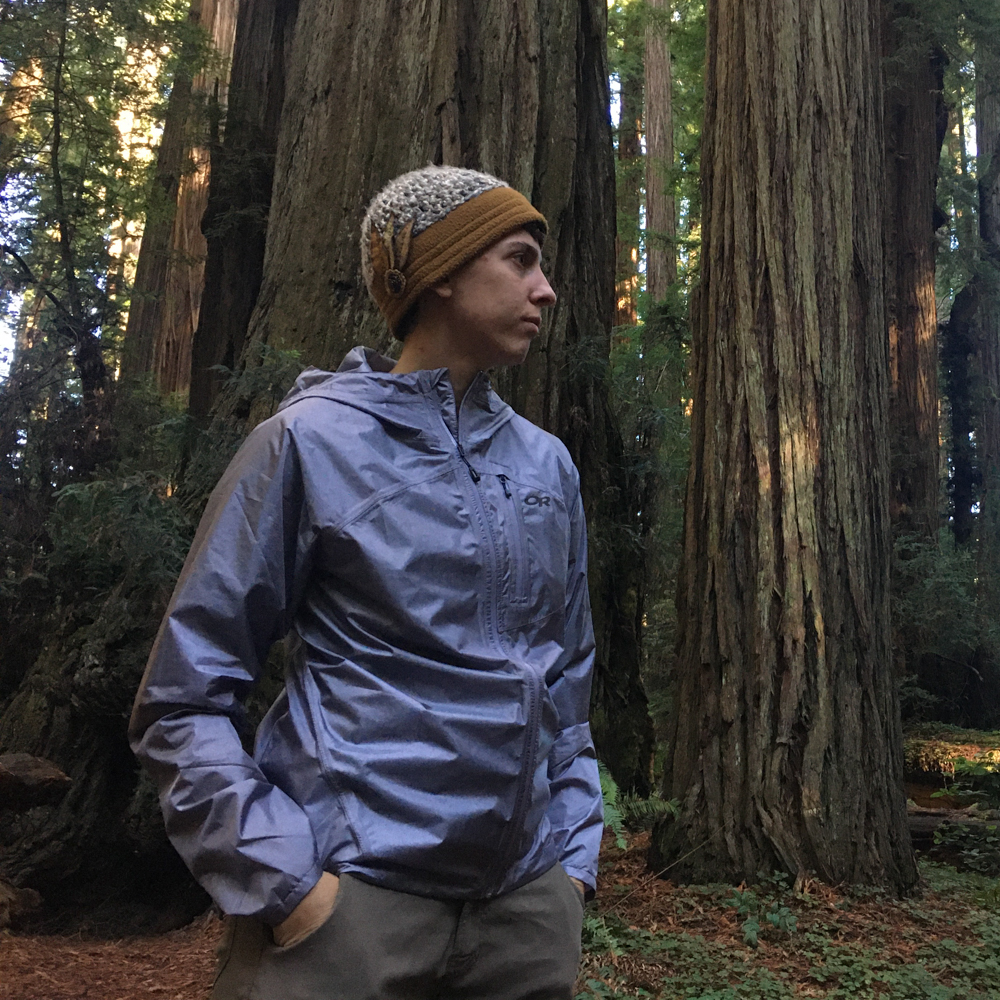 C.J Munro has been a backpacker and outdoor enthusiast their whole life. They worked as a Wilderness Guide for two years with at-risk youth. Seeing the power the outdoors has on healing, they went to counseling graduate school and now operate as a Wilderness Therapist.