ProView – Hikers Brew Coffee
I always shy away from calling myself a coffee snob but that's only because I don't have enough hair for a man-bun and leather aprons just aren't my style. I do, however, put a lot of time and effort into making the perfect mug of bean water every morning. For the three years that my wife and I lived in our van, I would wake up and make hand-pump espresso for each of us on a daily basis. That's 1,095 delicious espressos. Even with our limited space, we traveled with a burr grinder, manual espresso maker, french press, pour-over, and an Aeropress. It wasn't until just now that I realized that I might have a problem… But I digress. 
Hikers Brew Coffee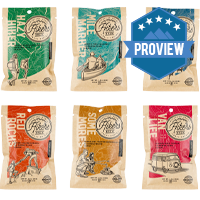 Product Description: Hikers Brew focuses on creating sustainable coffee that you can be proud to take on your next outdoor adventure. Our mission is to promote sustainability within the outdoor and food packaging industries. To support this mission, we offer a small multi-use and compostable package that keeps coffee fresh. This allows avid adventure seekers to take it with them anywhere they go.
Offer price: $15.00
Quality

Flavor

Aroma

Eco-Friendly
Summary
Coffee is as essential to outdoor pursuits as a good pair of boots and a backpack. Maybe even more so for the early alpine starts to get the goods or trying to rally after working all day. Having convenient REAL coffee (not instant!) to make on the trail, in the back of the truck, or in the tent is a real game-changer. 
Pros
Organic & Fair Trade
Carbon Neutral Shipping
Compostable Packaging

 

Fresh
Cons
Flavored Roasts Contain Artificial Flavoring

 
I was excited to give the Hikers Brew line of coffee a try because I am truly passionate about coffee. I used this pre-ground coffee to fuel many pre-sunrise mornings on the skin track. I also shared the love and brought along a bunch of their Venture Pouches to share with friends during a recent yurt trip in Colorado. Just for fun, and to be thorough, I made coffee using several different methods: french press, pour-over, percolator, and using a drip coffee maker.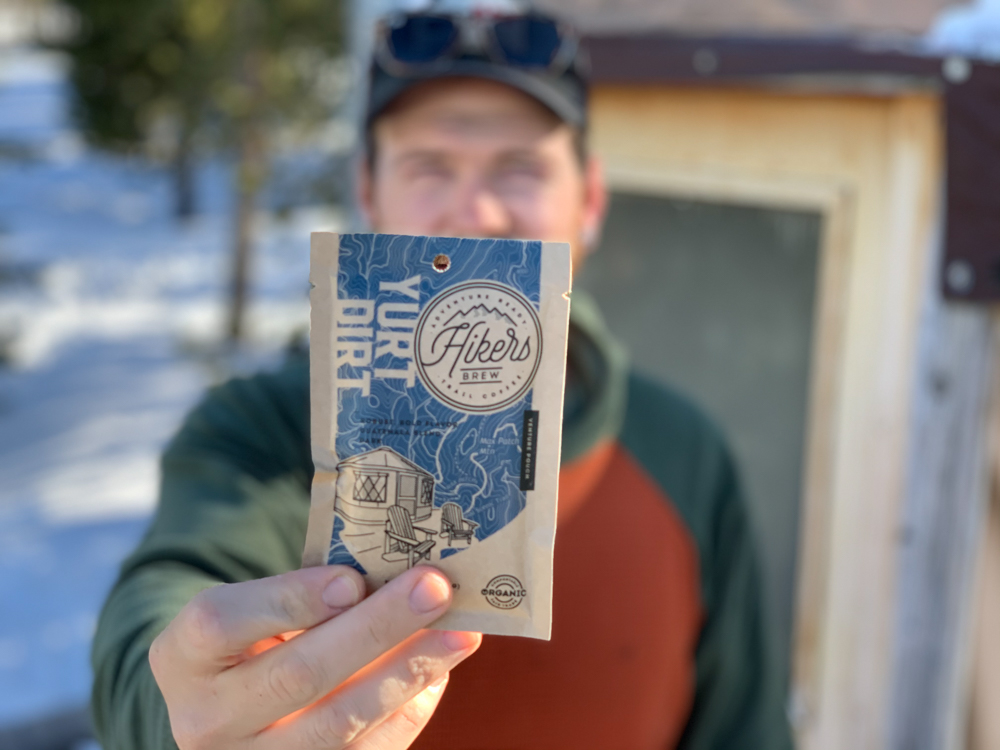 HIker's Brew offers six varieties of coffees, four of which are flavored. 
Hazy Hiker – Chocolatey, Hazelnut, Medium
Some Mores – Chocolatey, Toasted-Marshmallow, Medium
Red Rocks – Salted Caramel, Medium
Van Life – Vanilla, Medium
Mile Marker – Colombian blend, Medium
Yurt Dirt – Guatemalan Blend, Dark roast
Performance
Is there anything cozier than a steaming cup of joe on a cold winter morning? One cup will leave you feeling good and a second cup will leave you looking good too. Your significant other will fall in love with you all over again when they see you with that stunning cup of organic fair-trade coffee. 
In all seriousness, these coffees pack a punch. They didn't give me the jitters, but you can definitely feel it working its magic. I found all of the different roasts to be on the bold end of the spectrum. If you are someone who enjoys a subtle light roast, these brews might be too much for your palate. I tested the Hiker's Brew Venture Packs. The Venture Packs are their multi-use and the most packable option. Each pouch contains enough grounds to make four (6oz) cups of coffee. I like the size of the pouches. They worked out especially well on our yurt trip because I was able to make four cups without measuring the grounds. I think they would work well for traveling as well as any outdoor activity where you might need some liquid lightning. I wouldn't recommend the Venture Packs for regular at-home use. For that, you can grab their larger basecamp bags. 
I was able to taste all six of their signature roasts. Four of which are flavored. I'm not a huge fan of flavored coffee, but the Hiker's Brew flavors hold their own and don't taste fake or sweet. My two favorites were the Mile Marker (a well-balanced medium roast) and the Yurt Dirt (a bold dark roast). The brew tasted fresh, especially considering the coffee comes pre-ground. Chalk that up to the fact that they roast each order as it's placed. This ensures the freshest possible pre-ground coffee delivered to your door. The beans come in a medium grind. Each brewing method has an ideal grind setting but when in doubt a medium grind is the way to go. It worked best in a drip machine, percolator, and pour-over. I found the grind to be too fine to work well with a french press. The taste was great but I ended up with quite a bit of sediment in my cup. The grind is also too coarse to make espresso. 
Friendliness to the Earth
The Hikers Brew mission is "to promote sustainability within the outdoor and food packaging industries". Their grounds are sold in multi-use and compostable packaging that keeps their coffee fresh. As you sip your morning brew, you can have the peace of mind that for every order that Hikers Brew fills, they donate a portion of the sale to plant a tree in conjunction with One Tree Planted. They also give buyers the option to select carbon neutral shipping upon checkout.  
The Final Word
When it comes to making coffee in the backcountry, I think this is a really good option. You can't go wrong with a company that makes fair-trade organic coffee with an eye on a sustainable future. The Venture Packs are great to throw in a duffle while traveling or in a pack while on a backcountry adventure.
Shop Hikers Brew Coffee on Outdoor Prolink. Not a member? Apply today!
Ben Dawson is a full-time #vanlifer, father, and adventure journalist/photographer based in the western United States. He has a passion for conservation and spends most of his time creating content for various brands in the outdoor space. Connect with him on Instagram at @meetme_onthe_mountain