ProView – deuter Aircontact Ultra 50+5 Review
Transitioning from winter to spring in Northwest Montana is an exciting and beautiful time to get outside and spend some days in the wilderness. The deuter Aircontact Ultra 50+5 trekking backpack was the perfect companion for fast paced, early season treks. Working as an adventure guide for a therapeutic school, I am often carrying a lot of extra weight in water, first aid gear, and whatever odds and ends my students find necessary for a hike. That being said, comfort and weight are what excited me most about putting the Aircontact Ultra through the work and recreation ringer.
deuter Aircontact Ultra 50+5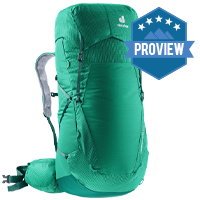 Product Name: deuter Aircontact Ultra 50+5
Product Description: Reduced to the essentials, this lightweight pack made with bluesign® certified body fabric expertly balances comfort and weight, so you can devote more energy to the trail. This is largely down to the Aircontact back system covered in Air Spacer mesh which performs three functions in one to save weight: Comfort, cushioning and ventilation. The innovative Clip & Loop back length adjustment offers a tailored, comfortable fit, while mobile VariFlex ECL hip fins and an ergonomic lumbar pad distribute the load effectively. And the hardwearing ripstop body fabric made from performance fibers is built to withstand the rigors of long-distance hiking.
Offer price: $250 MSRP
Currency: USD
Quality

Features

Durability

Fit

Eco-Friendly
Summary
deuter's Aircontact Ultra 50+5 trekking pack excels in style, comfort, and weight, but could use more thought with its pockets and questionable durability of certain materials in high wear areas.
Pros
Weight
Comfort
Colorways
Inner Pockets
Volume
Cons
Hip Fin Pockets are Prone to Moisture
Questionable Durability
Short & Narrow Brain Pocket
Living in NW Montana, 30 minutes from Glacier National Park, you would assume I had upgraded my backpack at least once in the past decade. You would be mistaken. I have been hauling around an old Osprey 65 liter, so needless to say, I was stoked to feel out the much more modern, deuter Aircontact Ultra 50+5 trekking pack. When looking for a backpack, I am keeping my eye out for a combination of durability, weight, volume, and comfort. After testing deuter's pack, I have found that this pack is a fantastic lightweight option that fits within my requirements.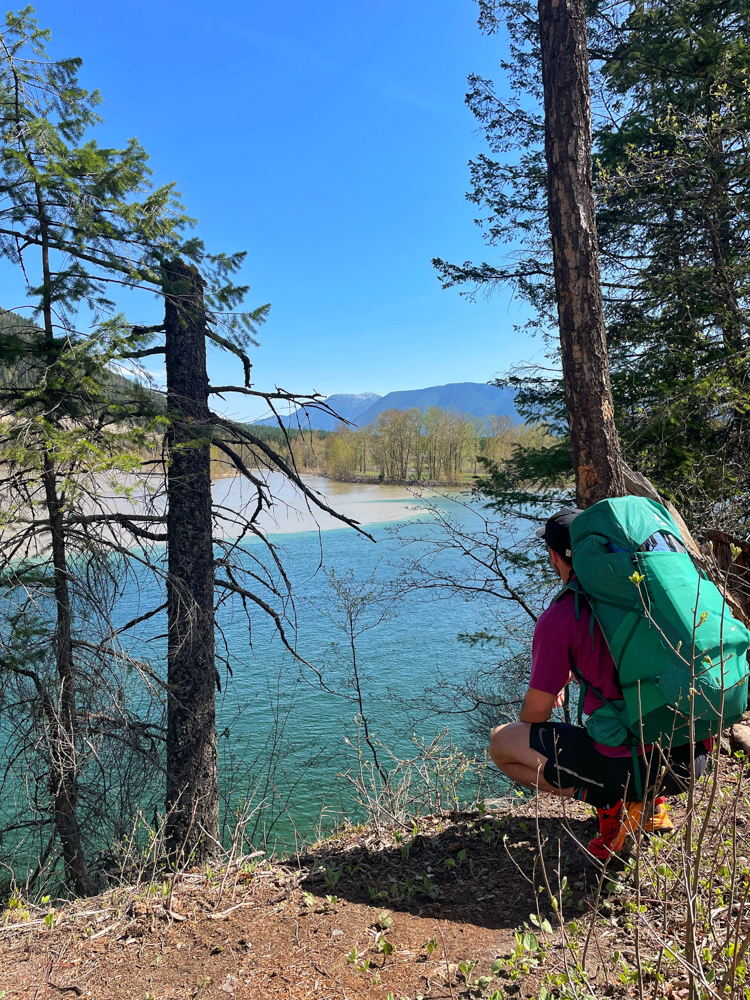 Testing Grounds
I grew up in the hot and humid climate of the Carolinas, so my last few years in NW Montana have been all about acclimation. With backpacks, one factor that sticks out to me is breathability. When it is hot, dry, and the UV index is higher than I am used to, I often get overheated and have to take pack-off breaks frequently to cool down. With the Aircontact Ultra, I found that I was not radiating heat from my core like I often do with a heavy pack on a hot day. I could feel the air flowing through the mesh and actually providing a barrier between my back and the pack. It is abnormally dry this spring in the Flathead Valley, so the conditions were favorable for the hiking trails, but not so much for fire danger. I have a habit of double protecting my gear from the elements with a trash bag on the inside of the pack and a pack cover on the outside, but I was pleasantly surprised by the water resistance of the Aircontact Ultra and only bothered with a pack cover when the weather was less than desirable.
I put the volume of the Aircontact Ultra to the test as I used this trekking pack not only for recreation, but for work as well. Leading groups of students each week involves bringing an exorbitant amount of gear you might not often include in your day hikes, such as an extra large first aid kit, many liters of water, books for when students are bored of nature, many extra layers, etc. I enjoyed the "elasticated inner compartment" for wet towels and extra layers, and the outer elastic mesh pocket for my crazy creek chair, first aid kit, and anything that I needed to access quickly. The Aircontact Ultra truly suited the work environment more than I initially believed.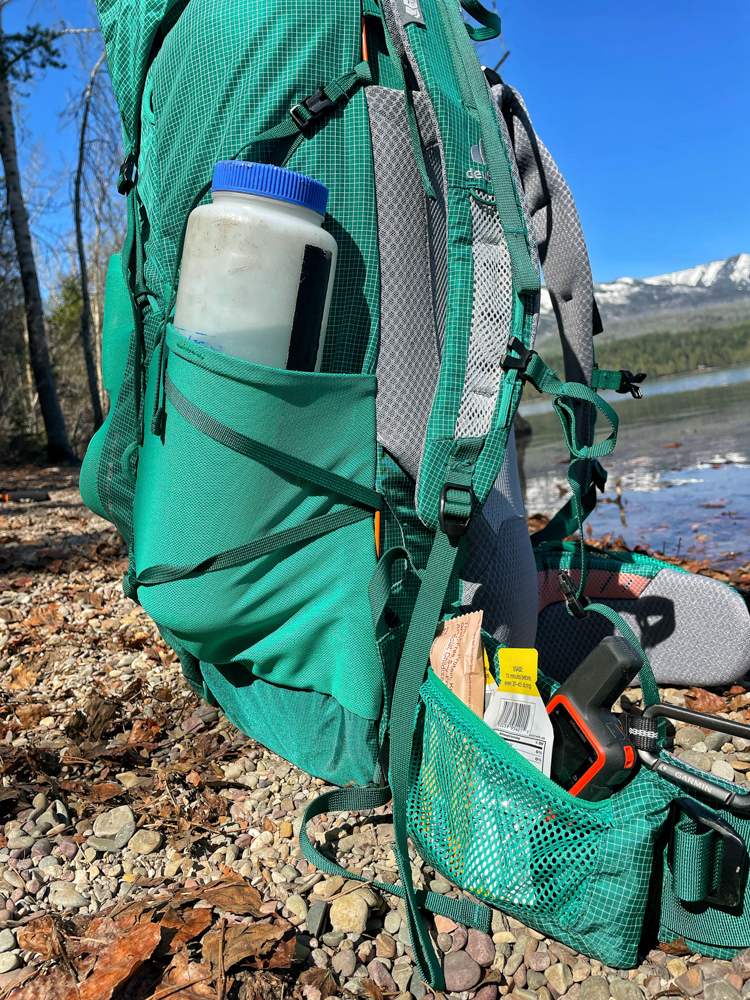 I was stoked for my trips in Glacier National Park and the Whitefish Range with the Aircontact Ultra, and after some hikes/trips, I am excited for this summer as well. I am planning a trip to hike and climb Mount Saint Nicholas in Glacier National Park this summer, and this pack is definitely the choice for the trip. I will be carrying a lot of climbing gear and it is going to be very warm, and after my testing, I am fully confident in the pack's ability to perform in warm climates. While backpacking, I get frustrated if I don't have easy access to necessities due to a lack of outer pockets. Deuter's pack allowed me to have access to much more than I was used to with other packs due to its sizable hip fin pockets, elastic bottle pouches, and elastic outer pouch on the center of the pack. This plays into the fast and light efficiency that is so important for these trips when objectives are the goal.
When it comes to the "campability" of a backpack, and by that I mean useful features while at the campsite, the Aircontact Ultra checks all the major boxes for me. It is well balanced on its own, which is a plus while packing a pack (and a good sign for a well balanced pack for hiking). As previously mentioned, it has many outer pouches which are a big must for me as a person with VERY impaired vision. I need to have quick access to my contacts, glasses, and sunglasses while at camp and on the trail, and I was so pleased to find that my glasses and sunglasses cases fit in the hip fin pockets. Overall, I couldn't find much to complain about with the pack and its campsite functionality.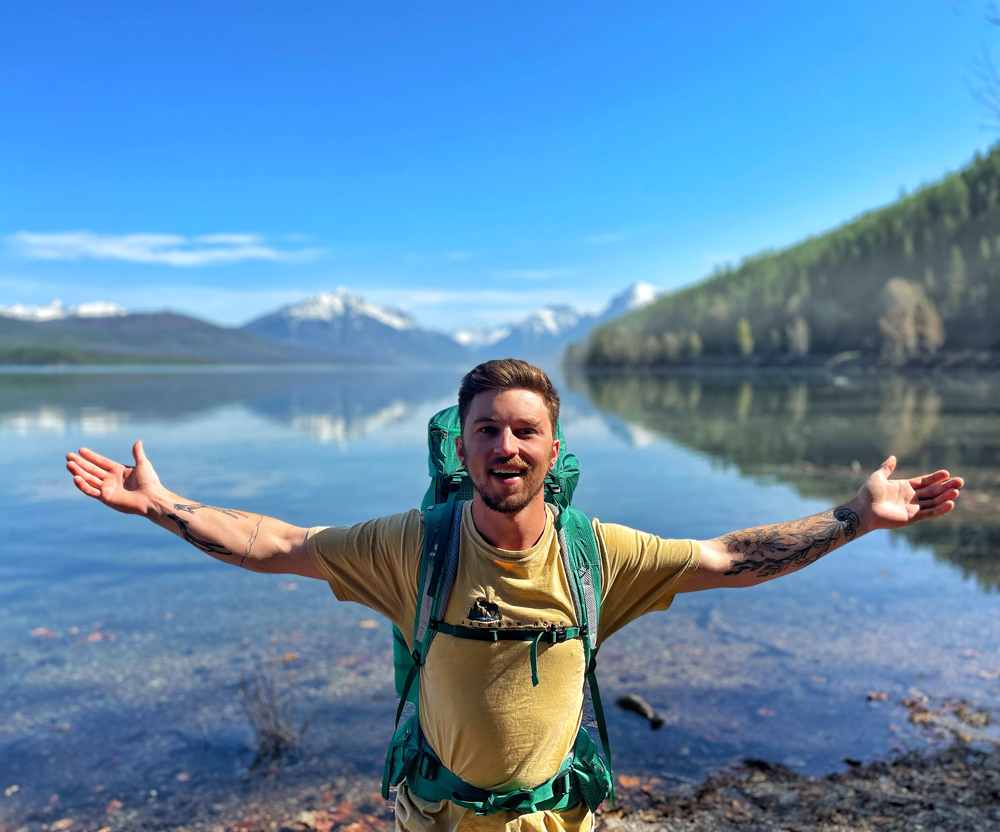 Fit/Comfort
Coming from my outdated Osprey, the deuter Aircontact Ultra felt like a Cadillac. To deuter's credit, I compared the pack to other more modern packs, like my partner's Osprey Xena, and it still outperformed in both fit and comfort for my body type. As a smaller person, I tend to struggle with hip belts sitting too low or wrapping around too much. At 5' 7" and 155 lbs, the pack fit me very well in both the torso height, and the position of the hip belt. The "Clip & Loop" back length adjustment was a new design I haven't personally used, and I was surprised by the ease of use and versatility of sizing. The "Air Spacer Mesh" performed well in the heat and I didn't experience the dreaded sweat outlines as much as with other less ventilated packs.
Look/Style
I am a huge fan of the Fern/Alpine Green colorway that makes a departure from the generic colorways of today's backpacking market. More power to you if you prefer more earth tone colors, but I tend to gravitate towards the unique colors that deuter often produces. The Aircontact Ultra provides a sleek and modern look with its monochromatic color scheme and large outer panels.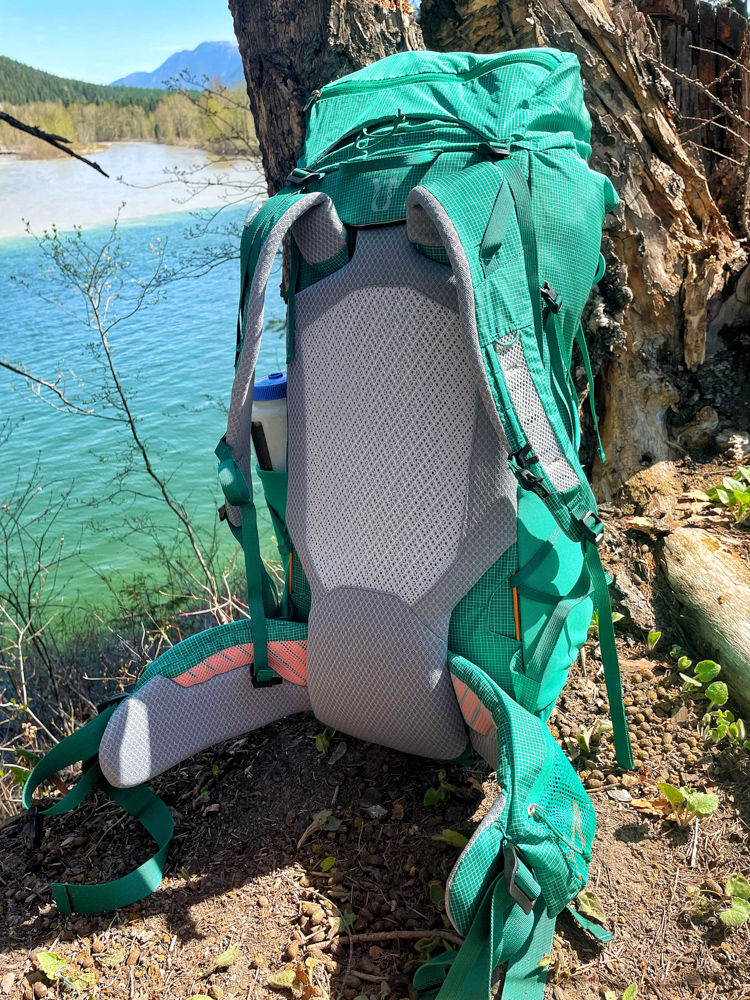 Features
The Aircontact Ultra seems to combine simplicity and functionality seamlessly. It has pockets and features where you need them with none that you don't. I wasn't a big fan of the brain, and I found that the height and dimensions were not ideal for bigger books or items. I would have preferred the brain to have some additional height and elasticity to account for bigger items. For water carrying capacity, I was excited about the large size of the bladder and the easily accessible tube port as well as the two massive side pouches that can accommodate both of my essential 1.5L Nalgenes. The zipper pockets on the hip fins were bigger than many and I always appreciate having a pocket on both sides, but since they are constructed with wide mesh, they are prone to moisture getting in due to most pack covers not covering the hip fins. In the strap department, I enjoyed the bottle straps that double as pack tensioning straps, but I am worried about the longevity of the fabric loops through which the straps pull tension. I am used to having extra hip belt strap flopping around and either tying it somehow or cutting the excess, but I was hoping deuter had found a solution to this issue. I always welcome deuter's inclusion of the "SOS Label" on the inside of the brain that provides emergency basics.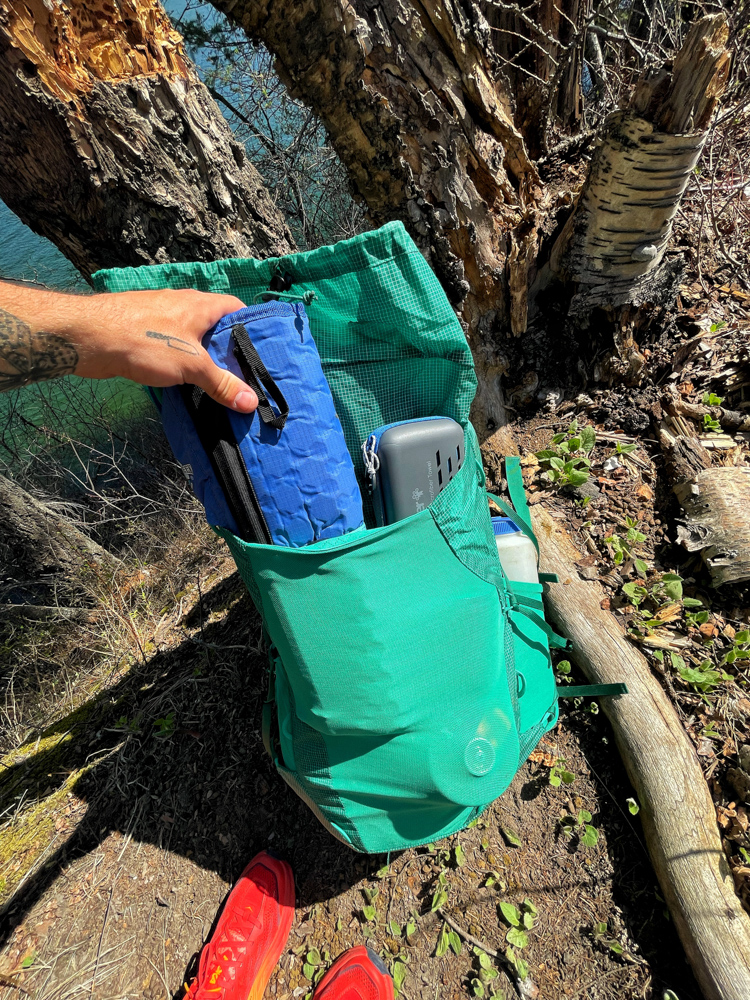 Function/Performance
The Aircontact Ultra performed to my expectations in most departments, and exceeded it in others. For a "lightweight trekking backpack", it performs well in every category, with only minor drawbacks for me personally. Specifically, I feel that this pack excels with trips/hikes where speed and efficiency are the priority with its weight, comfort, and performance.
Durability/Construction/Weight
I expected the Aircontact Ultra to be a functional lightweight pack, but at 1210 grams or 2.66 pounds, it is one of the best combinations of durability, volume, and weight on the market. There are plenty of ultralight packs under the 900g/2 lb mark, but they often sacrifice a lot of function, volume, or durability. I am excited to see how this pack holds up to a few years of trips, as I don't often upgrade (as we've established).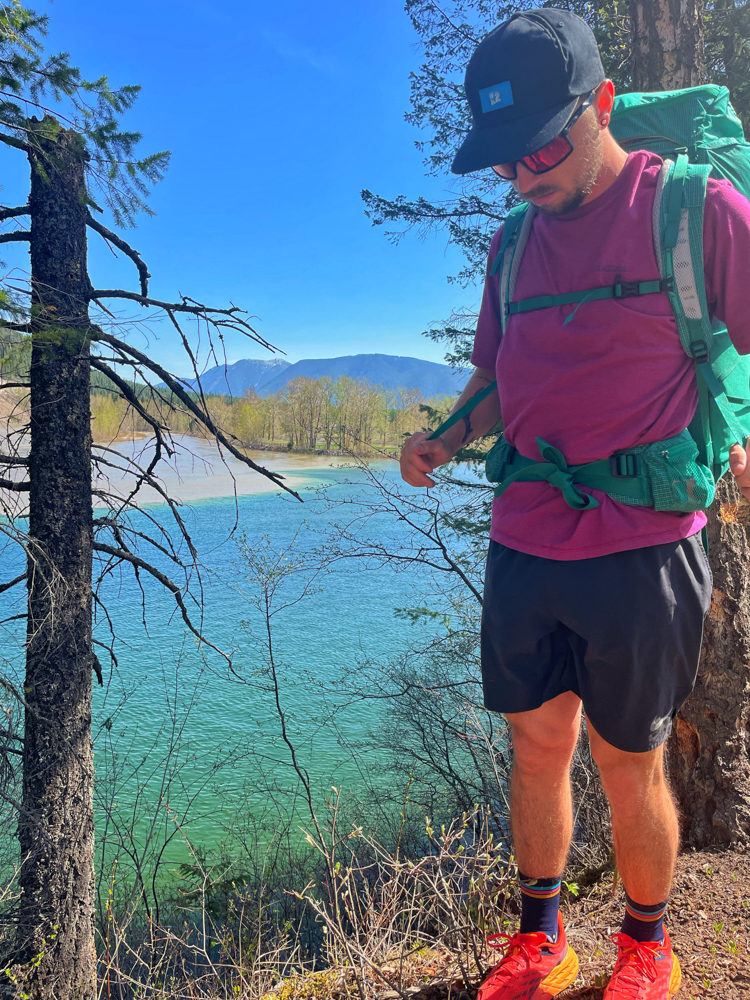 Friendliness to the Earth
deuter has a detailed section on their website outlining their responsibility to the environmental standard and the "DEUTER PROMISE". It outlines their vision that they have coined "Together for 360 Responsibility". It represents the "holistic, all-encompassing approach they take to doing business sustainably". They focus their strategies on people and the planet which is broken up into Employees, Consumers, Society, and Animal Welfare, Climate, and Environment respectively. They provide links to other links about their German Sustainability Award, the UN Sustainability Goals, and their Code of Conduct. Overall, I am impressed with deuter's attention to detail in their communication and transparency.
Final Word
To sum it up, deuter's Aircontact Ultra does well in all aspects of necessity when looking at lightweight functional backpacks. It excels most confidently in weight and comfort, and has some minor room for improvement with some of its pockets and the durability of features. This pack is most suited for the efficient trekker who does not want to settle for comfort or functionality.
Shop the deuter Aircontact Ultra 50+5 on Outdoor Prolink. Not a member? Apply today!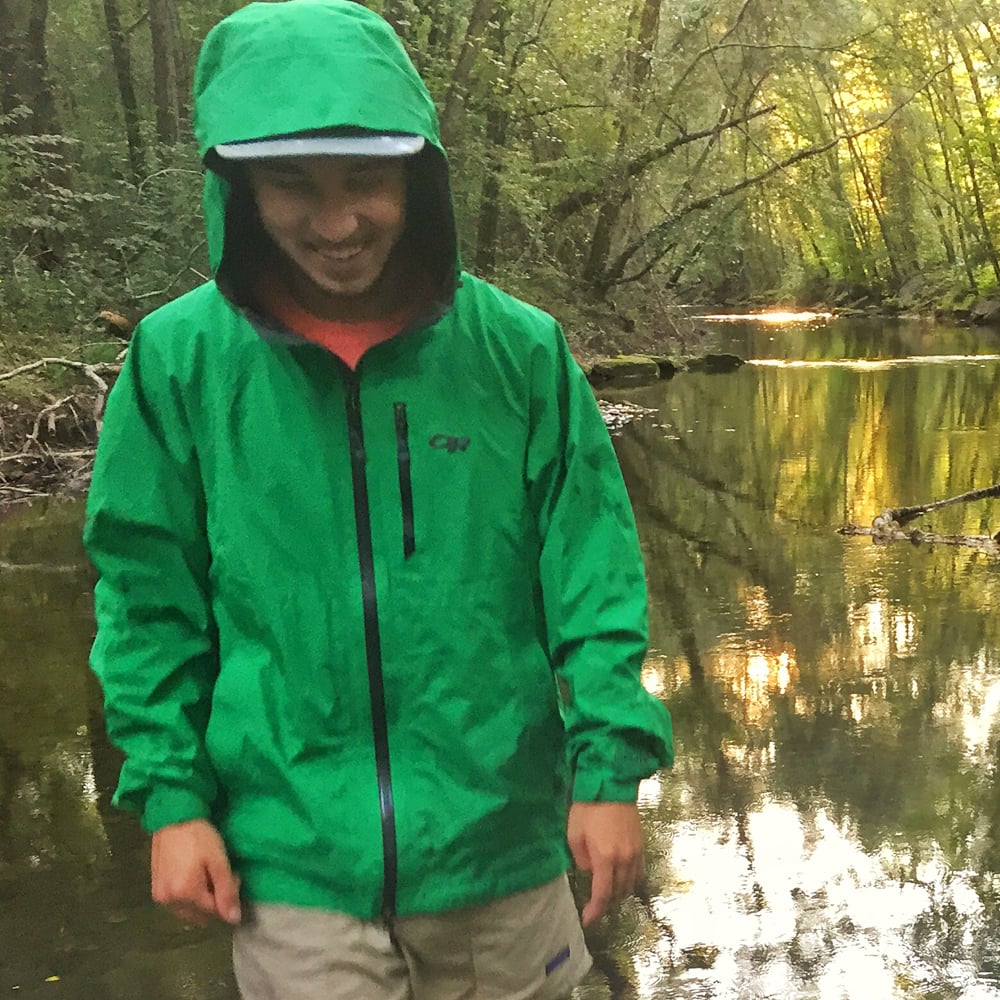 Seth currently works as an Adventure Supervisor for Chrysalis Therapeutic Boarding School in Eureka, Montana. He leads the students through various activities like rock climbing, mountain biking, skiing, and more. Previously, Seth has worked as an experiential education instructor in North and South Carolina. Seth is passionate about whitewater paddling, rock climbing, snowboarding, and just about any kind of food. You can connect with Seth on his Instagram @itinerant_wayfarer.